Key Public Sculpture in Japan's "Town of Public Art" in Danger of Removal
By Tong Tung Yeng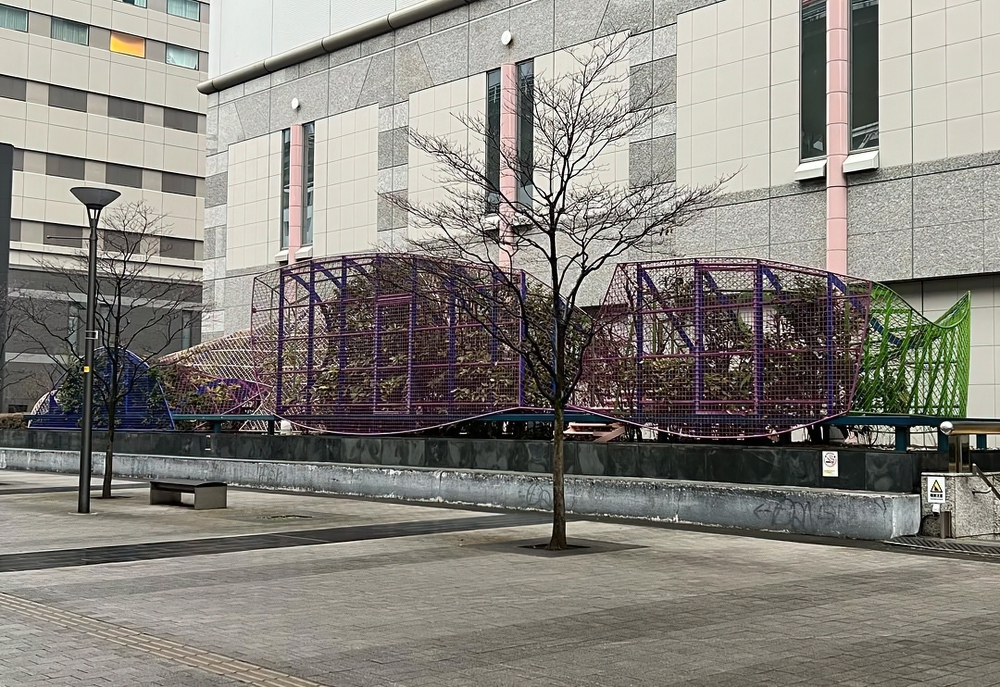 In an odd twist of fate, a public sculpture that commemorates the historical struggles of land ownership at Japan's Faret Tachikawa art town, located in the greater Tokyo metropolitan area, faces the threat of removal brought by urban redevelopment plans in Tachikawa City. Artist Kenjiro Okazaki's Mount Ida – The boy Paris is still shepherding (1994) was earmarked for removal to make way for the renovation of the neighboring department store, Tachikawa Takashimaya SC, which will close on January 31 this year.
Mount Ida bears particular importance to Faret Tachikawa, an art complex transformed from a former United States military base, the very site that witnessed the bloody protests of the Sunagawa Struggle in 1955–57 against the occupying forces. The 25-by-4-meter-long steel sculpture comprises bent steel bars crisscrossing in a web and forming several mounds with "ventilation holes" that demarcate and isolate a sanctuary for plants to thrive. Resembling at once a ship, a whale, and a mountain, the work was Okazaki's response to the violent conflict borne of the Japanese civilians' resistance against the local government's plans to expand the US military air base into the nearby Sunagawa village in the mid-1950s.
Removal plans were first conveyed to Okazaki through an intermediary, Art Front Gallery, in June 2022. According to the artist's statement, the department store's proprietor, Toshin Development, neither produced a detailed outline nor shared supporting material with him during a scheduled meeting in November 2022. The exact reasons behind the company's decision to dismantle his work remain unclear.
The Japanese branch of the International Association of Art Critics (AICA Japan) sent a request to Tachikawa's city mayor Shohei Shimizu and Takashimaya Company's president Yoshio Murata. In the letter, AICA reiterated the importance of Faret Tachikawa as "a uniquely successful example of Japanese urban culture," and the removal of Okazaki's work as an act that "directly damages the core concept of Faret Tachikawa."
According to the latest response issued by Art Front Gallery to Bijutsu Techo, the discussions between the artist, Toshin Development, and Faret Tachikawa's art management committee to decide the fate of the sculpture are ongoing.
Tong Tung Yeng is ArtAsiaPacific's editorial intern.
Subscribe to ArtAsiaPacific's free weekly newsletter with all the latest news, reviews, and perspectives, directly to your inbox each Monday.