John F. Kennedy Center Censors Chinese Artist
By Kathy Zhang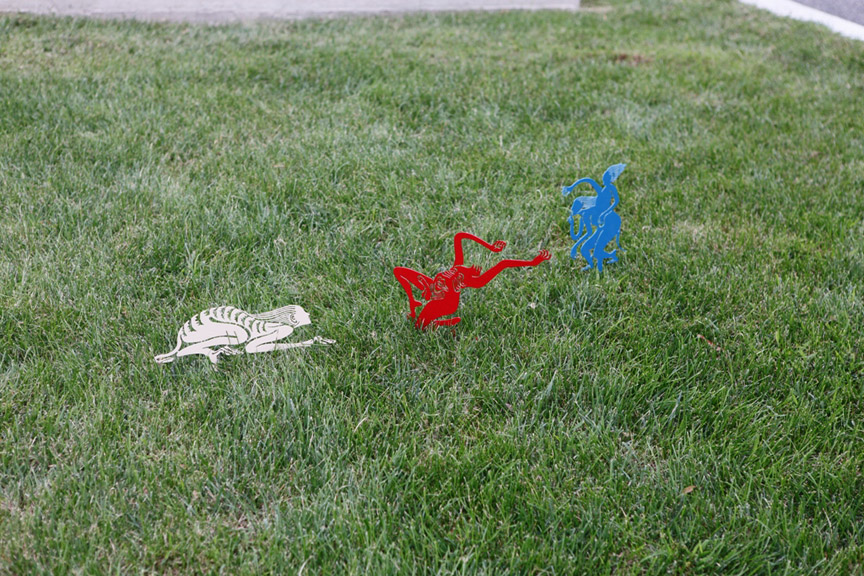 On September 19, leading contemporary Chinese artist Wu Jian'an's sculptural installation Xingtian Dance (2011) was censored from an outdoor exhibition "Landscape in Mind," held at the John F. Kennedy Center in Washington DC, and then removed completely on September 22, after the artist tried to meet officials at the center to contest the action. His name was subsequently removed from the list of participating artists.
Xingtian Dance consists of 1,250 painted stainless-steel figures, each between one and two feet in height, which were inspired by characters from Chinese and other cultural mythologies, including the headless giant Xingtian, which the artist chose to depict with an erect penis. Three hundred such figures were removed from Kennedy Center Grounds on the basis of explicit sexual reference, leaving large gaps in the thematic composition of the work.
The Kennedy Center commented that the artist misrepresented his work: "We were sent a photo of the installation beforehand and the exhibition that was installed did not accurately reflect the photo. Once our series curator discovered this, she decided to have the exhibition removed. This was done in concurrence with the Chinese Embassy and Ministry of Culture."
"Landscape in Mind" opened on September 17 as part of "China: The Art of a Nation," a two-month-long series of cultural performances celebrating China's traditional and contemporary arts, co-organized by the Kennedy Center and the Ministry of Culture of the People's Republic of China. The Kennedy Center touted the exhibition as a representative survey of internationally recognized Chinese artists. Perhaps they mean it is representative in the Chinese style of persistent censorship.
While there are strict limits on expression under the People's Republic of China, a practice widely condemned in the United States, one hardly expects the depiction of the male genitalia to be any more offensive in the US than the frolicking satyrs painted on ancient Greek pottery, found in many of the country's family friendly museums.
Christophe Mao, director of Chambers Fine Art in New York, which represents Wu Jian'an, expressed his incredulity to ArtAsiaPacific: "Given all the recent criticism of China about freedom of expression, I was shocked to see that a Chinese artist selected by the National Art Museum of China can be censored here in the US as well."