Indigenous Woven Sail Wins Australia's Telstra Art Award 2022
By Jenna Chan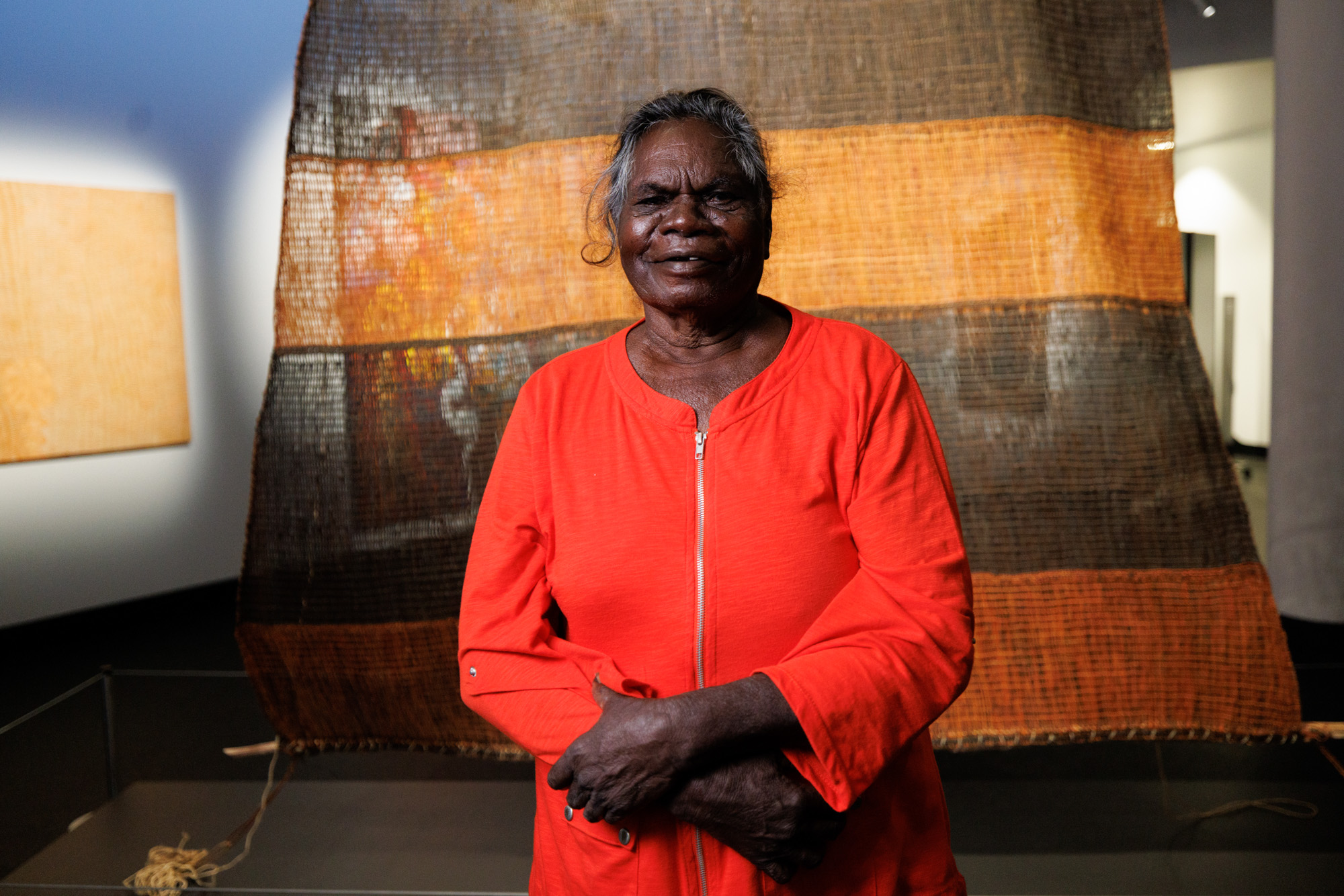 On August 5, Australia's Museum and Art Gallery of the Northern Territory (MAGNT) announced the winners of the 2022 Telstra National Aboriginal and Torres Strait Islander Art Awards (NATSIAA). The main Telstra Art Award, which includes an AUD 100,000 (USD 69,840) cash prize, was granted to Margaret Rarru Garrawurra of the Yolŋu people from the northeastern Arnhem Land.
The Senior Yolŋu artist's winning piece Dhomala (pandanus sail) (2022) incorporates the traditional technique of creating dhomala, a kind of woven sail adopted by Yolŋu people from the Makassar people in South Sulawesi of Indonesia through centuries of contact and trade. Born in Galiwin'ku (Elcho Island) and a native of the northeastern Arnhem Land, Rarru Garrawurra explores her cultural identity and delivers a story of her own family history through Dhomala. The work crystalizes her memories of her father making these sails, who learned the Makassan-taught weaving technique from his own grandfather. Celebrating the maritime history of the Indigenous people, the multicolored sail was created through a laborious, eight-month process of harvesting the pandanus, coloring it with bush dyes, and weaving it.
The judges commended Rarru Garrawurra for creating "a monumental sculpture that is both majestic in scale and exacting in technical virtuosity. Hers is a powerful work which reminds us that Yolŋu long been active and intrepid explorers, participating in international trade since well before the arrival of the Europeans."
Other winners of this year's edition include Betty Muffler, who received the General Painting Award for her detailed, monochromatic linen painting Ngangkari Ngura (Healing Country) (2021). The Bark Painting Award went to the late Ms D Yunupiŋu, whose Yunupiŋu - The Rock (2021) features her spiritual conception of a mermaid on stringybark, painted with natural earth pigments and recycled print toner. Gary Lee won the Works on Paper Award with Nagi (2022), an intimate portrait of his grandfather surrounded by white gardenias, created in oil pastel and pencil. Bonnie Burangarra and Freda Ali Wayartja received the Wandjuk Marika Memorial 3D Award for their cone-shaped sculpture, which exemplifies contemporary Indigenous fiber practice. The Multimedia Award was presented to Jimmy John Thaiday for his single-channel video Beyond the lines (2022), which explores the artist's inextricable bond to his Country through nature. Last but not least, the Emerging Artist Award was conferred to Louise Malarvie in recognition of her skills in earth pigment application shown in Pamarr Yara (2022).
This year's Judging Panel included Myles Russell-Cook, senior curator of Indigenous art at the National Gallery of Victoria, and Joanna Barrkman, curator at the Charles Darwin University Art Collection and Art Gallery who specializes in Southeast Asian and Pacific Arts.
The 2022 Telstra NATSIAA exhibition is currently on view at the MAGNT until January 15, 2023. All the winning works can also be seen in MAGNT's virtual gallery.
Jenna Chan is ArtAsiaPacific's editorial intern.