First Winner of Park Seo-Bo Art Prize Revealed in Gwangju
By Pamela Wong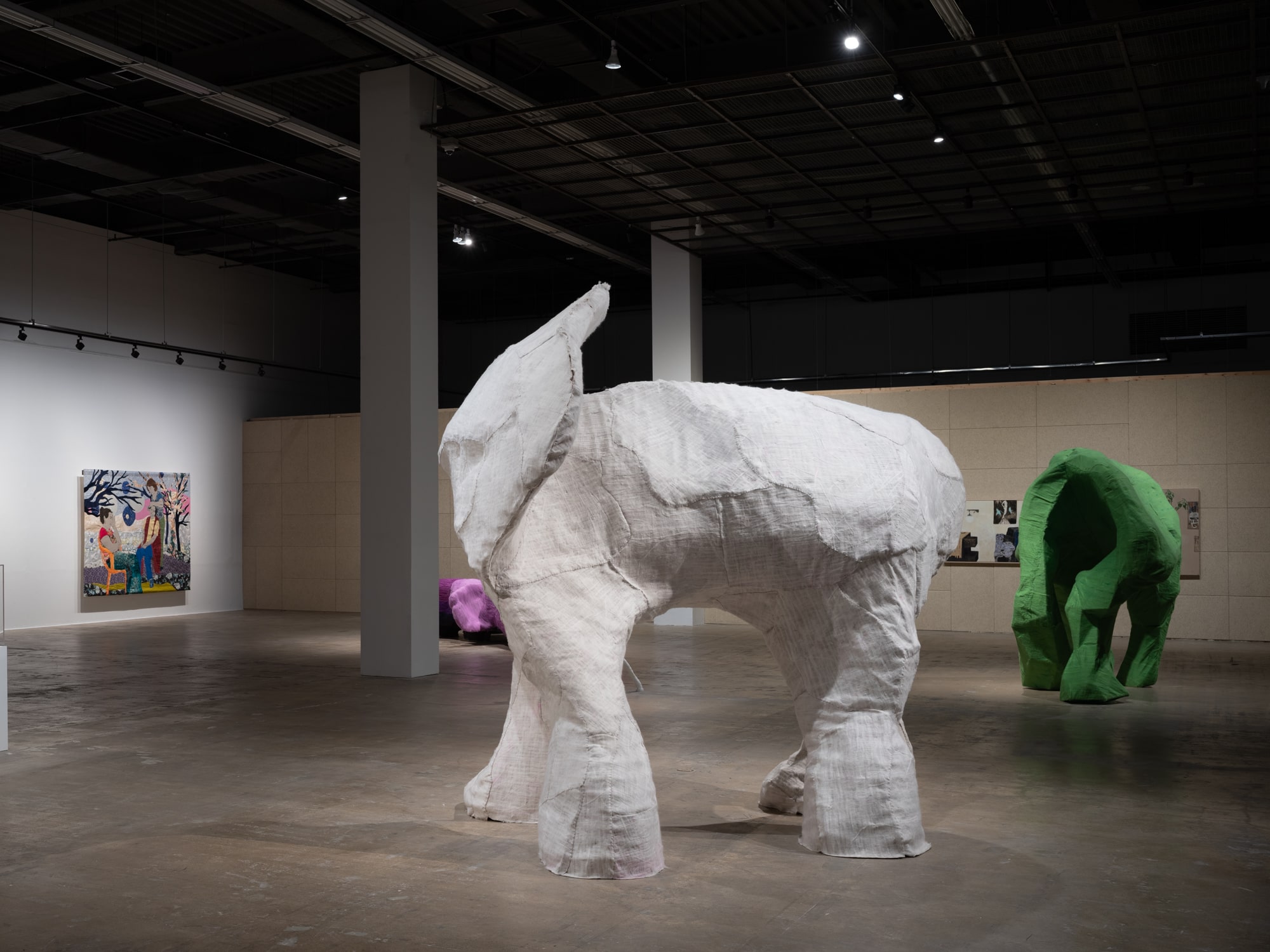 Seoul-based, Chungju-born artist Oum Jeongsoon was named winner of the inaugural Park Seo-Bo Art Prize at the opening ceremony of the 14th Gwangju Biennale on April 6. Her winning sculpture, Elephant Without Trunk (2023), currently shown at the Biennale, is one among three in a series that features a distorted elephant-like form covered in fabric. She received a golden dove emblem representing the city bird of Gwangju and a USD 100,000 cash prize.
Through a range of media including painting, photography, and installations, Oum has been exploring the cultural symbolism of the elephant in Korean society. The animal has represented notions of typicality, normality, and strangeness in folk culture since it was introduced to the country some 600 years ago. On view in "Luminous Halo," the first section of the 14th Gwangju Biennale, her elephant sculptures comprise take abstract forms, missing body parts such as heads or trunks. Made with iron sheets, wool, and fabric, the work invites the audience to touch and feel the texture of the elephant and reconsider the definition of "normality." Elephant Without Trunk, about three meters long and two meters high, is the largest piece among the ones on view.
The art prize was established by the Gizi Foundation of veteran Dansaekhwa artist Park Seo-Bo, with a generous donation of USD 1 million to the Gwangju Biennale Foundation as an encouragement for artists who participate in the Biennale. The fund is divided into ten editions and each winner will be selected by international jury. For this edition, the jury was chaired by Francis Morris, director of London's Tate Modern, and included: Carolyn Christov-Bakargiev, director of Castello di Rivoli Museum of Contemporary Art; Mami Kataoka, director of Tokyo's Mori Art Museum; Yun Bummo, director of the National Museum of Modern and Contemporary Art, Korea; and independent curator Yoon Jae-gap.
Helmed by Sook-Kyung Lee, senior curator at Tate Modern, and titled "soft and weak like water," the 14th Gwangju Biennale featured 79 artists from around the world. The announcement was made by Morris during the opening ceremony. Held in the rain, the event welcomed members of Korea's Democratic Party as well as Choi Siwon, member of the K-pop group Super Junior who is acting as the guest ambassador of the Gwangju Biennale this year.
Subscribe to ArtAsiaPacific's free weekly newsletter with all the latest news, reviews, and perspectives, directly to your inbox each Monday.