Elias Zayat (1935–2022)
By Lily Wong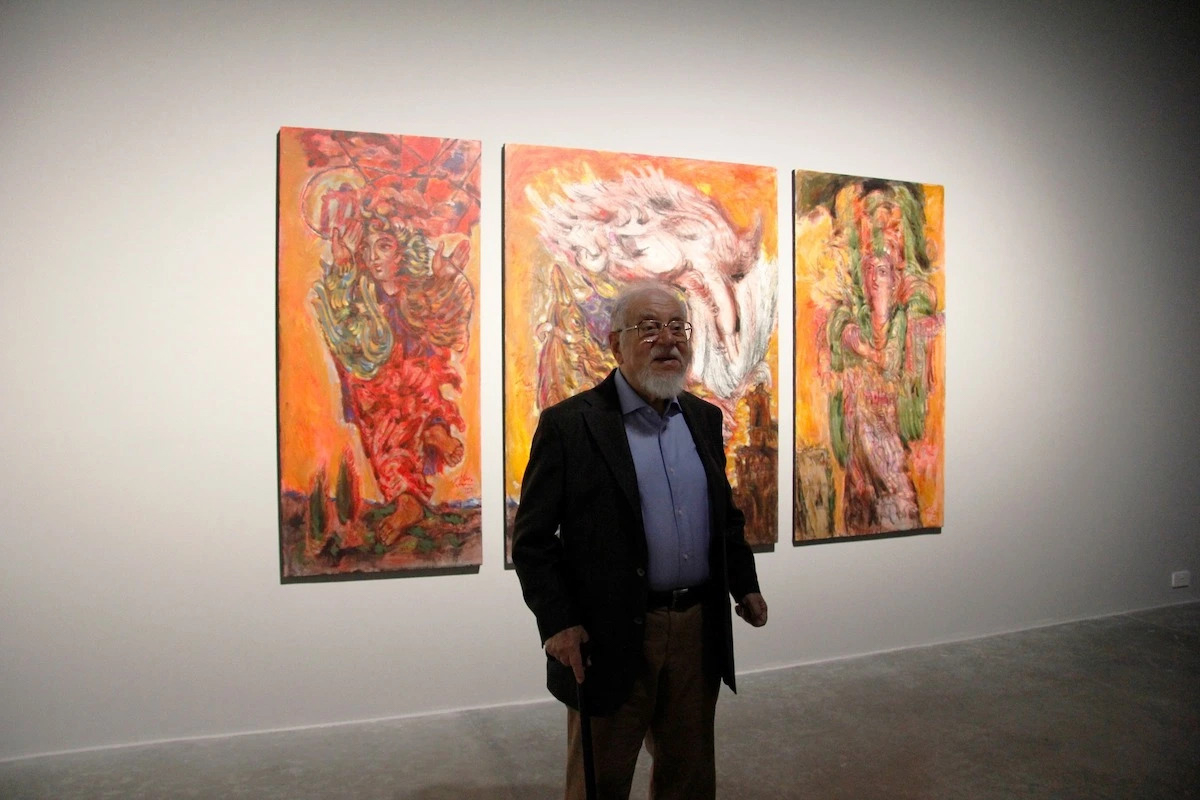 Elias Zayat, a painter, teacher, art restorer, and a leading figure of the modern art movement in Syria, died at the age of 87. The news was confirmed by Dubai's Green Art Gallery on September 5.
Throughout his career, Zayat drew on a broad range of interests and influences, spanning mythology, ancient civilizations, Sufi thought, and religious iconography, to create paintings that speak of multiplicity but also affinity to his homeland.
Born in 1935, Zayat grew up in the Christian district of Bab Tuma in Damascus, capital of Syria. At the age of 17, he started his artistic training, under the mentorship by Syrian artist Michel Kurché. In the late 1950s and early '60s, he studied at the Academy of Fine Arts in Sofia and the Faculty of Fine Arts in Cairo, before also attaining a degree in art restoration in 1974 from the Academy of Fine Arts and Museum of Applied Arts in Budapest. During those years, he was able to travel across Europe and became greatly inspired by post-Impressionist artists such as Paul Gauguin and Henri Matisse. In the mid-1970s, Zayat returned to Damascus permanently. He cofounded the Faculty of Fine Arts at the University of Damascus with other pioneering painters such as Fateh Moudarres, Louay Kayali, and Mahmoud Hammad. There, he continued to teach until he retired in 2000. He also published extensively on the history of art, iconography, and art criticism.
Despite his research in European art history and ancient Egyptian art, Zayat attempted with every work to "discover [his] roots and relationships tied to Syria and the Levant." To Zayat, art is "a look into the future" while being simultaneously loyal to the past that informs it. While his initial focus was on Impressionist techniques and practices, Zayat's works slowly evolved to adopt a more mystical style that was rooted in Syrian history. A lot of his paintings feature figures from religious stories or mythology with vibrant use of colors. For example, in his latest solo "After the Deluge" at Green Art Gallery in 2015, he referenced the Mesopotamian, Babylonian, and later Biblical account of the Great Flood. The central panel of the titular triptych at the show depicts a dove carrying an olive branch. The work is situated in the ancient city of Palmrya in Syria, a place that famously resisted being Romanized.
His other solo exhibitions throughout the years include "Homage to Gibran," Four Seasons Hotel, Damascus (2010); "Dance and the City," Atassi Gallery, Damascus (2002); and "Un Oiseau Sur Un Arbre," Al-Sayed Gallery, Damascus (1995) and Union of Bulgarian Artists Gallery, Sofia (1985).
In 2013, he received The Art and Literature Appreciation Award from the Ministry of Culture and National Orientation in Syria. His works have been collected by Barjeel Art Foundation, Sharjah; Ramzi and Saeda Dalloul Art Foundation, Beirut; Nabu Museum, Heri, Lebanon; Institut du Monde Arabe, Paris; and the National Museum of Damascus.
Lily Wong is ArtAsiaPacific's editorial intern.