Documenta Removes Banner with Antisemitic Caricatures
By HG Masters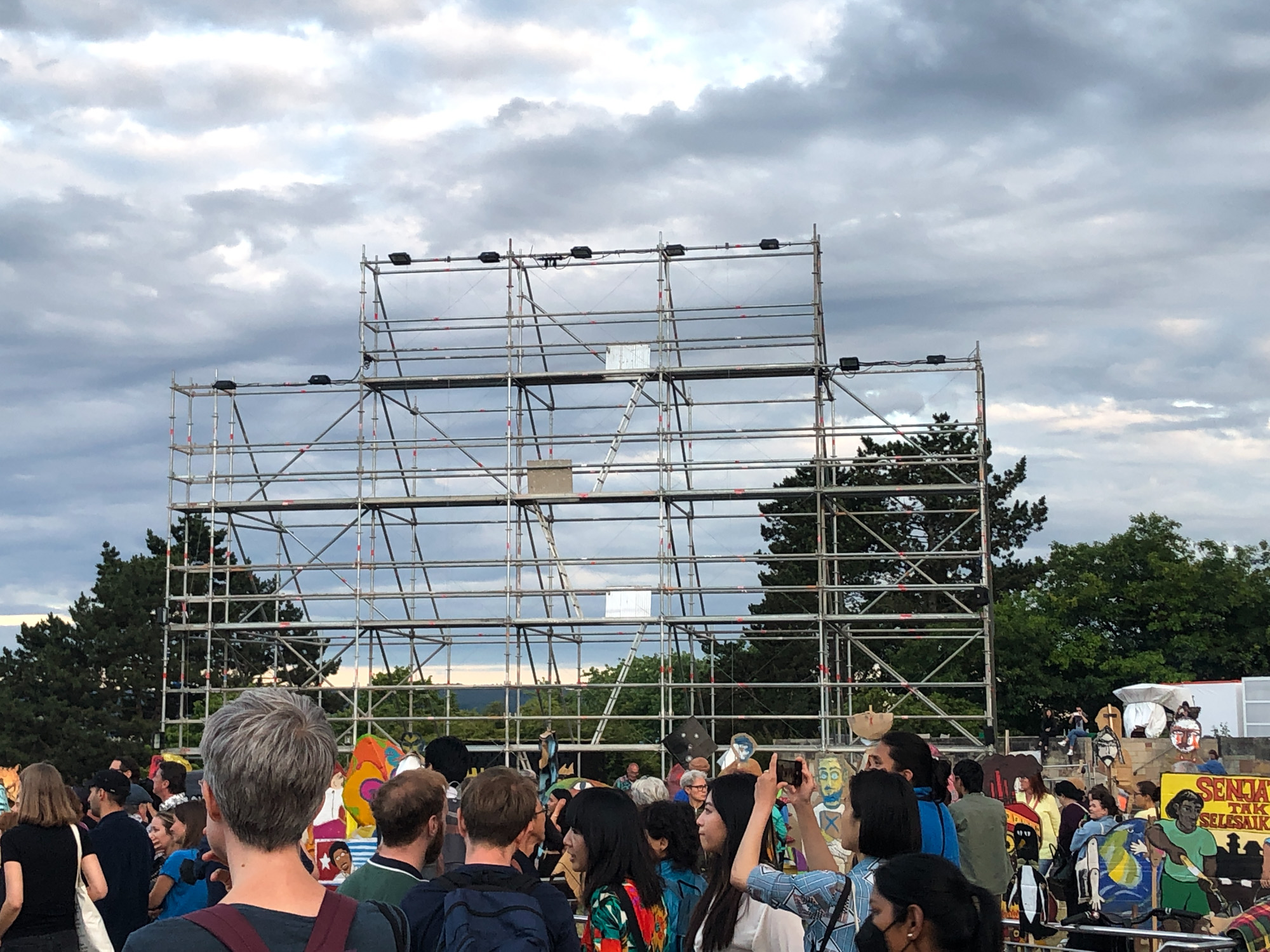 After months of rebutting allegations that documenta fifteen would offer a platform for anti-Israeli and anti-Jewish views, organizers and the artistic directors, Indonesian collective ruangrupa, were compelled to take down a giant mural by the collective Taring Padi that features antisemitic representations less than one week after the event's opening. In a statement from June 21, Sabine Schormann, the director of Documenta, conceded that there was antisemitic imagery in Taring Padi's painting People's Justice (2002), and that the organization had failed in its promise to keep such content out of documenta fifteen.
"I would like to emphasize once again that all those involved were and are deeply sorry for having crossed boundaries and hurt feelings," Schormann wrote. "We also explicitly apologize for the fact that the antisemitic depictions were not recognized before the work was installed."
The acknowledgment that indeed the work does feature multiple problematic caricatures came just one day after the mural was draped in black curtains and Documenta issued a statement from Taring Padi that attempted to justify the figures as "referenc[ing] commonly-known symbols within the Indonesian political context," and "culturally specific to our own experiences."
While Taring Padi claimed that the representations were not meant to be antisemitic and that they were being misunderstood, many in Germany—including numerous cultural professionals, politicians, and Jewish community leaders—saw the use of loaded symbols, including the Nazi SS logo painted on the hat of a devilish-looking character and the Star of David on the shirt of a soldier with a pig's face, as undeniably evocative of antisemitic tropes portraying Jews as Nazis and pigs. The artwork's overall messages of anti-militarism, anti-imperialism, and popular resistance to the Suharto military regime were, in the German context, overshadowed by these two figures.
At the site of the mural on Friedrichsplatz, a small group of protesters chanted "Censorship!" and "Art is not a crime!" as it was removed on Tuesday. Taring Padi also shared many messages of solidarity and disappointment from other participants and visitors on their social media.
The response from Germany's politicians, however, has been univocal. The Germany cultural minister Claudia Roth said on Tuesday, "The removal of this mural, which shows clearly antisemitic pictorial elements, is overdue." She called for "further consequences" for those responsible for the mural, saying Taring Padi's explanation was "unacceptable." The mayor of Kassel, Christian Geselle, said the display of the artwork had made him ashamed and that "something has happened that never should have happened."
HG Masters is ArtAsiaPacific's deputy editor and deputy publisher.