Closure of "Kulo" Ignites Censorship Debate in the Philippines
By Ashley Lee
On August 9, board members at the Cultural Center of the Philippines (CCP), in Manila, shut down "Kulo," a group exhibition that has ignited a debate about the limits of freedom of speech in the Philippines, in regard to religious imagery in art.
The CCP board cited "an increasing number of threats to person and property" and an August 4 incident in which a couple tried to set the exhibition on fire. The center also received criticism from prominent political figures, including former First Lady Imelda Marcos, who claimed that one installation, Mideo Cruz's Poleteismo (2002/11), "could not be considered art."
Though the show consisted of individual works by 32 different artists that were intended to challenge social mores—"kulo" means "to boil" in Tagalog—most criticism focused on Poleteismo, meaning "polytheism." The work, a shrine-like installation of found media images, religious iconography and objects, critiques the god-like personas of celebrities in Philippine society. The most controversial items include a crucifix with a large red phallus attached, another crucifix covered with a pink condom, and a statue of Jesus Christ wearing Mickey Mouse ears. Commenting to ArtAsiaPacific, Cruz explained that a penile object remains "a symbol of power with most people."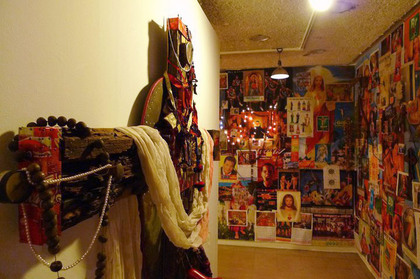 The installation has been exhibited numerous times since 2002, both in the Phillipines and overseas. On view at CCP since June, it had garnered little attention until investigative television show XXX connected it to a reproductive health bill opposed by the Catholic Church. On July 18, the show made the public aware of the "offensive" nature of the art with the headline: "Exclusive: XXX monitored a CCP art exhibit. There are controversial art works referring to the RH bill. It's disrespectful and no longer for 'art's sake'." Hence Poleteismo was presented as an attack against Catholicism.
After the show, hysterical articles about the art work appeared in the Manila Times. Its regular contributor Tony Lopez, in his article "We must live, die and kill for our religion," concluded: "Cruz is a terrorist. Making fun of Catholic icons is a form of violence," equating him with a "Muslim suicide bomber." Another article demanded that Jo Aurea Imbong, lawyer of the Catholic Bishops' Council of the Philippines, file criminal charges against Cruz because, "perpetrators must learn that crime does not pay."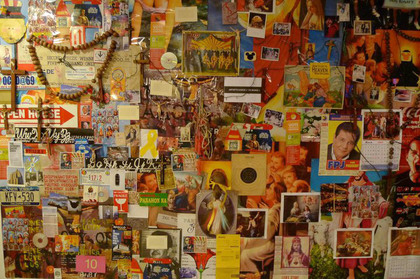 Academic institutions have offered diverging views apparently based on their religious affiliations. After reports that Poleteismo had been exhibited at the Loyola School of Theology at Ateneo de Manila University, its president categorically denied any association. Conversely, faculty members from the Department of Art Studies, at the University of the Philippines, where the work has also been shown, released an online statement condemning the closure. They remarked: "We sadly observe that the issue has been reduced to the level of polemics, grandstanding and shouting matches." They called on the CCP to reopen the exhibition, "to protect its mandate, reclaim and maintain its autonomy. It must take the lead, not only in guarding artistic freedom but also in ensuring a safe haven where artists as public intellectuals have the freedom to exhibit."
The board's capitulation to the media frenzy sets a dangerous precedent. After "Kulo" was closed, President Benigno Simeon Aquino III went as far as to warn the CCP board that "there is no freedom that is absolute. There are limits set as to what you're allowed to do." Such matter-of-fact censorship threatens freedom of expression at Philippines' leading cultural institutions. More broadly, it appears to be an example of a discourse of democratic "respect" being deployed to support the politics of those with the power to claim they speak for the majority.
Cruz seems vindicated about the controversy in regard to Poleteismo's intent, saying: "I treat the whole situation as an extension of the actual piece. Sadly, it only proves the validity of the proposition in my work. Despite recent developments in science and social methodologies, the irony is that the general population is still intoxicated with the opium of religion." In the meantime, he has been dealing with two separate criminal charges, having been formally charged with violating Article 201 of the Revised Penal Code of the Philippines, prohibiting exhibits, scenes, acts or shows that "offend any race or religion." He filed a counter affidavit to both charges on September 29.
Despite the controversy and legal proceedings, Cruz is adamant: "In my creative practice, I keep exploring … My practice is not static, but certainly the modality and appearance of Poleteismo is continually being explored." Asked if he feels censorship may be a problem in the future, he replies: "Things will be more inconvenient next time, but to be intimidated is the worst thing to happen to an individual. Therefore, I will just continue… to engage in healthy discourse. The worst effect is that major art institutions might be more conventional, and this will mean a dull period in visual arts practice."