Bang Hai Ja (1937–2022)
By Sharpe Xie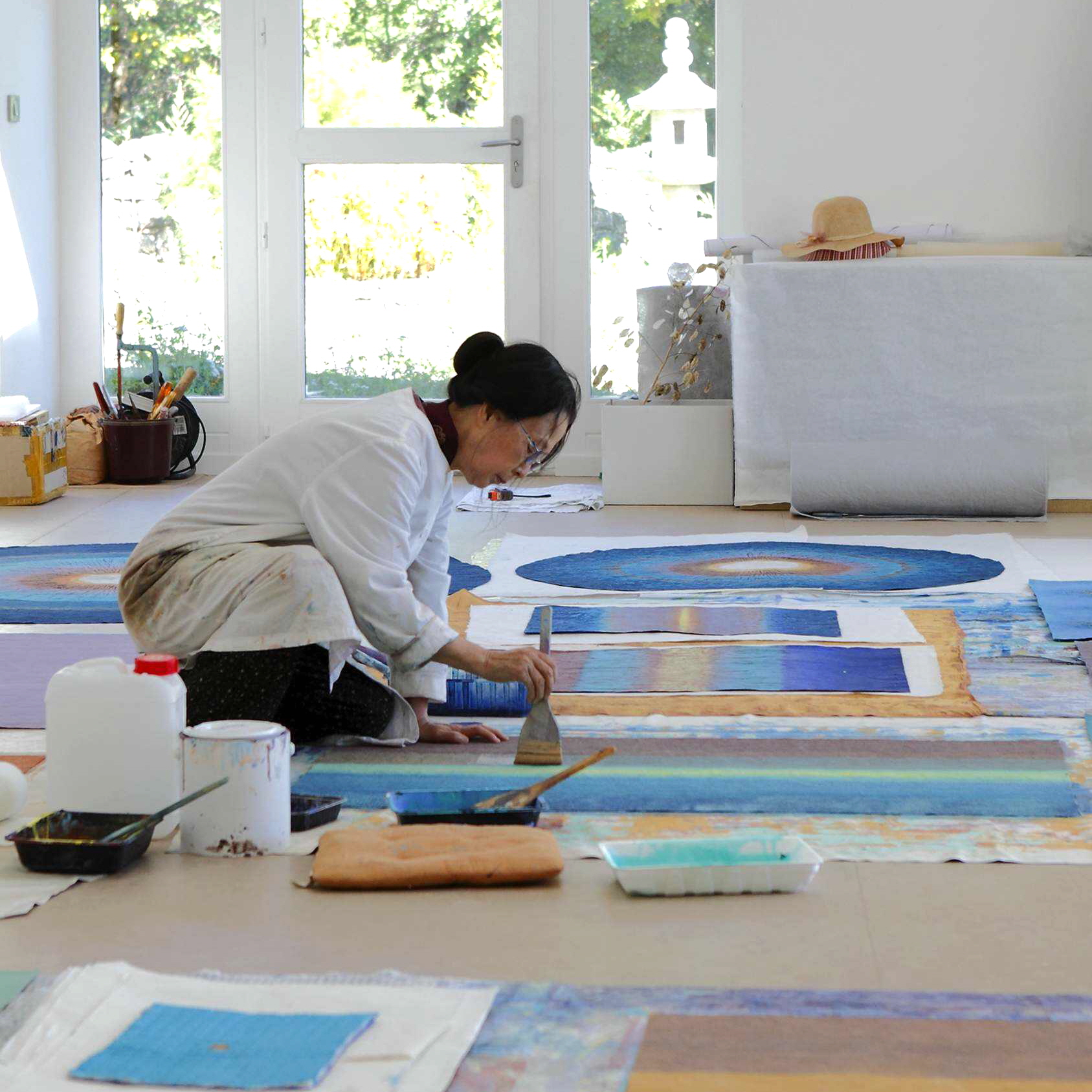 Paris-based Korean painter Bang Hai Ja, also known as "the painter of light," died on September 15 in Ardèche, southeastern France. She was 85 years old.
Born in Seoul in 1937, Bang grew up wanting to study French literature and become a poet. Her high-school teacher, realizing her talent in painting, persuaded her to study art instead. She was admitted to Seoul National University, where she studied fine arts and calligraphy, and created works with poetic expressions. With the support from her parents, who were art lovers and teachers, she moved to Paris in 1961 to study at the École des Beaux-Arts and began incorporating elements from traditional Korean culture into her painting techniques. During this period of time, she was exposed to works by Vincent Van Gogh, Paul Cézanne, Wassily Kandinsky, and Paul Klee. Her study and life in France led to an artistic style that merges calligraphic tradition with abstract painting.
Bang is most known for her paintings of light, a motif that she was fascinated with her whole life. She began developing her signature style in the 1980s, when she abandoned oil for ink, acrylic, and natural pigments on paper. Inspired by stained-glass windows in old European cathedrals, Bang creates luminous, multilayer works that possess a hearth-like glow. She mainly uses traditional Korean paper, which is handmade by Korean nuns using leaves and plants, or geotextile, a transparent, unwoven fabric. She applies layers of colors through baechae, a technique used in traditional Korean portrait paintings, where the artist paints on the back of the canvas. The resulted work features a dark background and light shining through the middle of the painting, evoking hope and joy. She once explained, "Through these pigments, the matter becomes light [and] transfers energy to the viewer, [giving them] an internal smile." She continued painting in this style throughout the rest of her life.
In 2018, she won the competition to create four stained-glass windows for the chapter hall of Chartres Cathedral, a UNESCO heritage site in France. For this project, she worked with the Glasmalerei Peters workshop in Paderborn to produce the blue-hued windows, which feature a circular composition that embodies her understandings of the cosmos. The project is a perfect match with her approach.
Bang's works have been exhibited widely in Korea as well as internationally in Europe, Japan, Canada, and the United States. She won the Award of Sacred Art at the Monte-Carlo International Grand Prix Exhibition, Monaco. She also received the Order of Arts and Letters from the Korean President in October 2010, as well as the France-Korea Cultural Award and the Excellency Award for culture and arts by the International Foundation of Korean Women in Romania in 2012.
Sharpe Xie is ArtAsiaPacific's editorial intern.