Balkrishna Vithaldas Doshi (1927–2023)
By Tong Tung Yeng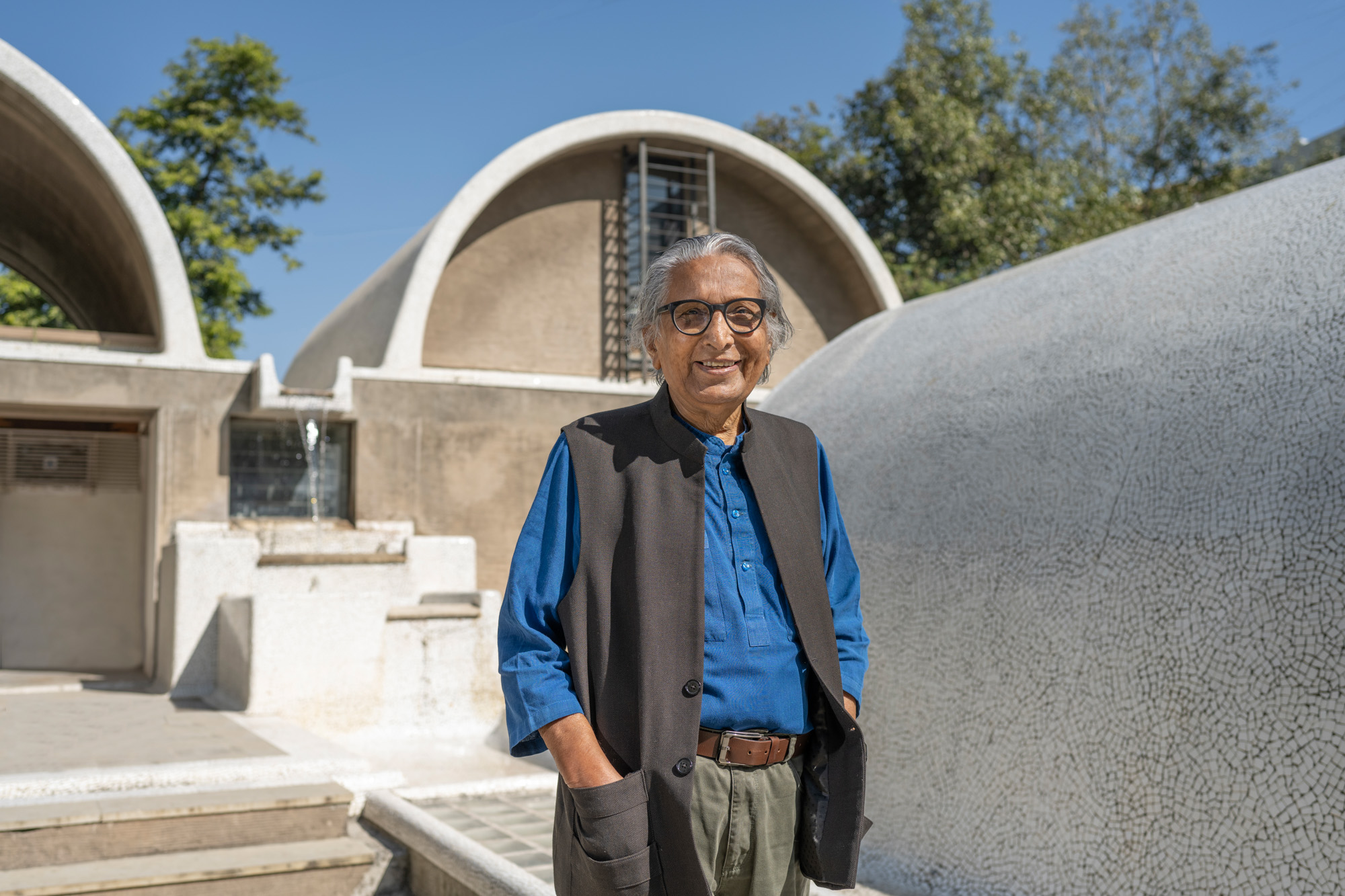 Celebrated Indian architect Balkrishna Vithaldas Doshi, known fondly to most as BV Doshi, died on January 24 at his home in Ahmedabad, Gujarat. The father of Indian architecture was 95 years old when he passed away from age-related complications.
Doshi was born to a family of furniture makers in 1927 in Pune, a city considered as the locus of culture and education in Maharashtra. He was raised mostly by his extended family as his mother had died when he was just ten months old, and his father had remarried after.
He enrolled in the Sir J.J. College of Architecture in Mumbai in 1947, but left for London in 1950. In 1951, he moved to Paris to work under famed Swiss-French architect Le Corbusier. He then returned to India to supervise Corbusier's building projects in Ahmedabad, including the Villa Sarabhai (1955), Mill Owners' Association Building (1954), and Sanskar Kendra (1954). Doshi later worked as an associate with American modernist architect Louis Kahn and collaborated on building the Indian Institute of Management Ahmedabad (1962). Corbusier's and Kahn's tutelage paved the way for Doshi's development of a modernist-brutalist style that blends traditions of vernacular Indian architecture with modern design principles.
In 1956, Doshi hired two architects and founded his own practice, Vastushilpa, which has since been renamed Vastushilpa Consultants and grown to employ five partners and sixty employees, and has completed more than 100 projects since its inception. Beneath his well-decorated exterior, Doshi remains well-loved for his unwavering dedication to producing humanitarian design, one spurred by compassion and aspirations of social equity. The architect channelled his energies to reshaping India's architectural landscape, revolutionizing the country's educational and lived environments with sustainable and human-centric designs. In 1989, he conceived the Aranya Low Cost Housing project—a minimalist township accommodating over 80,000 people from low to middle income families in Indore.
His expansive, seven-decade career was dotted with prestigious accolades. In 2018, he became India's first Pritzker Architecture Prize laureate. He was also awarded the Padma Shri and Padma Bhushan, India's fourth and third highest civilian honor, in 1976 and 2020 respectively, and the Royal Institute of British Architects' Royal Gold Medal in 2022.
Hailed as "a remarkable institution builder" by Indian prime minister Narendra Modi, Doshi was an educator at heart. The architect was the founding director of the School of Architecture and Planning in Ahmedabad (1966–2012), renamed as the Centre for Environmental Planning and Technology (CEPT) University in 2002. In 1978, he established Vastushilpa Foundation for Studies and Research in Environmental Design focused on developing Indigenous design and standards for built environments appropriate to the socio-cultural and environmental milieu of India.
Doshi once defined architecture as a "living organism" and said: "It is a place where you live and you celebrate life. I believe architecture evolves similar to [how] life evolves. When you live with life, you are constantly changing and modifying depending upon the situation. More than practicing architecture I am constantly learning about life and [the] behavior of people and places. We are a gregarious society, so we like to mix, we like to live together, we like to move around, and we are also a little bit chaotic. [As] a result, whatever we do has to be adaptable to a changing situation. To me architecture is not only a single building but a complex of habitations."
Doshi is survived by his wife, Kamala Parikh, and their three daughters Tejal Panthaki, Radhika Kathpalia, and Maneesha Akkitham, who have all become art practitioners in their own right in the fields of textile design, architecture, and painting.
Tong Tung Yeng is ArtAsiaPacific's editorial intern.
Subscribe to ArtAsiaPacific's free weekly newsletter with all the latest news, reviews, and perspectives, directly to your inbox each Monday.