What's Showing at Art Basel 2022
By The Editors
A look at artists and galleries from across Asia as the art world's biggest international fair returns to form.

For the first time since 2019, Art Basel is taking place during its traditional June dates, with 289 galleries bringing artworks from around the world to Messe Basel for a week spanning VIP previews (June 13–15) and public days (June 16–19). During the brief season when the small Swiss city becomes the center of the international art market, dozens more galleries are showing at smaller fairs such as Liste, Volta, and June Art Fair, along with major exhibitions taking place at the city's art institutions including the Kunstmuseum Basel, Kunsthalle Basel, Kunsthaus Baselland, and SALTS. Here's a look at what some of the galleries working with artists from across Asia are showing in the 2022 edition of Art Basel.
FEATURES
Silverlens
Manila

Following a major 2021 survey in Hong Kong at the Centre for Heritage, Arts and Textile, Silverlens is presenting Yee I-Lann's textile works created in collaboration with weavers in Kota Kinabalu in the Malaysian Borneo state of Sabah. I-Lann's works combine text and textiles, as well as forms of abstraction and craftsmanship, in an exploration of the region's colonial history and the survival of Indigenous communities.
Vadehra Art Gallery
Balkrishna Doshi
"Labyrinth of Dreams" is a solo showcase of 2018 Pritzker Prize-winning modernist architect and artist Balkrishna (BV) Doshi. Before becoming one of India's leading designers, the former Le Corbusier apprentice, now aged 94, studied art and continues to produce abstract paintings with references to miniature paintings and the artist's memories of childhood.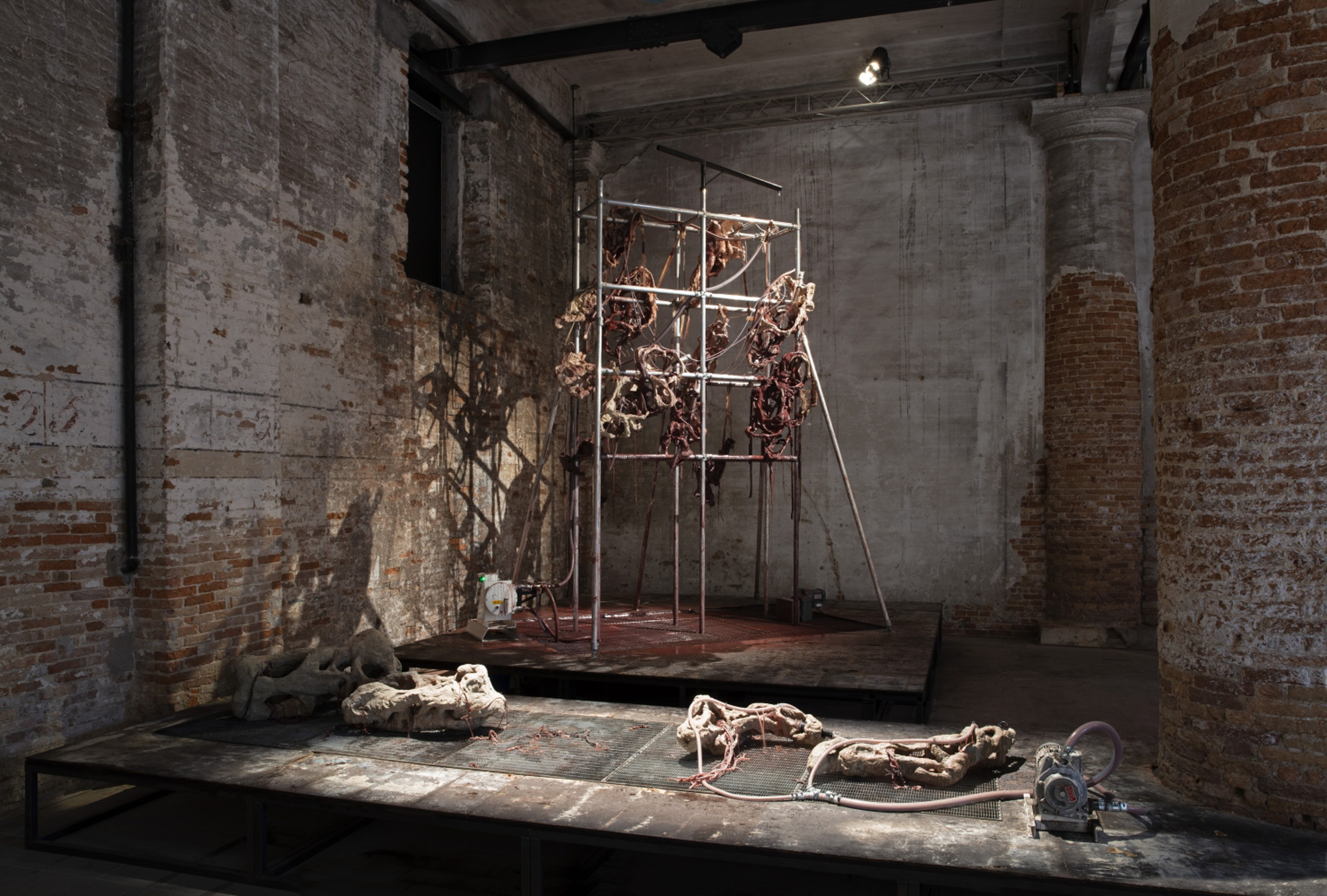 STATEMENTS
Tina Kim Gallery
New York

Mire Lee's works conjure the genres of body-horror and dystopian science-fiction. For her newly produced installation Endless House: Harlequin Baby (2022), Lee suspended bone-like objects dripping with fluid (a ceramic glaze) above a metal receptacle, a site-specific work whose elements will be further transformed at the conclusion of the fair.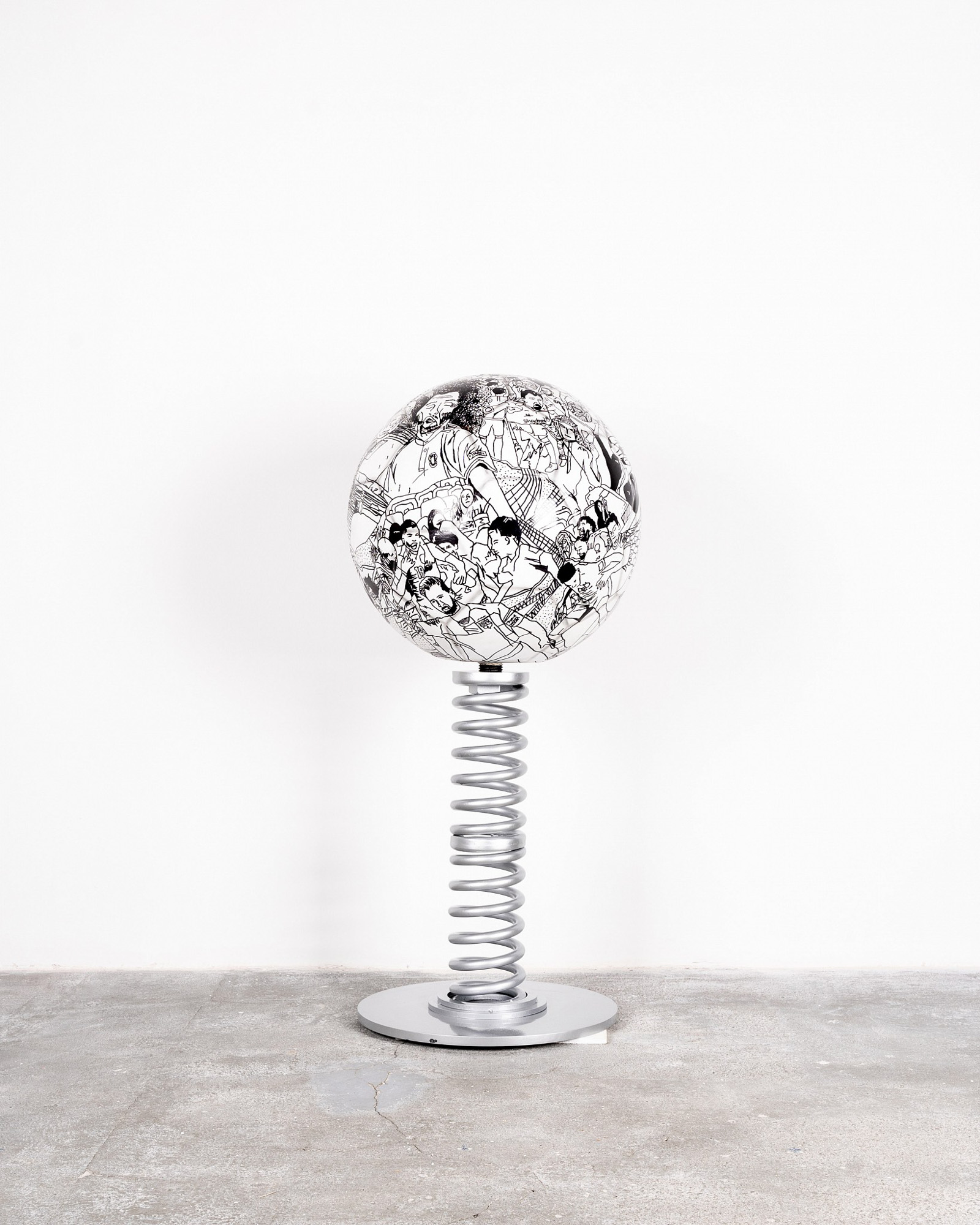 Athr Gallery
Jeddah

Ahaad Al-Amoudi's solo presentation "Keep It Up, People. The Night Is Young!" uses the football metaphor of juggling the ball in the air to examine the state of flux and precarity of contemporary life. The artist's black ink drawings on a range of objects, from clothing to a football comprise the installation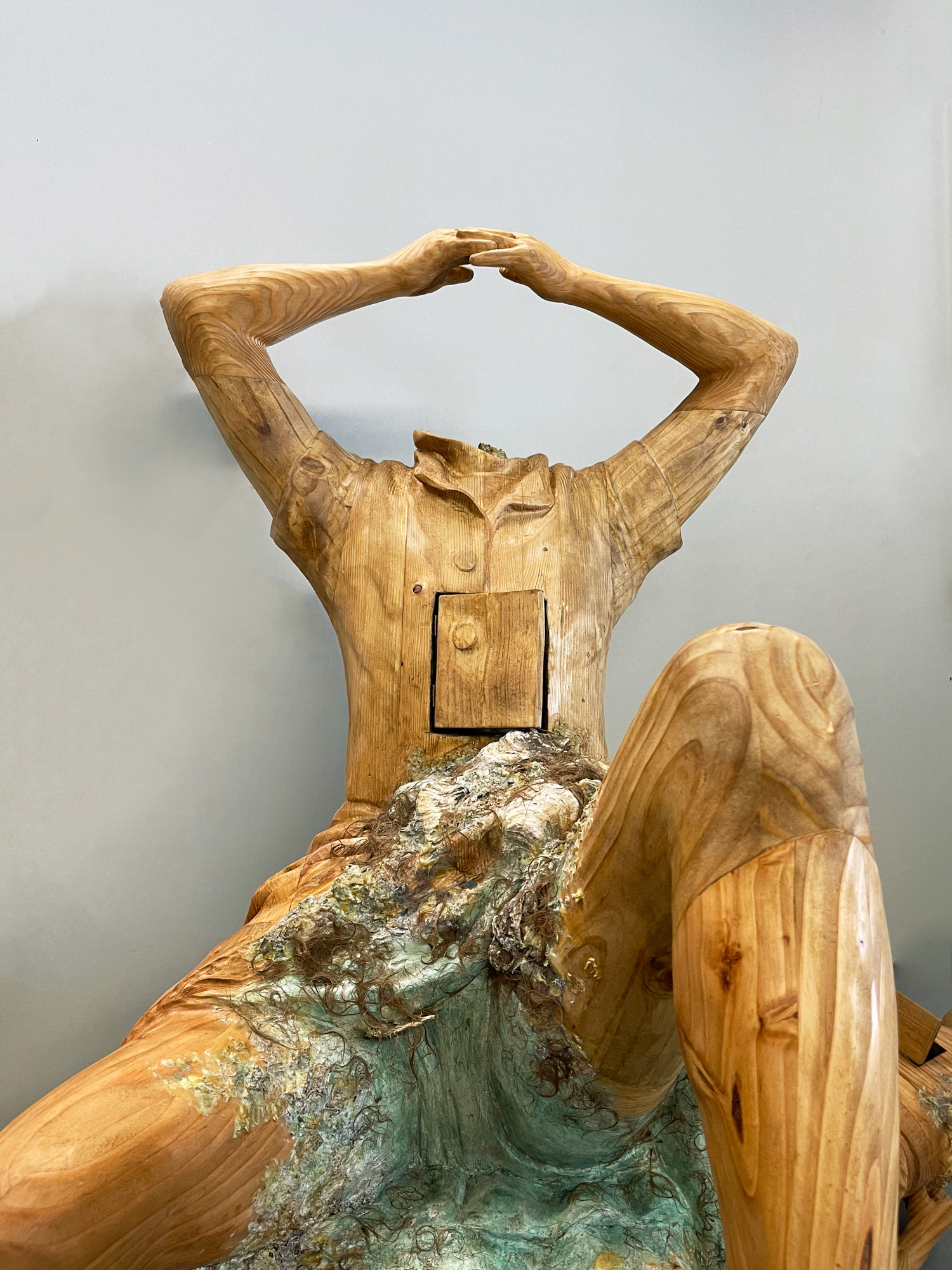 Lyles & King
New York

"Strange Attractor" is a solo presentation by Catalina Ouyang comprising four newly produced works from the artist's "reliquary" series (2021– ), based on physical postures of the young female subject in Balthus's paintings, and the "font" (2016– ) series, which refer to holy-water vessels in churches. A new sculpture merges the forms of Edmonia Lewis's portrayal of an American military figure with an antique statue of the Chinese deity Guanyin, while a video depicts a dream-like nighttime journey around Lewis's former neighborhood of Washington, DC.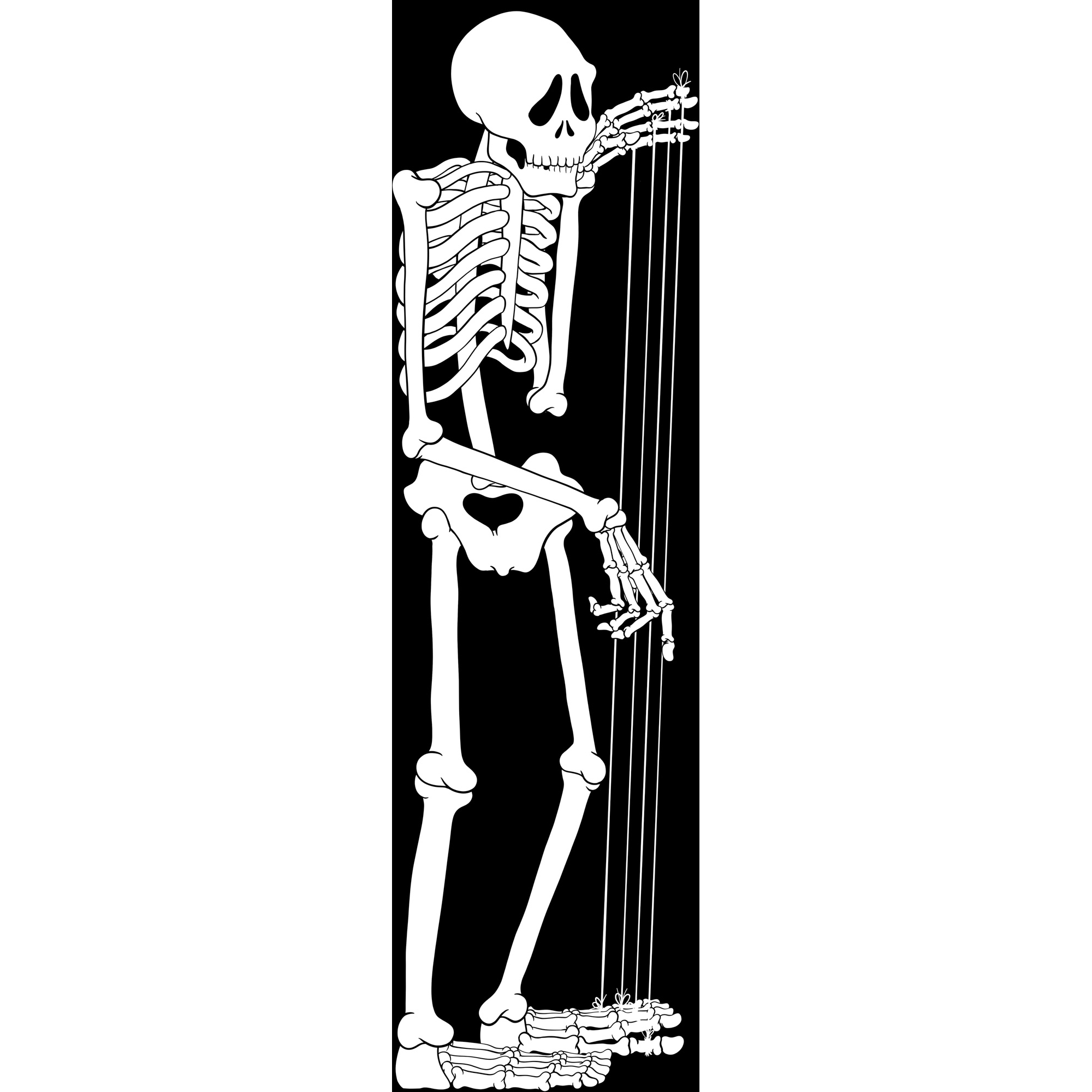 Edouard Montassut
Paris
On four large screens, Özgür Kar presents four animated videos of minimally drawn characters—three skeletons and one naked man—that comprise the characters in a ten-minute play. The characters of The Undead (2022) express existential malaise, loneliness, and sarcasm about the state of the world.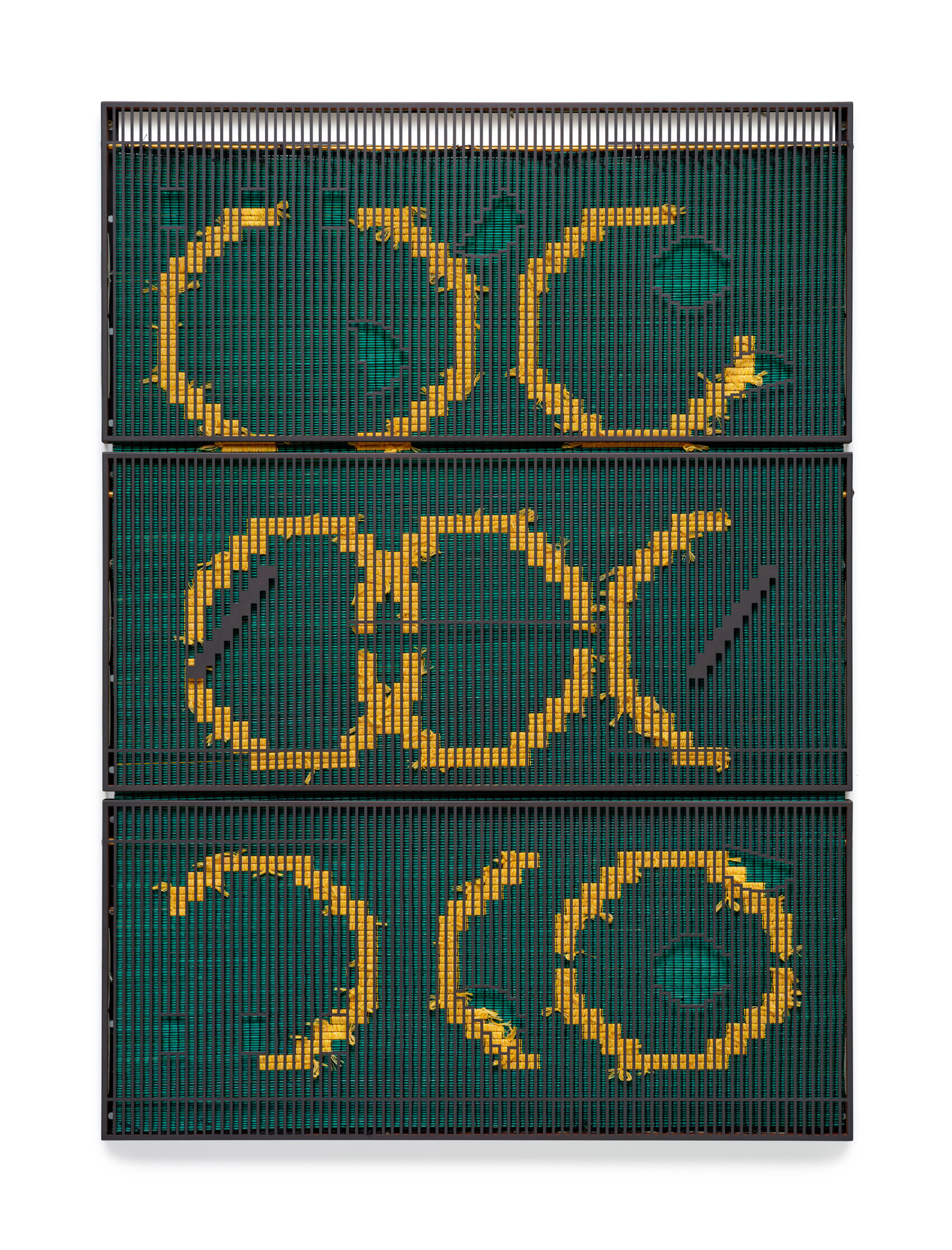 GALLERIES
Kukje Gallery
Seoul
Kukje's booth features abstractions by Korean artists Park Seo-Bo and the minimal geometry of a 1987 painting by Lee Seung Jio. Continuing the abstract tradition into the present, Suki Seokyeong Kang's Mat 120 x 165 #21-21 (2021) draws on traditional Korean crafts as well the Joseon dynasty court dance chunaengmu for its forms.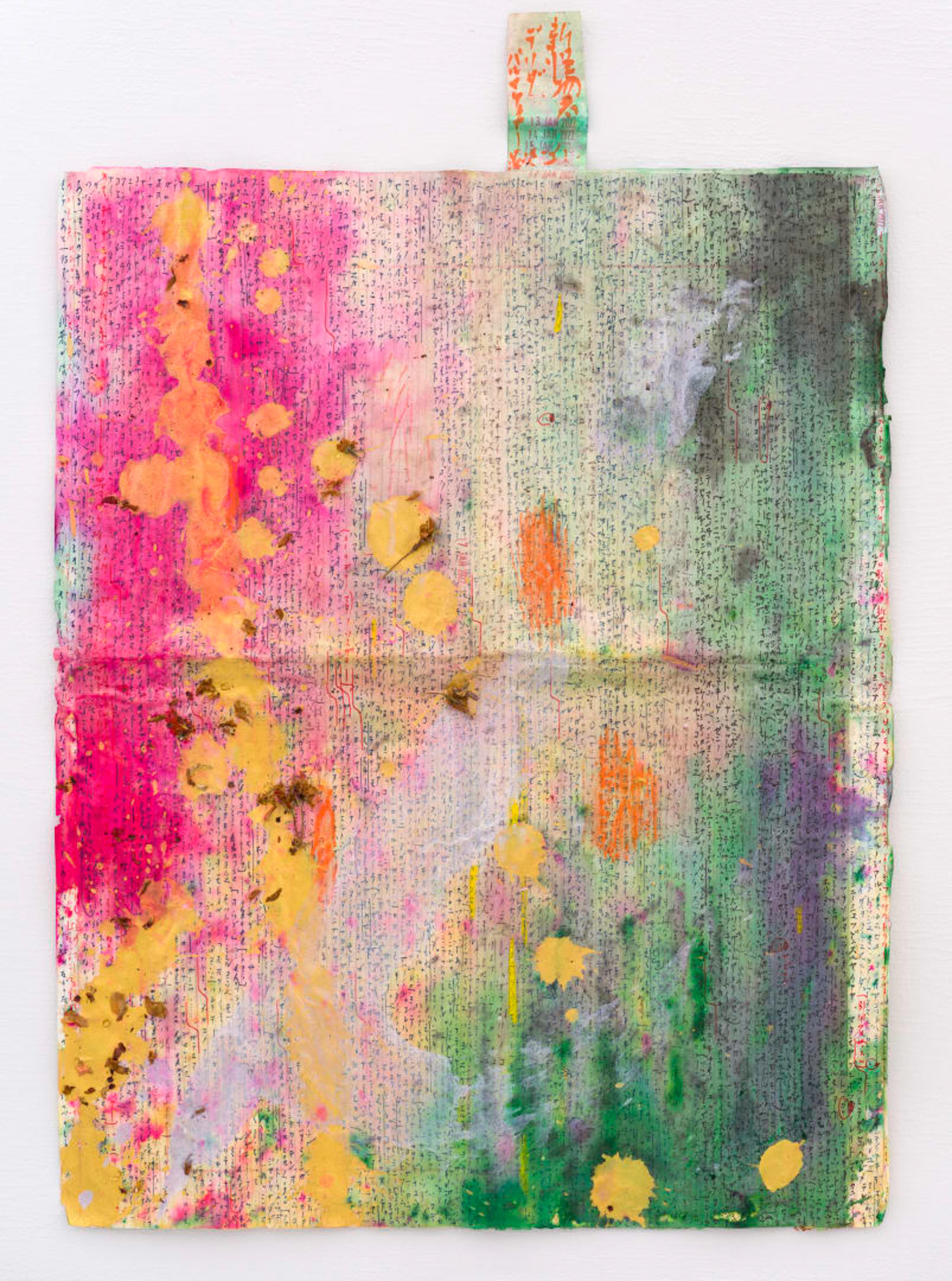 Take Ninagawa
Tokyo
Take Ninagawa brings together four artists whose diverse practices explore concepts of the archive through memory, word, and body. Mixed-media collages from the late 1980s by Shinro Ohtake reflect the artist's obsessive accumulation of printed materials, while Gozo Yoshimasu's new works of the New Dear Monster (2022) series are part manuscript, part painting, part performance art score, and Kazuko Miyamoto's sculptures in string produce ultra-minimal forms.

ShanghArt
Shanghai
With a curated presentation "Double Landscape," ShanghArt is featuring a dual presentation of Zhu Jia and Han Mengyun. Zhu's paintings span scenes with friends from his recent time living in London as well as paintings based on his memories of his mother's house in China. Han's paintings from the series "The Glass Bead Game" (2022) are inspired by Hermann Hesse's last novel and feature the artist's use of Indian woodblock prints.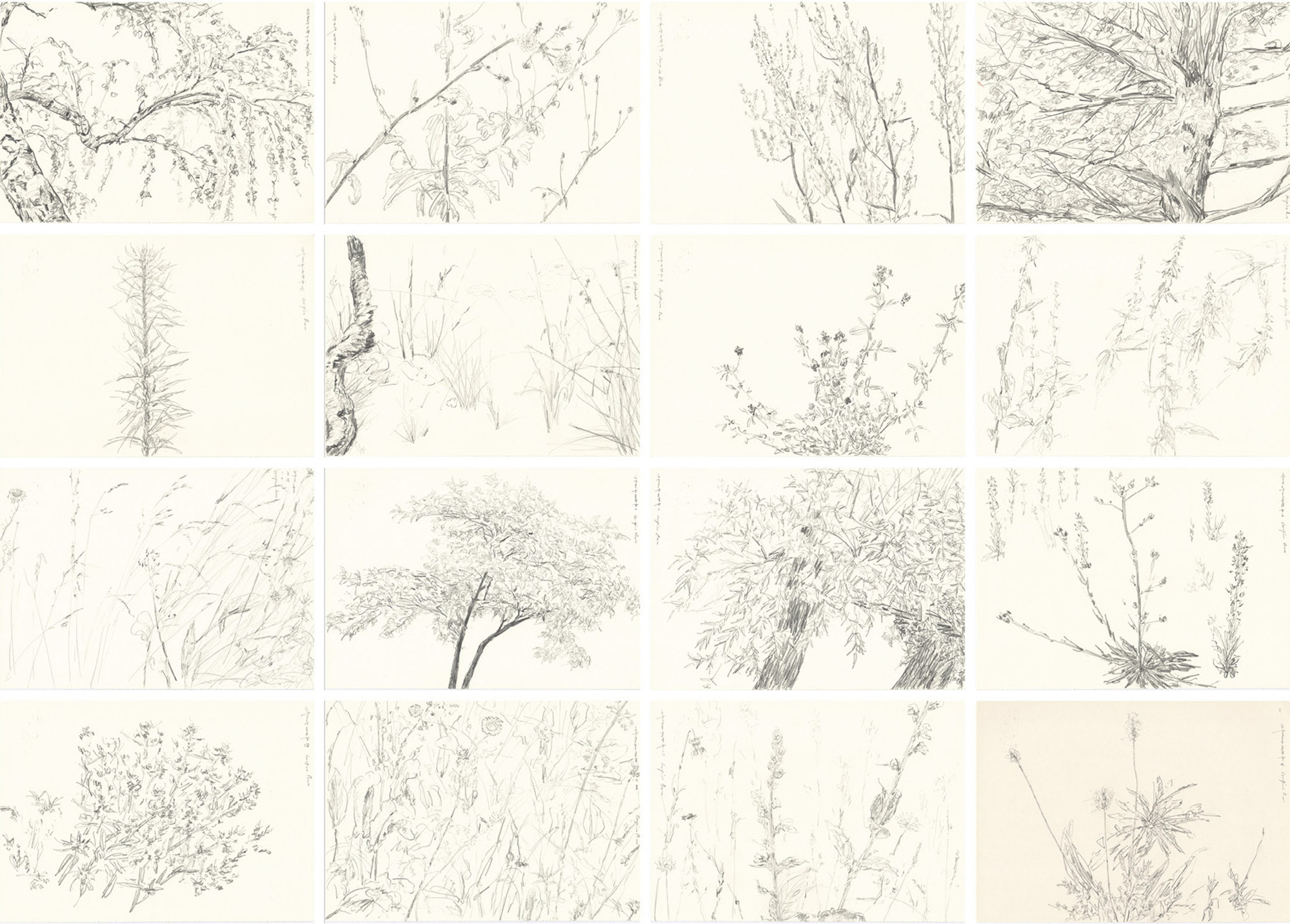 Kiang Malingue
Hong Kong, Shanghai
Zheng Bo's daily drawings of plants on Hong Kong's Lantau island anchor Kiang Malingue's presentation, and are shown alongside a green carpet painting of bunnies by Brook Hsu, Chou Yu-Cheng's minimal canvases, and a recent bronze-cast sculpture of a lamp by Nabuqi.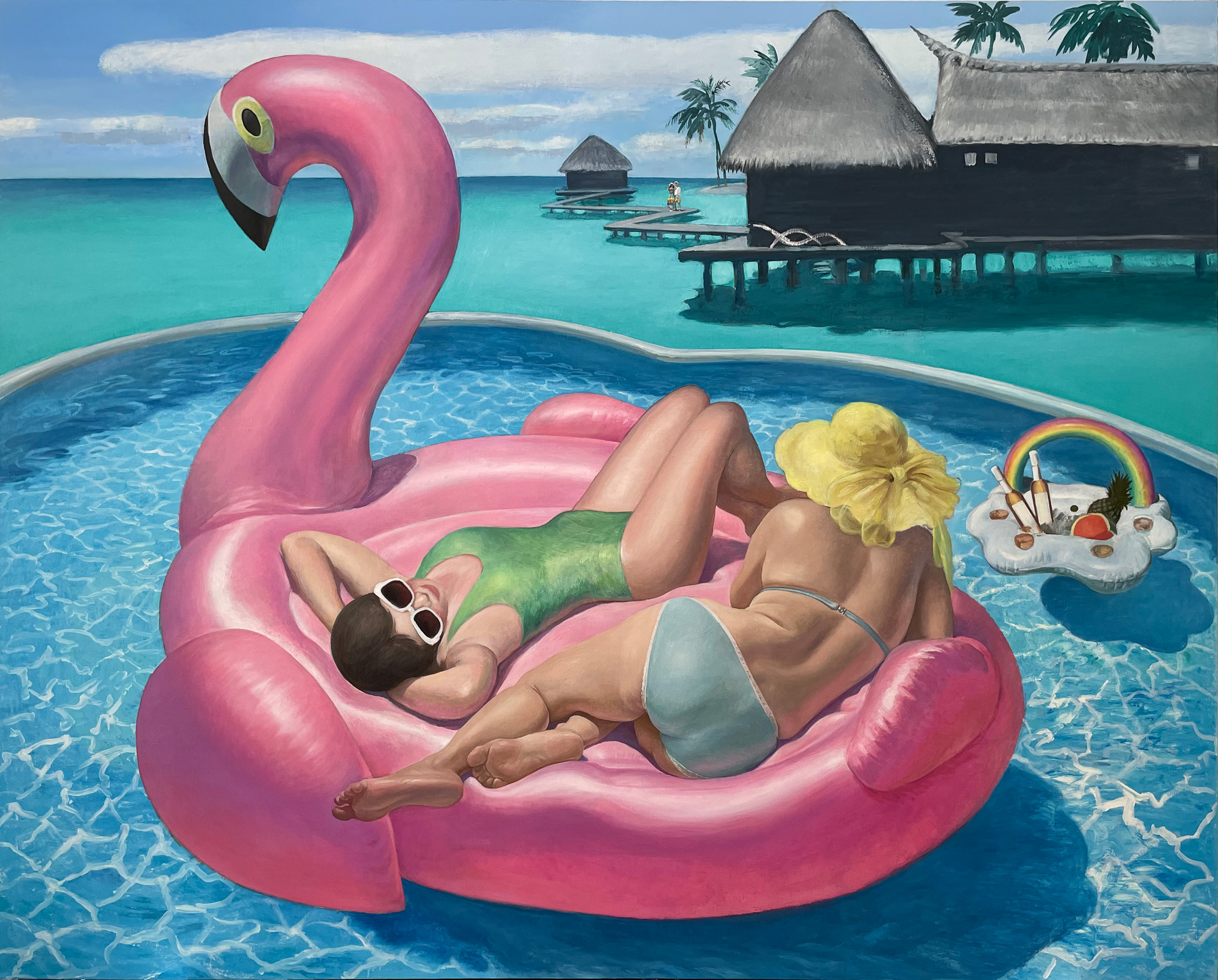 Galerie Urs Meile
Beijing, Lucerne
A new satirical painting by Wang Xingwei, Maldives (2021) depicts two sunbathers on an inflatable flamingo in a pool at a resort in the Indian ocean. A marble rendition of a cardboard box by Hu Qingyan extends the artist's exploration of material transformations, while Miao Miao's semi-abstract paintings reflect scenes from daily life.
STPI
Singapore
STPI's booth features works by former artist-residents at the printmaking facilities in Singapore. Rirkrit Tiravanija's works are inspired by HG Wells's science fiction writings, while Heman Chong's conceptual painting practice has expanded into the reproduction of found imagery from the local newspaper as well as the blocky abstract forms of a QR code on a health pass.
Experimenter
Kolkata

Experimenter is showcasing Sohrab Hura's series The Coast (2013–19), which captures nocturnal life along the coast of Tamil Nadu through a series of 56 feverishly surreal images. In addition, Kolkata's leading gallery is featuring a new sculpture of a cotton-headed bust by Prabhakar Pachpute and Praneet Soi's abstract painting, BURN, BARK, WALL (2022) whose forms allude to Islamic architecture and historical events in the United States and Kashmir.

UNLIMITED
The Unlimited sector, which opened June 13 in Hall 1.0, is the destination for 70 oversized artworks, installations, and videos. Taka Ishii gallery is presenting the barely perceptible works of Rei Nato, in breath (2018–22), consisting of a minimal railing, a vase with a flower, and a tiny mirror. By contrast, Ju Ting's massive gold painting from her series "Winter is Coming" (2018– ), shown by Galerie Urs Meile, is a riot of color made by repeatedly puncturing the canvas, revealing layers of color beneath. More contemplative in tone is the 7.5-meter wide canvas in blues and grays by Zao Wou-ki, Triptyque 2000–2001 (2000–01), offered by LGDR, resembling a mountainous landscape seen from a distance. From Carlier Gebauer, Nida Sinnokrot's sculpture High Dive (2018) consists of a diving board bolted to a minbar (the pulpit where an imam gives sermons), suggesting the ambitions of transcendence and performance that religions might preach. Huang Yong Ping's large-scale sculpture American Kitchen and Chinese Cockroaches (2019), presented by Kamel Mennour, satirizes Chinese-American cultural relations, while the drawings on Monira Al-Solh's hand-embroidered tent, Lackadaisical Sunset to Sunset (2022), presented by Sfeir-Semler, narrate the life story of a woman abandoned by her husband and forced to move to another country with her children.