What's Showing at Sydney Contemporary Presents 2020
By The Editors
Australia's primary international contemporary art fair is one of many large-scale events lost to the pandemic that has reincarnated itself as a digital platform, dubbed Sydney Contemporary Presents 2020. For the month of October, galleries are presenting 450 new artworks created by more than 380 artists specifically in response to the events of 2020. The fair itself is aiming to support the artists and galleries in the region by not taking a slice of the sales, and new artworks will be added each week through October 31. The platform has a search function that will help you find just the right artworks for your aesthetic preferences and budget, and there's extra content on the site including videos by 20 artists reflecting on the year in 20 seconds or 20 words, and an online adaption of the animated virtual-reality landscapes of Jess Johnson and Simon Ward's TERMINUS (2019).  
Gallery Sally Dan-Cuthbert, Sydney
Renowned multidisciplinary artist Lisa Reihana, who is of Maori descent, represented New Zealand at the 2017 Venice Biennale with her panoramic animated video installation in Pursuit of Venus [infected] (2015–17), which reclaims the history of British colonial explorer James Cook's first contact with the native peoples of the South Pacific. Reihana's print Emissary No.3 – Nootka Ancestor (2020) continues Reihana's interest in representations of indigenous identities and homelands.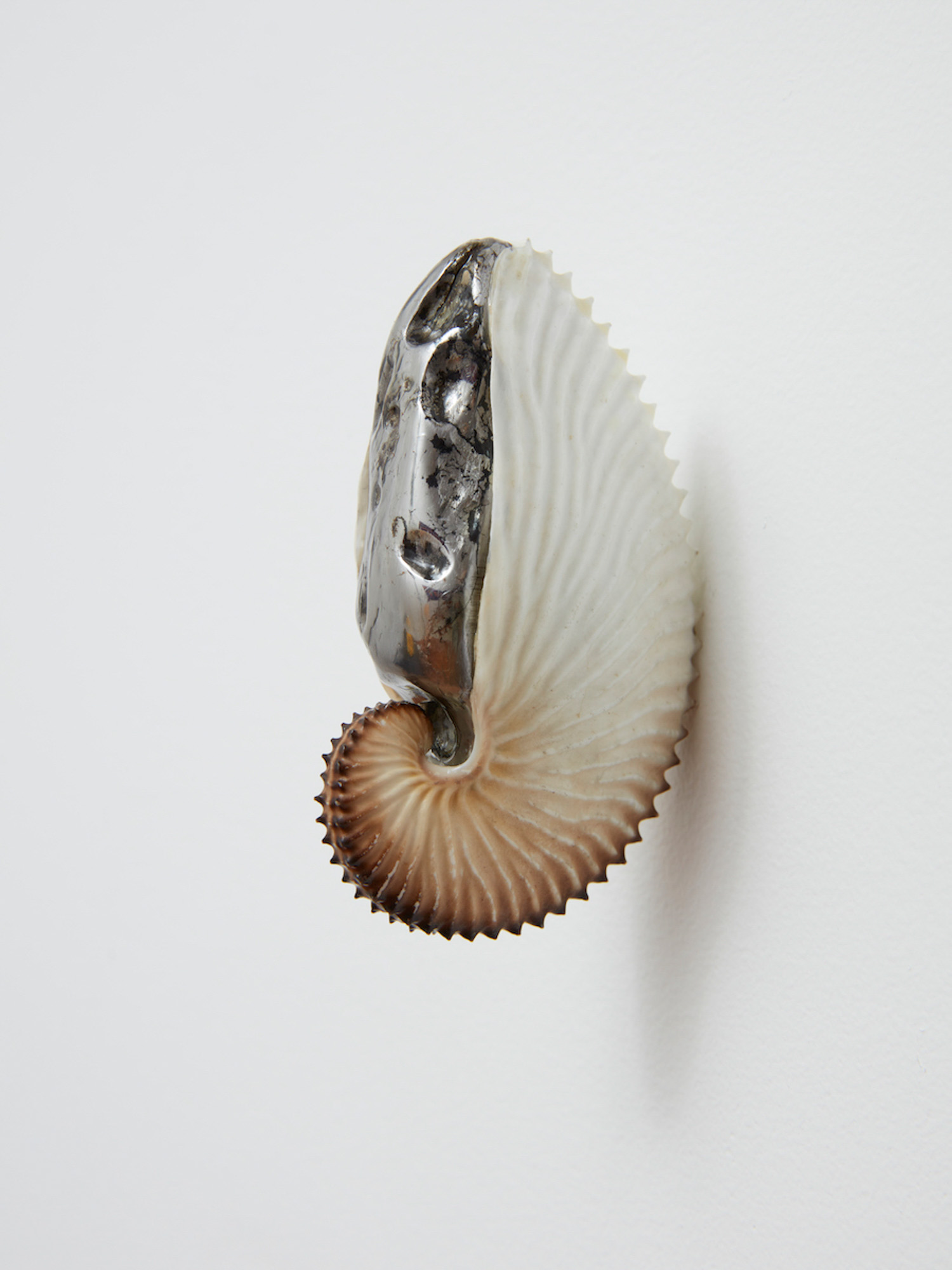 Michael Lett, Auckland
Zac Langdon-Pole's multimedia practice interrogates belonging, translation, and the legacies of imperialism. The wall-mounted sculpture Passport (Argonauta) (vii) (2020) comprises a fragment of Uruaçu meteorite wrapped inside a paper nautilus shell, encapsulating notions of geological time, foreignness, and natural material transformation.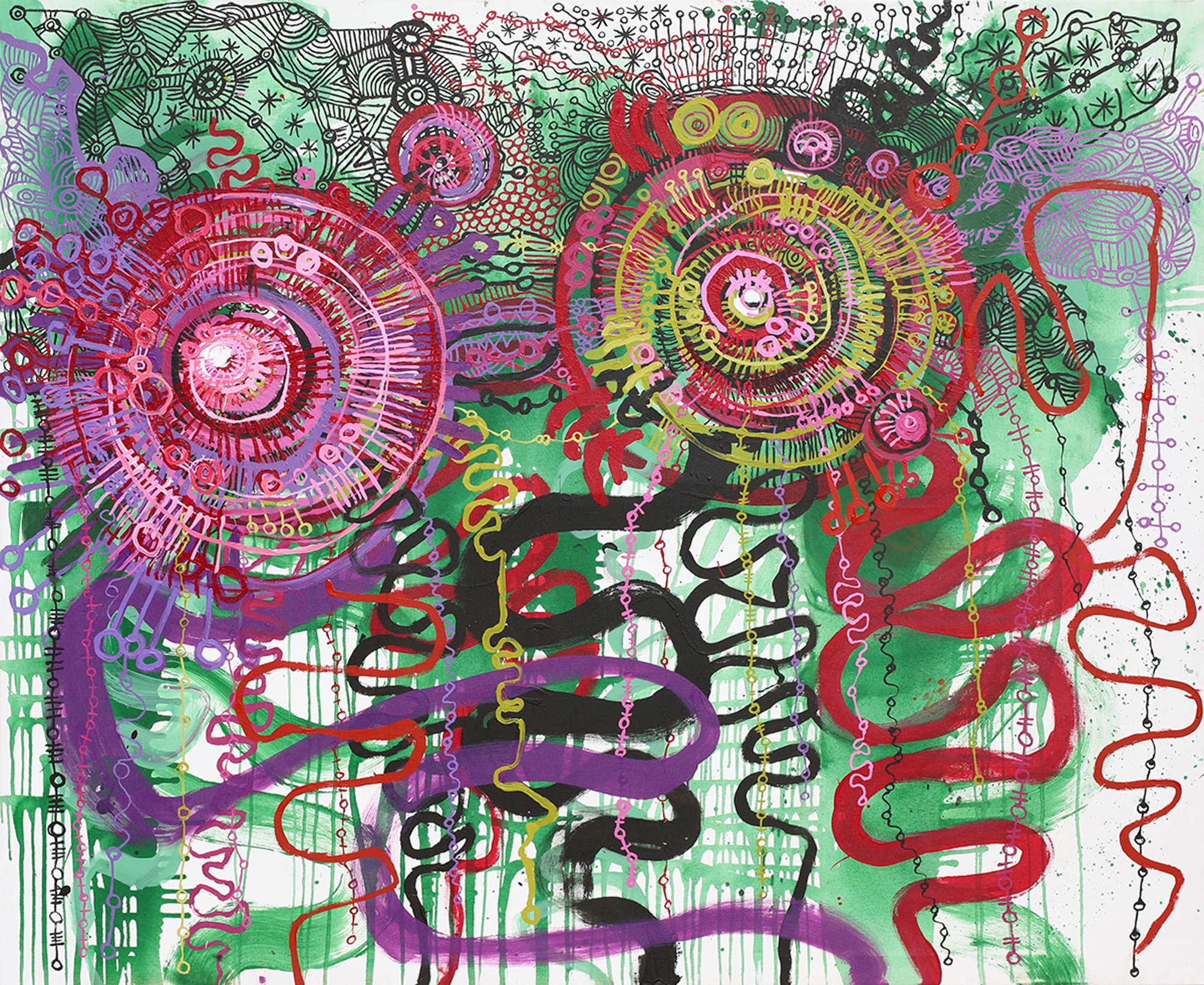 Alcaston Gallery, Melbourne
Yaritji Young, winner of the 2016 Wynne prize, is known for her colorful paintings reflecting the landscapes and spiritual beliefs of the Anangu Pitjantjatjara Yankunyjatjara (APY) Lands in South Australia. Tjala Tjukurpa – Honey Ant Story (2020) relays the titular Pitjantjatjara creation myth with vibrant strokes of violet and bright green.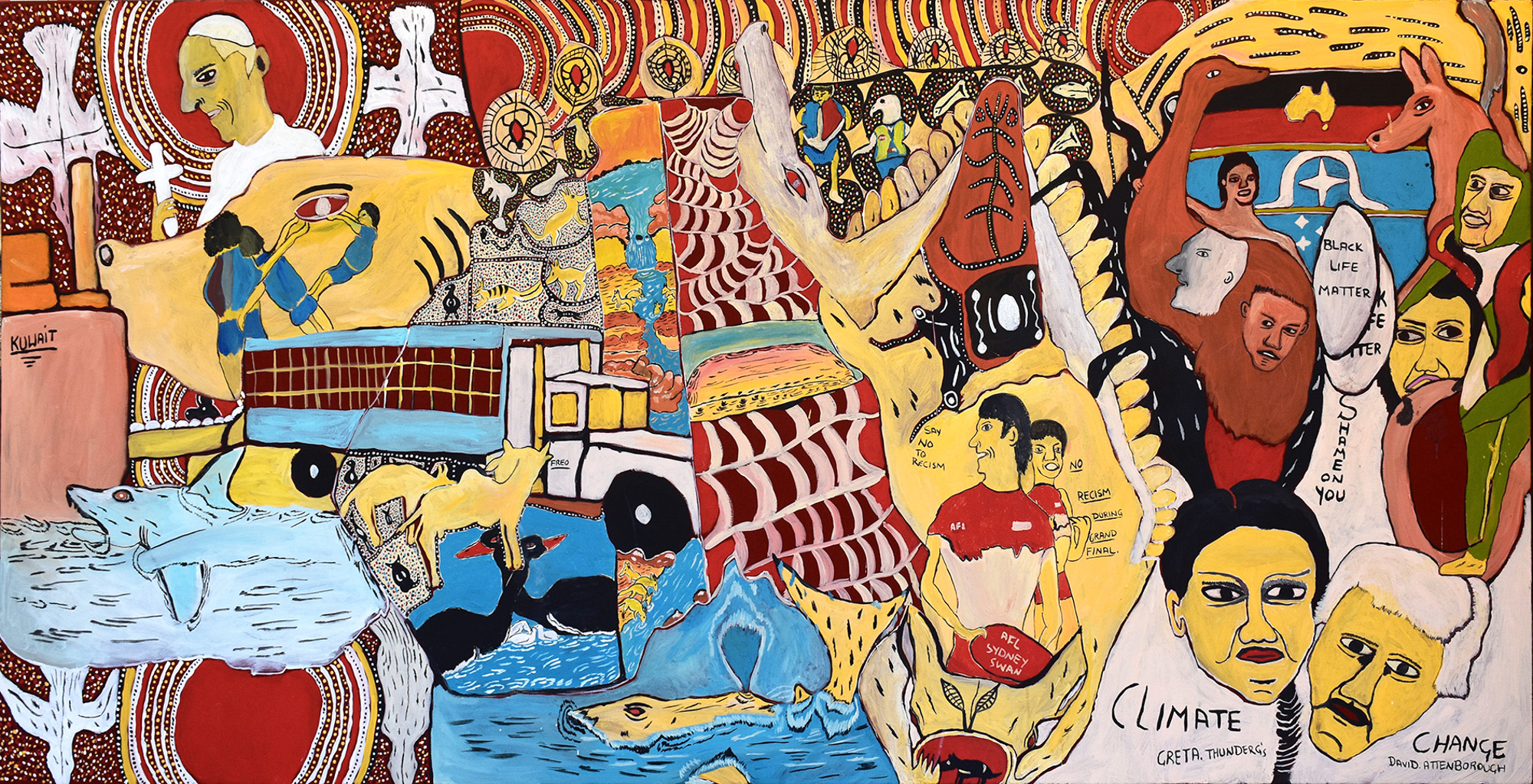 EG Projects X Mangkaja Arts, Perth
Walmajarri artist John Prince Siddon's layered compositions are loaded with symbolism and imagery relating to the darker aspects of life in Western Australia, from the socioeconomic oppression of indigenous communities to raging wildfires and violent crime. The Prince's Eight Parables (2020) nods to climate activism, the Black Lives Matter movement, and racism in Australian football.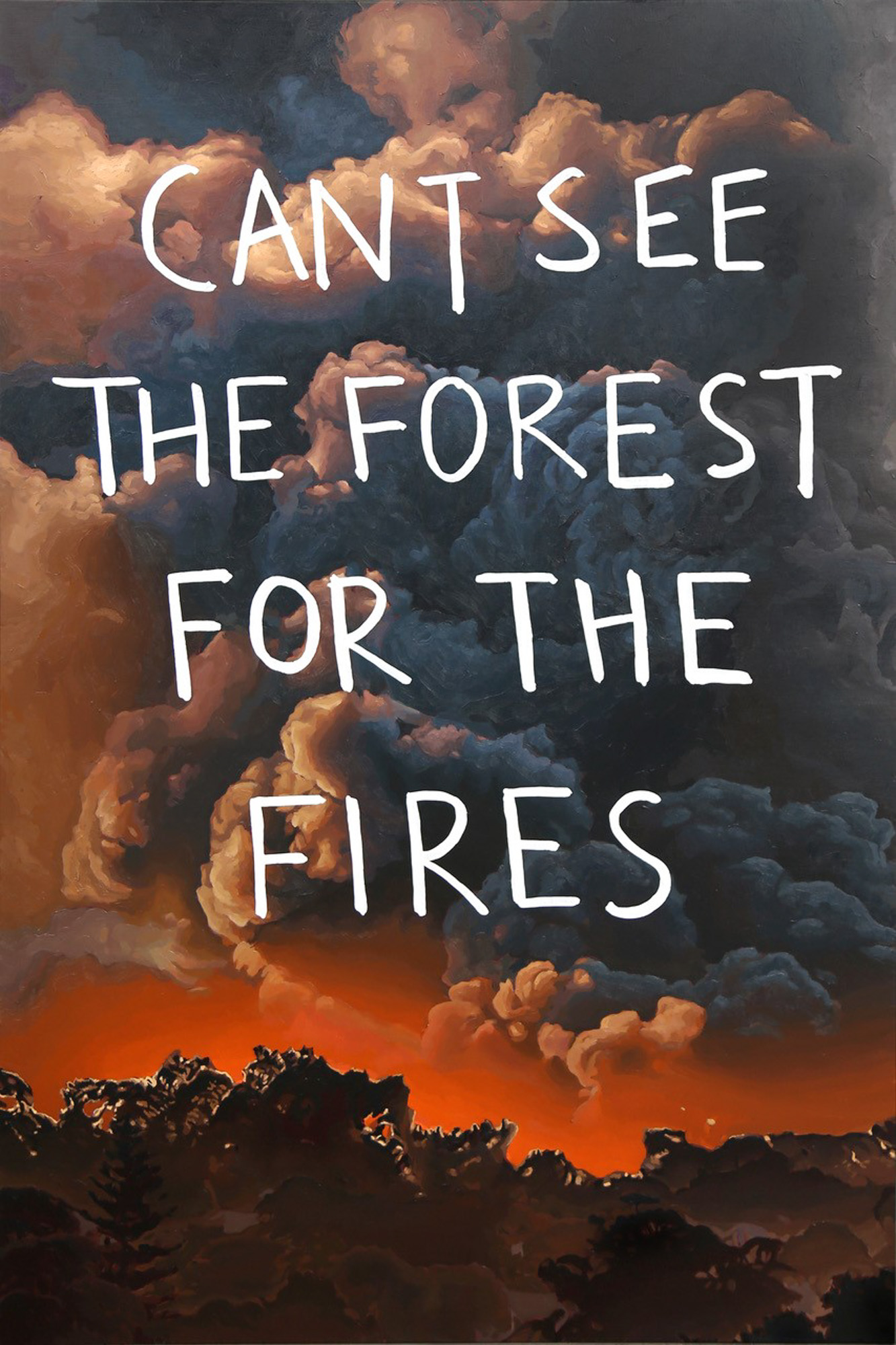 Yavuz Gallery, Sydney
Multidisciplinary artist Abdul Abdullah, winner of the 2019 inaugural Australian Muslim Artist Art Prize is also a five-time finalist for the Archibald and Sir John Sulman prizes. Drawing on his own background as a Muslim in Australia, he examines feelings of alienation and displacement as well as issues of marginalization in his works, such as the exhibited oil-on-linen Can't see the forest for the fires (2020), depicting a red, smoke-filled landscape.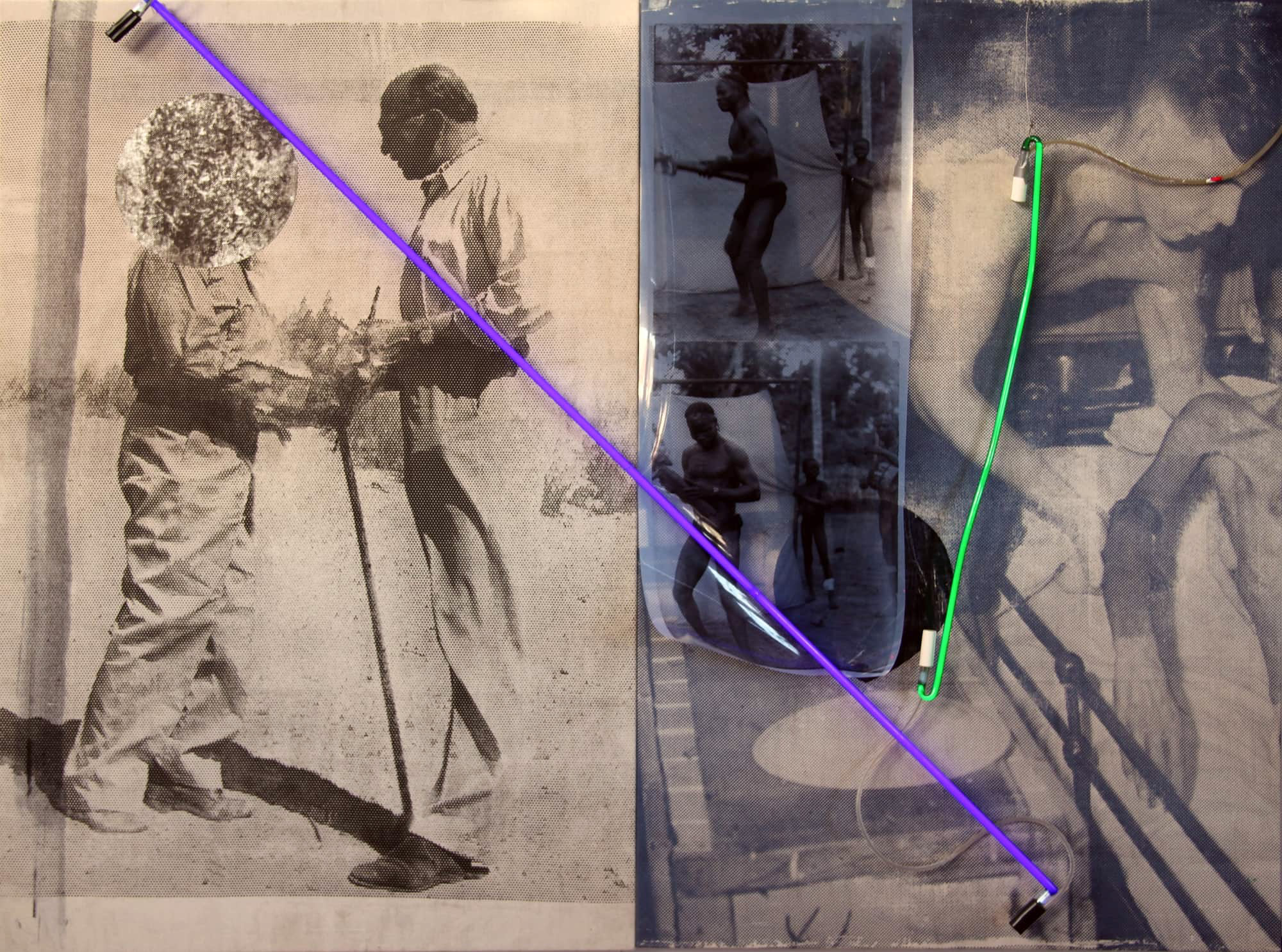 Tolarno Galleries, Melbourne
Brook Andrew, Wiradjuri artist and artistic director of the 22nd Biennale of Sydney, explores Australia's colonial and indigenous histories through his multi-layered works, which uncover records hidden or overshadowed by mainstream narratives. The three collages on display—This year, tied to history… (all 2020), This year, the bench…, and This Year Three Zones—juxtapose old photographs with some depicting indigenous people in an attempt to highlight these issues.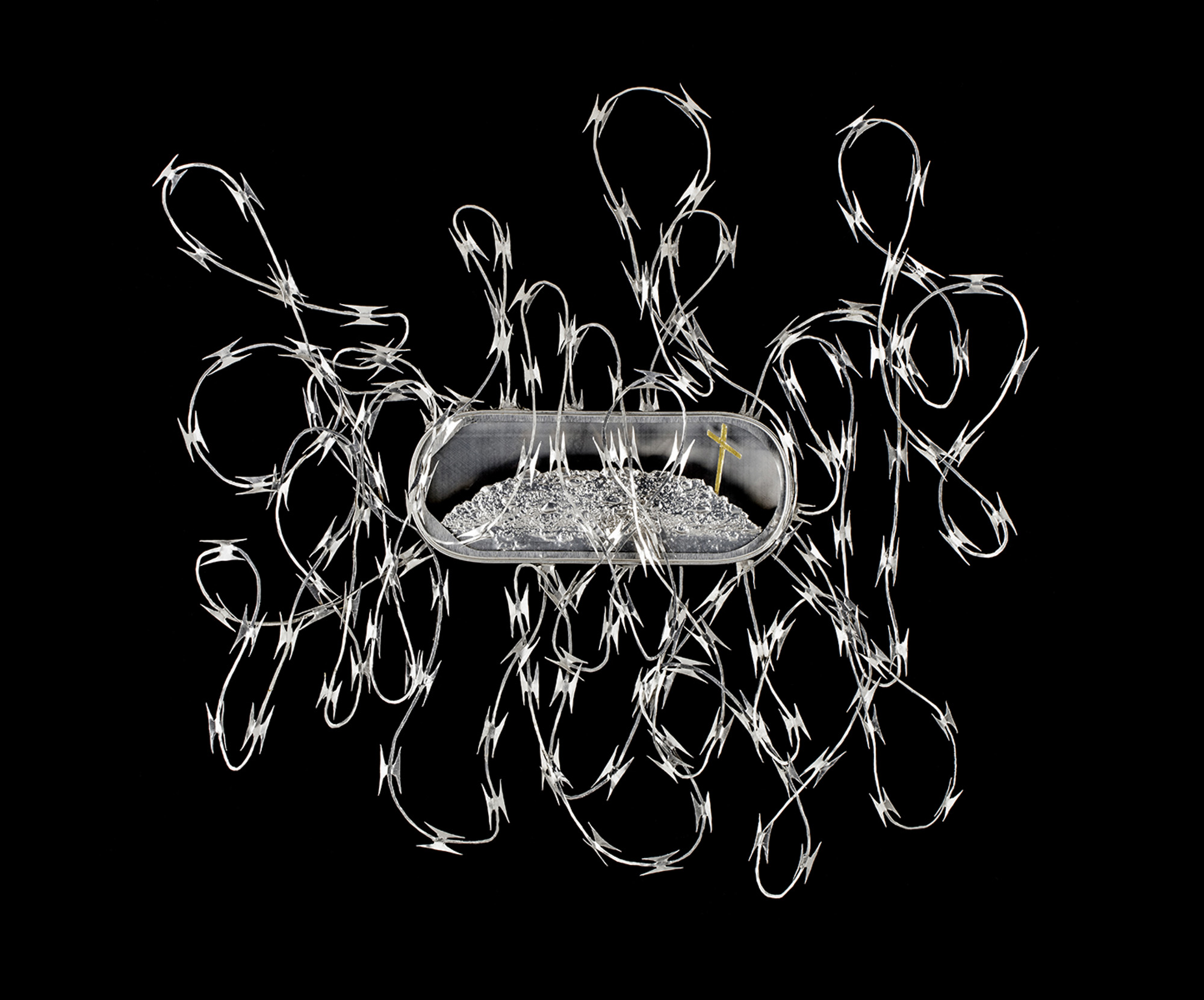 Roslyn Oxley9 Gallery, Sydney
The elaborate aluminium sculpture Sticks and Stones (2016–20) shown at Roslyn Oxley9 Gallery once again exhibits Fiona Hall's creativity in transforming various materials into intricate, organic-like forms. The artist works in a wide range of mediums spanning paintings, sculpture, photography, and installations in her examination of environmental and political themes.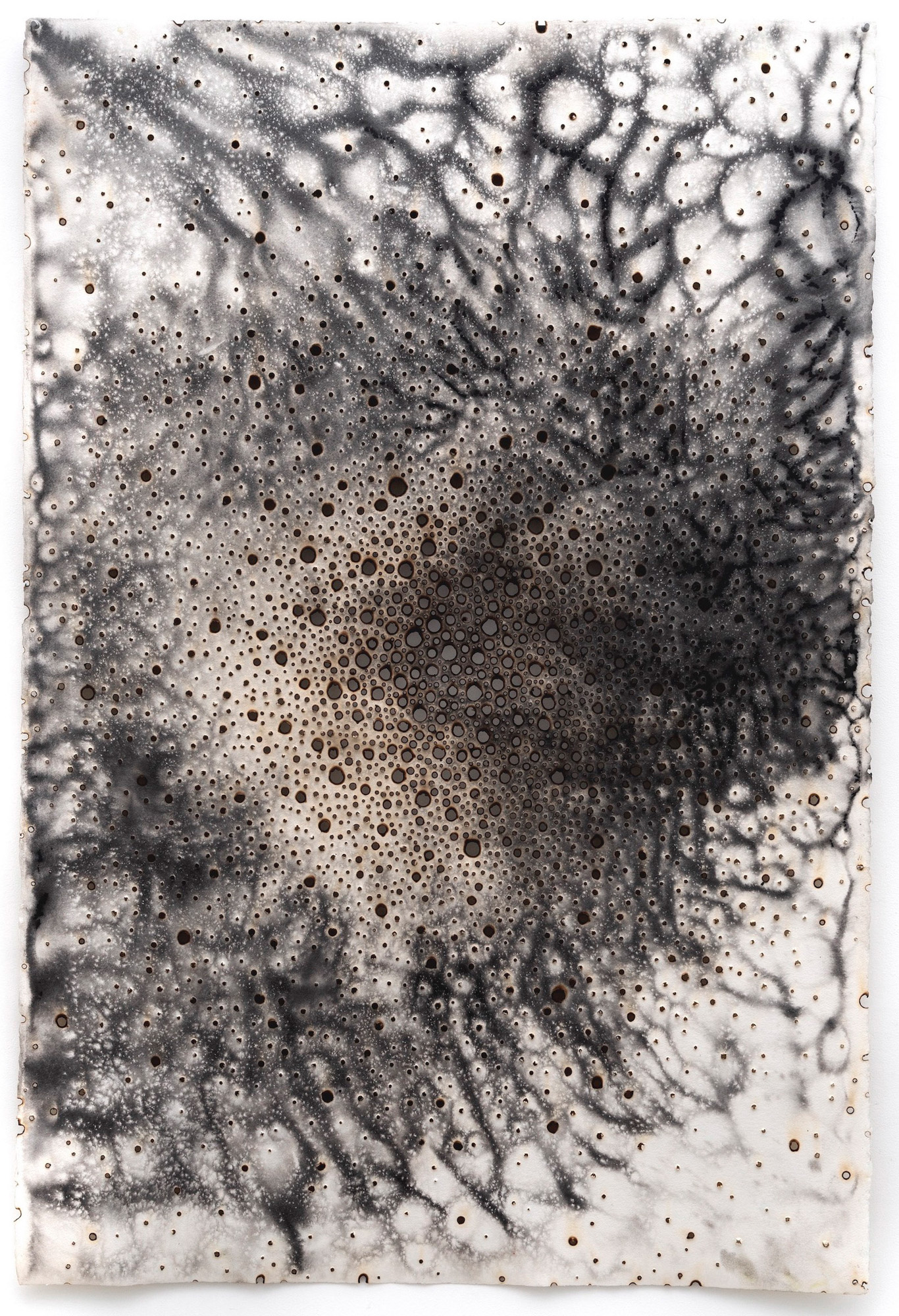 Sullivan+ Strumpf, Sydney
Chinese-Australian painter and sculptor Lindy Lee explores the self and draws upon elements of Taoism as well as Chan Buddhism in her galactic works. In River Confetti (2020), she employs her signature artistic gestures of splattered ink as meditations on human existence and chance.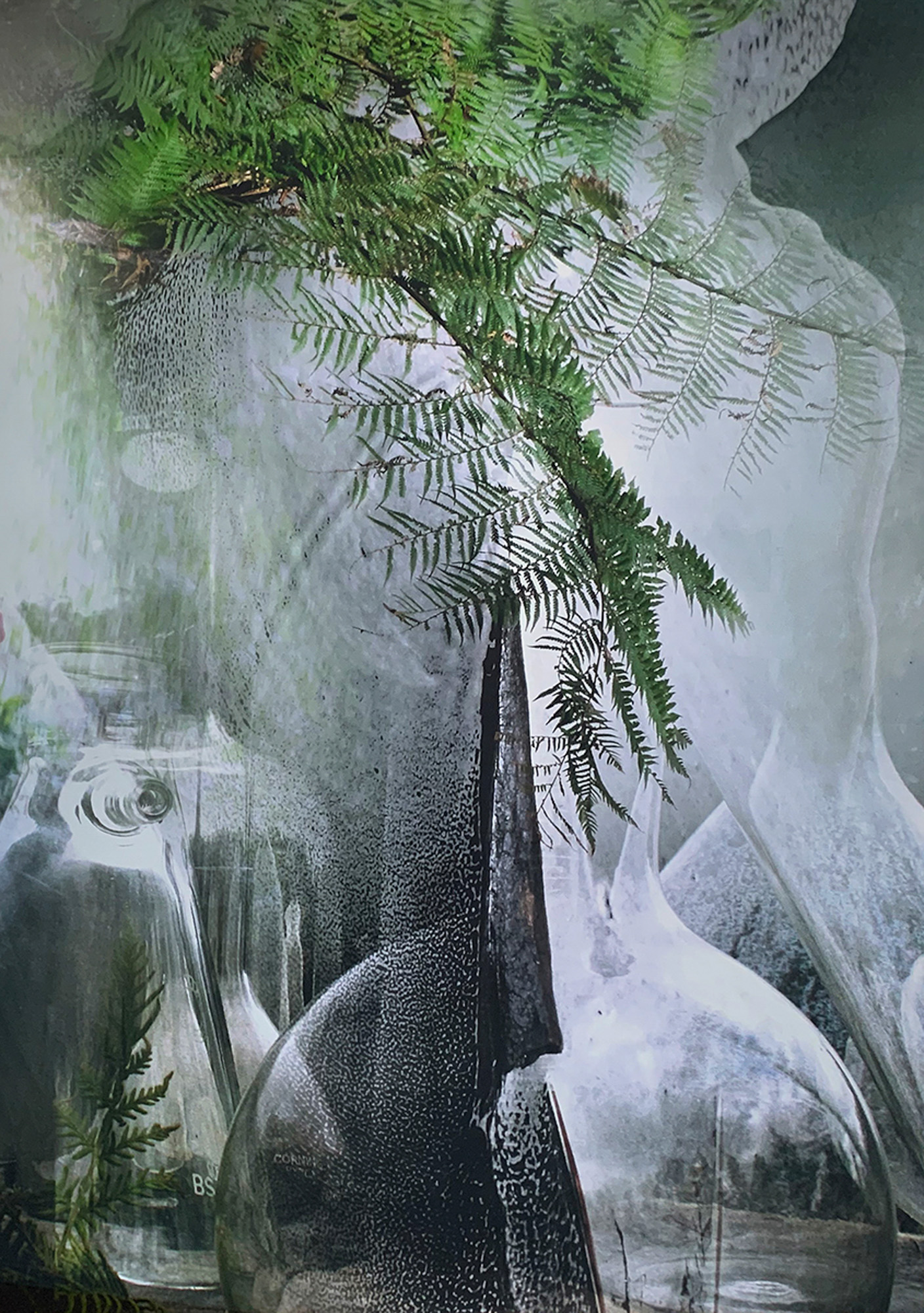 Dominik Mersch Gallery, Sydney
Mixed media and installation artist Janet Laurence probes notions of science, imagination, memory, and loss through her works, which highlight humans' and other organisms' connection with nature. Dye sublimation archival print onto polished mirror Entangled Garden for Plant Memory II (2020), for example, depicts lush greeneries amid glass vases, accentuating the beauty of plants but also their fragility in a nod to ongoing environmental issues. 
Sydney Contemporary Presents 2020 is online until October 31, 2020.
To read more of ArtAsiaPacific's articles, visit our Digital Library.