What's Showing at KIAF Art Seoul 2020
By The Editors
Since its first edition in 2002, KIAF Art Seoul has been South Korea's primary art fair, drawing a majority of the country's contemporary art galleries to the Coex Convention & Exhibition Center in Seoul. Fair organizers were determined for this year's edition to continue despite the ongoing pandemic, until a second wave of Covid-19 hit the capital city, leading to a government imposed ban of large public gatherings. Thus, like many art fairs in the world this year, KIAF has gone online, extending its public days from September 23 through October 18. Here's a look at some of the artists being shown at the fair this year.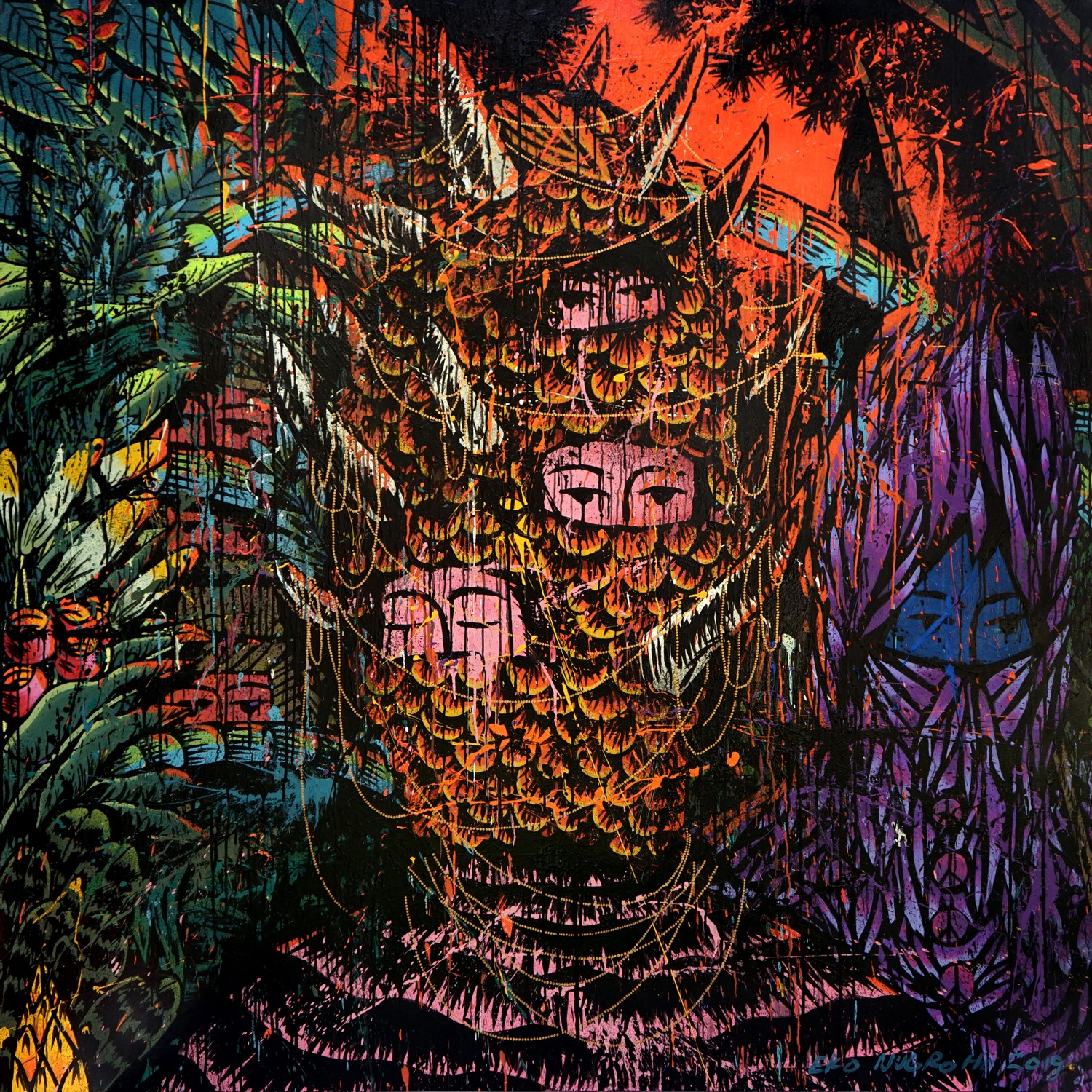 Arario Gallery, Seoul / Cheonan / Shanghai
Drawing on Indonesia's shadow-puppet wayang and batik patterns, Eko Nugroho's brightly colored textile works and paintings channel the experiences of the 1990s civil uprising that overturned a long-ruling military dictatorship. The gallery is also exhibiting a work by veteran abstract painter and sculptor Shim Moonseup, paintings and mixed media sculptures by Kohei Nawa, and a print from the Tears of a Shadow (2019) series by the feminist photographer Park Youngsook.
Gallery Baton, Seoul
Jinnie Seo's multimedia works explore two- and three-dimensional space: geometric lines fan out from the center of the ink-on-paper My Sides of Her 3 (2020), creating an illusion of crisscrossing mountain ridges, while interconnected pipes forming individual cubes cascade like a waterfall in sculpture Roundabout (2020). Other artists being presented by the gallery include multimedia artist Tatsuo Miyajima, conceptual sculptor Liam Gillick, and surrealist painter Djordje Ozbolt.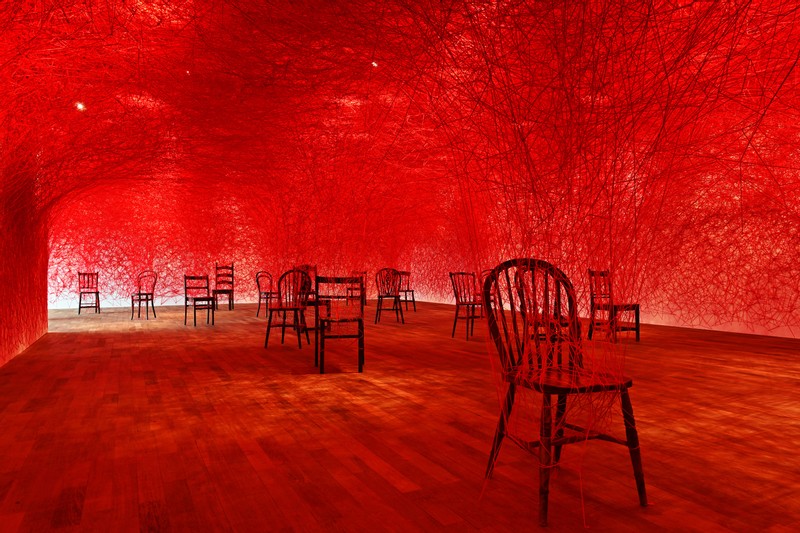 Gana Art, Seoul
Chiharu Shiota's iconic, room-spanning cloud of red threads, tied on one end to scattered wooden chairs, arc above the room in the installation Between Us (2020), casting an apocalyptic glow. The gallery is also featuring Marc Quinn's eerie humanoid sculpture, Mono-ha artist Lee Ufan's minimalist painting, and several of Shan Hur's architectural installations of baseballs balanced on stone sculptures.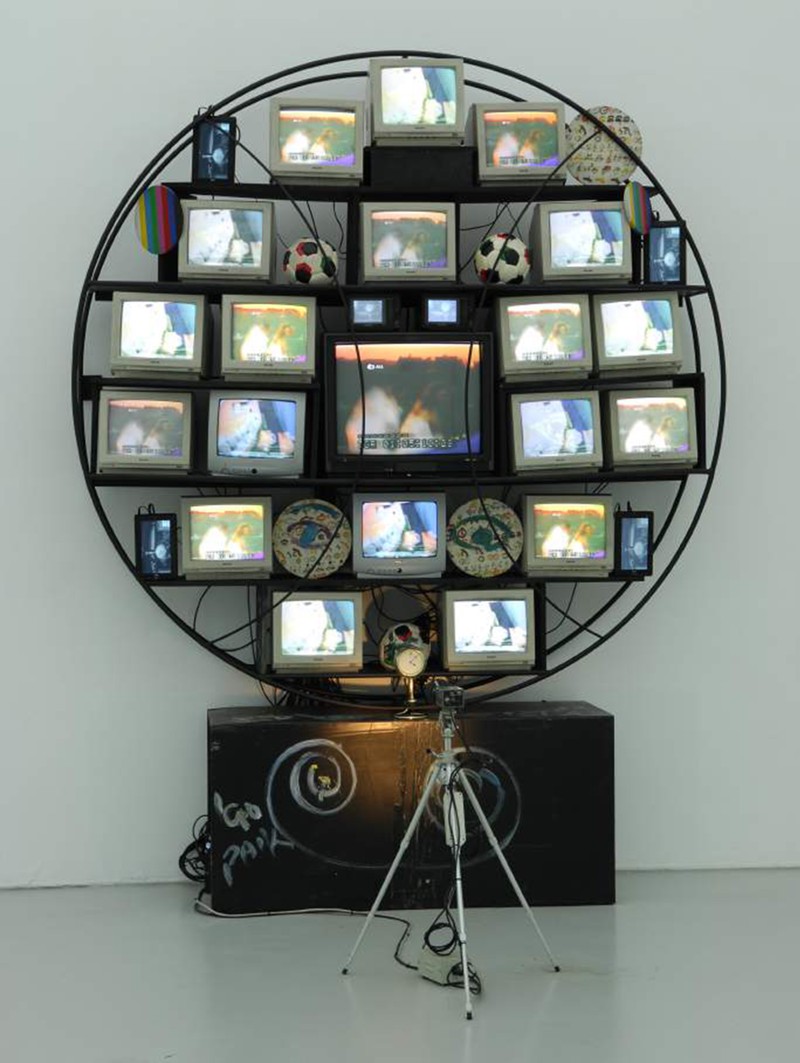 Hakgojae Gallery, Seoul
An early adopter of audio-visual technologies including video, the late Nam June Paik anthropomorphizes the elements in Sfera / Punto Elettronico (1990), a circular shelf of TV monitors paired with two painted eyes at the bottom, while an African wooden mask dangles from the center of a vintage cabinet like the disembodied face of a robot in Robot (Radio Man, Joseph Beuys) (1987). Other works being showcased include contemporary takes on traditional ink paintings by Kang Yo-bae and color pigment-on-hanji self-portraits by Yun Suknam.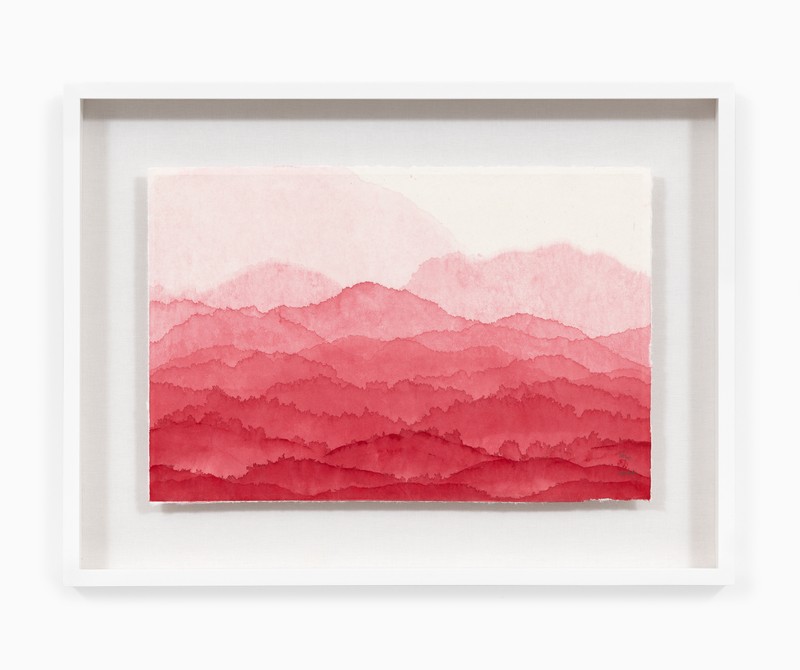 Gallery Hyundai, Seoul
Minjung Kim's mixed-media works on mulberry hanji paper reinterpret traditional Korean paintings. Her subtle, pastel-toned sunsets and lotus leaves—some created with layers of paper—offer quiet meditation. The gallery is also exhibiting acrylic and oil-on-canvases of water drops by Kim Tschang-Yeul, abstract paintings from performance artist Lee Kun-Yong, and minimalist canvases by Dansaekhwa painter Chung Sang-Hwa.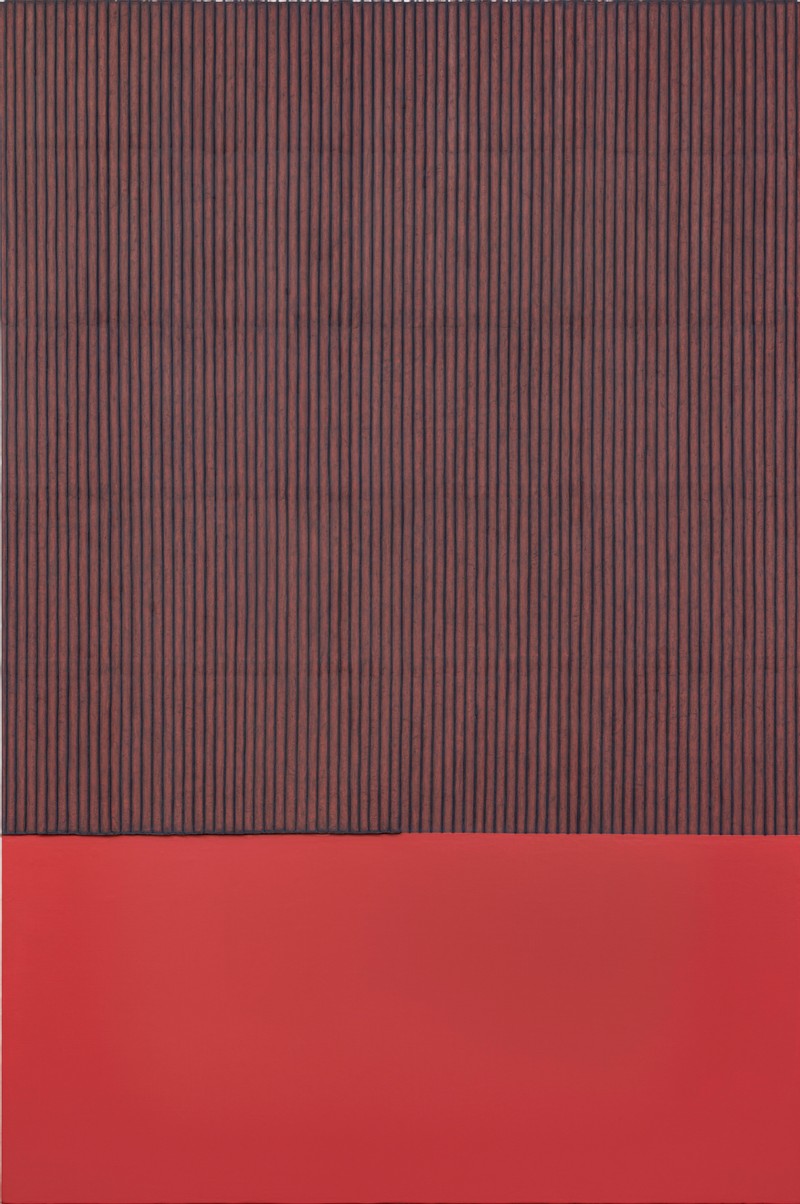 Johyun Gallery, Busan / Seoul
In recent additions to his Ecriture (1967– ) series, painter Park Seo-Bo explores presence and absence through delicate vertical lines freely drawn on sheets of hanji paper, as some lines abruptly halt and grids are faintly visible from layers underneath. The gallery is also exhibiting Lee Bae's charcoal paintings and Cheong Kwang-ho's delicate copper wire sculptures.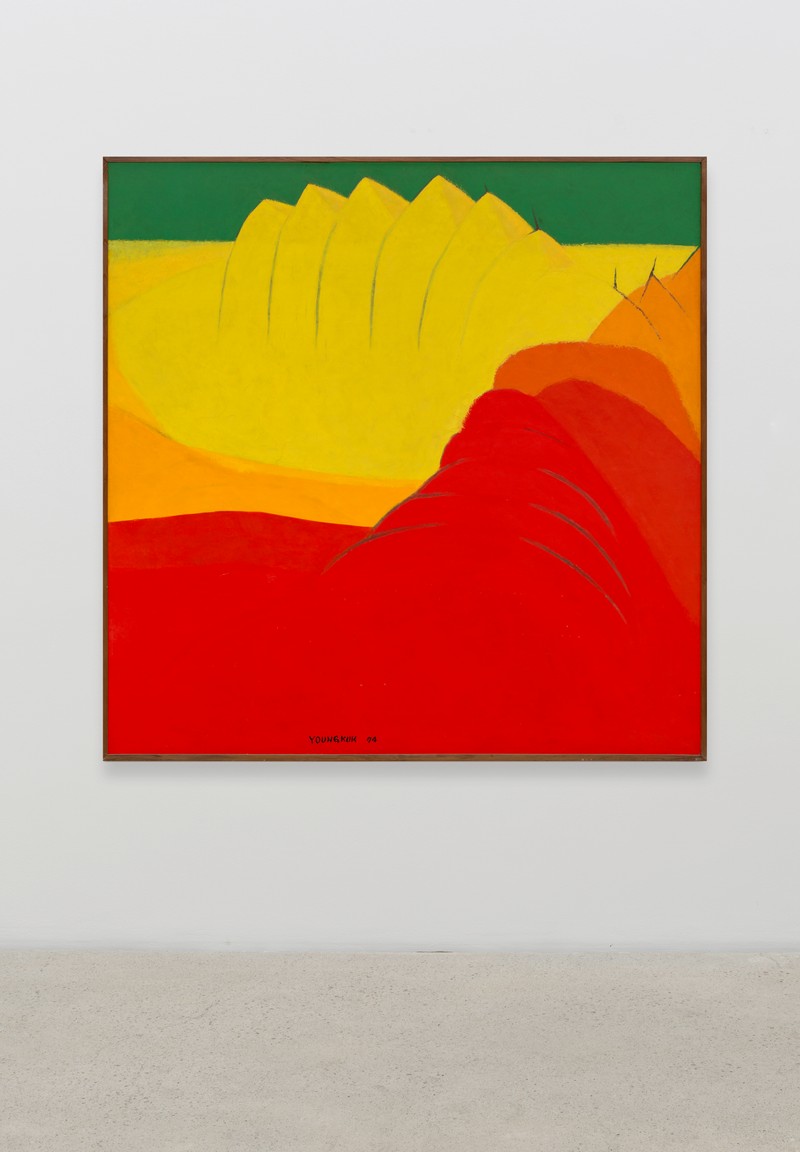 Kukje Gallery, Seoul / Busan
As one of the trailblazers of Korea's post-war abstraction movement, Yoo Youngkuk investigates the concept of nature and his love of mountainous forms through bold geometric forms and fiery, saturated colors, as seen in his painting Work (1974). Works by other artists being presented include Lee Ufan's oil-on-canvas with scattered brushstrokes and Ha Chong-Hyun's large-scale oil-on-hemp abstraction.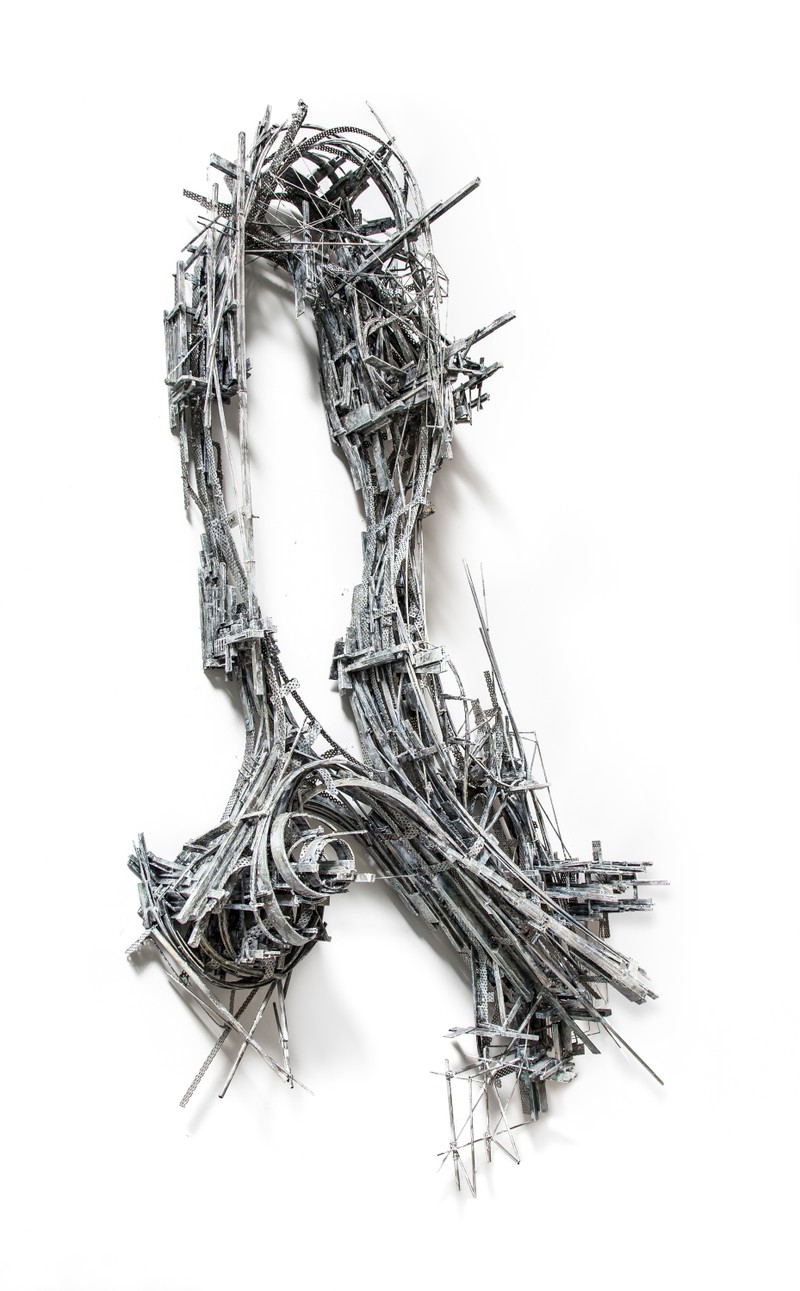 Lehmann Maupin, Seoul / Hong Kong / New York / London
Multi-media artist Lee Bul analyzes society's fascination with technology with sculptures such as Untitled sculpture (M4) (2014), in which she explores our desires for utopia through the perfection of technological advances as well as their accompanying failures. Lehmann Maupin is also showing various international artists, including illustrations by Tracey Emin, abstractions by Teresita Fernández, and collages by Mandy El-Sayegh.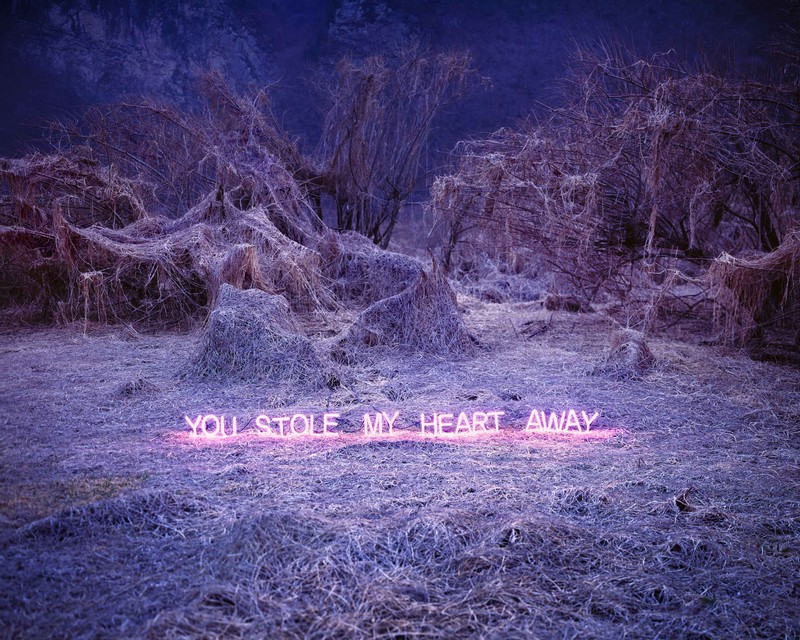 One and J. Gallery, Seoul
Best known for her photographs of text-based installations in natural sceneries, Jung Lee's You Stole My Heart Away (2017) juxtaposes neon lights spelling out the titular phrase with the dark abyss of a deserted plain, triggering a range of emotional responses to the text's statement. One and J. is also showcasing digitally altered photographs by Honggoo Kang and architectural abstractions by Suyoung Kim.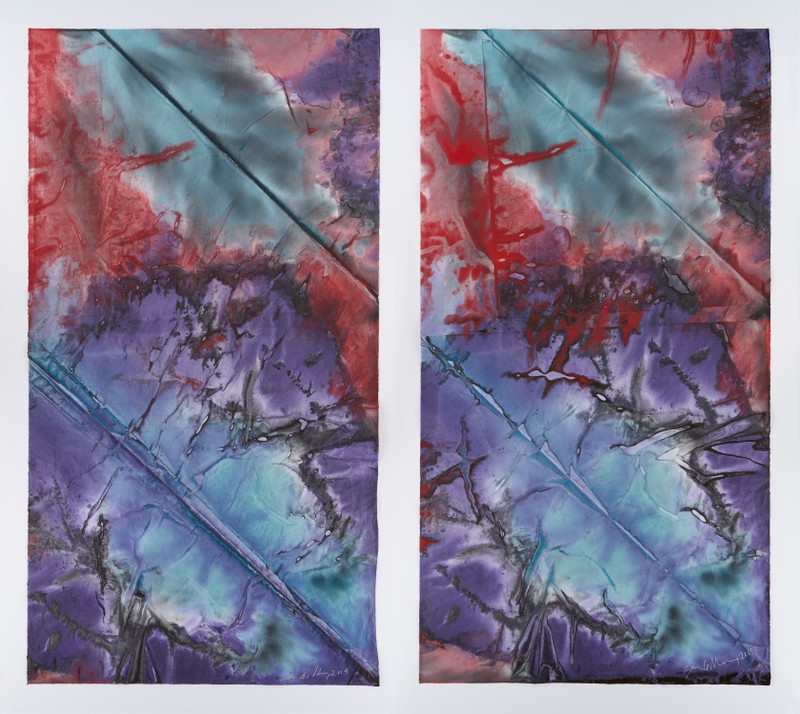 Pace, New York / London / Hong Kong / Palo Alto / Geneva / Seoul
Postwar American painter Sam Gilliam emerged in the mid-1960s with his series of "Drape" paintings, featuring canvases suspended from the walls or ceilings of exhibition spaces. The two Untitled (2019) works shown at Pace reflect the artist's lyrical abstractions, stemming from his admirations of jazz. The gallery is also exhibiting various mixed-media sculptures by Kohei Nawa, performance painting works by Lee Kun-yong, in addition to Lee Ufan's iconic minimalist canvases and lithographs.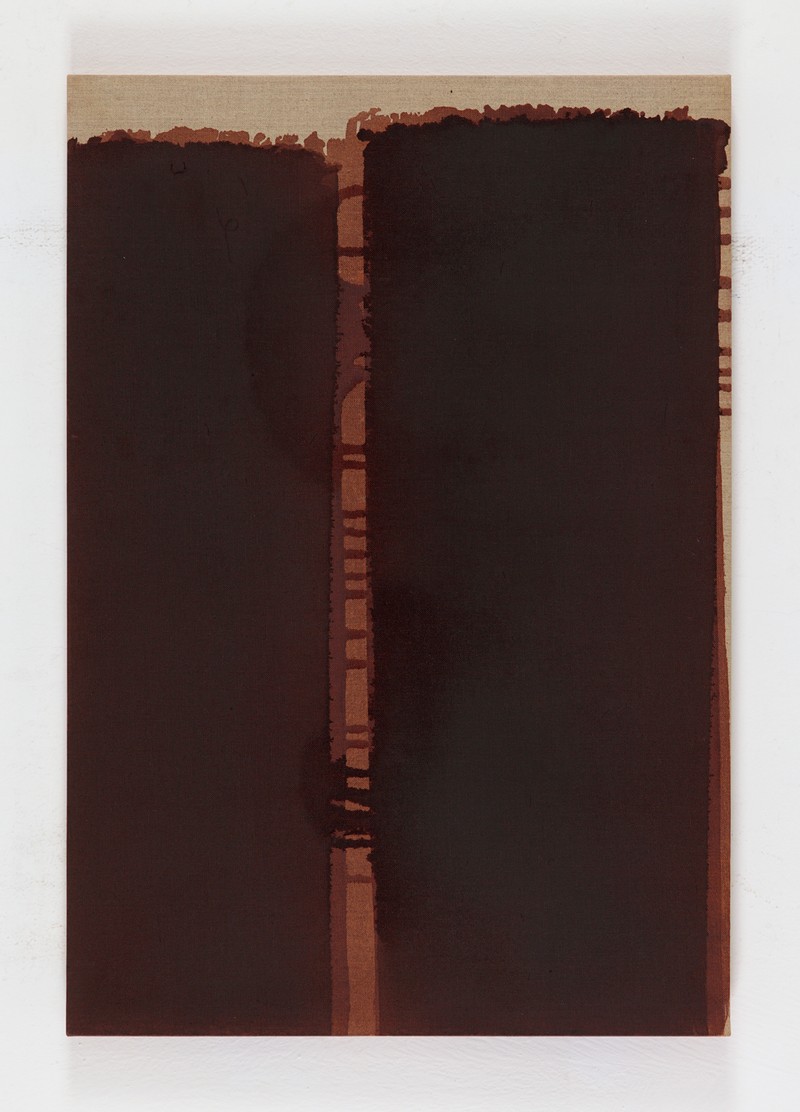 PKM Gallery, Seoul
The late Dansaekhwa painter Yun Hyong-keun (1928–2007) is well recognized for his monochromatic abstractions made with the umber and ultramarine pigments of traditional Korean ink paintings and that evoke notions of meditation and contemplation. The gallery is also exhibiting futuristic and conceptual installations of Lee Bul, phosphorescent paintings by Koo Jeong-A, and surreal depictions of fauna on artificial marble by Cody Choi.
Gallery Shilla + Art Project and Partners, Daegu
Mono-ha artist Kishio Suga blurs the boundaries between natural and industrial elements, and sculptural and painterly forms in his practice, revealing tensions between shape and dimensionality in his mixed-media canvases and installations. The gallery is also showing works by video-art pioneer Nam June Paik, Dansaekhwa painter Yun Hyong-keun, and conceptual artist Robert Barry.
KIAF Art Seoul is accessible online until October 18, 2020.