What's Showing at Art Basel's Hong Kong Spotlight 2020
By The Editors
In partnership with Fine Art Asia, Art Basel is staging a focused presentation of 22 galleries at the Hong Kong fair. Art Basel's first live showcase this year, Hong Kong Spotlight features a roster of galleries with locations in the city. Here are some artists to look out for on the show floor at the Hong Kong Convention and Exhibition Centre.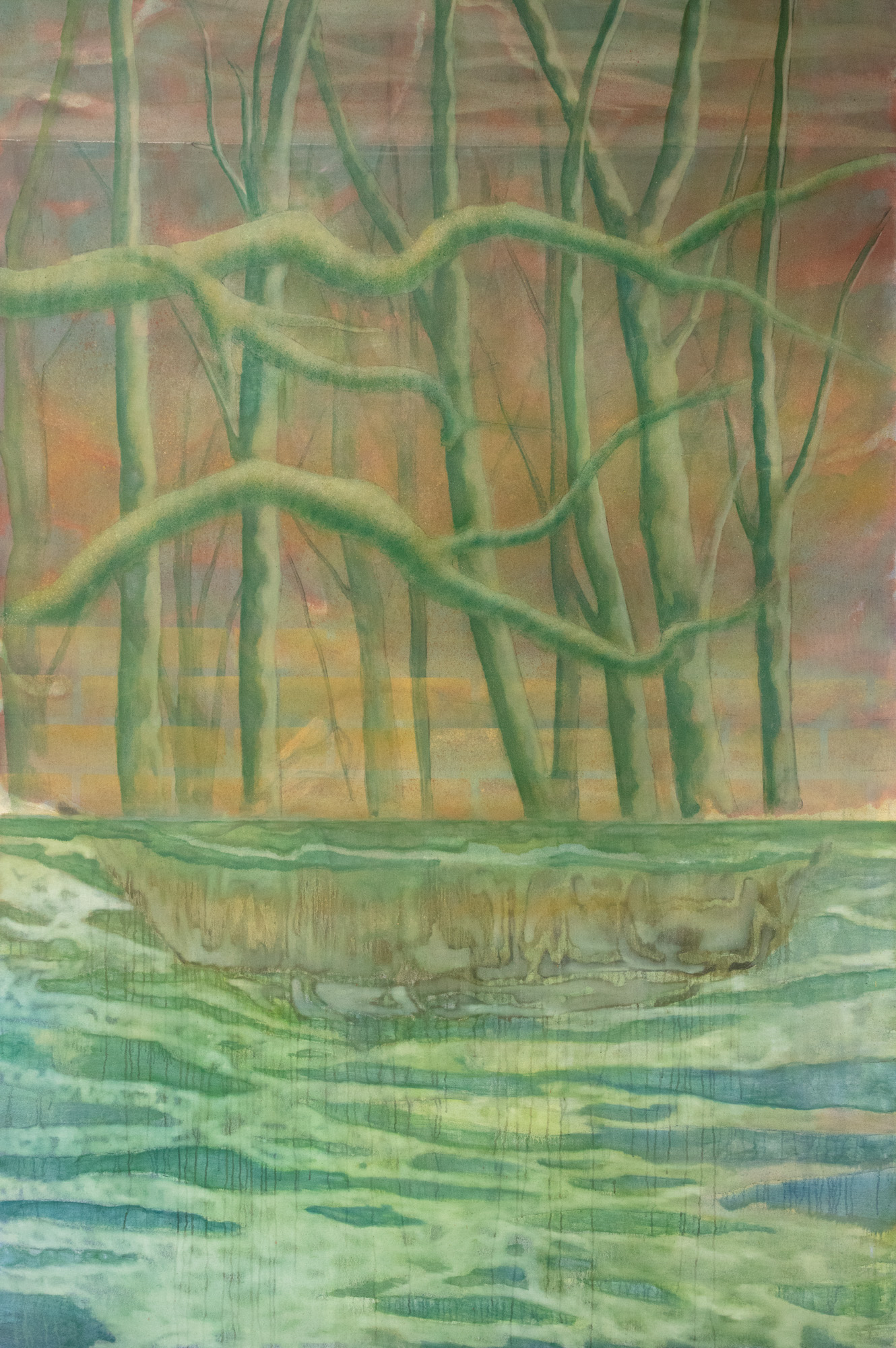 Empty Gallery, Hong Kong
Henry Shum investigates the indeterminacy of subjective experience through dreamlike paintings of spectral figures and blurred landscapes, debuted recently in his solo show "Vortices" at Empty Gallery. Cici Wu likewise explores awareness and the fogginess of memory through film, sculpture, and light installations, such as Foreign Object #1 Fluffy Light (2016), a soap bubble-like device that records light data, and the 16 mm film The Unfinished Return of Yu Man Hon (2019), about a Hong Kong boy who went missing in 2000. Empty Gallery's booth features new works on paper by both artists, in addition to a video by Wu and Xiaofei Mo.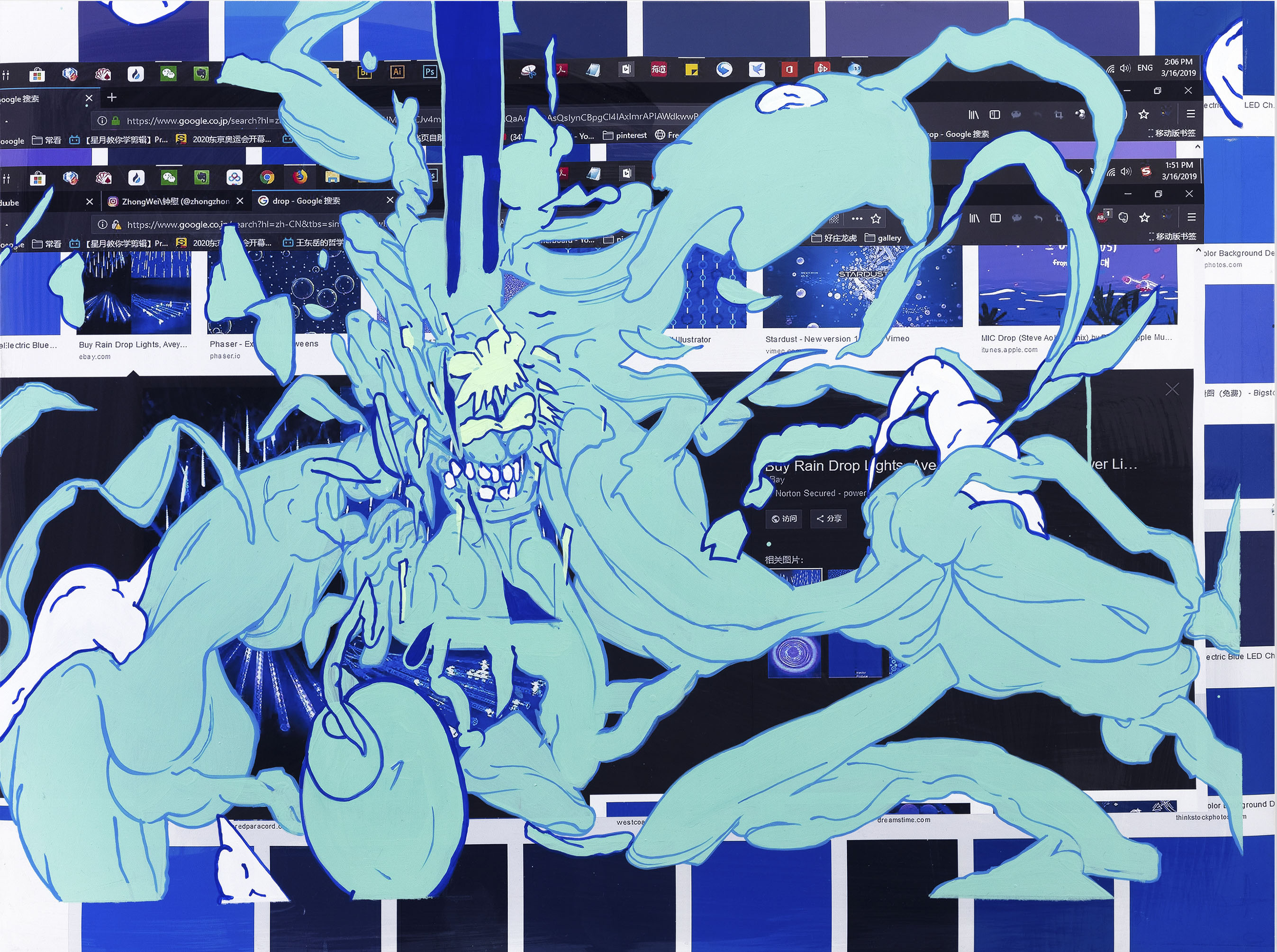 de Sarthe Gallery, Hong Kong
de Sarthe is bringing works by two artists who employ futuristic aesthetics to engage with the experience of modernity. Multimedia artist Andrew Luk, known for his Horizon Scan (2017– ) lightboxes created with homemade napalm, will debut two new series of wall sculptures that examine deep time and imagine remnants of the Anthropocene. Zhong Wei muses on the chaos of the internet in vibrant abstract canvases and installations that incorporate memes and other digital imagery.
Nanzuka/Aishonanzuka, Tokyo/Hong Kong
Nanzuka/Aishonanzuka's booth honors the late Japanese photographer Hiroh Kikai, who passed away in October. Known for his black-and-white images of artisans, housewives, students, and the unemployed, Kikai captured the dignity and humanity of ordinary people, whom he referred to as "kings." Among his notable works are A man who dresses his cat in lace (1991), a tender portrait of a man with his feline friend on his shoulder, and An older man with a penetrating gaze (2001), of a sharp-suited gentleman wearing a face mask and fedora.
Edouard Malingue, Hong Kong/Shanghai
Trained as a classical cellist, Su-Mei Tse pays close attention to the interplay of sound, image, and other sensory modes in her works, which contemplate notions of temporality, consciousness, and belonging with subtle humor. Edouard Malingue is presenting Tse's Shaping (2019), a video projection with sound that evokes the sensual experience of pottery-making.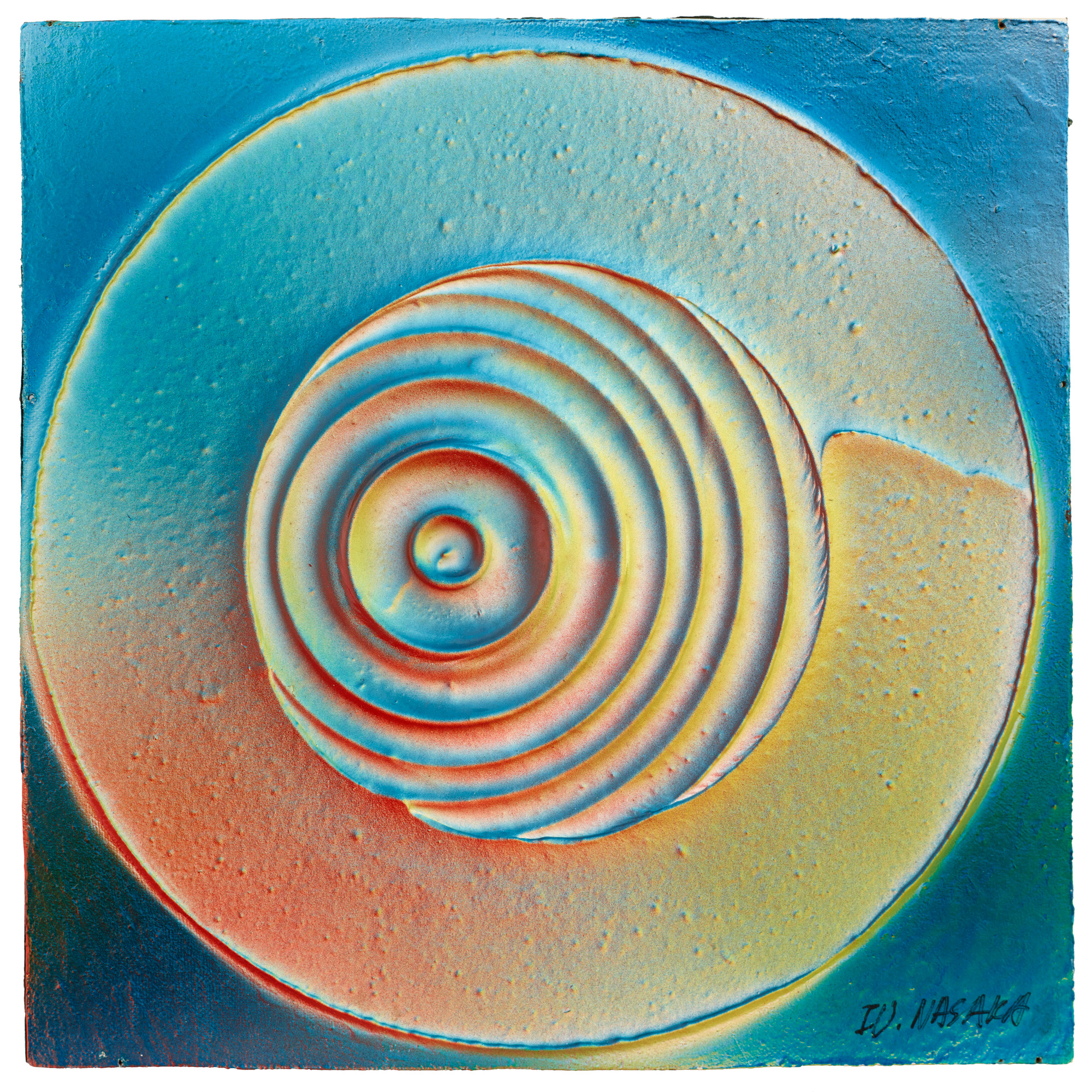 Axel Vervoordt, Antwerp/Hong Kong
One of the few female members of the Gutai Art Association, Yuko Nasaka is known for her modular panels of concentric circles, usually created by painting and marking the wooden squares on a turntable. The compositions are sprayed with car lacquer in striking shades, referencing Japan's postwar industrial boom, then typically mounted in large grids. Axel Vervoordt is presenting a selection of Nasaka's signature pieces from the 1960s to '80s, as well as newer works produced in 2015–17.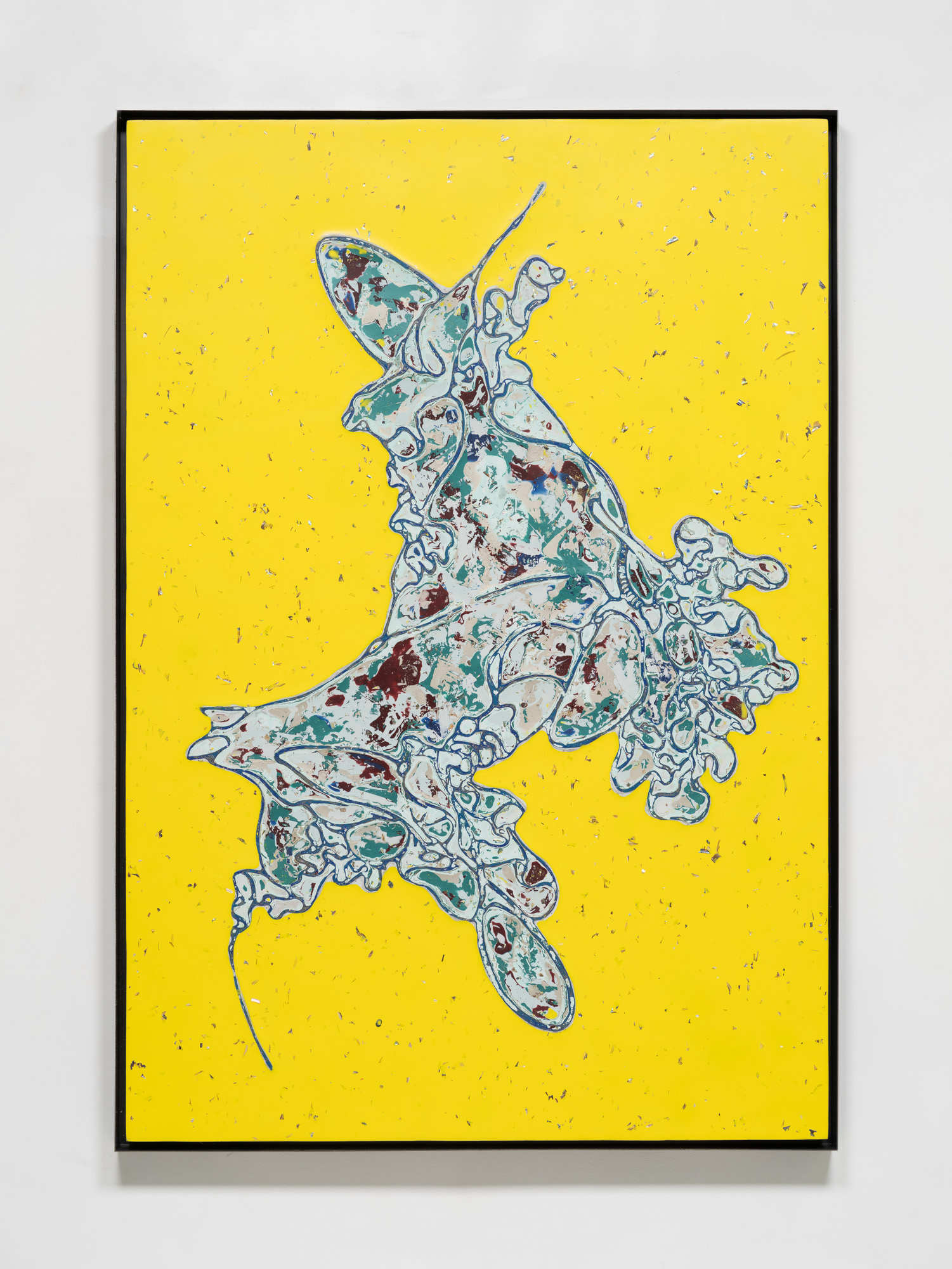 Lehmann Maupin, New York/London/Seoul/Hong Kong
Probing issues including female objectification, urban alienation, and the failures of techno-utopianism, Lee Bul is best known for her grotesque hybrid sculptures and monumental installations, such as her giant silver zeppelin displayed in 2019 at Art Basel Hong Kong. At Spotlight, Lehmann Maupin will show the artist's paintings in Hong Kong for the first time. Rendered in mother of pearl and acrylic on wood, the Perdu series portrays amoeba-like forms that harken to the Seoul-based artist's interest in biomorphism.
Simon Lee, London/New York/Hong Kong
Jim Shaw's paintings and installations blend imagery from Surrealism and pop culture in uncanny and humorous ways to reflect on contemporary America. St. George and the Dragon 2 (2019), for example, features former United States president George W. Bush holding the decapitated green head of Saddam Hussein, while the heads of people including Republican Senator Ted Cruz and Colorado mass shooter James Holmes emerge from the dragon's stump. Works at Simon Lee's booth include Shaw's acrylic-on-muslin portraits of men with machines over their faces, as well as works on paper.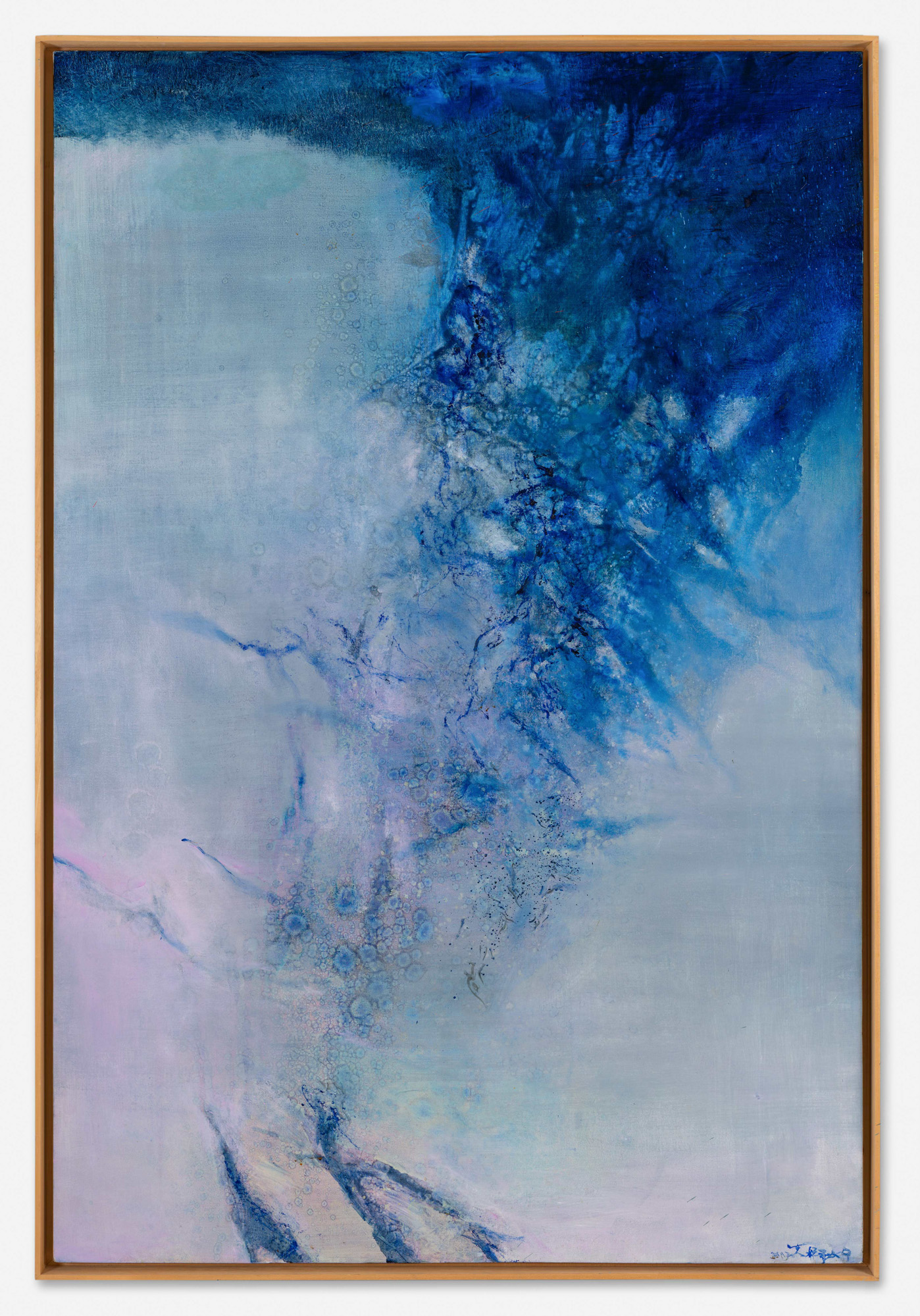 Lévy Gorvy, New York/London/Hong Kong/Paris/Zurich
The highlight of Lévy Gorvy's booth is the large-scale oil abstraction 21.11.03 (2003) by the Chinese-French modern master Zao Wou-ki. Measuring nearly two meters high, the canvas evokes the evening sky with Zao's signature calligraphic strokes over a hazy background blending lilac, sky blue, and ultramarine. Also on display are two monumental ink-on-paper compositions from 2006.
Art Basel's Hong Kong Spotlight 2020 is at the Hong Kong Convention and Exhibition Centre until November 30, 2020.
To read more of ArtAsiaPacific's articles, visit our Digital Library.