What's On the Block: Asia Week New York South Asian Art
By The Editors
One year after the daunting last-minute cancellation of activities at Asia Week New York, brought about by the Covid-19 pandemic, the metropolis is returning with its marquee ten-day marathon of auctions, gallery and museum exhibitions, lectures, and other events focused on antiques, and modern and contemporary art from the region. Here is a look at some of the South Asian art highlights offered by major auction houses Sotheby's and Christies during their respective March 16 and March 17 live sales.
Sotheby's Modern & Contemporary South Asian Art Sale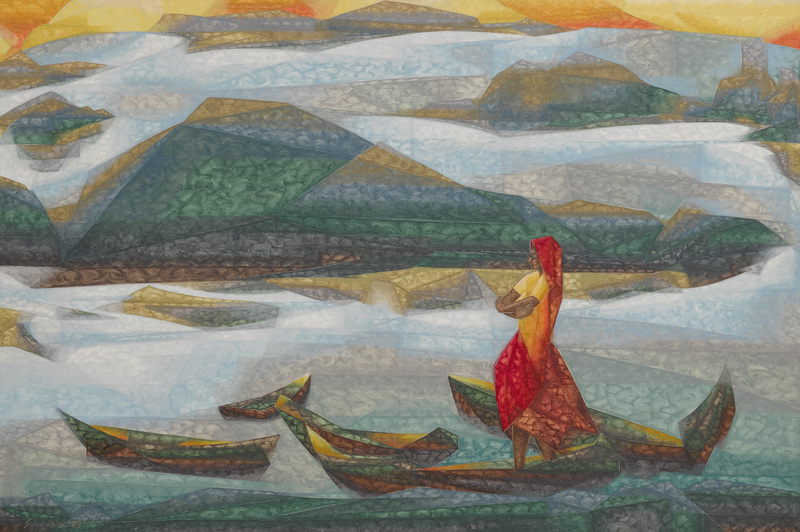 Jehangir Sabavala, Lone Vigil (1989)
Estimate: USD 450,000–650,000
A later painting by the late Mumbai-born artist Jehangir Sabavala, Lone Vigil (1989) is a cubist, impressionistic ode to the natural world, depicting a lone female protagonist floating on a small boat amid an archipelago. The mountainscape's blue, gray, and green tones contrast with the figure's red and yellow dress, symbolizing the elements of earth, water, fire, and air prominently featured in the artist's works of this period.
Akbar Padamsee, Landscape (1956)
Estimate: USD 250,000–350,000
Dark and stark outlines render the desolate scene of a barren tree, house, and moon in Akbar Padamsee's oil-on-masonite painting Landscape (1956), which evokes a sense of loneliness. Gifted by the artist to the consigner in 1960, the canvas travelled to Venice during its year of creation to partake in the 28th Venice Biennale, although the artist ultimately showed four portraits instead.
VS Gaitonde, Untitled (1962)
Estimate: USD 800,000–1.2 million
In his Untitled (1962) scarlet-red oil abstraction, Progressive Artists' Group (PAG) member and auction mainstay VS Gaitonde seemingly recalls the fiery glow of a sunset, with yellow flickers and black markings emerging below the horizon, animating the transition into nightfall. Acquired directly from the artist, the fresh-to-the-market work was influenced by Zen Buddhist philosophy.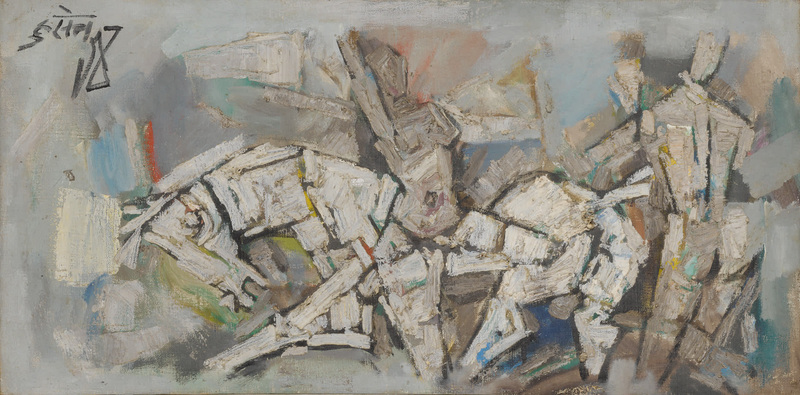 MF Husain, Untitled (1963-64)
Estimate: USD 150,000–200,000
Another Untitled (1963-64) painting by PAG member MF Husain captures the modernist's signature abstracted motifs of female nudes and horses. Here, the central figure sits sensually atop a horse, recalling tribhanga poses found in classical Indian sculptures and traditional dances where the body bends in opposite directions at the shoulders and hips, making the figure both strikingly powerful and delicate.
SH Raza, Drame au Village (1961)
Estimate: USD 150,000–200,000
Employing thick, gestural applications of red, white, and blue impasto in a horizontal band against a black background, SH Raza, another auction favorite, renders the outlines of a French village in Drame au Village (1961). Pushing the limits between representation and abstraction, this canvas is part of a body of abstract expressionist paintings created by Raza during the 1960s before he shifted to pure abstraction.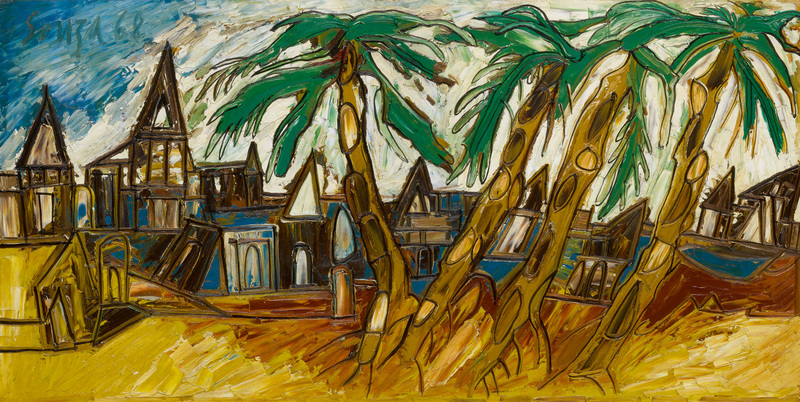 FN Souza, Caribbean Palm (1968)
Estimate: USD 130,000–200,000
Acquired directly from the artist, PAG member FN Souza's vibrantly colored Caribbean Palm (1968) is a scenic depiction of palm trees lined along a sun-soaked coastal town, juxtaposing imagery from Souza's years around London's bustling city center and the palm-lined beaches of his childhood home, Goa. Better known for his somber, expressionist cityscapes of the 1950s and '60s, Caribbean Palm is a rare gem in Souza's oeuvre.
Christie's South Asian Modern + Contemporary Art Sale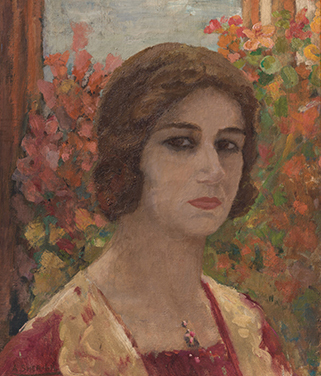 Amrita Sher-Gil, Portrait of Denyse (1932)
Estimate: USD 1.8–2.8 million
Previously owned by the Proutaux family, Hungarian-Indian painter Sher-Gil's depiction of art writer, critic, and friend Denyse Proutaux exemplifies the artist's psychological portraits created during her time in Paris during 1929–1934, which would go on to influence the rest of her short but illusory career. Capturing the sitter against a floral arrangement with an aura of soft and rosy tones, the work was created by Sher-Gil when she was 19 years old.
Tyeb Mehta, Untitled (Confidant) (1962)
Estimate: USD 600,000–800,000
PAG member Tyeb Mehta's oil-on-canvas of two brothers in earthy tones, Untitled (Confidant) (1962), with one embracing the other, is a powerful early work from his five-year stay in London, deemed by the artist as his fundamental, formative years. The painting's thick textured impasto and muted colors render it distinctively different from his later works.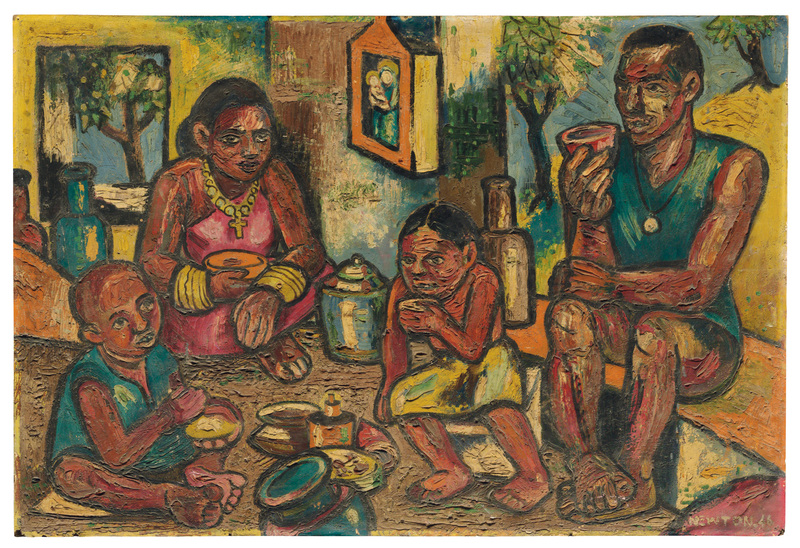 FN Souza, Family (1946)
Estimate: USD 450,000–600,000
Painted during his brief involvement with the Communist Party of India and one year before he co-founded PAG, Souza's oil-on-board depiction of a Family (1946) is a socioeconomic snapshot of India's working class, with the family of four shown sharing a modest meal, in saturated tones of brown and yellow. The work was acquired directly from the artist by the present owner.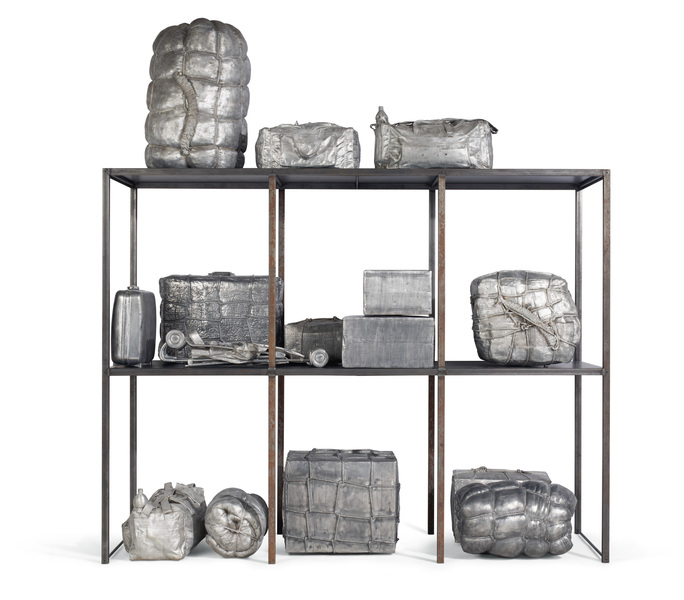 Subodh Gupta, Fly With Me (2006)
Estimate: USD 400,000–600,000
New Delhi-based Subodh Gupta's large-scale sculptural installation Fly With Me (2006) features cast aluminum packages arranged on a two-story steel shelf. Part of his Saat Samundar Paar (Across the Seven Seas) series, which draws upon the effects of urbanization and globalization in rural North India, the luggage mimic those carried by migrant laborers.
FN Souza, Untitled (Man in Blue Tunic) (1961)
Estimate: USD 150,000–250,000
Making its first appearance on the market from a private New York collection, FN Souza's Untitled (Man in Blue Tunic) (1961) in oil is a comical portrayal of a multi-eyed male figure. Dressed in a bright blue tunic against a scarlet background of tactile brushstrokes, the man is evocative of members of the Roman Catholic Church, which had a profound influence on the artist who was raised in Catholic Goa, a former Portuguese colony.
Rameshwar Broota, That Common Story (1969)
Estimate: USD 150,000–200,000
Last sold in 2007 at Christie's Dubai for USD 156,000, within estimates, Rameshwar Broota's early oil painting That Common Story (1969), depicting four skeleton-like nude figures leaning on one another, is a powerful reminder of India's impoverished working class and offers the artist's critique of the country's dehumanizing bureaucracy.