Uncertainty Prevails at Sotheby's Hong Kong 2022 Autumn Sales
By Nicole M. Nepomuceno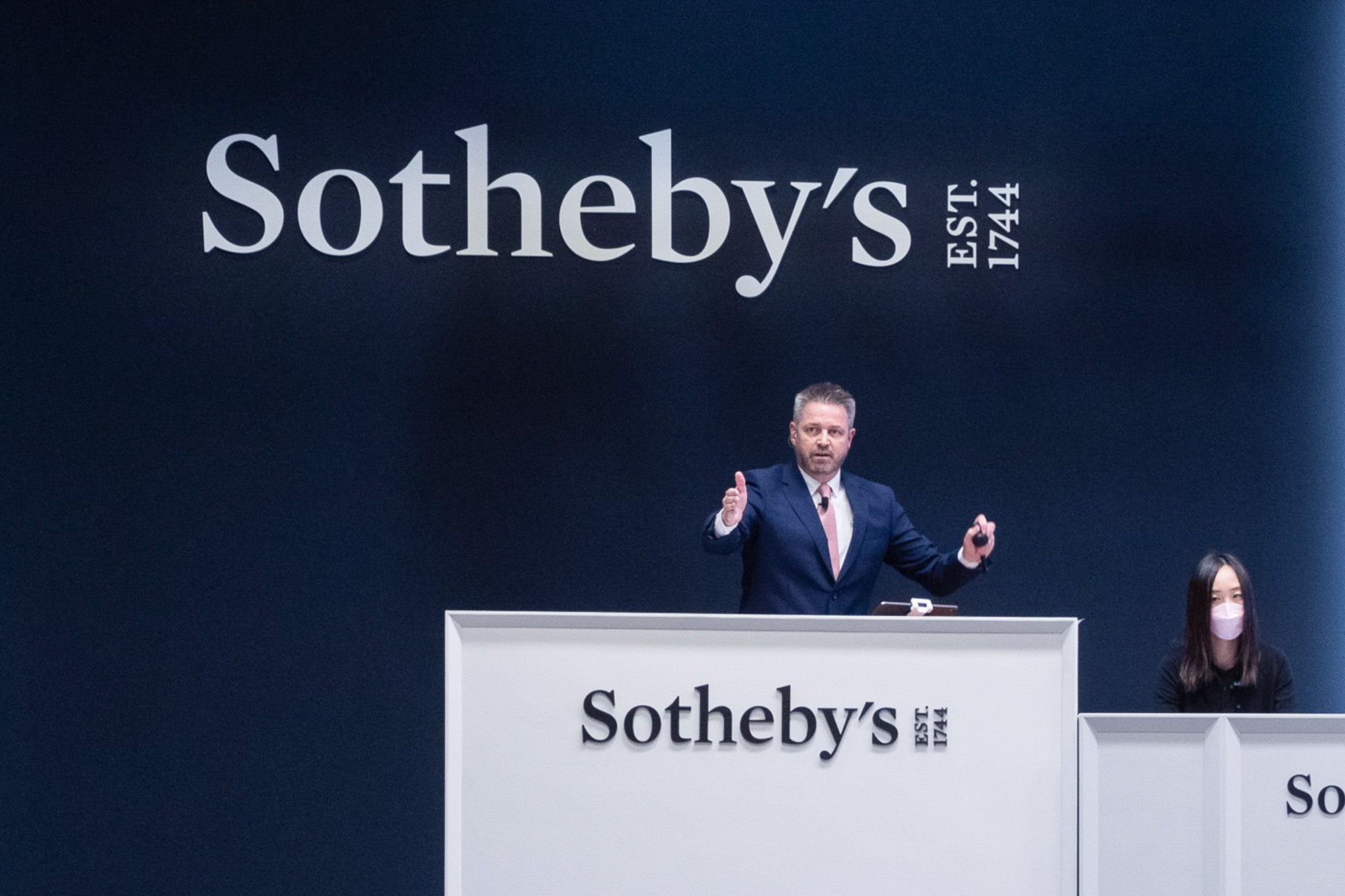 The Asian art market is in a state of flux as collectors and companies pivot away from their long-held seat in Hong Kong toward cities touting their new business-friendly potential and fewer restrictions on travel and large-scale events. But Asia's World City is unwilling to let go of its coveted spot. Just over a month after Sotheby's held its first Modern and Contemporary Art sale in Singapore on August 28 and Frieze Seoul launched in early September, Sotheby's marquee Modern and Contemporary Art day and evening auctions in Hong Kong arrived at the Hong Kong Convention and Exhibition Centre as the territory begins its incremental reopening.
The five back-to-back art sales on October 6 and 7 raked in a total of HKD 1.19 billion (USD 151.2 million), but fell behind their 2021 totals of HKD 1.4 billion (USD 152.9 million, or USD 185 million in 2021 dollars), with buyers keeping top lot prices within their estimated ranges and splurging instead on mid-range offerings.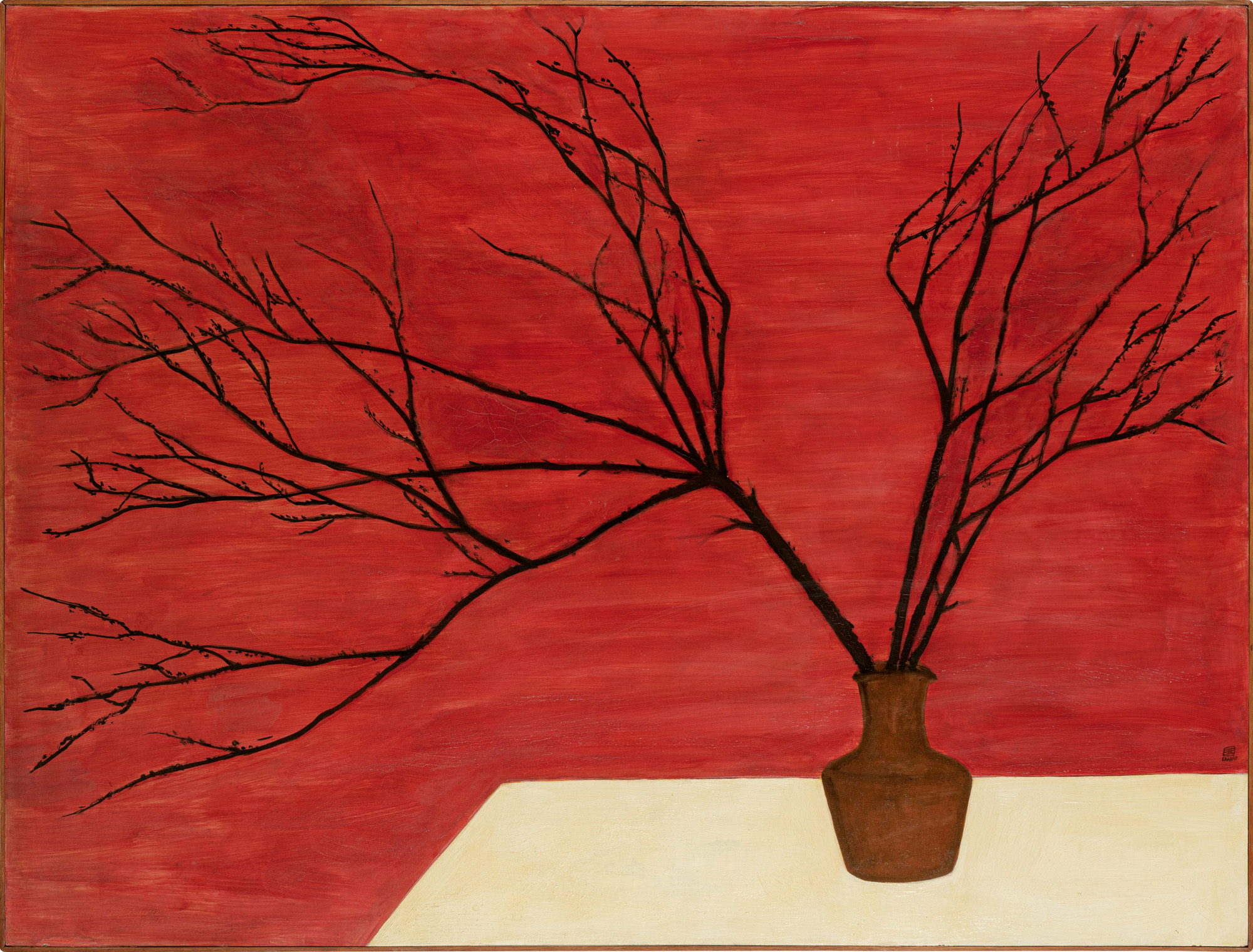 Dominated by France-residing Asian artists, the 37-lot Modern Evening Auction on October 7 cashed in a total of HKD 457.3 million (USD 58.3 million)—compared to its HKD 593.5 million (USD 75.6 million) return the previous year. Sanyu's oil-on-board painting, Branches (1963), showing slender twigs extending from a vase against a bright red background, led the sale and induced a ten-minute bidding battle. The victorious buyer locked it in at HKD 86.7 million (USD 11 million), though still below the work's HKD 100 million (USD 12.74 million) high estimate. But the Sino-French modernist's less costly watercolor portrait of a woman in a yellow robe, Femme à la robe jaune à pois (c. 1920s–30s), bested its HKD 1 million (USD 127,000) high estimate to achieve HKD 1.64 million (USD 207,000).
Arriving on the block with expectations of it surpassing the top-lot benchmark of HKD 100 million (USD 12.74 million), Zao Wou-Ki's yellow, horizontally-oriented abstraction, 15.02.65 (1965), disappointed its seller at HKD 77.5 million (USD 9.87 million), a sizable devaluation from its previous USD 12.9 million price tag at Sotheby's Hong Kong in 2019 and an indication of the downward trend in the global turnover of the 20th-century painter's work since 2018. Of Zao's four other abstract paintings on offer, three hammered within estimates and one remained unsold.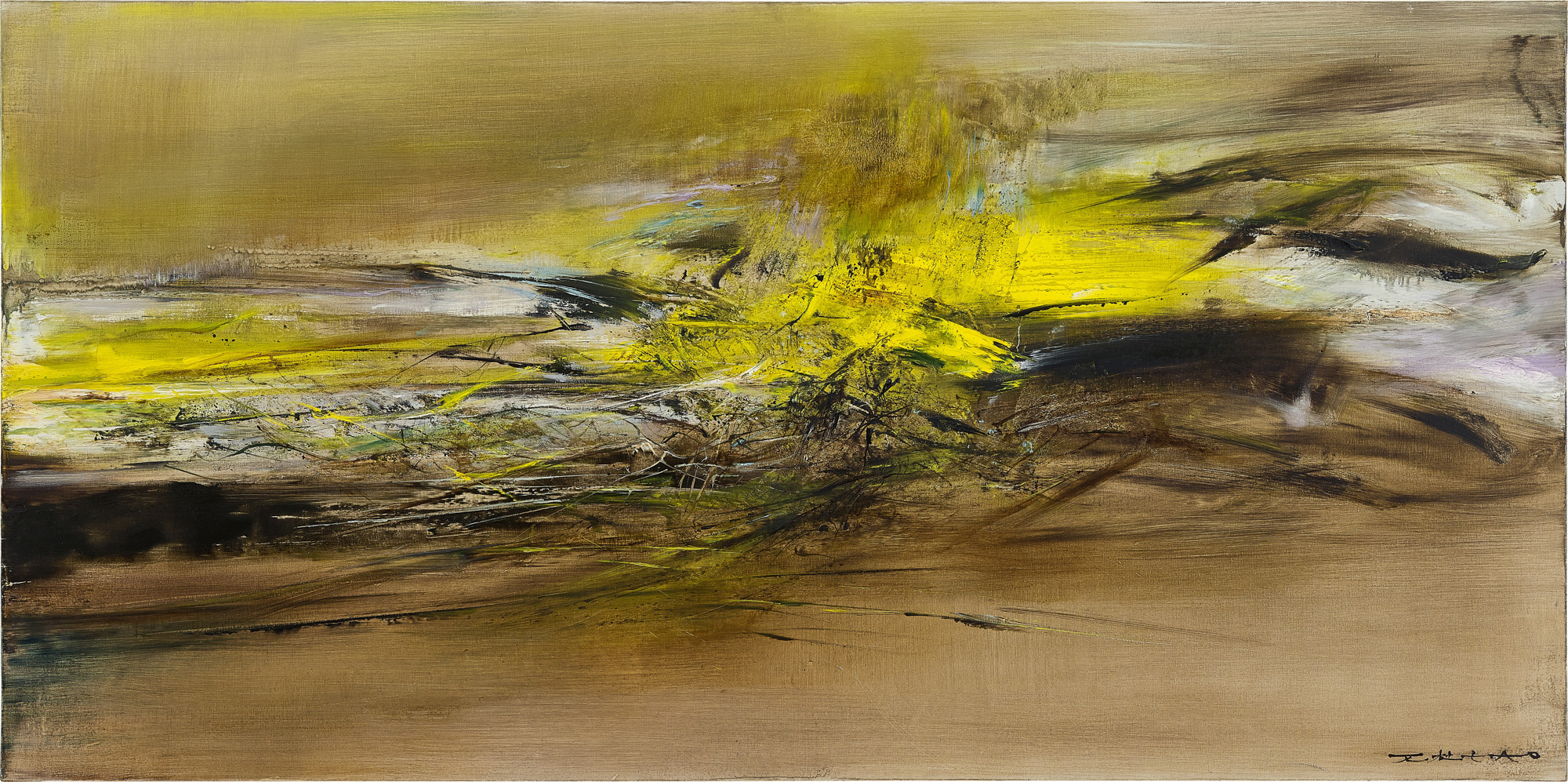 On the flip side, Vietnamese-French painters exceeded expectations. Lê Phổ and Mai Trung Thu each had two canvases on offer, and all four flew over their predicted ceilings. Lê Phổ's undated oil painting of women having afternoon tea in a garden, The et Sympathie, was snapped up for HKD 10.66 million (USD 1.36 million) against a HKD 6.8 million (USD 866,000) high estimate, while Mai Trung Thu's Still Life of lilies (1956) was sold for HKD 4.03 million (USD 514,000), over its HKD 3.2 million (USD 408,000) high estimate.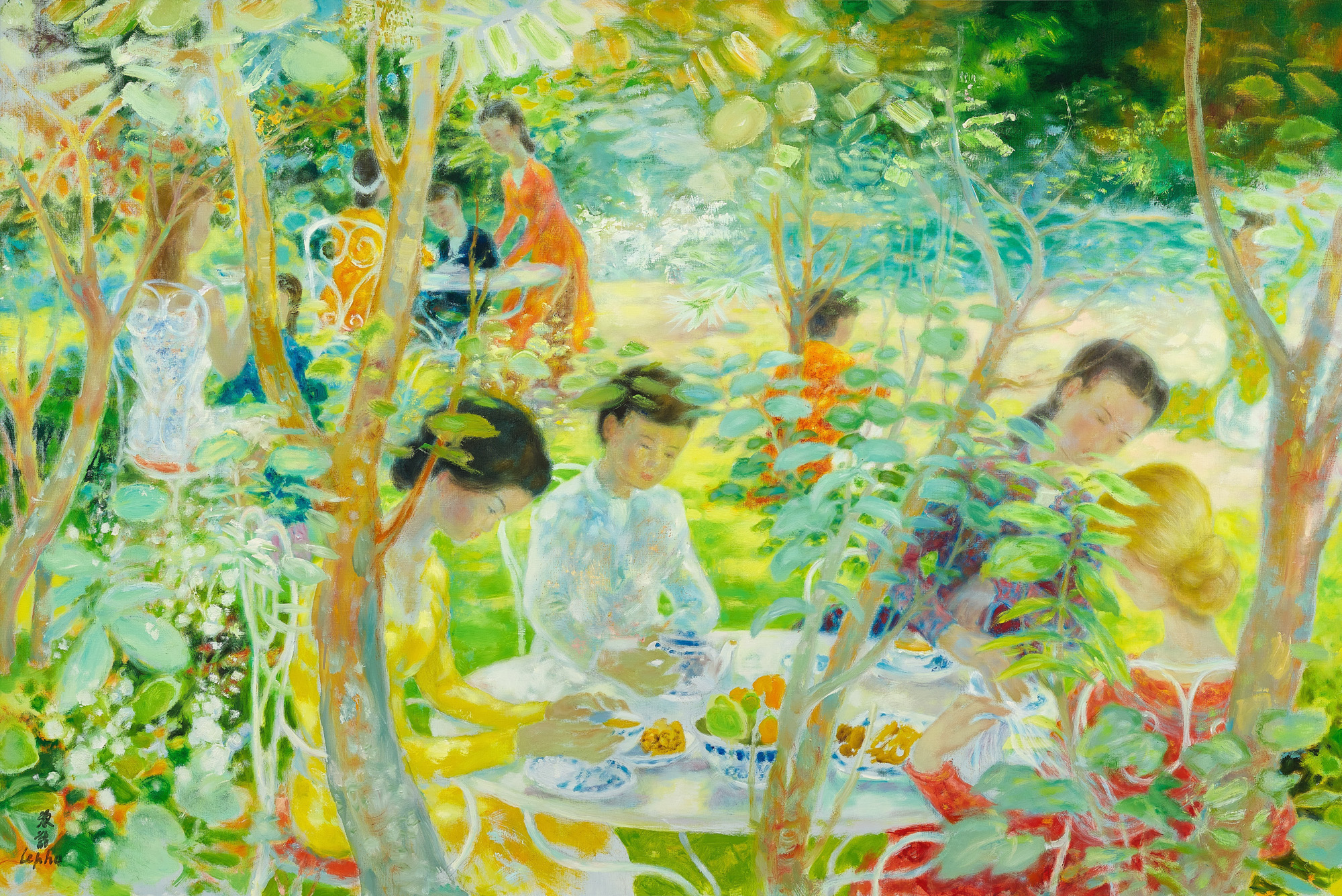 Also held on October 7, the Contemporary Art Evening Auction funneled in a total of HKD 535.5 million (USD 68.2 million) across 35 lots, yet another a cutback from last year's HKD 592 million (USD 75.4 million) earnings. The 2022 sale was led by Gerhard Richter's two-meter-tall autumn-toned abstract canvas Abstraktes Bild (1990), which garnered a hefty HKD 200.5 million (USD 25.5 million), smack in the middle of its HKD 175–235 million (USD 22.3–30 million) estimates. This is Richter's second highest price at an Asian auction, after another work from the Abstraktes Bild series hammered at HKD 214.6 million (USD 27.7 million) when it was sold to the Pola Museum in Hakone, Japan, in 2020.
Once red-hot names have cooled significantly. Considered a top lot, Scottish painter Peter Doig's vibrant Canadian roadside landscape Country-rock (wing-mirror) (1999), barely grazed its HKD 75 million (USD 9.55 million) low estimate to find a home at HKD 75.2 million (USD 9.6 million), while Jean-Michel Basquiat's subversive Emblem (1984), sold at HKD 28.2 million (USD 3.59 million), exceeded its minimum appraisal by just HKD 200,000 (USD 26,000).
Artworks with more affordable price tags, particularly those by women artists, continue to produce the season's best performers. American painter Emily Mae Smith set a new artist record when her surrealist painting of a charismatic anthropomorphic broom, The Riddle (2017), swept in HKD 12.48 million (USD 1.59 million), nearly quintuple its forecasted HKD 2.5 million (USD 318,000) ceiling. Another record-breaker, Louise Bonnet's absurdist painting of a blonde Faucethead (2020), finished its run up the scales at HKD 5.8 million (USD 738,000), almost six times its HKD 1 million (USD 127,000) high estimate. New York-based Colombian artist María Berrío's The Lovers 3 (1982), a watercolor collage of a woman and a butterfly, more than doubled its HKD 4.5 million (USD 573,000) high estimate at HKD 11.87 million (USD 1.5 million), while rising auction star Lucy Bull maintained her upward momentum with the HKD 7.56 million (USD 963,000) Time Beads (2019), a psychedelic oil-on-linen, which more than sextupled its HKD 1.2 million (USD 153,000) high estimate.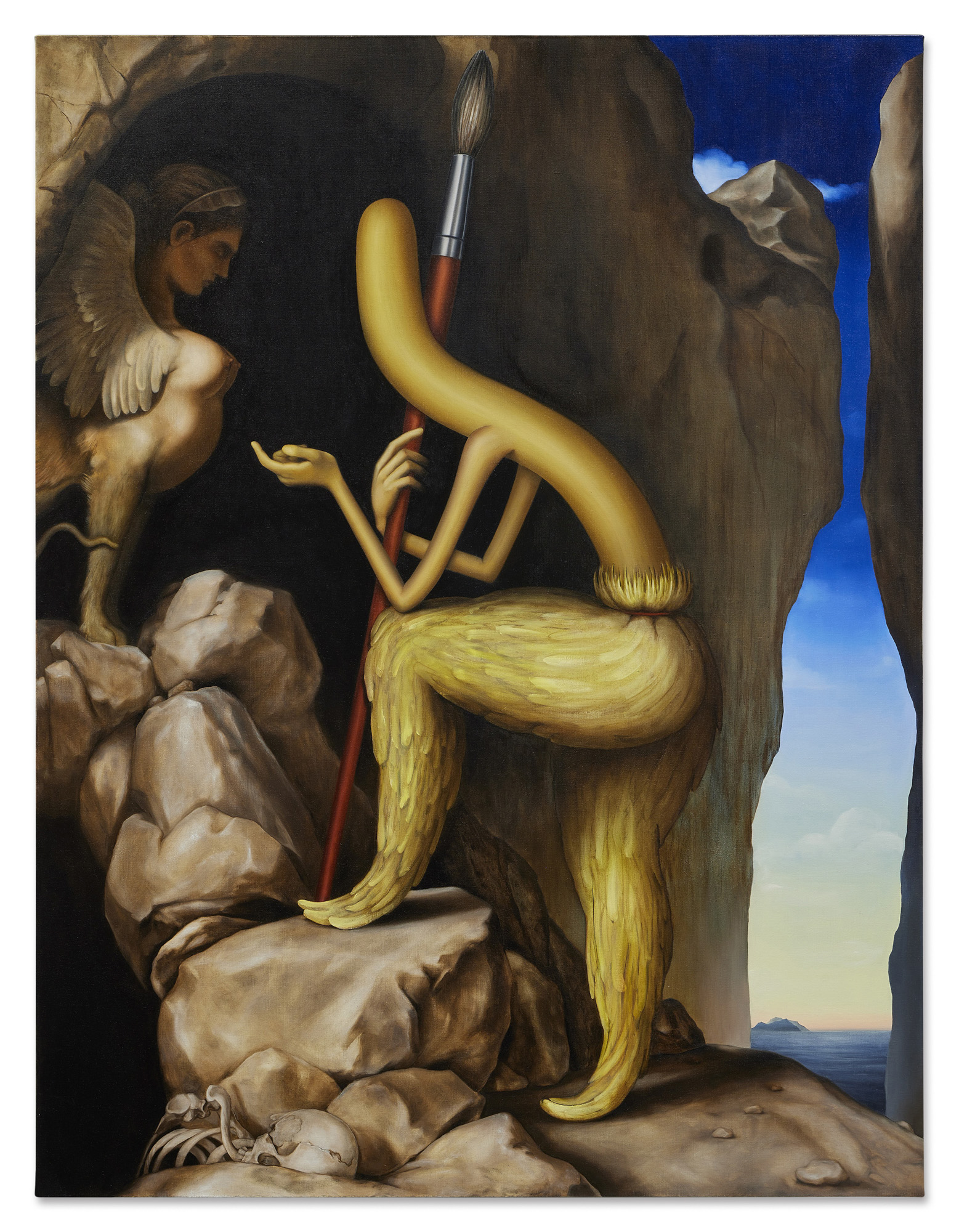 Despite the autumn breezes and the upcoming blockbuster retrospective "Yayoi Kusama: 1945 to Now" at Hong Kong's M+, the hammer price of Kusama's 2007 pumpkin sculpture indicates that it is far from pumpkin-harvest season. The yellow and black gourd went for HKD 27.48 million (USD 3.5 million) despite its HKD 32–45 million (USD 4–5.7 million) estimates. But, mirroring buyers' growing appetite for less lavish offerings, Kusama's 2006 Infinity-Nets (QPOW) bested its HKD 8 million (USD 1 million) high estimate to a buyer at HKD 9.45 million (USD 1.2 million).
The single collection New Wave Beyond Yuanmingyuan: An Important European Private Collection of Chinese Contemporary Art Sale similarly performed snugly within expectations, with a total revenue of HKD 23.9 million (USD 3 million), with a sell-through rate of 79 percent, against HKD 18.6–27.8 million (USD 2.4–3.5 million) pre-sale estimates. Among the top performers were two oil paintings by Liu Xiaodong: his canvas Watching (2000), depicting four figures around a valley observing an unknown subject, hammered at HKD 4.03 million (USD 510,000) against a high estimate of HKD 3.2 million (USD 408,000), while another, Young Girl Leisurely Reading (1993), almost doubled its expected HKD 600,000 (USD 76,000) ceiling to rake in HKD 1.13 million (USD 144,000). Other highlights that went beyond their forecasts were a classic painting by Wang Guangyi from his propaganda-pop phase; a 1993 allegorical scene of war and destruction by Song Yongping; a 2013 optical abstraction by Wang Guangle; and a pair of stones wrapped in welded steel nets by Sui Jianguo.
As Hong Kong attempts to bounce back from its local restrictions, the looming question is whether the territory's economy can recover without a re-opening of the mainland border. There is at least a hint of optimism in the air.
Nicole M. Nepomuceno is ArtAsiaPacific's assistant editor.