Strong Sales Despite Pound Concerns: Frieze London 2022
By Suining Sim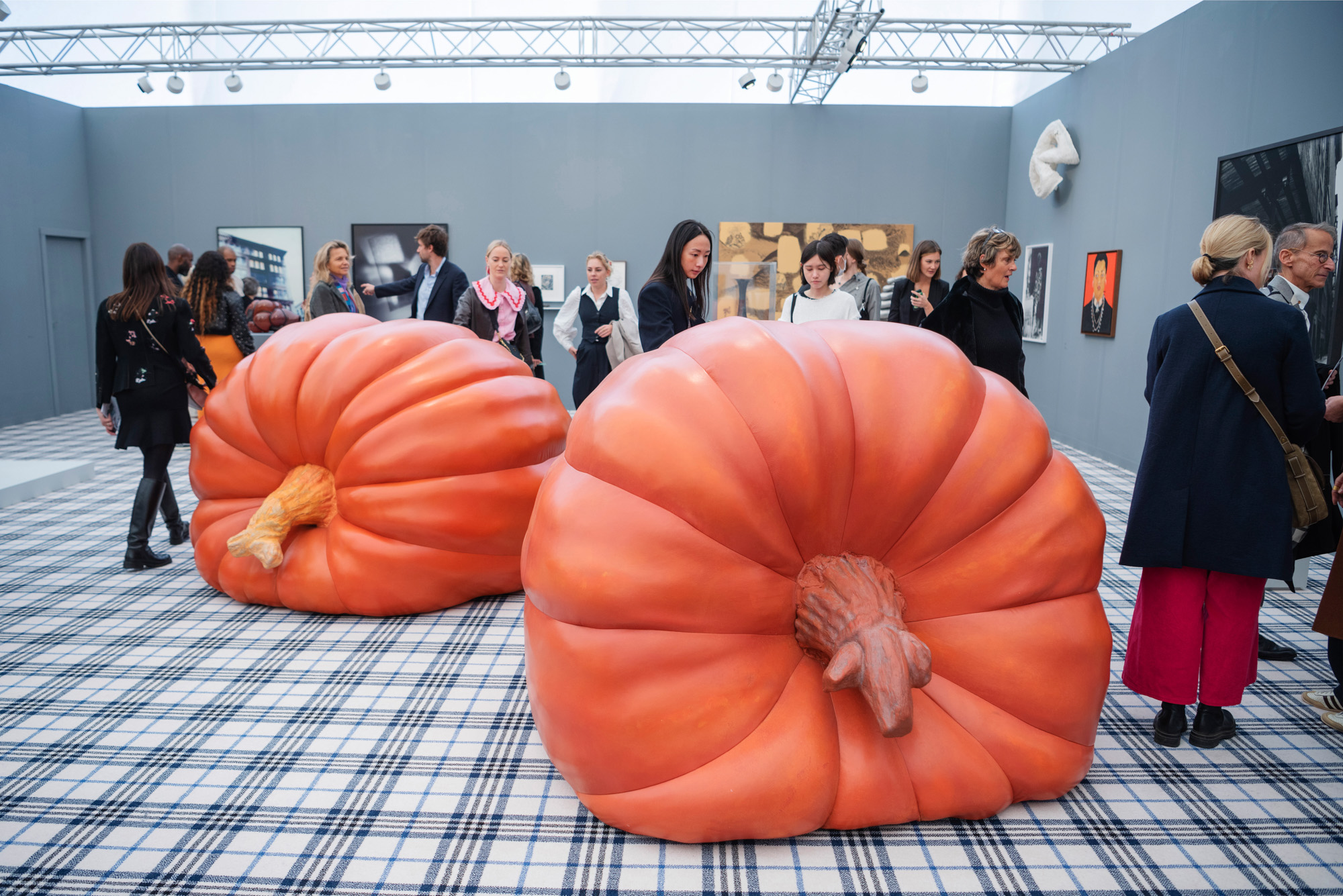 Frieze London returned to Regent's Park from October 12 to 16, drawing together 160 contemporary galleries in what director Eva Langret promised to be a celebration of London's cultural life and its global reach. In addition to the main gallery selection, this year's fair featured three sections: Focus, which centered on emerging artists; Editions, which offered commissioned works; and "Indra's Net," a specially curated section that spotlighted 18 artists represented by galleries from Asia to Latin America. Over the weekend, the fair attracted more than 90,000 visitors.
Despite concerns over the weak British pound, strong sales abounded at the fair. "The people most impacted by the recession are not in this room," said a gallerist who preferred to remain anonymous. Indeed, the art market has never been a good indicator for the economic state of the world. International blue-chip galleries performed well from the first day: Gagosian sold out Jadé Fadojutimi's abstract paintings at GBP 500,000 (USD 570,000) apiece, and an unnamed museum from the United States acquired Kerry Marshall's acrylic painting Black and Part Black Birds in America: (Yellow headed Black bird; Black Chinned Hummingbird; Ruby Throated Hummingbird, male and female) (2022) from David Zwirner (New York / London / Paris / Hong Kong) for USD 6,000,000. Pace Gallery (Palo Alto / Seoul / Hong Kong / Geneva / New York / East Hampton / Palm Beach / London / Los Angeles) moved a number of works, including an untitled painting created by Kenneth Noland over the course of 15 years for USD 450,000, while Lehmann Maupin (Seoul / New York / London / Aspen / Palm Beach) sold three pastel works by Calida Rawles to American singer Lionel Richie for USD 60,000–70,000 each.
However, collectors were not completely immune. Many gallerists described a more wary group, who declined to fight over pieces as in previous years. The rumored hordes of American collectors descending on the fair, armed with a strong dollar, also never materialized. In fact, gallerists noted the absence of certain wealthy groups of Americans at this year's event, and that the currency advantage was less pronounced as sales are always conducted in the artist's preferred or local currency. Some speculated that they might instead attend Art Basel's more novel, upcoming fair Paris+. Continental European presence remained strong, and collectors were keen to get back in the rhythm of the fair circuit—though the shiny newness of socializing may be tested as the travel between New York, Seoul, London, and Paris takes its toll.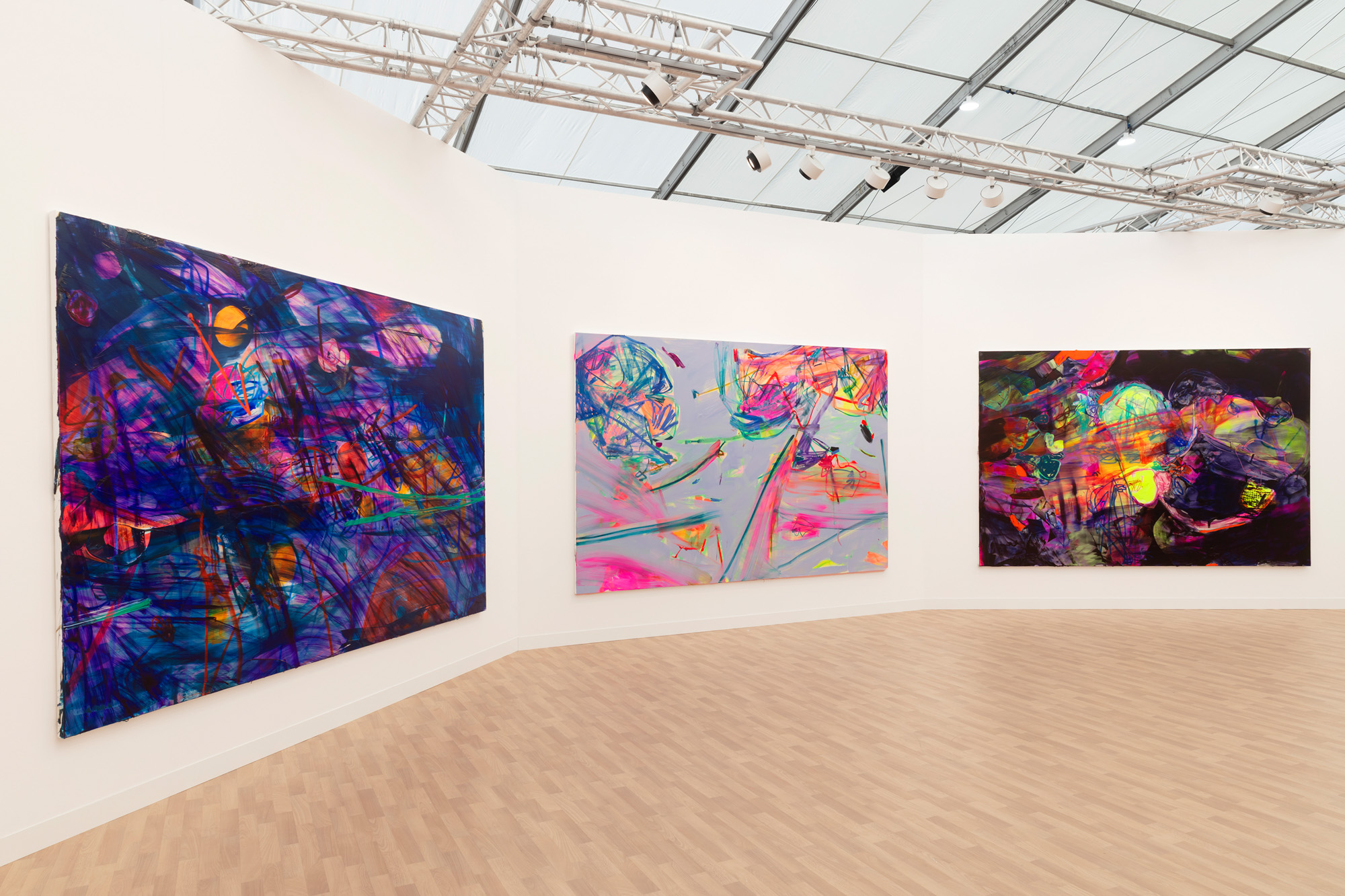 In general, this year's fair saw figuration eschewed in favor of more abstract works, which lined many booths' exterior walls. In addition to Fadojutimi, El Anatsui's 3-by-9 meter aluminum work Freedom (2021), offered by Goodman Gallery (Cape Town), sold for USD 2,500,000, while Tracey Emin's Leave me in my Own Space (2022) fetched approximately GBP 950,000 (USD 1,080,000) at Xavier Hufkens (Brussels).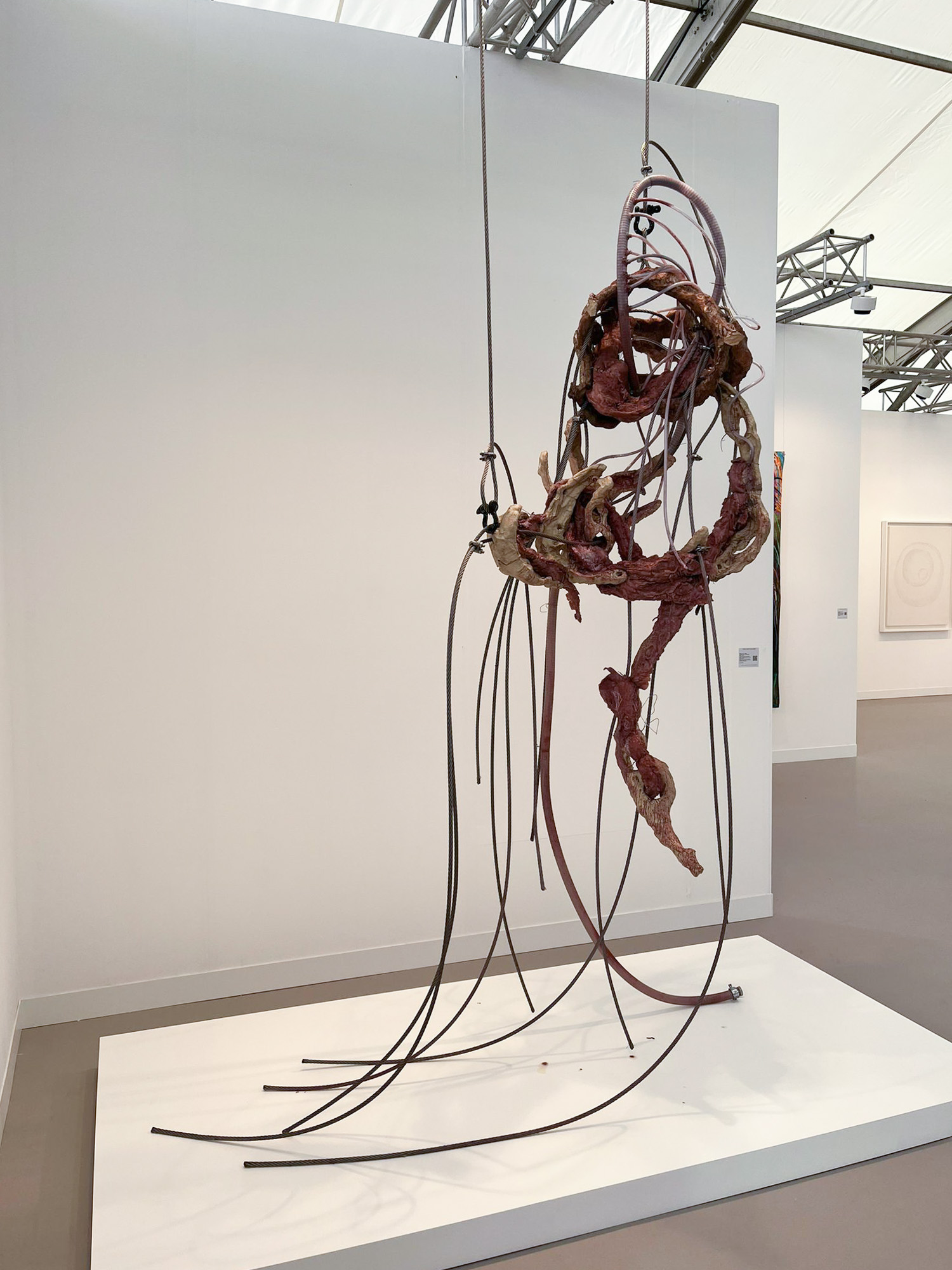 Crowds also coalesced around installations such as Mire Lee's Endless House: Harlequin Baby (2022). Presented by Tina Kim Gallery (New York), the mixed-media work features rope intertwined with bisque-fired ceramic pieces in an affective landscape of the body, though without the series' oozing body fluid-like liquid as in this year's Venice Biennale.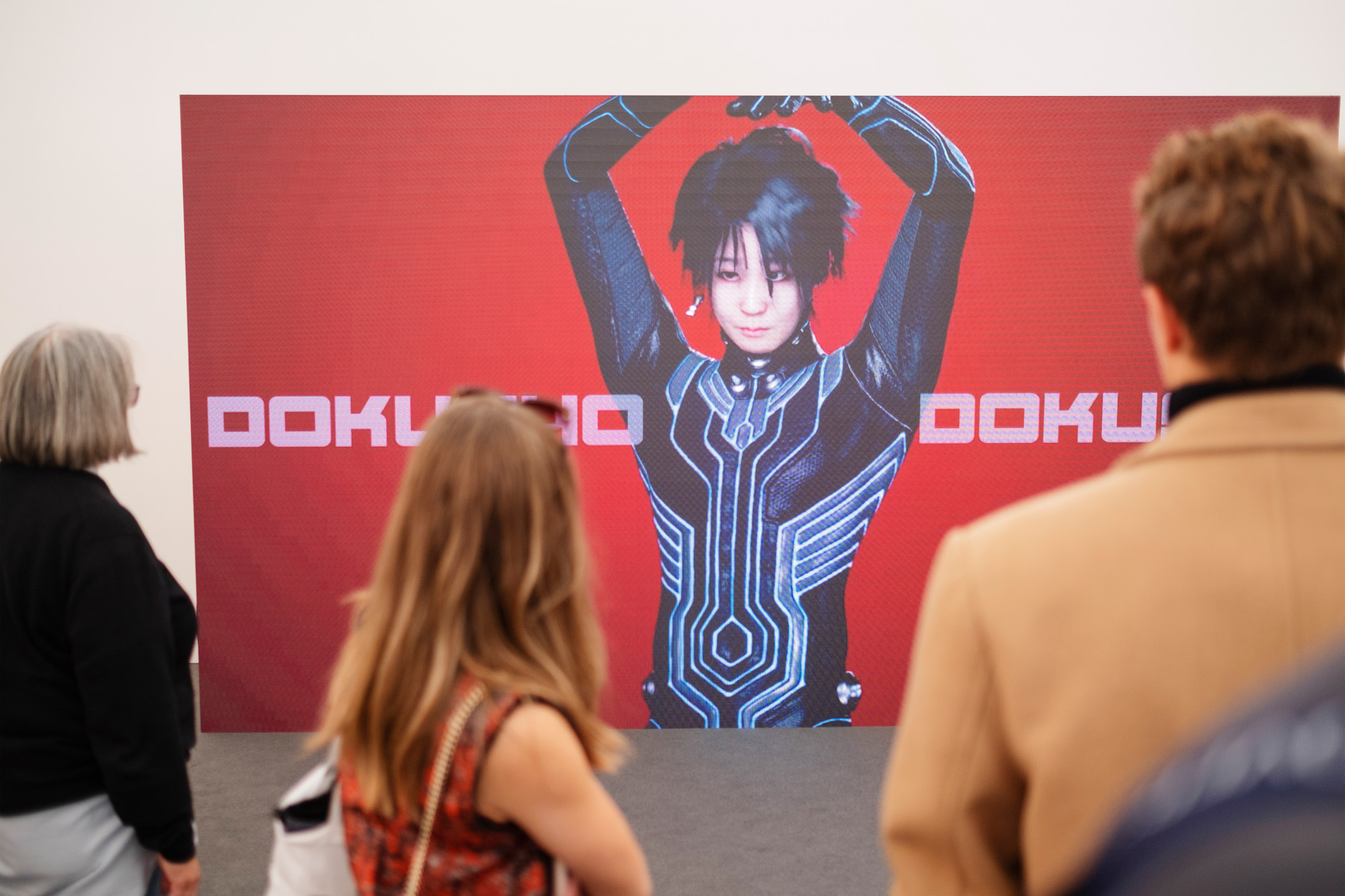 Collectors sat down cross-legged on the carpet to admire Lu Yang's 36-minute narrative film DOKU the Self (2022), which was sold on the first day for EUR 80,000–100,000 (USD 79,000–98,000) at Société (Berlin).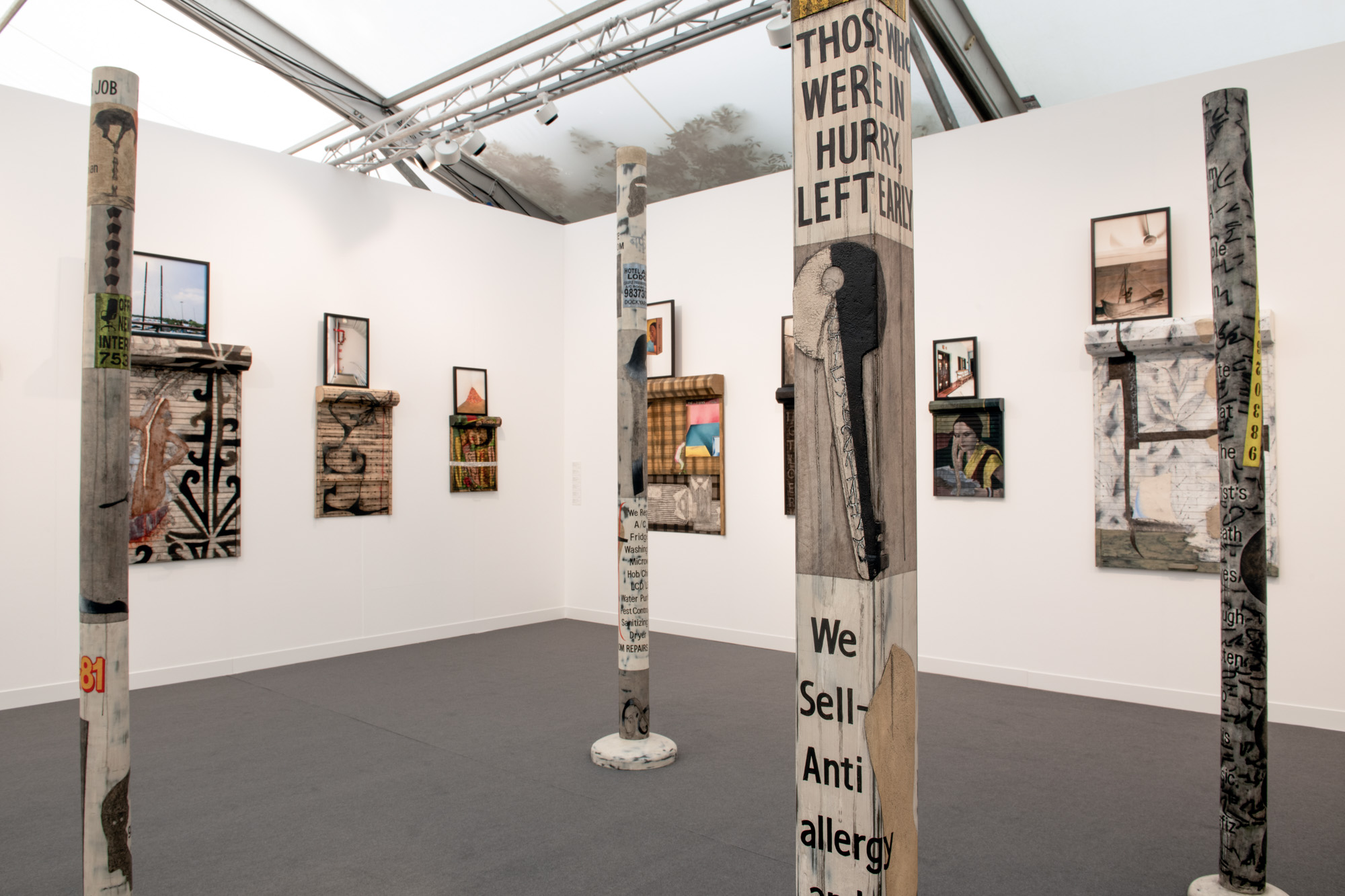 Atul Dodiya's pole sculptures and small-scale painted shutters, part of his solo exhibition "View from Dockyard Road" at Vadehra Art Gallery, garnered significant interest from London-based South Asian collectors, who collectively acquired 60 percent of the works on display by the second day.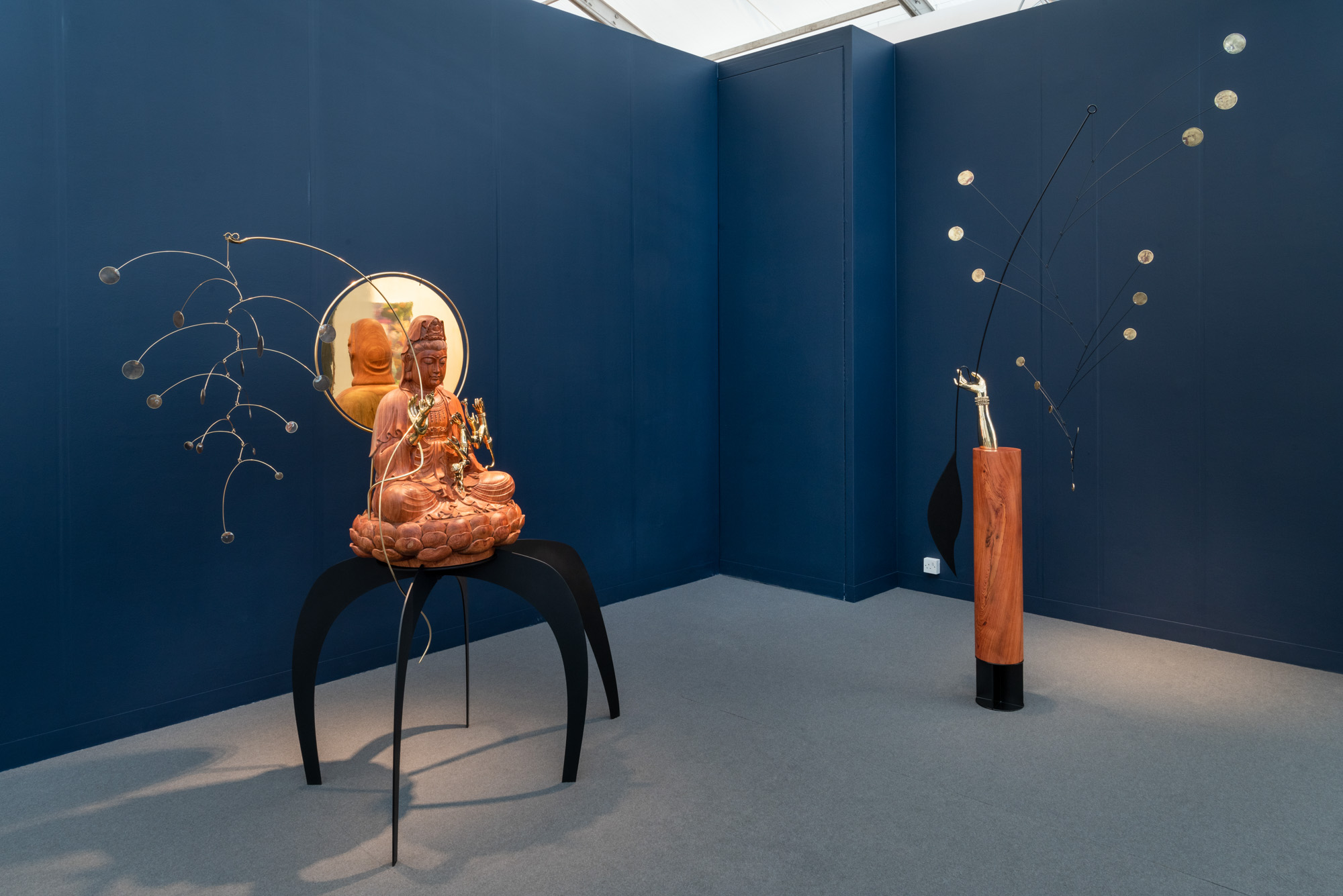 Curated by Sandhini Poddar, the special section "Indra's Net" felt more like an exhibition. Its title references the Buddhist and Hindu concept of a net floating across the world, demonstrating the interconnected interdependence of all of Earth's sentient life. The artists in this section critically examined topics spanning land, colonialism, and systems of domination, with a sense of compassion threading through each booth. Many gallerists noted that fairgoers in this section took the time to stop and have extended conversations on the work, giving it a much different vibe than the more commercially focused parts of the fair.
At Commonwealth and Council (Los Angeles), Eddie Rodolfo Aparicio's Bolillos (2022) sews together casts of tree bark and the clothes of loved ones for a mnemonic container of lived histories. Attempts to preserve the past are also captured in Martha Atienza's Tigpanalipod (The Protectors) 11°02'06.4"N 123°36'24.1" E (2022) at Silverlens (Manila / New York). The video depicts a fisherman continuing to fish in a 100-year-old tradition, despite the ecological decay of tourism and capitalist development setting in around him.
With strong sales across most galleries, a swing toward the abstract, and a deeply thoughtful selection at "Indra's Net," the momentum that began at Art Basel's inaugural return to in-person fairs doesn't seem to have faltered. All in all, the buoyant mood at Frieze London carried across the entire weekend.