Still Cold Out There: Digital Art Fair Asia 2023
By Alex Yiu
Digital Art Fair Asia 2023
Kunsthalle, K11 Musea
Oct 19–23

An ancient Chinese proverb says: "Seven days in the mountains, a thousand years in the world." This ancient knowledge describes how drastic changes in a professional field like the digital art market can be made unrecognizable from an outsider's perspective within a short period. As "crypto winter" has carried on since the second quarter of 2022, the Digital Art Fair Asia 2023 (DAFA) in Hong Kong has internalized the jargon surrounding the hype of nonfungible tokens (NFTs), treating them as the default protocol of transaction—a digital infrastructure that allows for safer transactions of digital assets through blockchain technology just like any contractual business but in the digital realm. Such a mundane realization has led to moderation and maturation from the naissance of this once overly hyped technology. Yet, the digital art market seems to be experiencing a remission—as evident at the Kunsthalle in K11 Musea, a 930-square-meter space on the upper floor of the shopping mall, which is half of the size of its previous venue in Central last year.
In 2023, DAFA saw a diversification of themes and artistic techniques across the virtual and physical space while most participants bragged about the latest AI-generated artwork. Terminology such as "generative adversarial networks" (GAN), "Natural Language Processing" (NLP), "prompt engineering," "unsupervised learning," etcetera, have become the new buzzwords as marketers seek novel ways to describe the process of AI art-making. While not a total inundation, AI-generated or AI-assisted artworks definitely took a significant presence at the 2023 Digital Art Fair alongside the now-familiar animated 3D clips, digital illustrations, VR/AR, and algorithmic art.
Immersive experiences and surreal expressions of 3D renderings and algorithmic compositions are here to stay. For example, David Ariew's Quantum Transcendence (2023) served spectacularly in the immersive room as it engulfed its viewers with golden flair in cyberspace. Otherwise, DAFA's showcase for the Hong Kong-based American-Taiwanese artist Jonathan Jay Lee revealed a mundane catch, with his digital illustration Take Your Time (2023) on a large LED screen in a small room. Drawn in a comic style, it reveals the details and effervescent movement of raindrops and neon lights of Hong Kong's streets viewed at dusk. Such illustrative art is rarely seen in contemporary art fairs and galleries due to its commercial connotations and popular aesthetics. Yet, it perfectly fits into the digital space, away from institutional gatekeeping.
Yet, it would be naive to think the digital art space is entirely free from institutional aesthetics and references to art history. Instead, digital art often references artistic styles from throughout history. We can see styles ranging from abstractionism to surrealism in the "artist" Botto's AI-generated "painting" being shown on LG's LED TV. As Botto's statement claimed, its artistic decisions are made through a "decentralized autonomous" approach, which means Botto isn't anyone specific but a group of technologists and artists who collaborate together and create artworks in a decision-making process that requires acquiring its governance token, $BOTTO, over the Ethereum blockchain. Botto is a classic example of a crypto organization that stemmed from the libertarian ideology through tokenization. In layman's terms, these tokens serve like shares of a company, empowering their holders to vote within the organization and earn dividends (or "airdrop" in crypto-terminology). Botto's paintings in diverse styles hovering between abstractionist and surrealist style, yet without a consistent visual identity—possibly a result of these collective decisions. DeepBlack, an anonymous artist group who pioneered AI art with the GAN engine in 2018, showcased mimetic "paintings" of still lifes, landscapes, and portraits of nonexistent people in DAFA as well. Yet, they also look like a hybrid of mimicries. Maybe the pioneering effort in the art form is more significant than the quality of the artworks—one could surpass their quality by using up-to-date AI art tools like Stable Diffusion and MidJourney.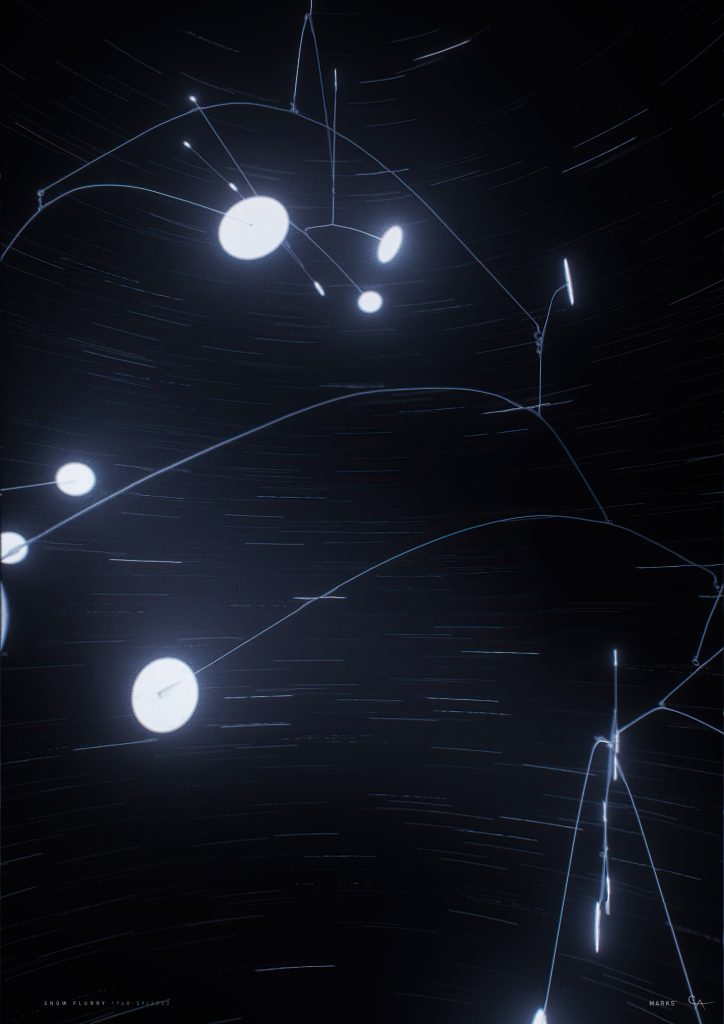 On the other hand, many artists and organizations in traditional art forms have been diving into the space through collaborations. As shown in The Calder Questions series (2022) by TR Lab in partnership with The Calder Foundation, the reimagination of Calder's kinetic sculpture in 3D animation with traces of starlight outlining the shape of the work evolves into a glaring sensation. Such a mesmerizing visual feast demands its medium match its resolution and size in order to allow the details and color to be represented accurately through high-quality screens or luminous projections. Although the TV somehow managed to carry the video in high resolution, the appearance of the playback bar after every cycle of the loop very much disturbed the viewing experience. In this way, showing a 3D-animated object in a video loop seemed stale and limited.
It wasn't surprising then that Korean electronics giant LG was a visible presence at the fair to promote the gigantic ultra-thin OLED TV with its dense pixels and true black. The screen sponsor for DAFA, LG also showcased its transparent OLED displays, which stood out from the other sponsored TV models in every booth. It was a shame that the many artworks in the fair were all put on a standardized displays and sat adjacent to each other—like how TVs are featured in electronic stores. Some of the presentations in DAFA were utilitarian at best, and some of the artworks shown suffered from low resolution. Instead of endlessly chasing for higher resolution, DAFA would benefit from more careful curatorial treatment for new media art.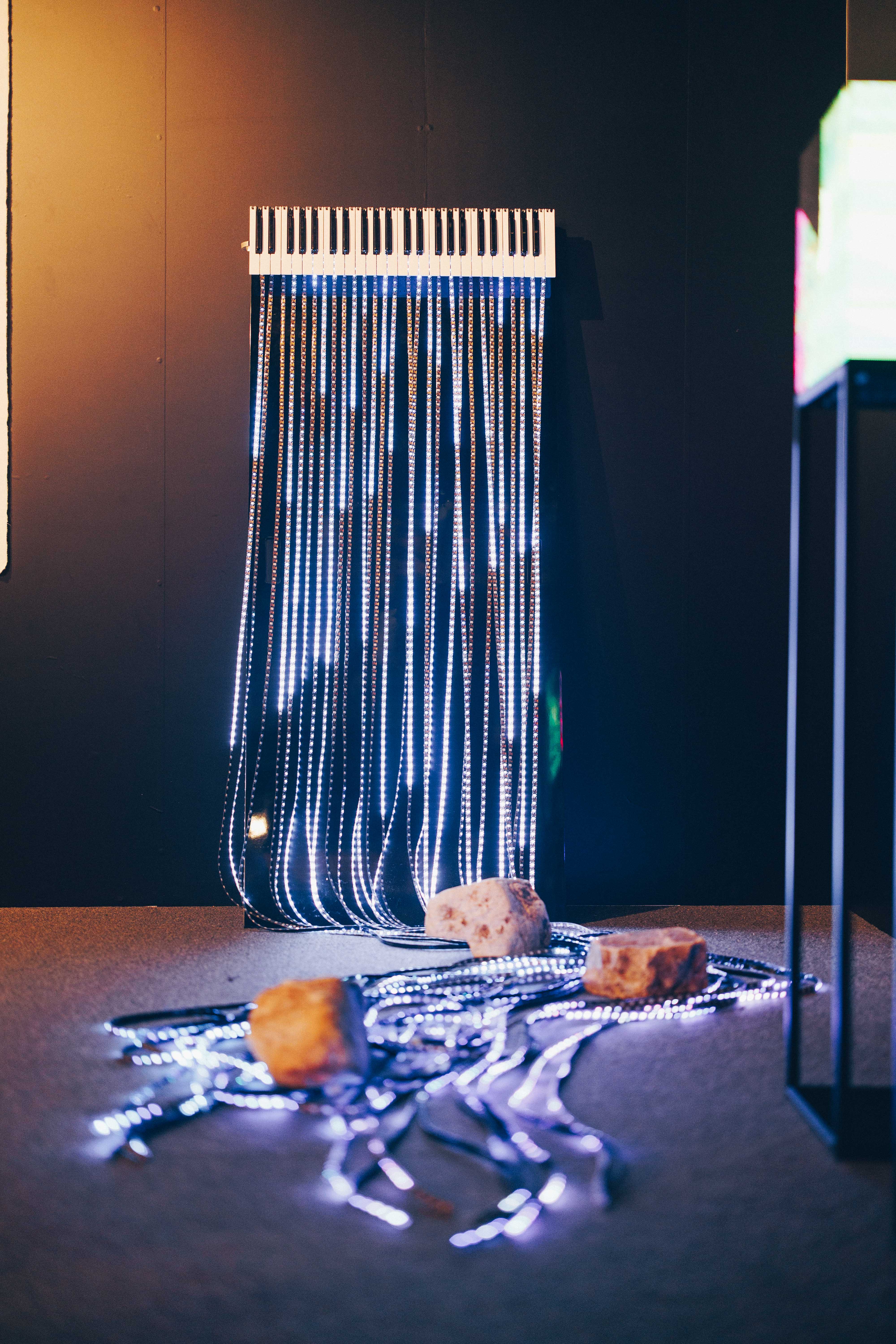 The rise of ultra-thin LED TVs has led to the issue of flatness. Time and space on the screen are fundamentally indifferent to the logic of a canvas. Despite the LED monitors' properties of animation and illumination—and most of the artworks were presented in video loops—light-emitting LEDs are used to represent diverse kinds of imagery. Physical installation works at the fair were few and far between, with the exception of multimedia installations such as Henry Chu's Waterfall Piano - Calm During the Storm (2023), an interactive piano installation with the attachment of LED light straps inspired by the artist's memory of rainstorms. Through the light straps mimicking rain-dropping from pressing the piano's keys, Chu's work evokes a sense of playfulness and rainy memories. Nick Teeple's DATASETS (2023), a circular screen showing a video of a 3D-rendered brain flowing in chromatic colors installed onto a metallic head shape resembled a cyberpunk-esque imagination of a posthuman body. Kevin Dubeau's tiny 3D-printed sculpture Solid-Works series (2019) depicts a retrofuturistic abstraction. The Asian-Australian artist Chris Yee's Angels In Play (2023), a video animation of First Nations and Chinese motivic patterns, seemed to serve as an extension of the physical carpet of the same design next to the video. These works all deal with the different praxis of representation and translation from digital to analogue, a rare sight at DAFA that was dominated by the untouchable world behind the screens.
Is the NFT euphoria really over? The presence of Tyler Hobbs's and Refik Anadol's works in DAFA spoke otherwise. Anadol's NFTs of his AI-generated abstractions have sold for multimillions of Hong Kong dollars; Tyler Hobbs' generative painting Fidenza #471 sold for almost HKD 1 million (USD 120,000) in September this year at Sotheby's. Perhaps there is support from crypto-billionaires? Perhaps there are still crypto-billionaires? These results serve as a reminder of the "hopium" that permeates the digital art market despite the uncertainty of global instability and economic crisis. Coincidentally, the price of Bitcoin has managed to hit USD 34,000 once again at the time of the writing, and the co-founder and CEO of HOFA Gallery, Elio D'Anna, mentioned that they have managed to sell out works of Sougwen Chung from its booth at DAFA, so perhaps the journey "to the moon" isn't that impossible after all.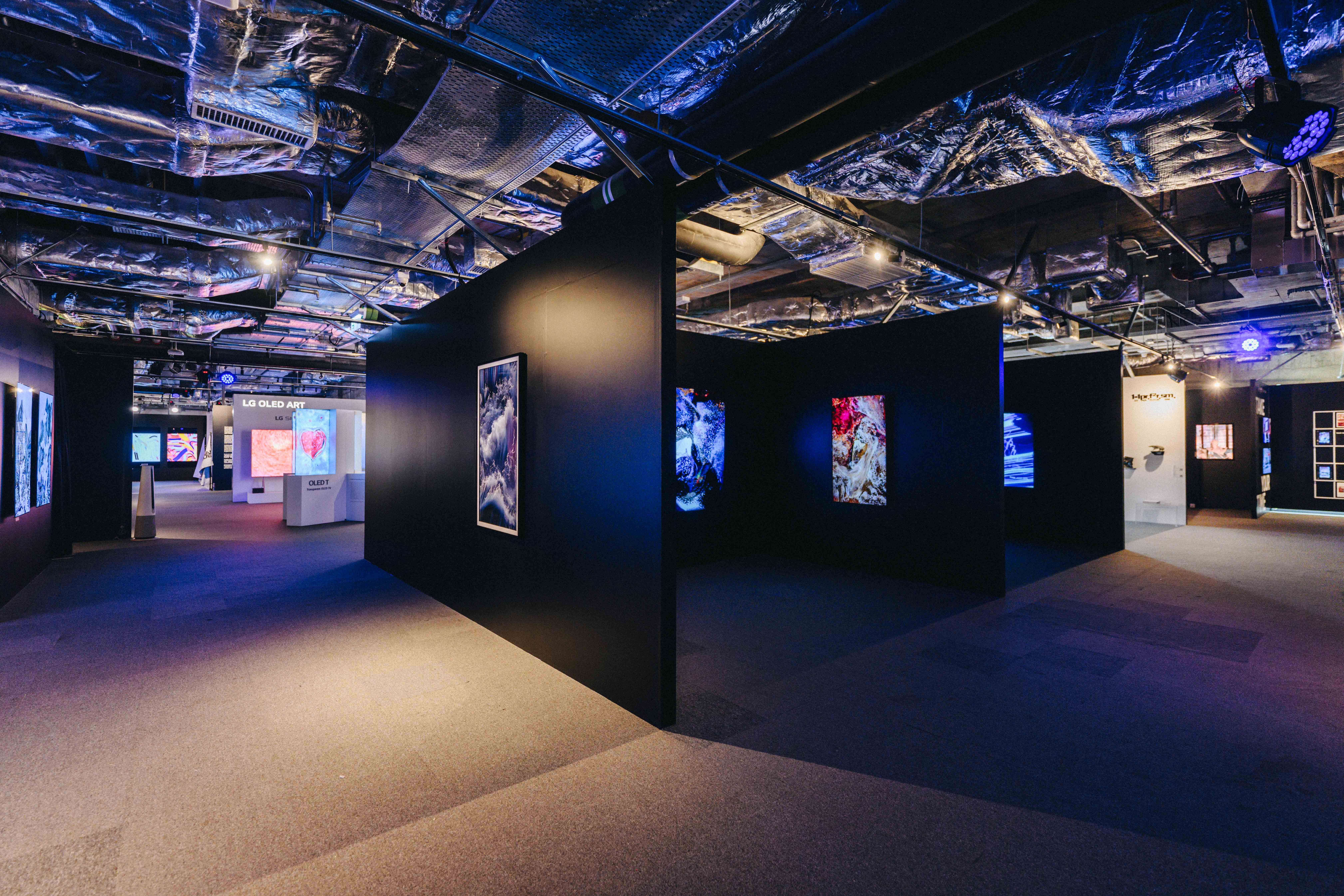 Alex Yiu is associate editor at ArtAsiaPacific.
Subscribe to ArtAsiaPacific's free weekly newsletter with all the latest news, reviews, and perspectives, directly to your inbox each Monday.