Intriguing Artist-Made Films, the Rise of the Art Influencer, and a Showcase of NFTs at S.E.A. Focus 2022
By S.E.A. Focus
* This is a sponsored post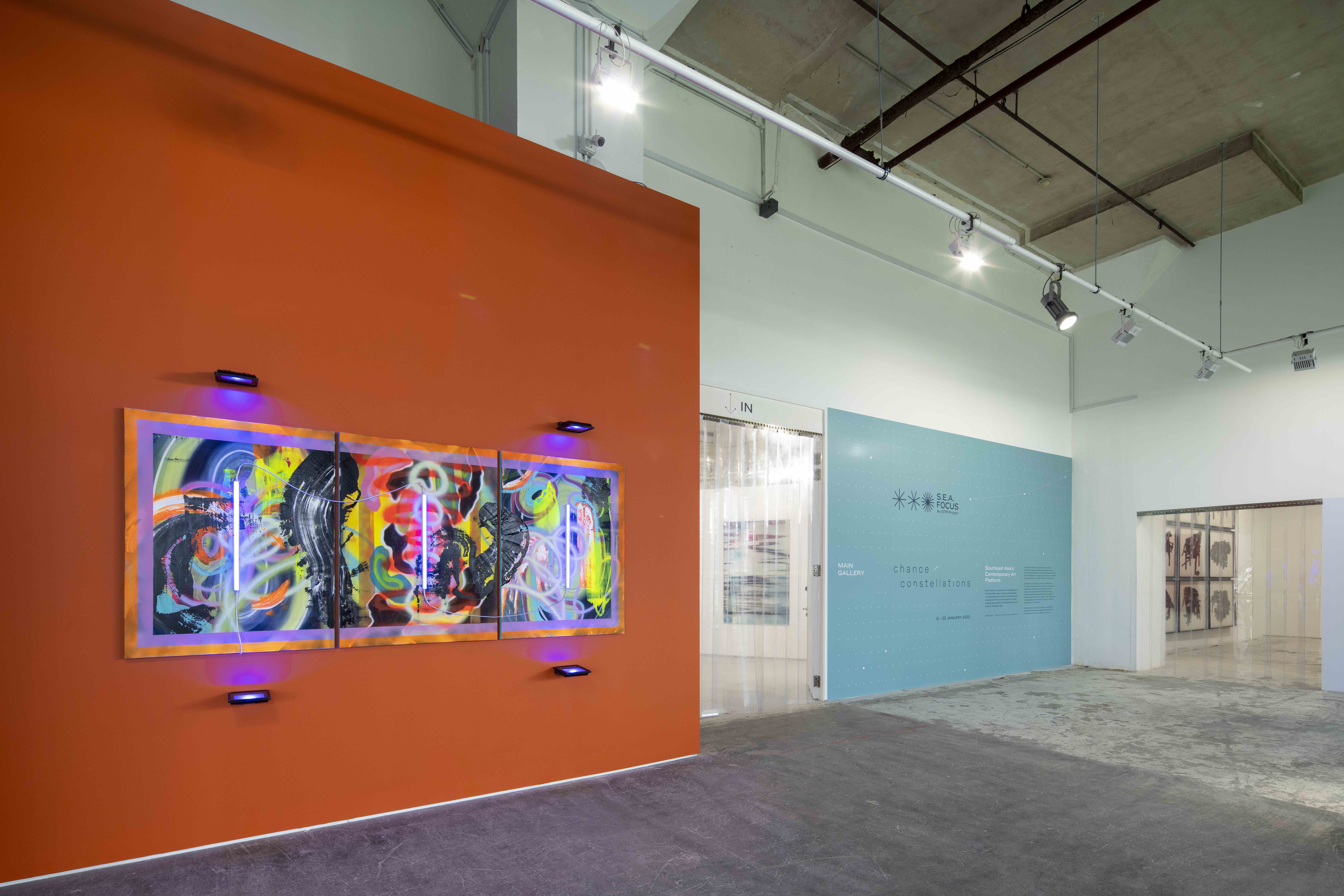 As the world continues to deal with the pandemic, S.E.A. Focus 2022—the anchor event of Singapore Art Week 2022—is one of the handful of art fairs globally that is pushing ahead.
In its fourth edition, on view from January 15 to 23, S.E.A. Focus 2022 takes art beyond the confines of the gallery. Within its distinctive scaffolding-clad space at Tanjong Pagar Distripark that evokes this year's theme of networks and connections, "chance . . . constellations" is a thoughtfully curated exhibition featuring over 150 artworks from 50 artists and 24 galleries in the region.
As a pioneering platform, S.E.A. Focus 2022 will host leading galleries from Singapore, the region, and beyond, such as:
• Indonesia: ROH Projects
• Malaysia: A+ Works of Art, Richard Koh Fine Art, and Wei-Ling Gallery
• Philippines: Artinformal, Silverlens, The Drawing Room, and Tropical Futures Institute
• Singapore: Art Porters, FOST Gallery, Gajah Gallery, Mizuma Gallery, Ota Fine Arts, Sullivan+Strumpf, STPI, The Columns Gallery, Yavuz Gallery, and Yeo Workshop
• Thailand: Bangkok CityCity Gallery and Nova Contemporary
• Vietnam: CUC Gallery
Fifty artists, both established and emerging, will be presented, including Arin Dwihartanto Sunaryo (Indonesia/ROH Gallery), Nadiah Bamadhaj (Malaysia/A+ Works of Art), Mit Jai Inn (Thailand/Silverlens), Sawangwongse Yawnghwe (Myanmar/Canada/Nova Contemporary), Zai Kuning (Singapore/Ota Fine Arts), and Tammy Nguyen (Vietnam/Tropical Futures Institute).
Exciting programming including a dynamic film and video calendar at the first pop-up screening room, the first NFT showcase, and panel discussions at the recurring SEAspotlight Talks, also offers a tantalizing glimpse into what lies ahead for the region's creative mindscape.
For the first time, artist-made films will be showcased at Projector X at Riverside Point, a pop-up screening room by The Projector. From January 19 to 21, the space will screen 25 compelling short films, animations, and video works by cutting-edge Southeast Asian artists, such as Robert Zhao Renhui (Singapore/Mizuma Gallery), Tromarama (Indonesia/ROH Projects), and James Clar (The Philippines/Silverlens). They offer provocative insights and commentary into the socio-political landscape and history of the region.
Another first for S.E.A. Focus 2022 is the Asia-centric NFT showcase, "Tezos NFTs: The New North Star," presented by TZ APAC, the leading adoption entity for the Tezos blockchain in Asia and Crypto Art Week Asia (CAWA). Over 15 digital artists from Philippines, Indonesia, Brunei, India, Singapore, Malaysia, and South Korea who have minted their art on the Tezos blockchain are featured. They include Indonesian Tezos comic artist, Arya Mularama; Brunei-based generative artist, Yazid; and Singapore-based abstract artist, warrragwag.
Similar to its NFT showcase at Art Basel Miami Beach last December, TZ APAC will also be hosting a live minting showcase, which will allow viewers and visitors to experience first-hand the process of minting an NFT, enabling them to leave S.E.A. Focus 2022 with their own one-of-a-kind generative artwork.
Key highlights for S.E.A. Focus every year are the SEAspotlight Talks, a specially curated series of panel discussions featuring industry experts. In partnership with ArtAsiaPacific and themed "Pivot to the Future," six talks held from January 11 to 20 explore a post-pandemic contemporary art world. The session "Pivot to the Future: Collaboration versus Consolidation" (8pm, 11 January, via Zoom) saw gallerists discuss how the global art market will change in a post-Covid world, while the growing importance of millennial art collectors came under the spotlight in "Age of Influencers" (8pm, 12 January, via Zoom). In "Selling Art in a Virtual World" (8pm, 19 January, via Zoom), considerations when purchasing art in digital formats are a starting point for entry into the progressive realm of virtual art.
"This year's S.E.A. Focus programming takes a bold step into the future while still very much grounded in the ever-changing present," Emi Eu, project director of S.E.A. Focus and executive director of STPI, said. "As Southeast Asia's premier contemporary art platform, we are eager to see what lies ahead in a world where change is the only constant."
For more information, please visit seafocus.sg.