Roots and Routes of Connection: Art Week Tokyo 2023
By HG Masters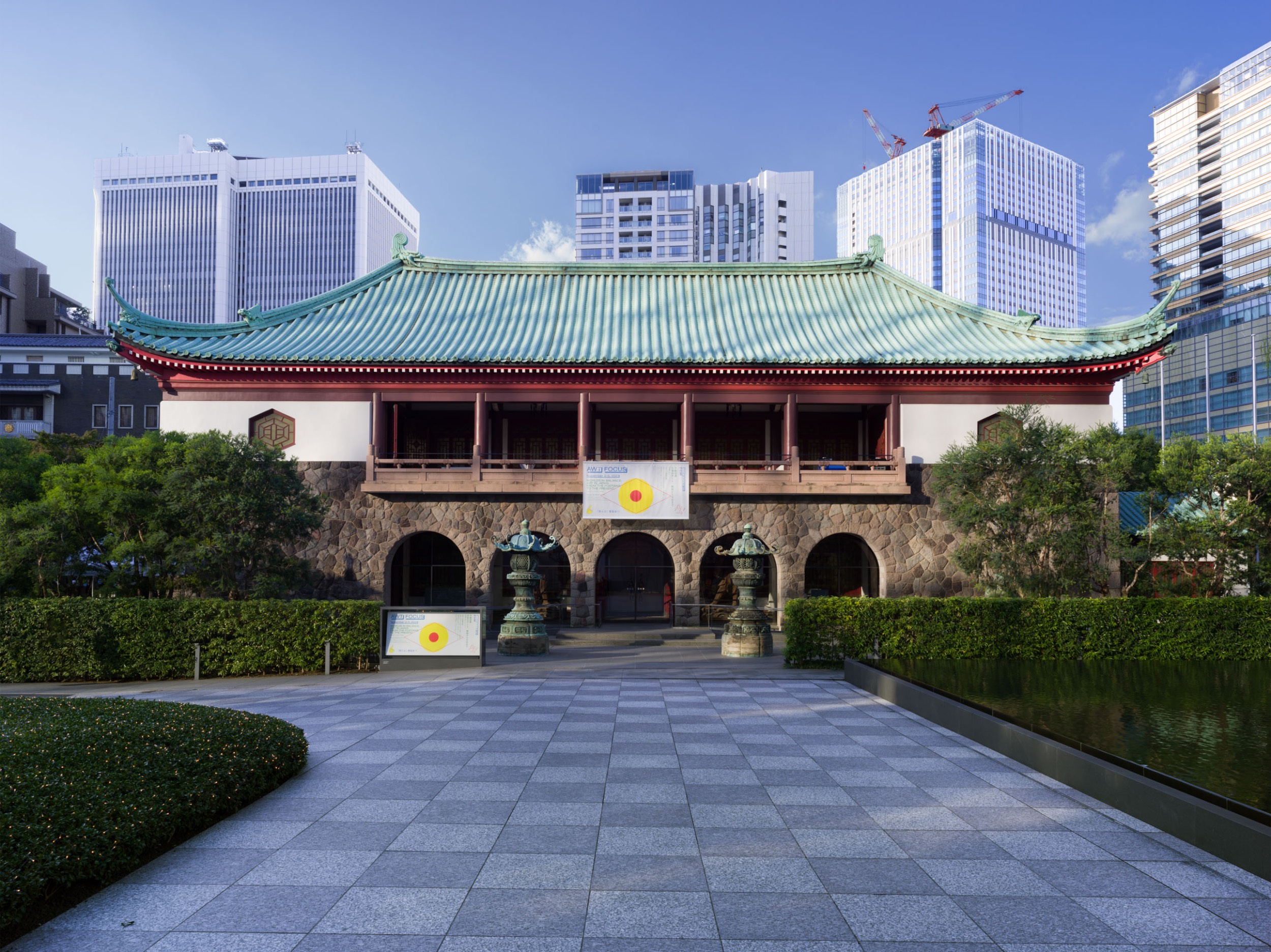 Put Japan on the annual art-world calendar for November. That is the viable and inviting proposal of Art Week Tokyo 2023 (AWT) (November 2–5), a coordination of gallery and museum shows with a central exhibition, screening program, and talks series, facilitated by routes of shuttle buses running through Tokyo's sprawling urban districts. Readily accessing Tokyo's many galleries—of different sizes, districts, and outlooks—can be challenging enough for residents, much less for visitors looking to explore the city's art scene in a few days. For those who do not live in Tokyo already, the city promises historical museums, culture, and food, not to mention design and fashion. You might even preface a Tokyo tour with the burgeoning art fair Art Collaboration Kyoto (October 28–30) in Japan's ancient capital or visit a regional museum like the 21st Century Museum of Contemporary Art in Kanazawa, where director Yuko Hasegawa is injecting new ambition into the programming with showcases such as "DXP (Digital Transformation Planet): Towards the Next Interface" about technological interactions with the body.
Why, then, given Japan's wealth of cultural offerings, does the proposition of the three-year-old Art Week Tokyo seem so novel? From the perspective of the contemporary art field of the last two decades, Japan has lagged in garnering regional and international attention for its 21st-century art infrastructure—relative to the country's size, wealth, and cultural depth. Among other factors have been China's emergence that brought a rush of development to its mainland cities and the commercial hub of Hong Kong, while South Korea has poured billions into developing its K-culture industries, with contemporary art benefiting from sizable support and marketing. Domestically, the Japanese government has prioritized traditional cultural heritage and its touristic appeal, while leaving contemporary art to do its own marketing, which entities like TeamLab or figures like Yayoi Kusama and Takashi Murakami have excelled at.
Like most stories these days, however, change was motivated by the pandemic. As Art Week Tokyo cofounder Atsuko Ninagawa explained, Tokyo gallerists began communicating more openly with one another in the first year of the pandemic about what they could do in the absence of foreign visitors, leading to jointly held online conversations and greater connections between galleries and art spaces of all sizes. Getting the Japanese public to visit galleries was the first edition's priority, as was raising the profile of artists. Its third edition was Art Week Tokyo's first pandemic-unencumbered edition and receives backing from Japan's Agency of Cultural Affairs.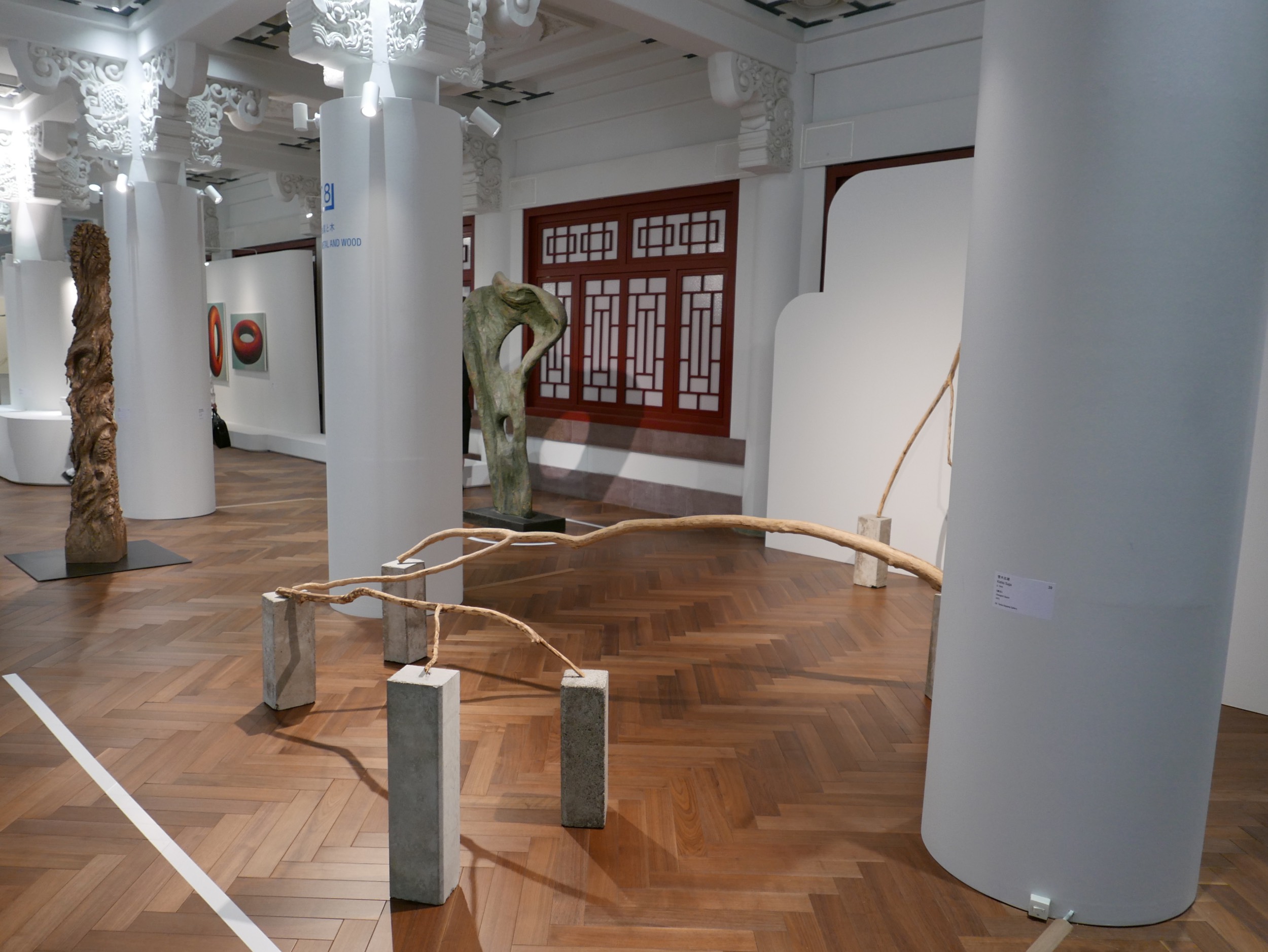 The event's centerpiece was the AWT Focus exhibition, "Worlds in Balance: Art in Japan from the Postwar to the Present," a selling show at the private Okura Museum of Art, originally founded in 1917. Curated by Kenjiro Hosaka, director of the Shiga Museum of Art, "Worlds in Balance" featured a self-described "alternative genealogy" of Japanese art with more than 100 artworks categorized by dialectical or formalist themes such as "Art or Craft?" "Nature and Techne" and "From Line to Abstraction." In "Nature and Techne," for instance, Hosaka traced artists' relationship to the earth, from Seiji Chokai's landscape painting Terraced Fields (1951–52), to Kishio Suga's installation of tree branches balanced on cement blocks Divergent Space (1975), which the curator described as "Zen gardens that can be realized anywhere in response to the site." The section "Art or Craft?" pointed to another important strand in Japanese art, linking the modernist abstract painter Takeo Yamaguchi's Circle and Square (1956) to contemporary ceramic artists such as Takuro Kuwata and Yuji Ueda, revealing the aesthetic continuity between the worlds of fine art and handmade, artisan traditions in the Japanese context. "Worlds in Balance," although a commercial exhibition—with Art Week Tokyo 2023 participants contributing works that were for sale—was a highly considered presentation of Japanese artists spanning the postwar decades and 21st century, and offered touchstones and historical points of reference for many of the gallery exhibitions.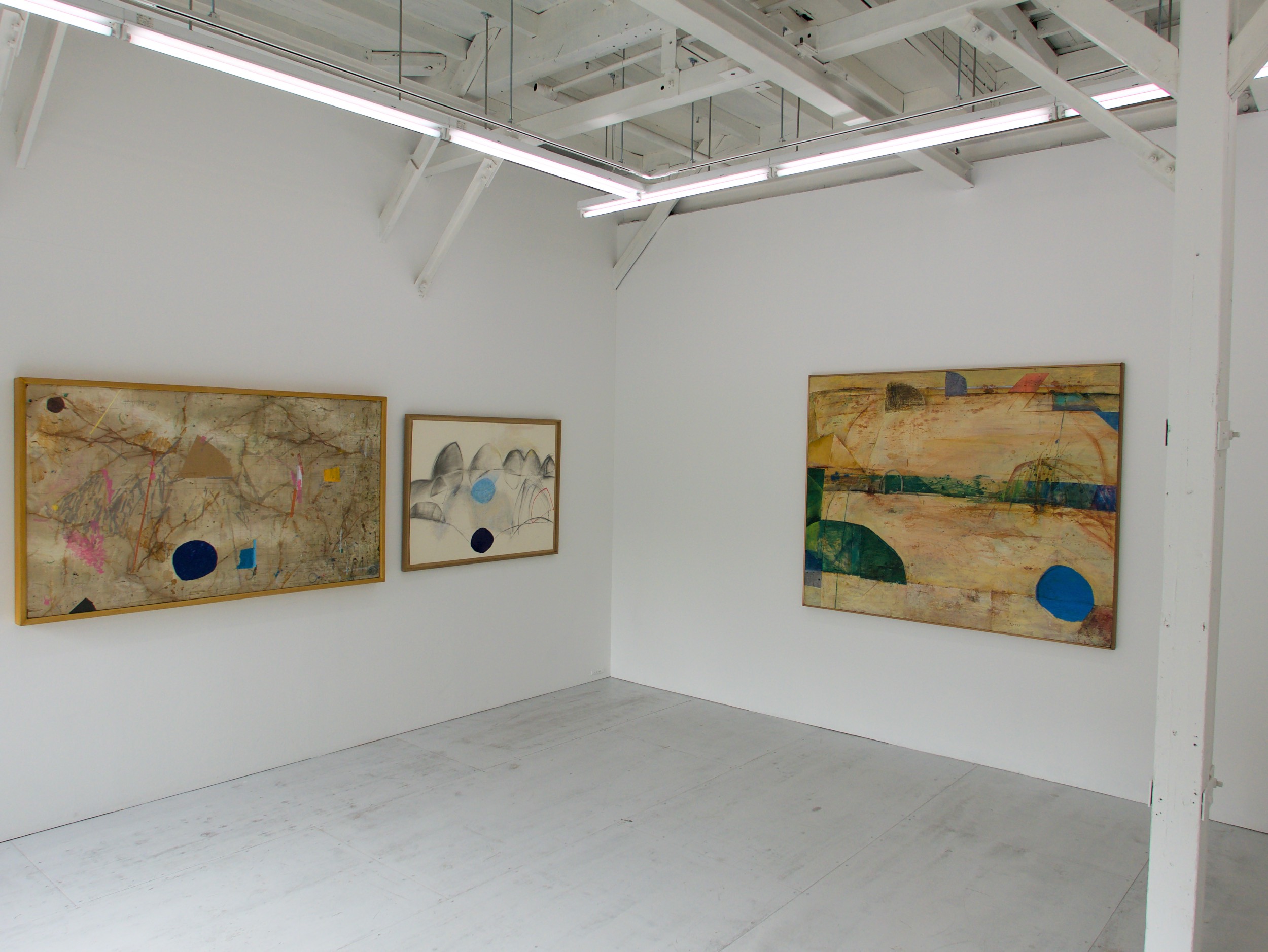 The primary advantage of Art Week Tokyo for visitors is hopping on and off the six bus routes around Tokyo districts that can otherwise be far-flung or time-consuming to access. Waitingroom gallery, for instance, is located in a former neighborhood post office in the Kagurazaka/Edogawabashi area and was showing Saori Miyake's cyanotypes and animations based on paintings. Also tucked away was Kayokoyuki gallery, located in an old residential building at the end of a small street in Komagome, where it was showed landscape-based paintings by 82-year-old Nobuya Hitsuda, an influential teacher to many artists, including Yoshitomo Nara and Hiroshi Sugito. At the latter, we also visited the adjoining Komagome Soko space, run by SCAI the Bathhouse, and saw sculptural works by Ayako Ohno and Nozomi Suzuki, among others in the group exhibition "Resonant Scenery," as AWT inspires exploration of nearby venues not officially listed in the program.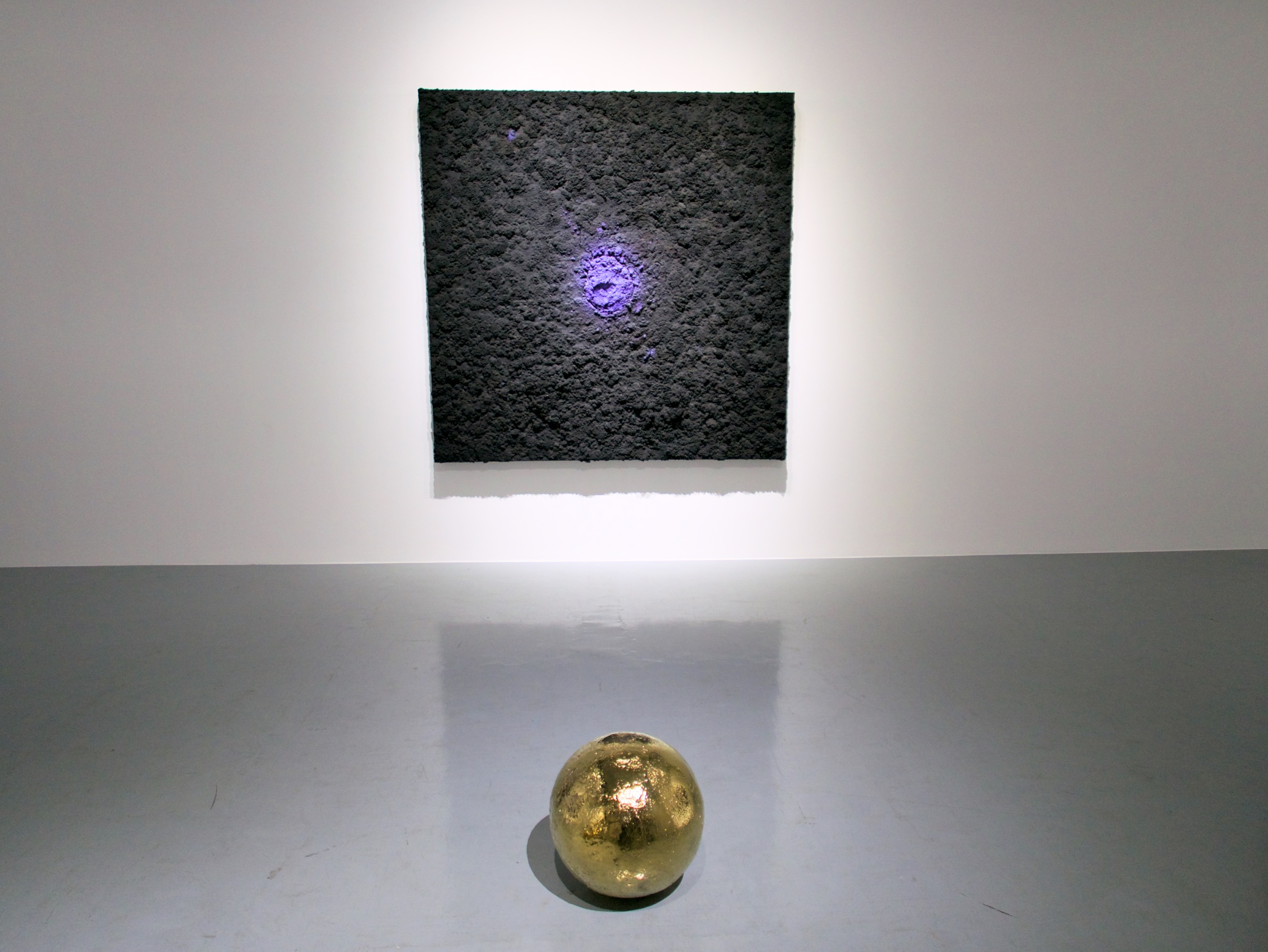 Art Week Tokyo is also a reason for galleries to mount special presentationsof international artists—as SCAI the Bathhouse did with Bosco Sodi's new paintings and ceramic sculptures in "Galaxy"—that take on new resonances in Japan. The Mexican artist's works with elemental materials and forms, including burlap, sawdust, pigment, and clay, connected in my mind with Lee Ufan's boulder sculptures and ultra-minimal paintings, for example. British filmmaker Derek Jarman's Black Paintings (1986–91), showing at Take Ninagawa, are made with found object assemblages and echoed with the practice of the collage and found-object-artist Shinro Ohtake, who also shows with the gallery.
Though organized in collaboration with Art Basel, Art Week Tokyo is not only for Japan's commercial heavyweights. In fact, some of the highlights were seeing what smaller galleries were doing. Kana Kawanishi, for instance, presented the marine debris sculpture series (2019– ) by Akira Fujimoto, which he made from collecting plastic trash from the country's western coastline and melting it down into colorful amorphous blobs. These were oddly reminiscent of the Japanese Informel movement abstract painting from 1958 by Yoshishige Saito, seen in "Worlds in Balance." Hagiwara Projects, a ten-year-old gallery that recently relocated to Koto-ku, featured a single conceptual artwork by Yoko Terauchi, a single red piece of paper with a hole burrowed in it, One is Many Many is One (2022)—an interesting encounter with an artist who was active in London in the 1980s and '90s, showing at Chisenhalle and Lisson gallery, among other venues.
Spending time in galleries is far superior as an experience for to getting to know an artist's practice than going to a convention center for an art fair. Mujin-to Production is located in an old wooden building alongside a canal, and that interior space complemented the projects of Sachiko Kazama in "New Matsushima," in which the artist uses woodblock-printing techniques in unconventional ways—showing the block with the print simultaneously, for example in her FLOW series. Many of the works in this show had been created for the 2021–22 Reborn Art Festival in Ishinomaki in Miyagi Prefecture. For that project Kazama looked at the changes in landscape along the rivers and coastline of Japan based on old photographs and postcards, while incorporating poetry, and visual tropes from Ko-Imari ceramics, among other sources, in a compelling and critical juxtaposition of aspects of traditional culture and Japan's modernization.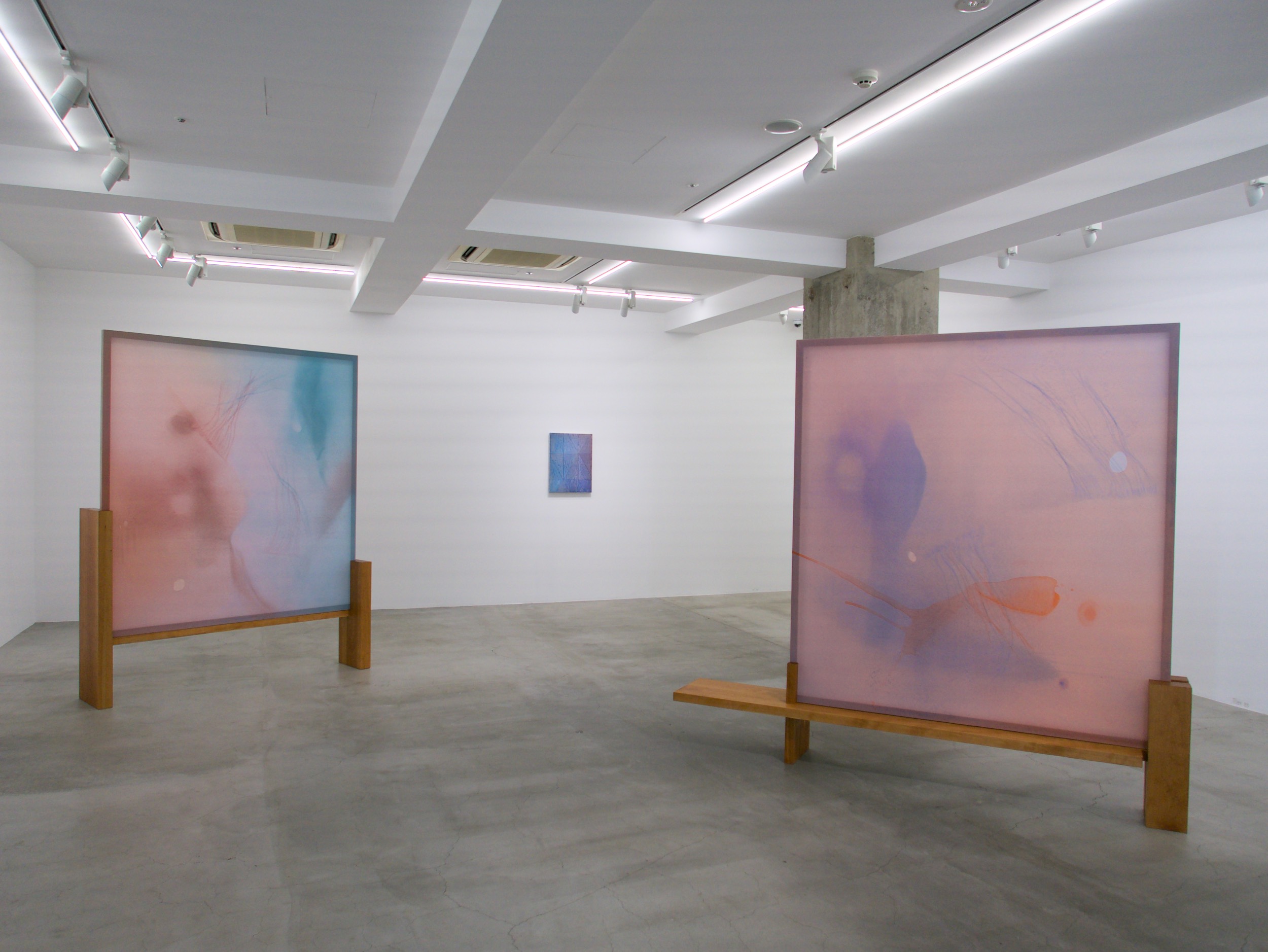 Though members of the Japanese art scene can be quite modest or even downplay their achievements, Tokyo's art scene exhibits an ever-increasing degree of refinement. The galleries in Roppongi Hills, for example, are primarily located in two nearby gallery buildings, Piramide and Complex665. The latter is a new, pristine venue of white-cube spaces. Top-floor resident Taka Ishii hosted Rosalind Nashashibi's suite of semi-figurative paintings, while downstairs Masato Kobayashi was displaying several of his off-the-frame canvases at ShugoArts, with Gen-Z figurative painter, Rika Minamitani, next door at Tomio Koyama. In Piramide, Ota Fine Arts spotlighted the delicate, pastel-hued abstractions of Singaporean artist Guo-Liang Tan, while Taro Nasu hosted a show of Belgian poet and conceptualist Marcel Broodthaers.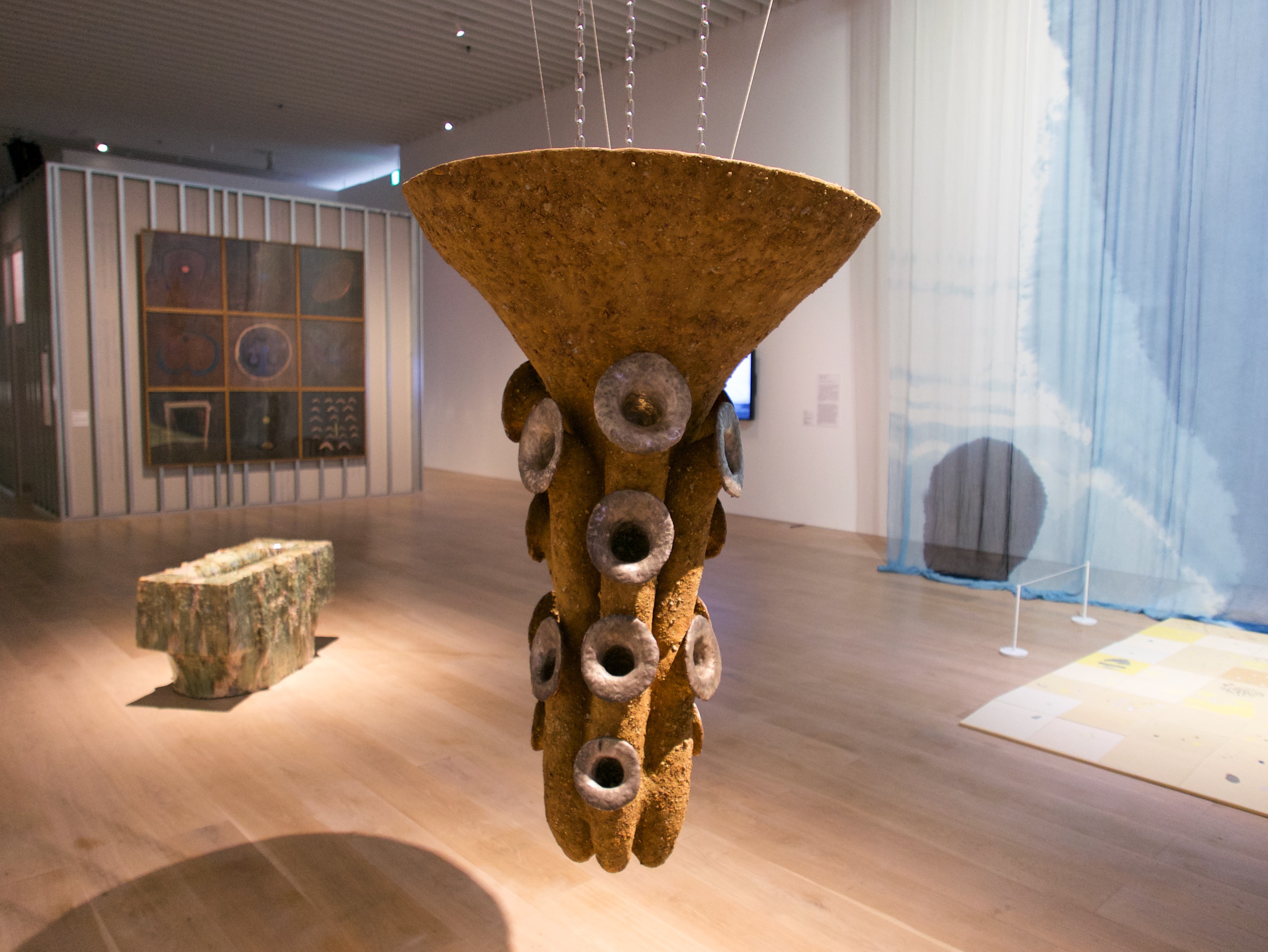 Beyond galleries, Tokyo's big museums offer serious fare alongside programs oriented to the general public. The recently renovated Museum of Contemporary Art Tokyo (MOT), for instance, features expanded exhibition areas for new displays of collection works, highlighted by works from Mikami Seiko (1961–2015), and was holding a David Hockney survey, highlighted by many of the British artist's drawings and paintings from the 1970s and '80s. The private Mori Art Museum (MAM) hosted the excellent and extensive exhibition "Our Ecology: Toward a Planetary Living," curated by Martin Germann and Tsubaki Reiko with 34 international artists, including Nina Canell, who created a field of oyster shells; Monira Al-Qadiri's installation of floating pearl-like forms; and ceramic works of Saijo Akane resembling musical instruments. Additionally, MAM Project 031 featured Jinushi Maiko's installation Mishearings (2023), combining a rotating monitor, an industrial duct emitting the sound of rocks, and a projection of a poem about a mysterious sound the artist heard at her grandfather's memorial service.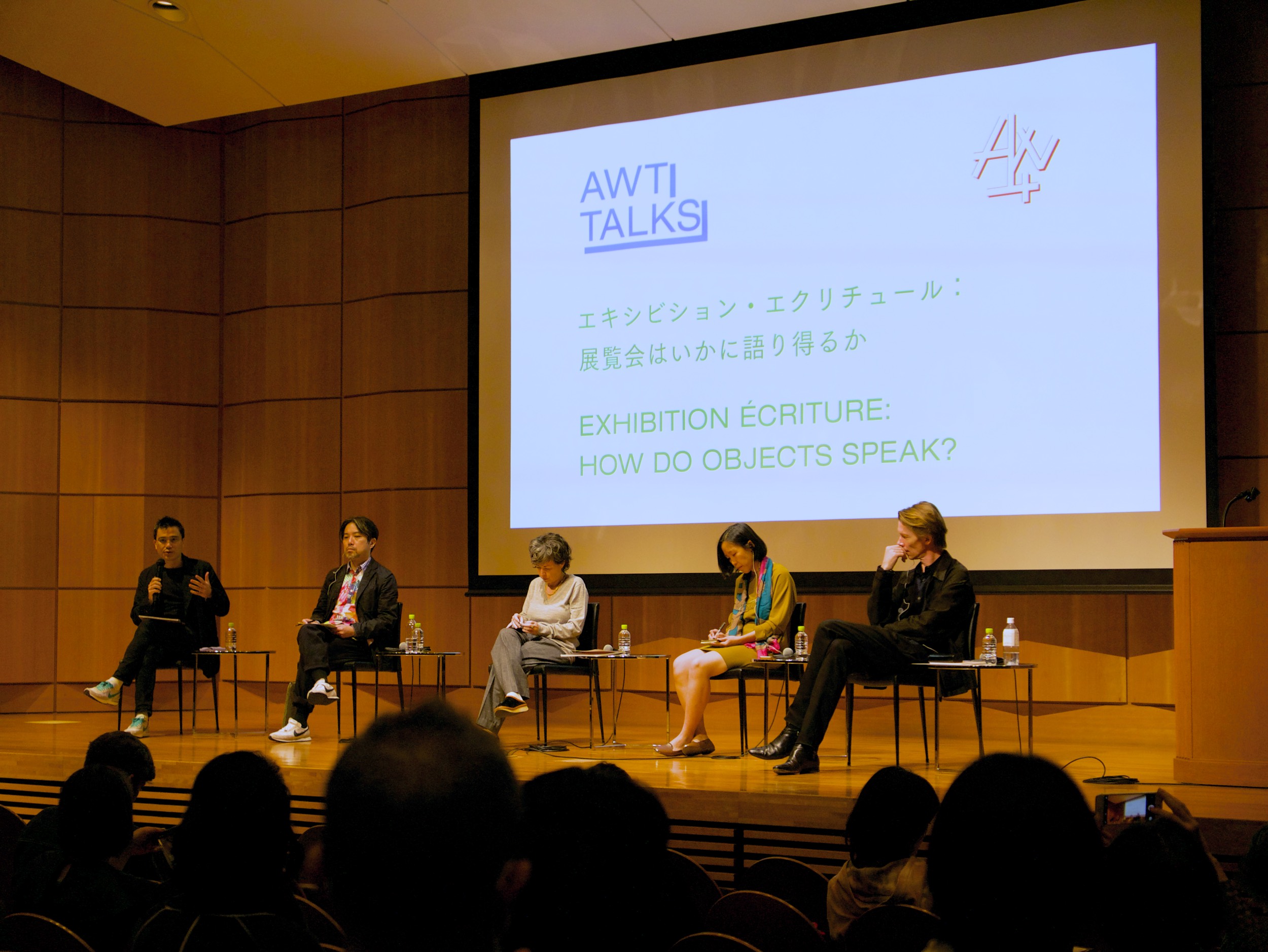 Art Week Tokyo's own programming beyond the Focus exhibition included the AWT Video program, which was installed in the lobby of the SMBC office tower in the business district. Titled "Woman Was the Sun," the exhibition was curated by Chus Martinez, head of the Institute Art Gender Nature at the Basel Academy of Art and Design, inspired by the autobiography of Japanese activist-feminist Raicho Hiratsuka, featuring 14 artists and 17 videos spanning three hours. At the symposium "Exhibition Écriture: How Do Objects Speak?" with Kenjiro Hosaka, Yokohama Triennale 2024 co-curator Carol Yinghua Lu, Adam Szymczyk of Documenta 14, and Martinez, moderated by AWT's editorial director Andrew Maerkle, the four presenters explored ways of rethinking the potentiality for exhibition-making by reexamining our relationship with the ontological category of things, whether artworks or ideas. Hosaka recounted his interest in architectural and design exhibitions' focus on social issues instead of the art industry's tendency to elevate artworks as commodities. Lu proposed revisiting art historically significant exhibitions as a way to break the stagnation of the current moment, defined by authoritarianism and neoliberalism, as she and her collaborator Liu Ding, will do in the upcoming 8th Yokohama Triennale, "Wild Grass: Our Lives," named for a compendium of essays from 1927 by Chinese writer Lu Xun. Szymczyk's proposition was that the outside world of things wants to speak to us, and that exhibition-making is like the minor genre of the essay, which explores a thing from its many sides and thus is inherently an open format, siting poet John Keats's phrase of "negative capabilities," and the courage to stay with doubt and uncertainty. Evoking the multidisciplinary space of her projects, Martinez evoked the "soft connectivity" of Laura Tripaldi and the imagination of creatures like fish as architects and a growing awareness produced across many fields that humans are not the only centers of reality or the world.

Connectivity was what Art Week Tokyo offered to art professionals and public viewers alike. What comes of those interactions and points of contact is hard to say yet. But creating the opportunity—and calendar space—for more of those moments, with more people, is what makes Art Week Tokyo feel necessary, even in a city of Tokyo's size. Visitors might even come away from Art Week Tokyo feeling like there is so much more that they could have seen and experienced, which may give them the feeling that they want to return next year, if not sooner.
HG Masters is deputy editor and deputy publisher of ArtAsiaPacific.

Subscribe to ArtAsiaPacific's free weekly newsletter with all the latest news, reviews, and perspectives, directly to your inbox each Monday.