Reality Checks at Sotheby's Hong Kong Spring Evening Sales
By The Editors
One year ago, buoyed by early vaccine rollouts in the world's wealthy countries, the Covid-19 rebound gave Sotheby's plenty of reasons to call its spring sales in Hong Kong "monumental." The 2022 sales series was far less spectacular, delayed several weeks by Hong Kong's stringent social-distancing measures, relocating from the Hong Kong Convention and Exhibition Centre to its headquarters in Admiralty, and occurring against the global backdrop of slumping stock markets, lockdowns in China's major cities, and rising global political tensions exacerbated by Russia's war in Ukraine.
Nevertheless art investors and big-spending collectors squared off for the live-streamed events for the spring evening auctions of modern and contemporary on April 27 from Sotheby's Hong Kong's offices in Pacific Place, with the sale of a fancy-cut, vivid-blue diamond for HKD 451 million (USD 57.5 million) squeezed between them like a halftime show. The two art sales raked in a combined HKD 1.29 billion (USD 164.3 million), within Sotheby's expectations of HKD 973 million to 1.4 billion (USD 124–178 million). This is significantly lower than the HKD 2.25 billion (USD 289 million) from the trio of white-glove marquee sales in 2021. Nevertheless Sotheby's Hong Kong billed the evening as the "highest total ever achieved in a single evening" of sales, with their grand total, HKD 1.74 billion (USD 221.8 million), boosted significantly by the 15-carat De Beers Blue.
Three paintings topped the symbolic HKD 100 million mark (USD 13 million) on April 27, with Pablo Picasso's 1939 portrait of his lover Dora Maar going for HKD 169,420,000 (USD 21.6 million) to a Japanese collector; Wu Guanzhong's 1973 impressionistic rendering of plum blossoms sold for HKD 103.9 million (USD 13.2 million); and Yoshitomo Nara's angsty teen portrait Oddly Cozy (2013) topping out at nearly HKD 112 million (USD 14.3 million). Additionally, Louise Bourgeois's bronze arachnid Spider IV (1996), from an edition of six, was sold for HKD 129.2 million (USD 16.5 million). By comparison, in 2021, at the same sales, seven artworks had surpassed the HKD 100 million line, including a Chu Teh-Chun canvas that went for HK 230 million (USD 29.5 million). This year, the lone canvas by Chu in the modern sale sold for a more modest HKD 34.3 million (USD 4.37 million), and his hand-painted vase with gold leaf from 2007–08 failed to find a buyer.
Compared with the spring evening sales of modern and contemporary art in 2021, the evening sales this year, excluding the big blue diamond, were down by between one quarter and one third. Of the 52 lots at the contemporary sale, 51 sold for a total of HKD 746.4 million (USD 95.1 million). One of the pre-sale highlights, Jean-Michel Basquiat's oil-and-silkscreen Water-Worshipper (1984), last purchased at Sotheby's Hong Kong in 2017, went unsold. In 2021, Sotheby's total for its white-glove contemporary evening sale boasted HKD 951.9 million (USD 123.7 million). In 2022's modern evening sale, 34 out of 36 lots sold for HKD 543 million (USD 69.2 million), compared with the 2021 "Beyond Legends" sale, which had brought in HKD 771.1 million (USD 99.2 million).
While Wu Guanzhong claimed the blue ribbon at the modern sale, mid-century Chinese artists were less spectacularly dominant compared with past years. Along with the lone Chu Teh-Chun painting and unsold vase, there were just two Zao Wou-ki abstractions, from 1967 and 1993, and both sold comfortably within estimates. The sole Lalan abstraction Les ombres bleu les monts bleu (1985) soared past its HKD 2 million (USD 255,000) high estimate to reach HKD 3.5 million (USD 446,000), perhaps to a buyer with the recent Asia Society Hong Kong retrospective still in mind. The cover lot, a photoshoot-like scene of five women playing instruments by Chen Yifei, Banquet (1991), from the Collection of Sir Run Run Shaw, found its new home for 54.5 million (USD 6.95 million), slightly over its estimated value at HKD 50 million (USD 6.38 million).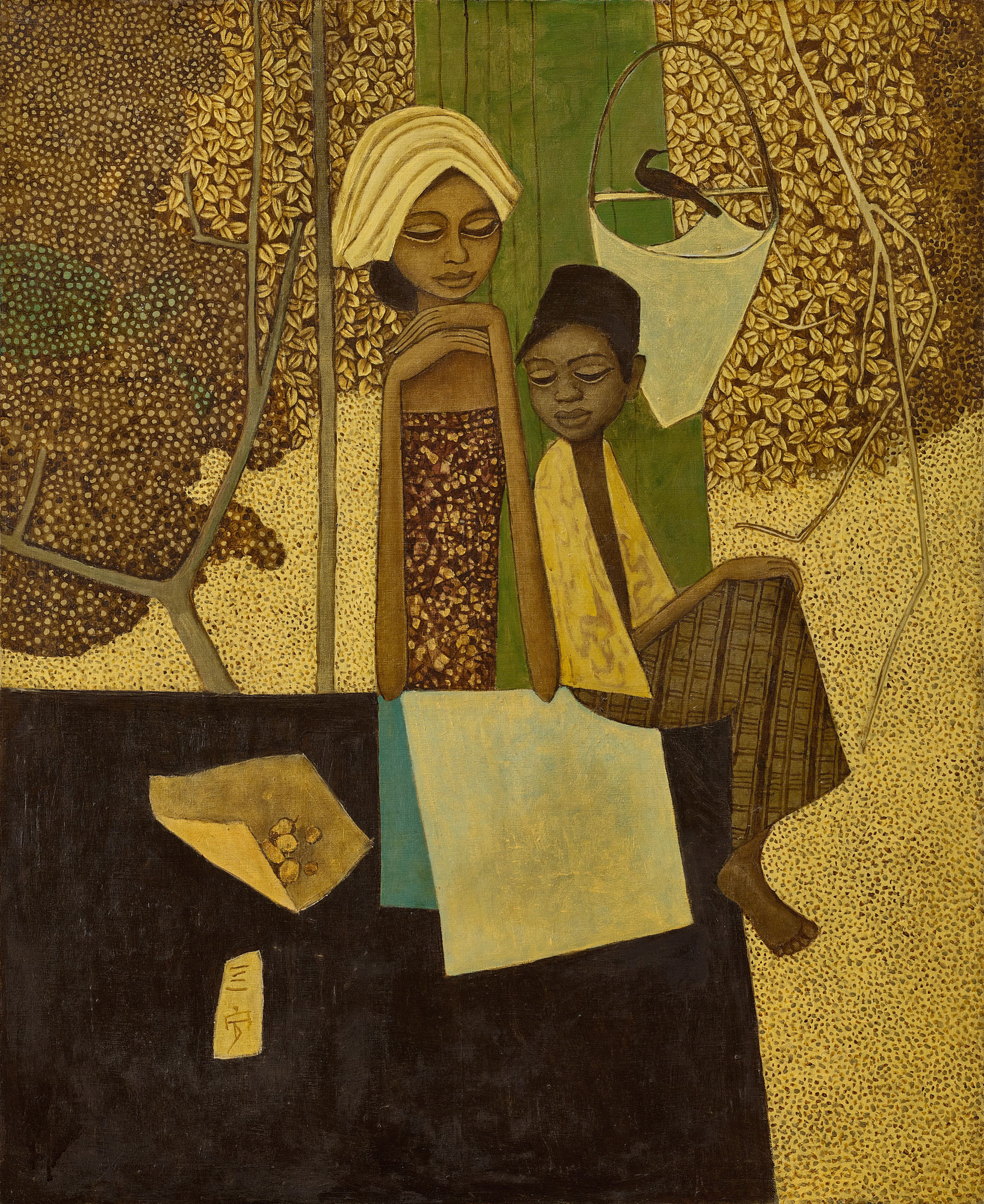 More enthusiasm was voiced by admirers of Vietnamese and other Southeast Asian modern artists, with the 1953 portrait by Mai Trung Thu, Lady at Balcony (La Fiancée), and the 1930s–40s-era painting Jeune fille au chat blanc by Le Pho, roughly tripling expectations. Two of the trio of 1950s-era paintings of exoticized Balinese scenes by Adrien Jean Le Mayeur de Merprès doubled their estimates. A pair of Cheong Soo Pieng paintings of seated figures from the 1970s, including one of a Balinese girl and one of a brother and a sister, were sold for HKD 3.28 million (USD 417,000) and HKD 3.5 million (USD 446,000) respectively—both at approximately four times the high estimates.
Meanwhile, in the contemporary section, the vogue for young painters with scant exhibition histories and morbid subject matter continues. In particular, female artists continue to make big breakthroughs. Anna Weyant's freshly painted, antique-looking still life of a flower in a vase, Josephine (2020), hammered at nearly nine-times its high estimate at HKD 4 million (USD 510,000), followed by Xinyi Cheng's expressionistic painting of two morose cocktail drinkers, Aperitif (2018), which sold for HKD 4.4 million (USD 561,000), over a high estimate of HKD 500,000 (USD 64,000). Louise Bonnet's portrait of a bulbous-nosed figure in profile, The Ice Skater (2015), fetched HKD 5.7 million (USD 723,000), at a jaw-dropping 12 times its high estimate. Enthusiasm for the droll hipster canvases of Salman Toor remains high, with a depiction of an urban hang-out session, The Rooftop Singer (2017), reaching HKD 4.79 million (USD 609,000), more than double its high estimate.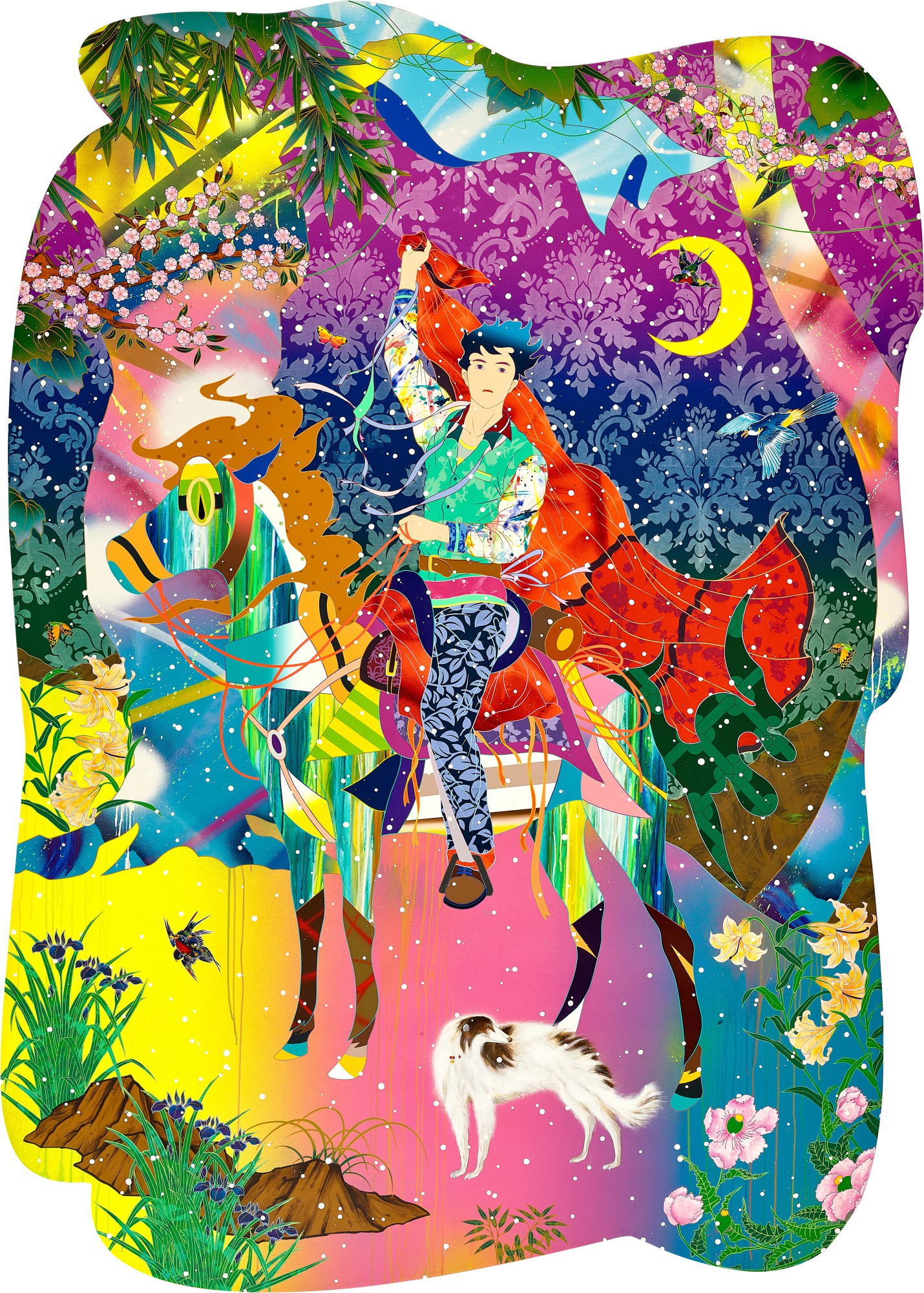 Younger collectors are definitely on Sotheby's radar. Watch out for Tomokazu Matsuyama, whose shaped canvas Something Came Together (2018), of an anime-style prince on horseback with a canine friend in a psychedelic patterned Japanese landscape, passed HKD 5 million (USD 637,000). One of the many very Nara-esque portraits by Javier Calleja—neutral background, round head, big eyes, ironic t-shirt, slightly less emo expression—found a diehard fanboy/girl at HKD 6.7 million (USD 867,000), more than eight times its high estimate. The real Nara, however, remains even more pricey, with Angry Blue Boy (2008) hitting HKD 28.2 million (USD 3.6 million) and a painting on paper, Only Faces Appear in My Mind (2000), getting close to HKD 24.6 million (USD 3.1 million).