New Horizons: Highlights at Tokyo Gendai
By Ryohei Nakajima
In a vibrant atmosphere, the inaugural edition of Tokyo Gendai (東京現代) opened from July 6 to 9 at Pacifico Yokohama, a major convention center in the coastal town near Tokyo. With 73 galleries from Japan and the rest of the world, the fair aimed to "provide a vital new focal point, putting the spotlight firmly on the creative scene" in Japan, as stated by Magnus Renfrew, co-founder of Tokyo Gendai.
Greeting the visitors at the entrance hall was Ryuichi Ohira's large-scale installation The Circuit (2023), commissioned by Tokyo Gendai and produced by Tokyo's Nanzuka gallery. Consisting of toy-like racetracks and wooden sculptures, the installation destabilizes the definition of the term "circuit," with components that evoke the aesthetics seen in the traditional East Asian festival Tanabata (in Japanese, or Qixi in Chinese), and explores the concept of multiculturalism.
Alongside the main Galleries sector, which featured local heavyweights such as Taka Ishii and SCAI the Bathhouse and international blue-chip such as Perrotin and Blum & Poe, the fair included three special sectors: Hana (meaning "flower"), where each booth spotlighted one to two emerging or mid-career artists; Eda (meaning "branch"), which comprised solo or duo presentations by established or historically significant figures in Asia; and Tane (meaning "seed"), which focused on works of digital media including NFTs, animation, film, AI, AR, VR, and gaming.
A first in three decades, Tokyo Gendai proved to be a major international art fair launched in the entire metropolitan area. For years, the art market in Japan has been domestically focused due to taxation policies. For Tokyo Gendai, the fair's organizer, The Art Assembly, managed to strike a deal with the Japanese government, so that overseas participants pay 10% goods and service tax only at the point of sale but not in advance for the art they bring into the country, which attracted more international exhibitors and making the event possible. Having launched at least six international fairs across the Asia-Pacific, including Taipei Dangdai, Art SG, and Sydney Contemporary, the new Tokyo Gendai fair has demonstrated The Art Assembly's ambition of expanding the market in the region.
Here are some highlights from the fair.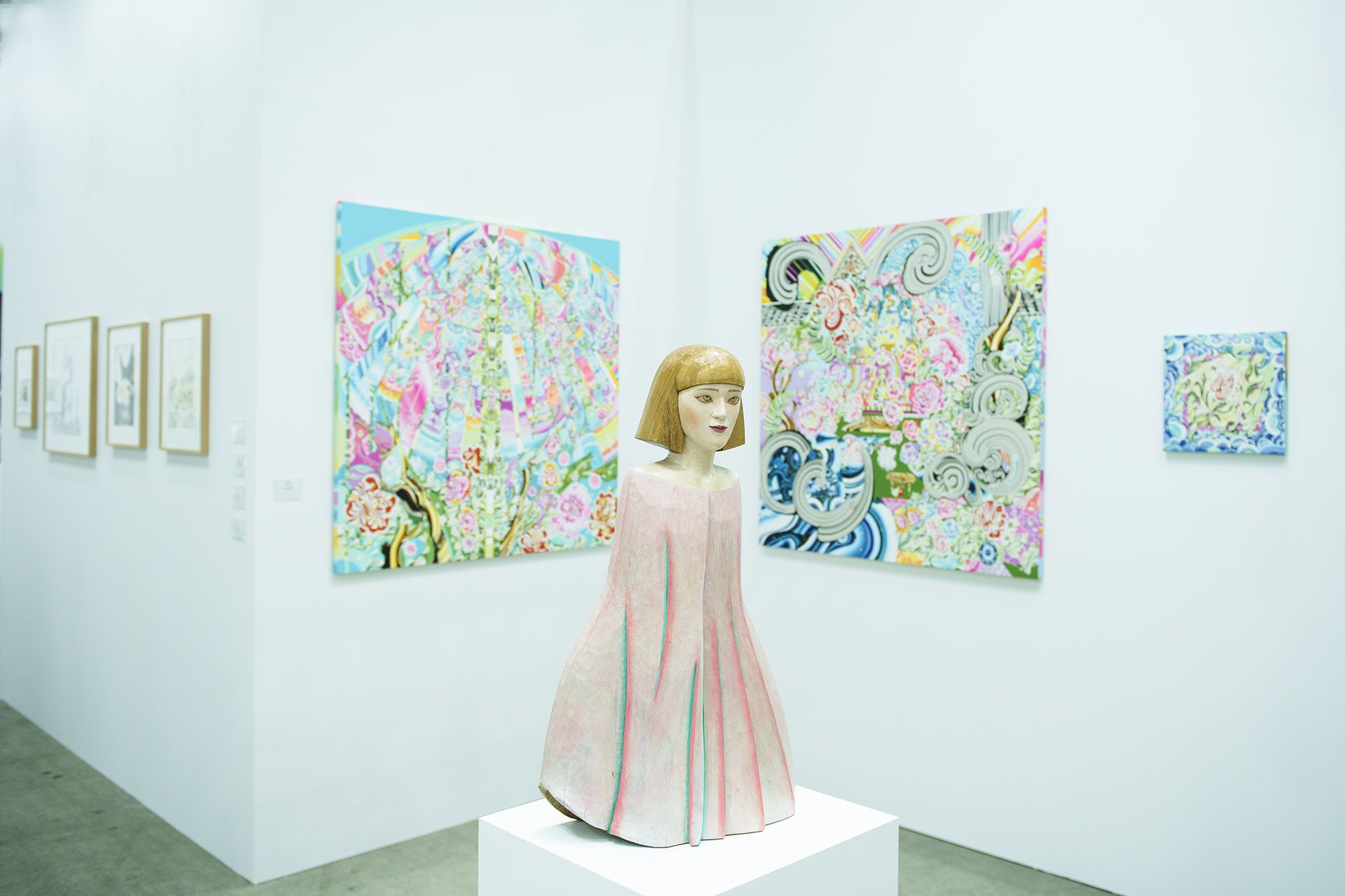 At Mizuma Art Gallery (Tokyo / Singapore / New York), the group showcase saw the juxtaposition of Koji Tanada's eerie wooden sculptural figures, sold for JPY 2.5 million–3 million (USD 17,560 and USD 21,072) each, with Rina Mizuno's mesmerizing pop-style paintings at JPY 200,000–1 million (USD 1,400–7,000).
In early VIP hours, collectors from Europe snatched up Atsushi Kaga's acrylic-on-canvas Cucumber horse and aubergine cow (2022), which depicts a rabbit and a bear chilling with eggplant and cucumber at EUR 55,000, and Miwa Ogasawara's oil painting Summer Day 1 (2023) depicting the beach in muted colors at JPY 1.76 million (USD 12,360) from Maho Kubota's booth.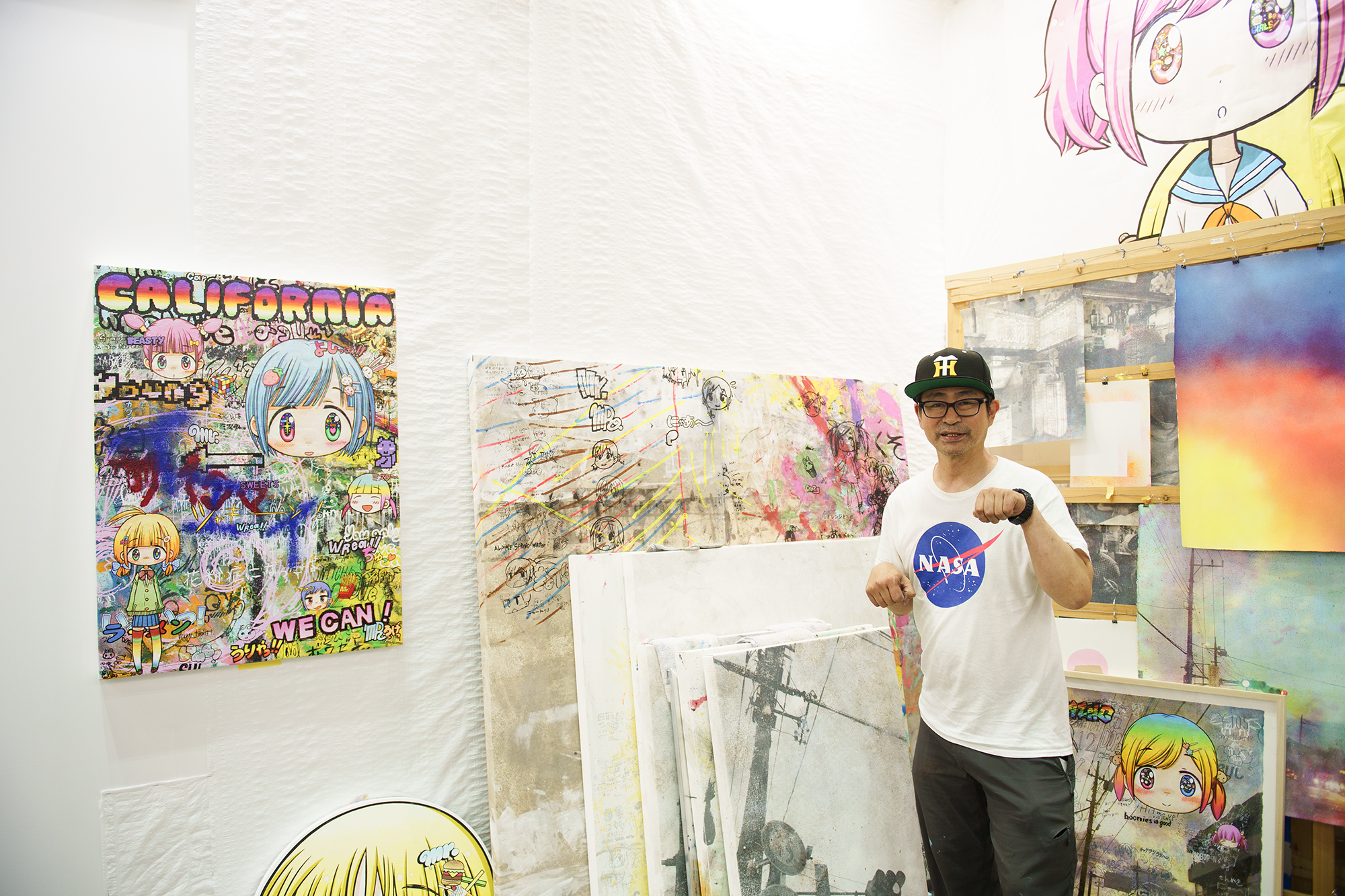 Kaikai Kiki Gallery, run by artist Takashi Murakami, spotlighted pop artist Mr.'s practice with a solo booth of his paintings, drawings, and works of other mixed media. A successor of Murakami's Superflat movement, Mr. paints everyday kawaii girls in a style that evokes the ACG (animations, comics, and games) world.
Galleries from other parts of Asia presented works by their hometown talents. Seoul's Gallery Baton, for example, introduced Bae Yoon Hwan, whose multimedia practice of painting, video art, installation, and graffiti explore the movements and unique aspects of Korean figurative art. His pieces were priced between JPY 1.25 million and JPY 3.7 million (USD 8,700–26,000) each.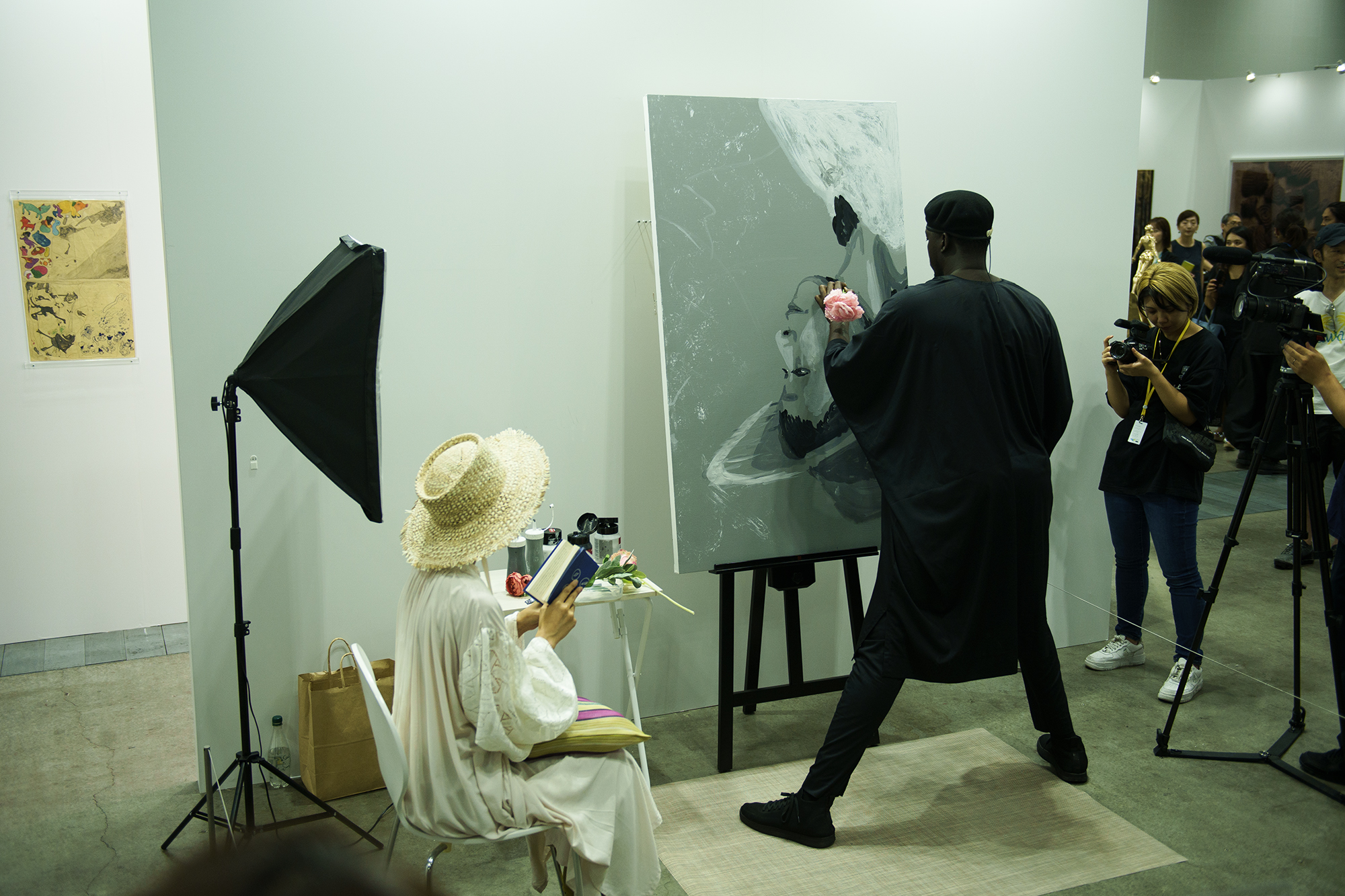 The fair also saw representation of African artists in Japan. New York-based Jack Shainman Gallery showed Nigerian-American artist Toyin Ojih Odutola's mixed-media multilayer paintings depicting Black people in everyday scenarios, priced between USD 145,000 and USD 325,000. At Nanzuka's booth, Senegalese artist Boubou performed live painting for three times throughout the fair.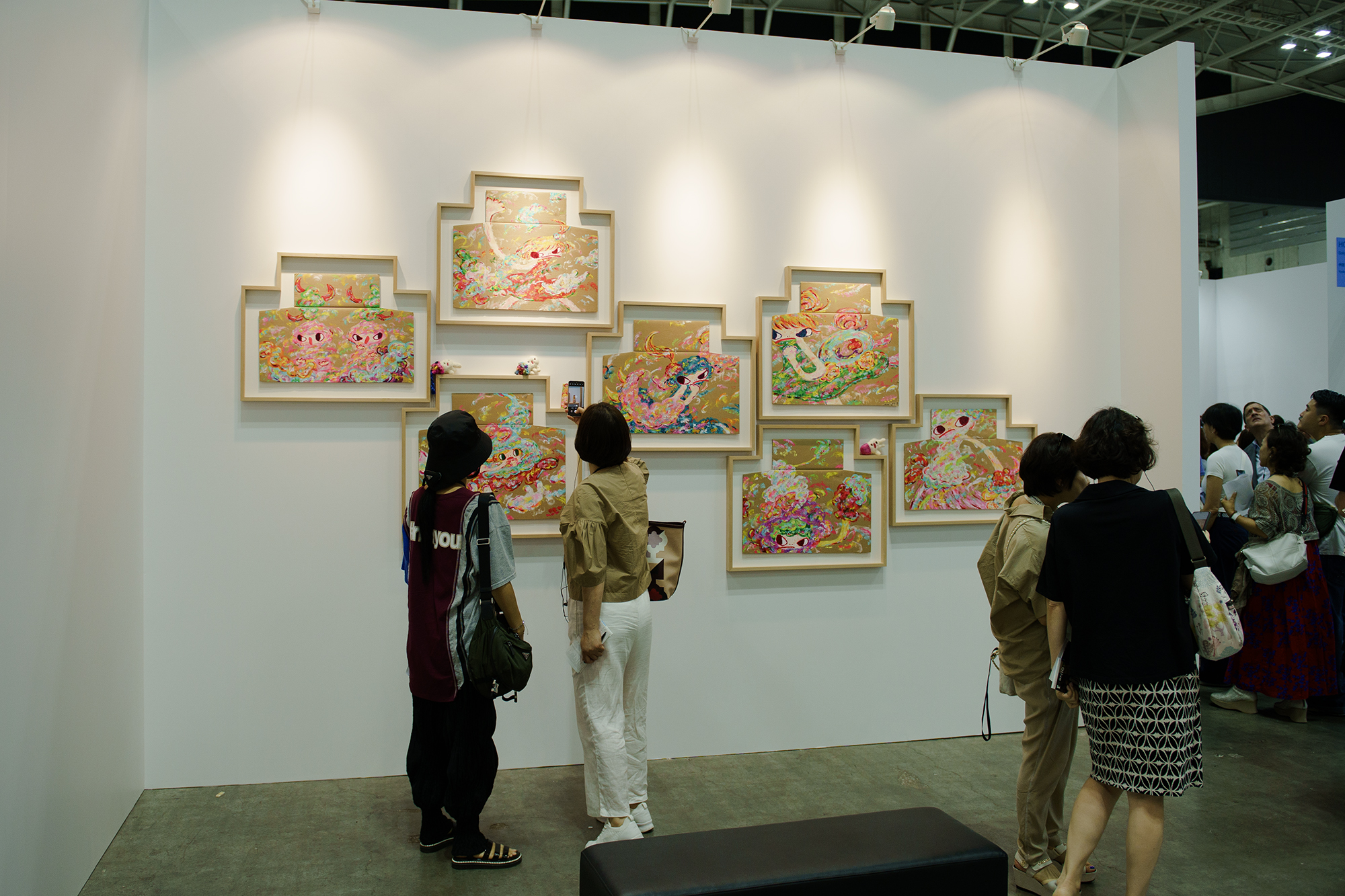 At Hana sector, Tokyo's Gallery Target presented Ayako Rokkaku's 14 mixed-media works including colorful painting on cardboards or wooden plates, featuring a young girl figure, priced between USD 20,000 and USD 80,000.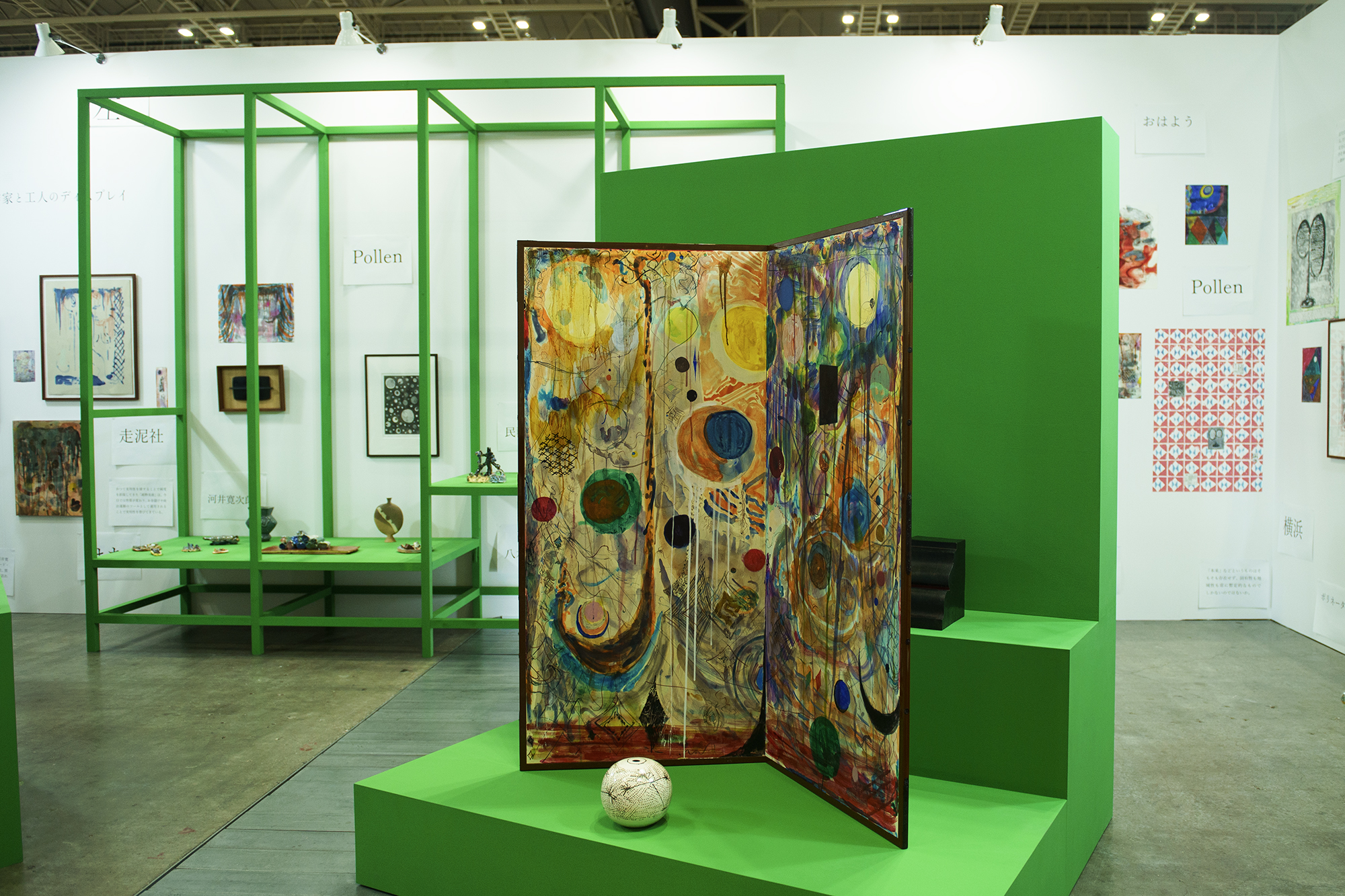 Sokyo Gallery from Kyoto presented Yoichi Umetsu, who contemplates on the definition of art through his multimedia practice. His latest installation comprises ceramics, drawings, and Japanese screens, made after his research of Kanjiro Kawai, a craftsman of Mingei movement which seeks the perfect balance between function and beauty. Umetsu's works were priced between JPY 100,000 and 1,200,000 (USD 700–8,400).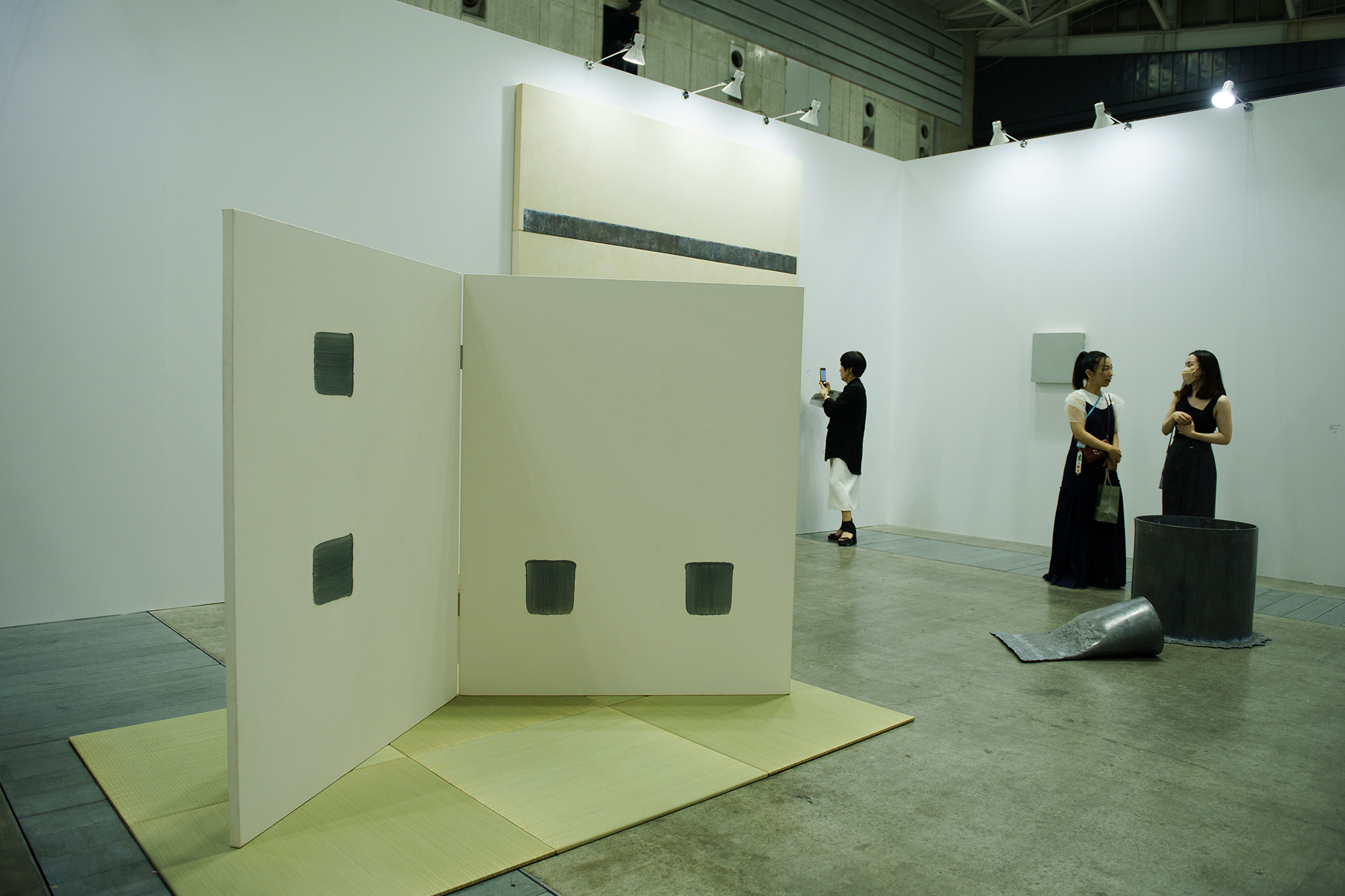 A 1997 work from Lee Ufan's more recent Dansaekhwa series Correspondence was spotted at Kamakura Gallery for USD 1.125 million. The artist just had a large-scale survey at the National Art Center, Tokyo last year.
In addition to the main sectors, the fair also organized a special exhibition titled "Life Actually: The Work of Contemporary Japanese Women," curated by Michiko Kasahara (deputy director of Artizon Museum) and Yuri Yamada (curator of Tokyo Photographic Art Museum). This exhibition highlighted works by some of Japan's leading women artists including Leiko Ikemura, Tomoko Yoneda, Ayaka Yamamoto, Kuniè Sugiura, and Yurie Nagashima.
At Tane sector, which focused on digital media, galleries from the United States presented works that involve AI. The Hole (New York/Los Angeles) curated a group showcase that included digital works in the range of USD 4,000–250,000. The artists featured in the booth included Japanese-American artist Katsu Sawada, one of the first artists to exhibit works with AI; Ry David Bradley, who incorporated his conversations with AI into his video installations; and Katia Lifshin, a painter who explores ideas of family bonds and childhood memories through her digitally rendered paintings.
Subscribe to ArtAsiaPacific's free weekly newsletter with all the latest news, reviews, and perspectives, directly to your inbox each Monday.