Hitting the Correction Point at Hong Kong's October 2023 Auctions
By Alex Yiu
*updated on October 20, 2023.
For decades, Chinese art collectors have positioned Hong Kong as a major destination for secondary-market sales. But with China's growth contracting in the year after its post-pandemic reopening, two major auction series at Sotheby's and Phillips in Hong Kong in early October produced disappointing or lackluster results for many blue-chip modern and contemporary artworks.
SOTHEBY'S HONG KONG
In late August, Sotheby's announced it would hold the first of several auctions of modern and contemporary artworks collected by the Chinese billionaire Liu Yiqian and his wife Wang Wei, who in 2012 founded the private Long Museum in Shanghai and later a second branch in Shanghai and a satellite space in Chongqing. While maintaining that the works destined for sales come from their personal collection, Liu and Wang consigned the first batch to Sotheby's Hong Kong during the house's auction week (October 2–9), marking its 50th anniversary in Asia.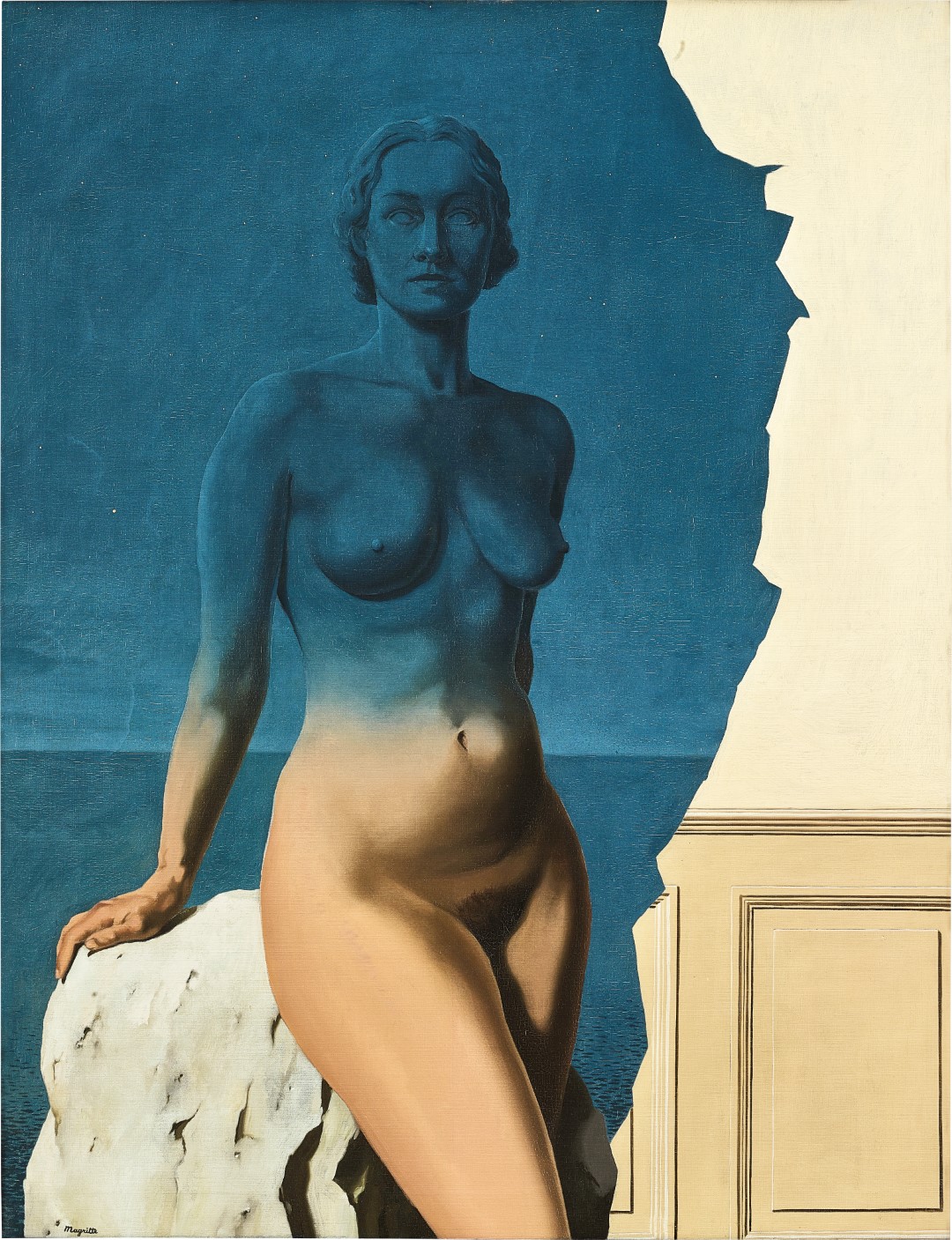 The special sale, titled "A Long Journey," was held on the evening of October 5 between Sotheby's modern and contemporary sales. Of the 39 works from Liu and Wang, 29 sold for an accumulated total of HKD 544 million (USD 69.8 million). Leading the way was Amedeo Modigliani's masterful portrait of Paulette Jordan (ca. 1919), which went for HKD 273 million (USD 34.8 million), almost 20 percent lower than the HKD 335 million (USD 42.8 million) they paid for at Sotheby's New York in 2015. In contrast, another modern master painting, Le miroir universel (1938–39) by René Magritte, realized for HKD 77.5 million (USD 9.9 million), 30 percent more than what they paid, HKD 52 million (USD 6.7 million), for it at Christie's New York in 2015. The American artist Mark Bradford came third with the mixed-media canvas L.A (2019) selling for HKD 29.5 million (USD 3.7 million)—albeit barely touching its lowest estimates of HKD 30 million (USD 3.8 million). Collection artworks that went unsold included a human-sized flower bronze sculpture by Yayoi Kusama; an acrylic painting on oddly shaped canvas by David Hockney; a painting of a nude woman by Léonard Tsuguharu Foujita, a Japanese-Parisian émigré painter and friend of Modigliani's; a 2020 color-blocks painting by Stanley Whitney; an orchid still life by Nanyang School painter Georgette Chen, as well as abstract paintings by Wu Dayu, Zao Wou-Ki, Jia Aili, and patterned-based paintings of Ding Yi and Liang Yuanwei.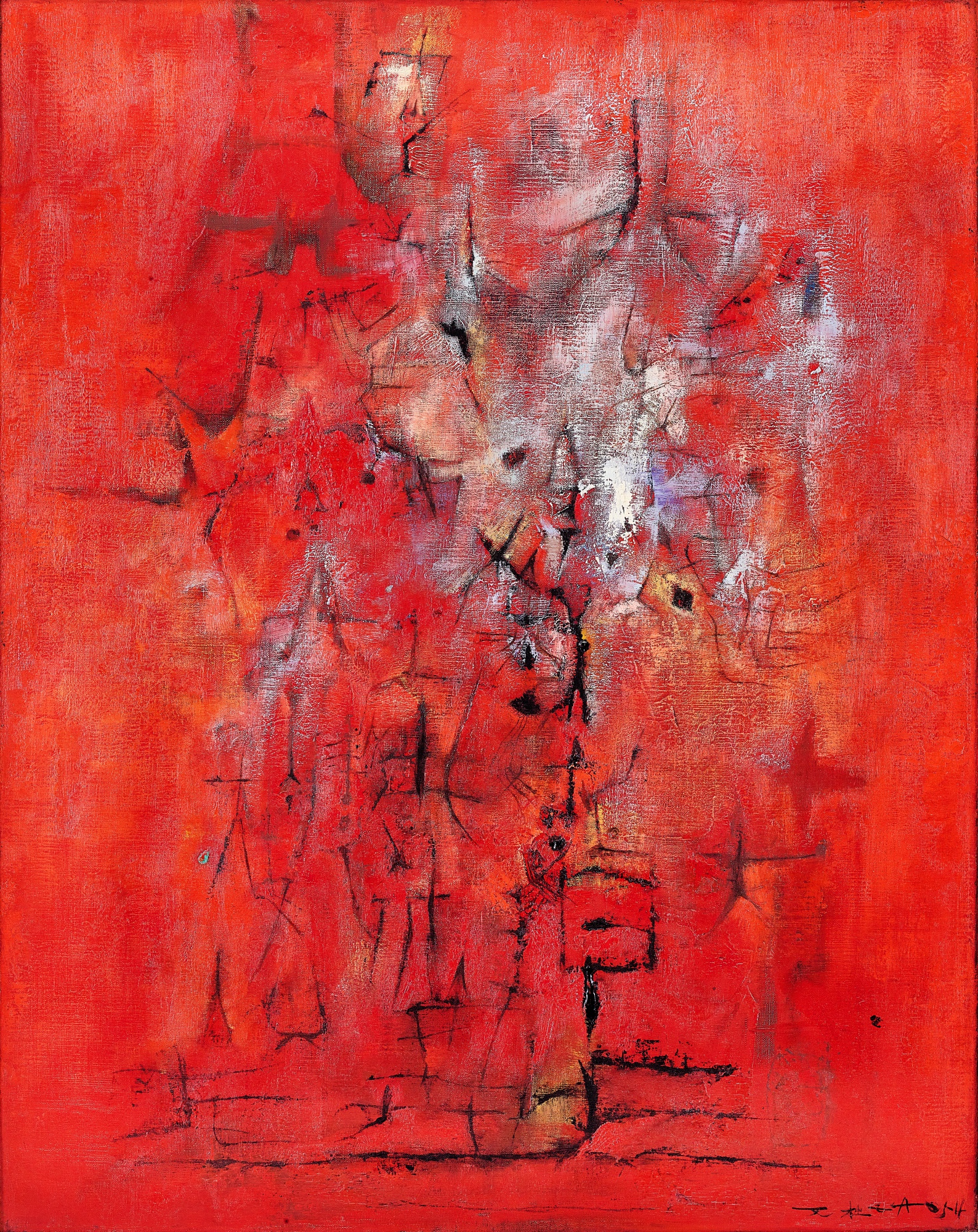 Including "A Long Journey," Sotheby's modern and contemporary art auctions resulted in a total of HKD 2.4 billion (USD 311 million), compared to HKD 2.7 billion (USD 351 million) in October 2022. In Sotheby's Modern Evening Auction on the same day, leading the way was Zao Wou-Ki's red semi-abstract painting Sous un grand arbre d'été (1954) from his "Oracle Bone" period for HKD 44 million (USD 5.6 million), Willem de Kooning's gestural abstraction Souvenir of Toulouse (1958) for HKD 39 million (USD 5 million), and Wu Guanzhong's tree's painting Peach Blossoms (1963) for HKD 16.8 million (USD 2.15 million). Though the estimate for Zao's work was undisclosed, the others performed at the lower to middle end of their estimates. Ren Zhe's wuxia-inspired stainless-steel sculpture After the Storm (2020) sold for HKD 2.7 million (USD 300,000), beyond its high estimates of HKD 2 million (USD 260,000), a rarity for a young sculptor. A classic wood print of Katsushika Hokusai's Under the Wave off Kanagawa (ca. 1831–1833) and a minuscule sculpture, Musicien (1961) by Pablo Picasso did not find buyers.
At the Contemporary Evening Auction that followed the same evening, German postwar artist Gerhard Richter's Abstraktes Bild found a home for HKD 84 million (USD 10.8 million) and was the top lot, dropping from GBP 9.9 million (HKD 99 million) realized in 2012. Ethiopian-American Julie Mehretu's large-scale, Kandinsky-esque untitled (2001) diptych fetched HKD 73 million (USD 9.34 million), setting a new high record for an African-born artist in the auction record books. Including Mehretu, better results came from younger and popular artists, including pop artist KAWS's sculpture AT THIS TIME (2013) for HKD 8.1 million (USD 1 million), a psychedelic abstract painting titled Flash Chamber (2020) by the millennial-generation up-and-comer Lucy Bull for HKD 13.7 million (USD 1.75 million), and Diane Dal-Pra's surrealist painting I'm just behind what I am (2020) for HKD 2 million (USD 260,000). In total, the Contemporary Evening Auctions for modern and contemporary art reached only a combined HKD 554 million (USD 71 million), a 45-percent drop from last year's events. The Day Sales brought in a further HKD 107.4 million (USD 13.7 million) for contemporary and HKD 57.4 million (USD 7.3 million) for modern art. Amid an overall decline, collectors' interest has significantly shifted from splurging on the big names to looking for emerging artists.
PHILLIPS HONG KONG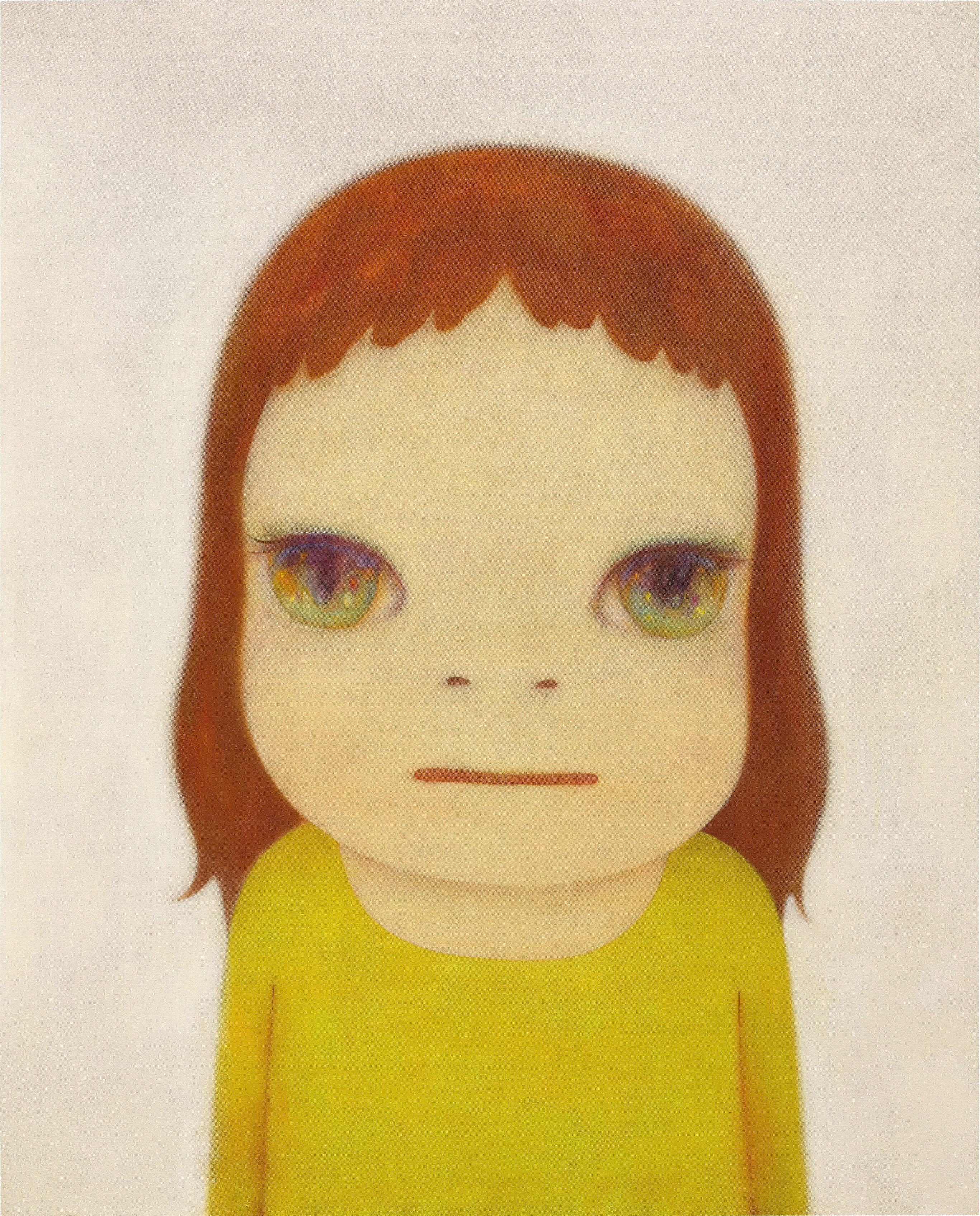 Across Victoria Harbour at its brand-new headquarters in the West Kowloon Cultural District near M+, Phillips Hong Kong presented its seasonal Evening Sale of 20th Century & Contemporary Art on October 6. Though smaller in scale, the event garnered a better market response than Sotheby's despite the gloomy economy and cautious bidders. The key artwork of the night, Japanese megastar Yoshitomo Nara's large-scale painting of an adolescent's face with giant eyes, No Means No (2006), captured HKD 66 million (USD 8.4 million), aligned with the average estimate. The second top lot, the Swiss-born artist Nicolas Party's Still Life with an Olive (2012–13), was sold for HKD 25.9 million (USD 3.3 million), slightly below estimates. Several critical pieces, such as Zao Wou-Ki's 10.05.76 (1976), Cai Guo-Qiang's 15-meter-long fireworks drawing Ye Gong Hao Long (Mr. Ye Who Loves Dragons) (2003), Lee Ufan's ultra-minimal blue and red Dialogue (2015), and Andreas Gursky's photo of an interior of panoptical prison Stateville, Illinois (2002) were withdrawn from the auction. Of the 23 remaining lots, 22 were sold, with only Rudolf Stingel's silver-metallic Untitled (2014) painting not finding a buyer.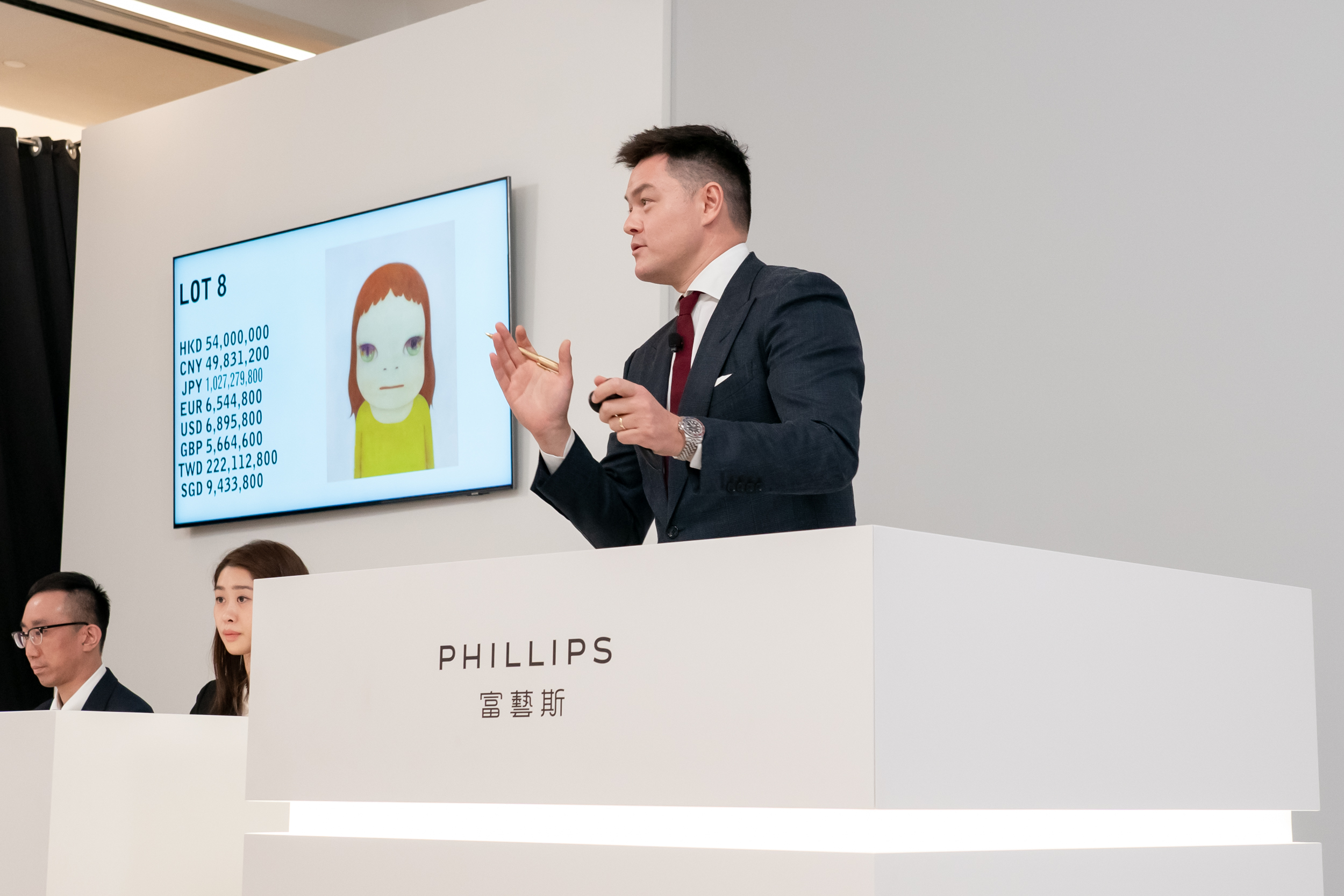 In comparison to Sotheby's aloof atmosphere, the Phillips auction was more enthusiastic, as embodied by chairman and auctioneer of Phillips in Asia, Jonathan Crockett, whose witty banter in both English and Mandarin resonated with the continuous demand for works by younger artists, such as Ebecho Muslimova's painting of nude female separated in stripes, Fatebe Sinkhole (2020), which went for HKD 889,000 (USD 113,000), double of its high estimate. Born in 1993, Issy Wood had a work in the limelight, with the vaporwave composition Swan / He won't 2 (2019) selling for HKD 2 million (USD 256,000), in line with its high estimate. Hong Kong painter Chris Huen Sin Kan's painting of foliage with his dog, MuiMui (2021), settled at HKD 1 million (USD 130,000), above its HKD 800,000 estimate. Phillips garnered a total of HKD 190 million (USD 24.3 million) in the Evening Sale, followed by HKD 52.7 million (6.75 million) in the Day Sale on October 7, where 93 out of 116 lots found buyers. Despite the jovial atmosphere, Phillips too witnessed a steep decline as compared with March 2023, when it earned HKD 351 million (USD 45 million) at the Evening Sale on 36 lots sold out of 42, and HKD 121 million (USD 15.5 million) for the Day Sale with 164 lots purchased from 190 on offer.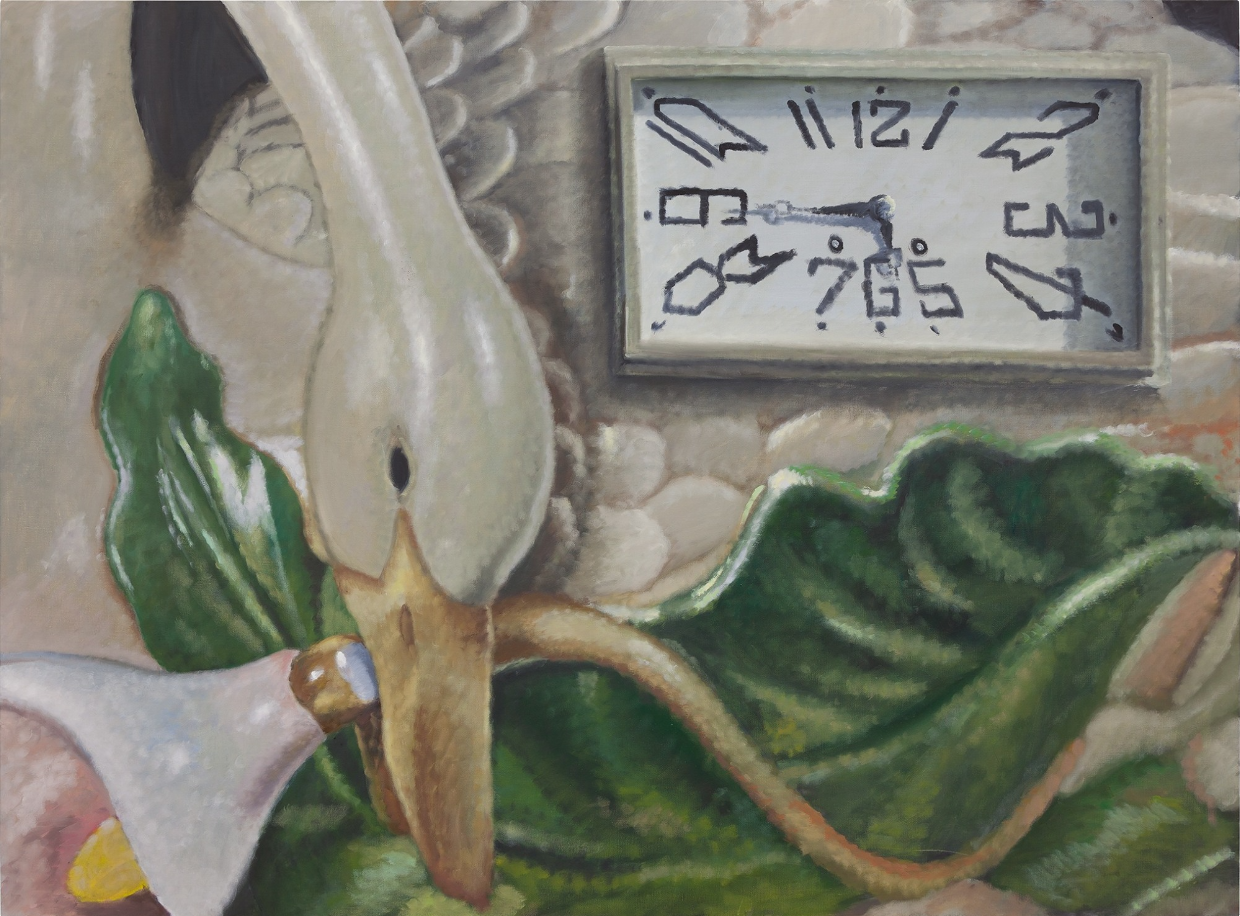 Phillips's focus on less premium artwork helped it to conduct a higher percentage of deals than Sotheby's. Yet with Sotheby's focus on high-end artworks with top-tier prices, its overall total remains higher. While the art market is not a perfect reflection of the current economic atmosphere, the focus of interest away from major names toward more emerging artists looks set to continue in the near future amid the uncertainty about China's economy.
Alex Yiu is associate editor for ArtAsiaPacific.
Subscribe to ArtAsiaPacific's free weekly newsletter with all the latest news, reviews, and perspectives, directly to your inbox each Monday.