Highlights from Art Basel Hong Kong 2023
By The Editors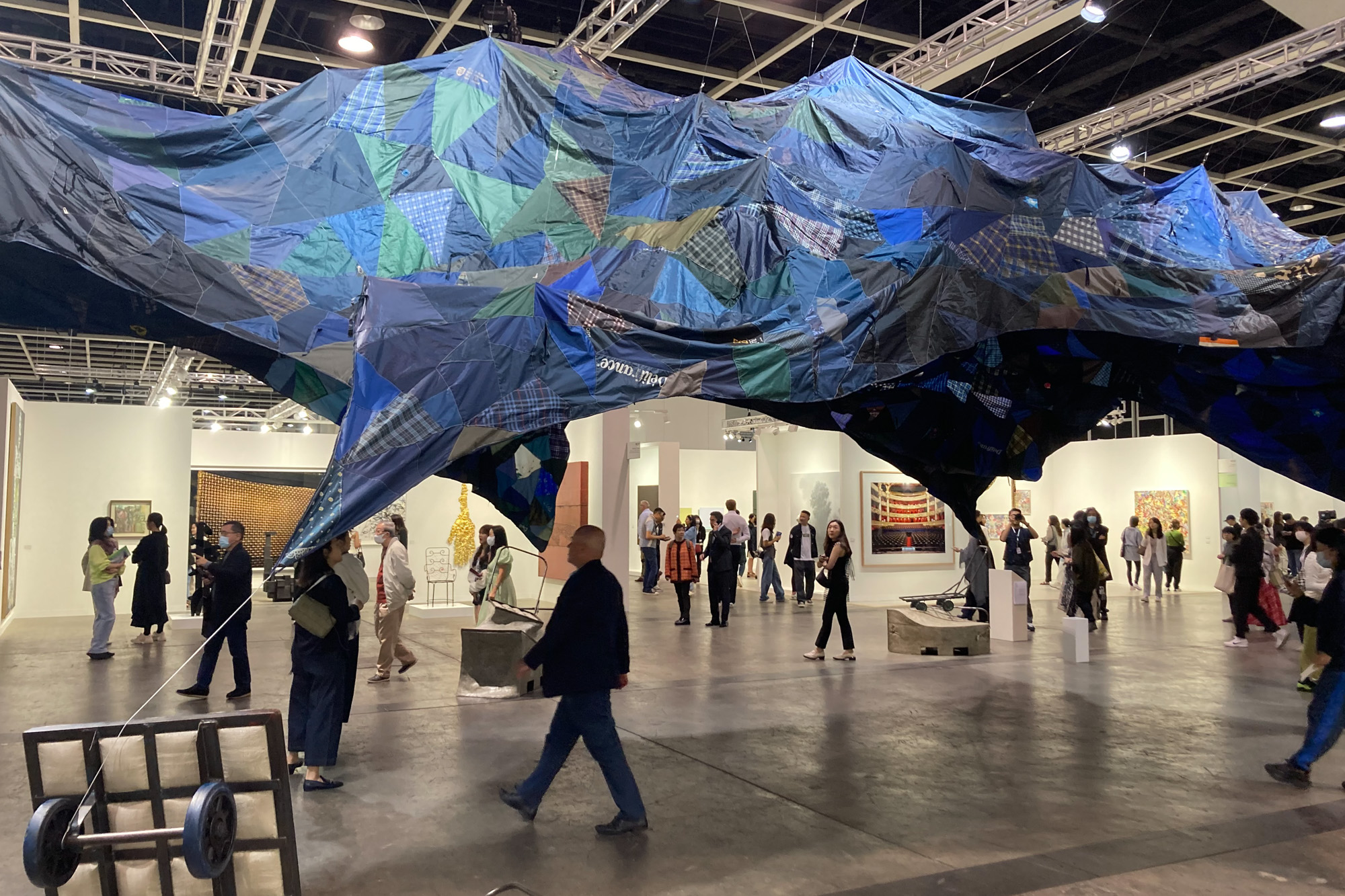 AAP's editors share their favorites from the first large-scale, in-person edition of Art Basel Hong Kong since 2019.

Perhaps we were so isolated in the past few years and became so desperate for real-life encounters that we can no longer tell whether the figures in front of us are real human-beings. Art Basel Hong Kong this year (a mask-off edition, finally) presented us with many uncanny human-like sculptures and figurines, from David Altmejd's The Vector (2022), a hybrid rabbit-human who is meditating and about to jump into the "rabbit hole," to Korean artist Gimhongsuk's series of hyperrealistic resin figures in cartoonish animal heads, lying down on the floor or sitting on a chair—both in the Encounters sector of the fair. At Taiwanese artist Shih Yung-Chun's solo booth "Toy Packaging," presented by Taipei-based first-time participant Yiri Arts in the Insights sector, toy-like figurines are arranged in order and sealed in huge cellophane bags. These eerie figures—for example, in Toy Packaging.A – Obstacle Training (2022)—are paired with a set of tools, bamboo sticks, and mini-models of mountains, appearing to be one of those toy sets found in an old stationery store, which have become somewhat nostalgic nowadays for kids who grew up in the latter half of the 20th century However these toys seem to evoke dark fantasies, almost like a "Toy Story" narrative that has gone wrong with violence, fire, and chaos depicted in the scenarios on the oil paintings placed next to them. One can also try to imagine the scenario that they are participating in by watching a nearby stop-motion animation video. These little storylines are extracted by Shih from 1980s magazine catalogs and photos, many of which are lost to the contemporary audience. Mini human figures from the past were also spotted at Jhaveri Contemporary's booth in the Discoveries section, which presented part of Joydeb Roaja's project, Submerged Dream (2022), also shown at the Dhaka Art Summit earlier this year. Made of hard cardboard and placed on a platform at the front of the booth, figures of soldiers appear to be marching and herding the village people into nowhere. The project departs from the displacement of the local indigenous Chakma people in Bangladesh, more than 100,000 of which were forced away by the military officials during Bor Porong ("the great exodus") due to the flooding of the Kaptai Hydroelectric Dam project in the 1960s. The ink-on-paper works lining the walls depict the life and traditions of the displaced communities, recalling this tragic event and attempting to reclaim the indigenous land. Pamela Wong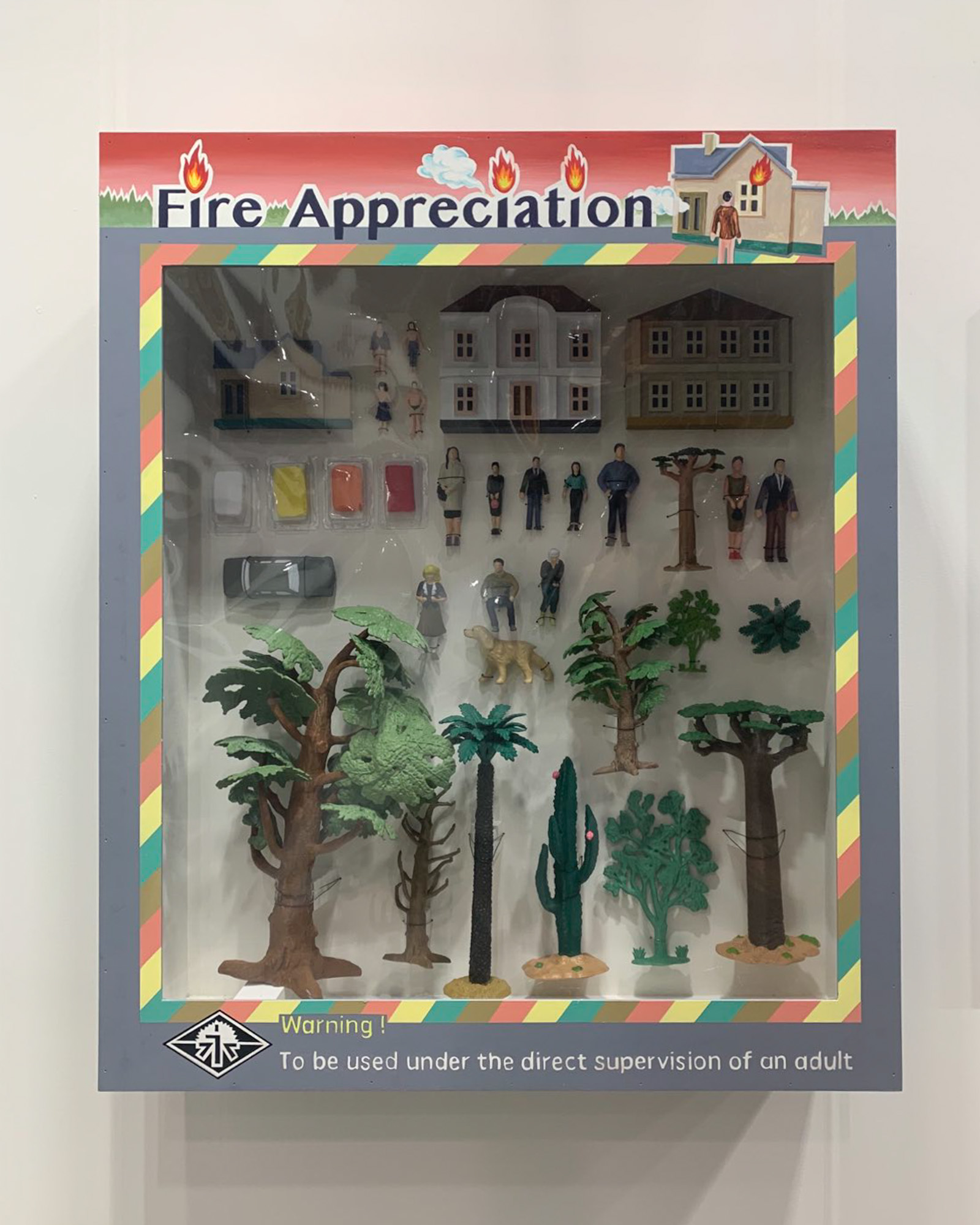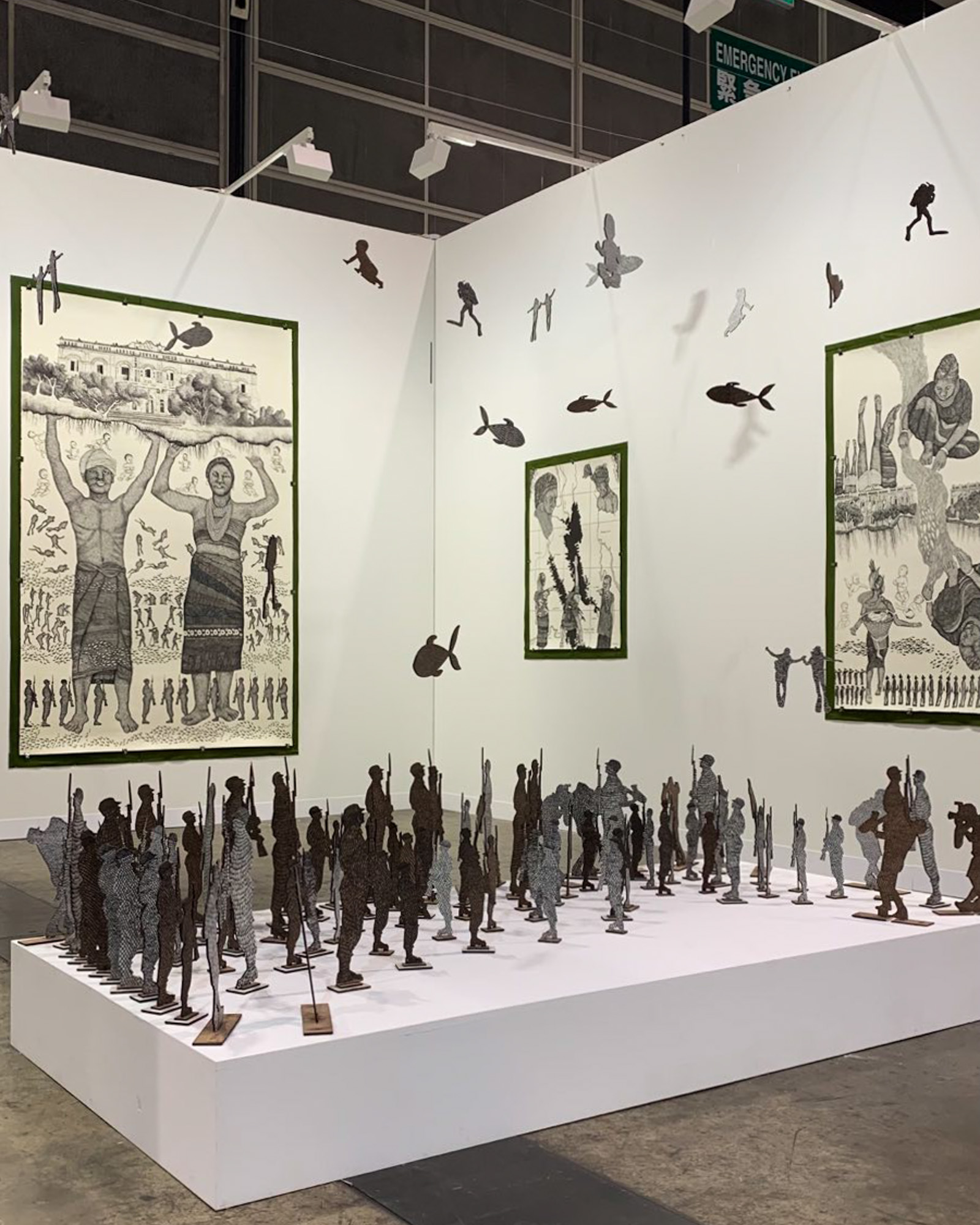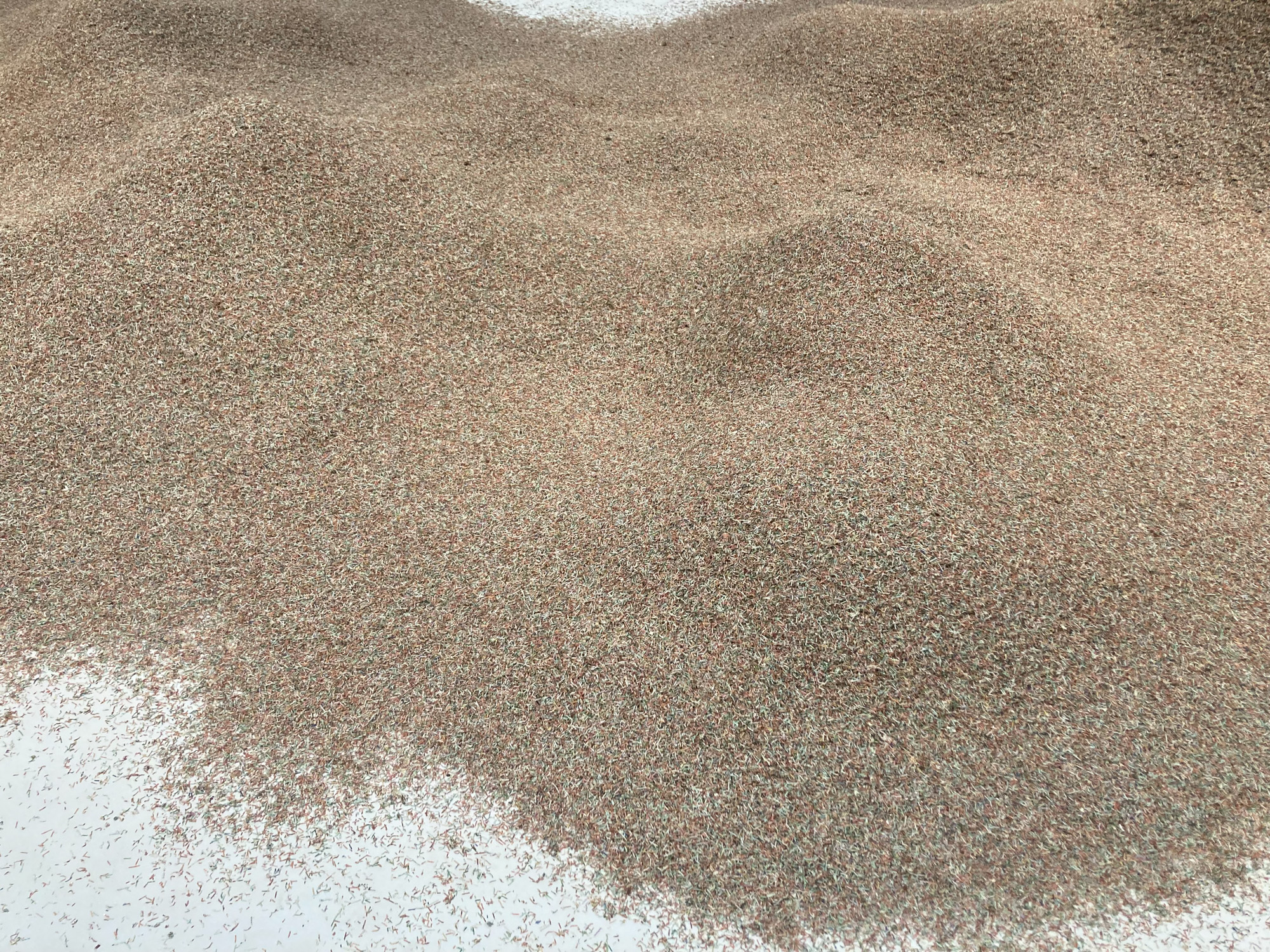 This year's Art Basel Hong Kong was all about the money and collective hopes for good fortune. Look for the 13 suspended money trees (aka pachira aquatica), an installation called Mr Cuddles Under the Eave (2021) by Trevor Yeung in the Encounters sector, and Wong Ping's nearby installation of 20 lucky cat figurines with phallic-looking ceramic "arms," Jungle of Desire (2016), at Kiang Malingue. The latter come in three sizes, or you can adopt a whole family. If you're feeling short of cash, there's a whole pile of it on Level 3, where Carlos Aires has accumulated 430 kilos of shredded currency notes, which were once worth an estimated 8 million euros, spread out on the floor for his installation Like Tears in the Rain (2023). At Sabrina Amrani gallery's booth there are Aires's cut-outs of Chinese yuan notes, shaped into human, object, and animal forms arranged like a map of the world. Art creates its own economies and Jaffa Lam explores this in her Trolley Party (2023) installation, a blue canopy structure suspended above concrete-covered sculpted trolleys. Made with recycled umbrella fabric stitched together by women formerly in the garment industry, Lam's art gives employment to them and space for respite at the fair. Meanwhile AI-generated art has crept into the fair in works by big names such as Beeple at LGDR and in Jordan Wolfson's hideously banal cat and apple images at David Zwirner. More curious are the light-box paintings by the South Korean artist Ram Han who is showing at Whistle gallery in the Discoveries sector. Han uses AI prompts to generate genuinely strange imagery that resemble futuristic robotic dolls, human organs, with the curving shapes and fleshy palette of sex toys. We see what we want to see—whether it's love or fortune. HG Masters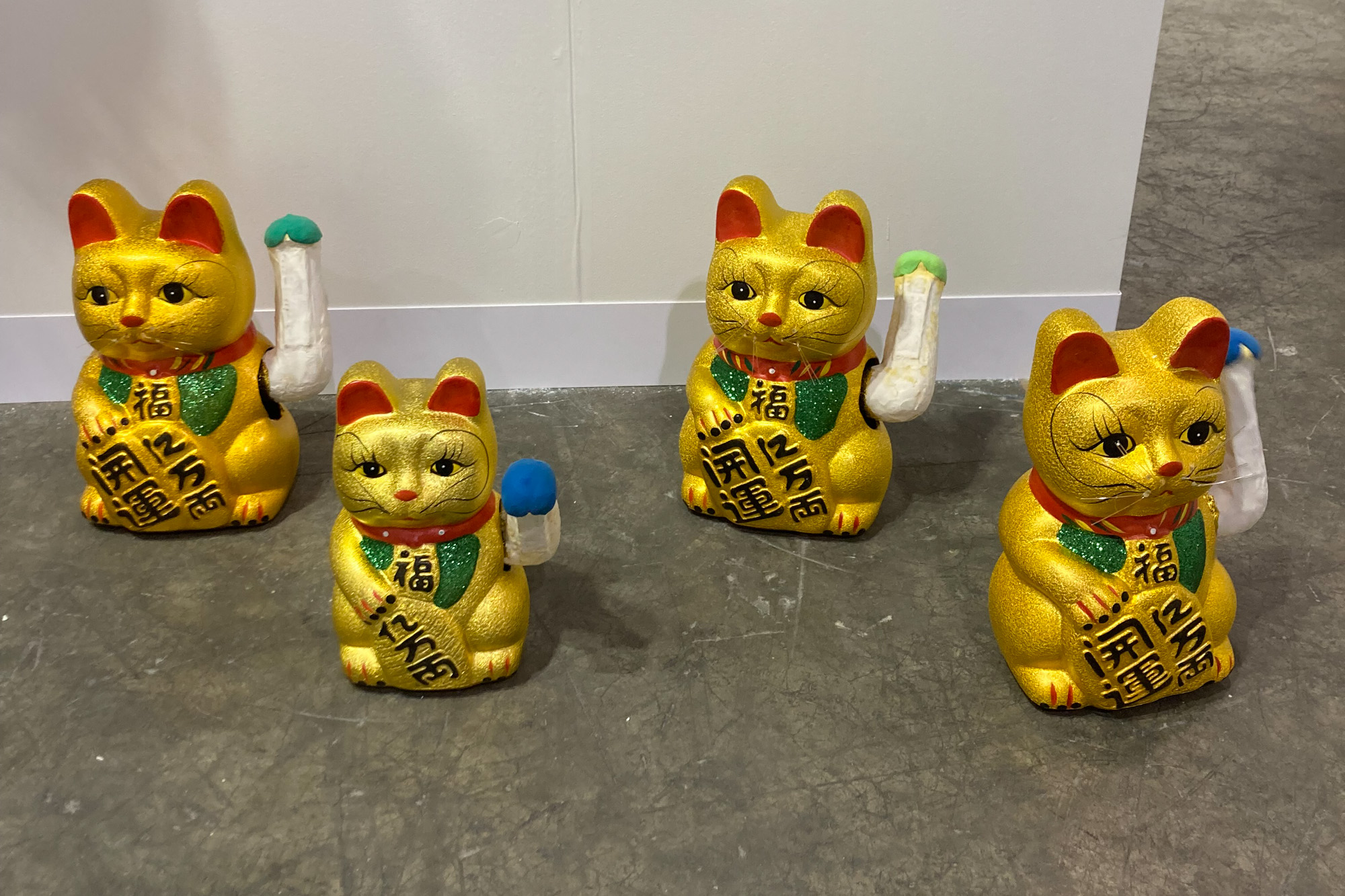 Amid the clamor to catch a glimpse of (or take a "been-there, saw-that" selfie with) works by artworld juggernauts like Takashi Murakami at Gagosian or Yayoi Kusama at Victoria Miro and Ota Fine Arts, more than a few visitors were drawn to several galleries' thoughtful curation of works exploring perennial concerns of vulnerability and mortality.
In an inconspicuous corner on level one, South Korean artist Song Burnsoo's series of object paintings, Possibility 023-CV, CVI, and CVII (all 2023), attracted curious passers-by from afar into Gallery Baton's booth with a witty play on tired trompe l'oeil techniques. A closer look reveals actual thorn-like protrusions made from fabric emerging from the center of his vermilion canvases—though their respective shadows are painted on for added effect. An earlier pair of tapestries by the artist, Dawn of Our Country (2016), similarly utilizes shades of crimson red and orange to depict a desolate landscape punctured by clusters of thorns. Having survived the Korean war and years of socio-political turbulence post-1953, Song turned inward, seeking respite in nature and religion. His object paintings and tapestries—abstractions of the natural world that might seem discomforting upon first glance—are invocations of growth amid cruelty and brutality. Cloth, in the form of soft "thorns" characterizing possibility and plain weave used in Dawn of Our Country, proves to be a forgiving medium then; one that, while retaining violent national memories, supports individual healing and renewed hopes for the future.
Two floors above, cushioned seats reserved for visitors to Galerie Du Monde's Kabinett showing of Hong Kong ink artist Wesley Tongson, were never empty for long. His is a heartrending story of inner turmoil, having wrestled with mental health issues for most of his life. Despite this, Mountains of Heaven No. 305 and 226 (2002-2003) are enlightened visions of a utopian world bathed in uplifting washes of pink, orange, and turquoise light. These are juxtaposed with Spiritual Mountains No. 455 and 621 (2010) a set of black and white, finger-and-fingernails-rendered ink paintings made just prior to his death in 2012. Two tiny huts amid the cliffs and rocks in Spiritual Mountains represent the ever-so elusive recuperative moment. Another busy corner at the opposite end of floor three, was Chengdu-based gallery A Thousand Plateaus's Kabinett presentation of Chinese multimedia artist Chen Qiulin's Drown (2021). Played on a small box TV set on the ground from across three low stools, Chen's film saw sticky pieces of crumbling tofu cling onto the skin of a female performer, who contorts her body within a small wooden crate. Drown provided a visceral interpretation of life's fragility and its restrictions—sentiments that permeated much of our mindscapes the past three years. Tong Tung Yeng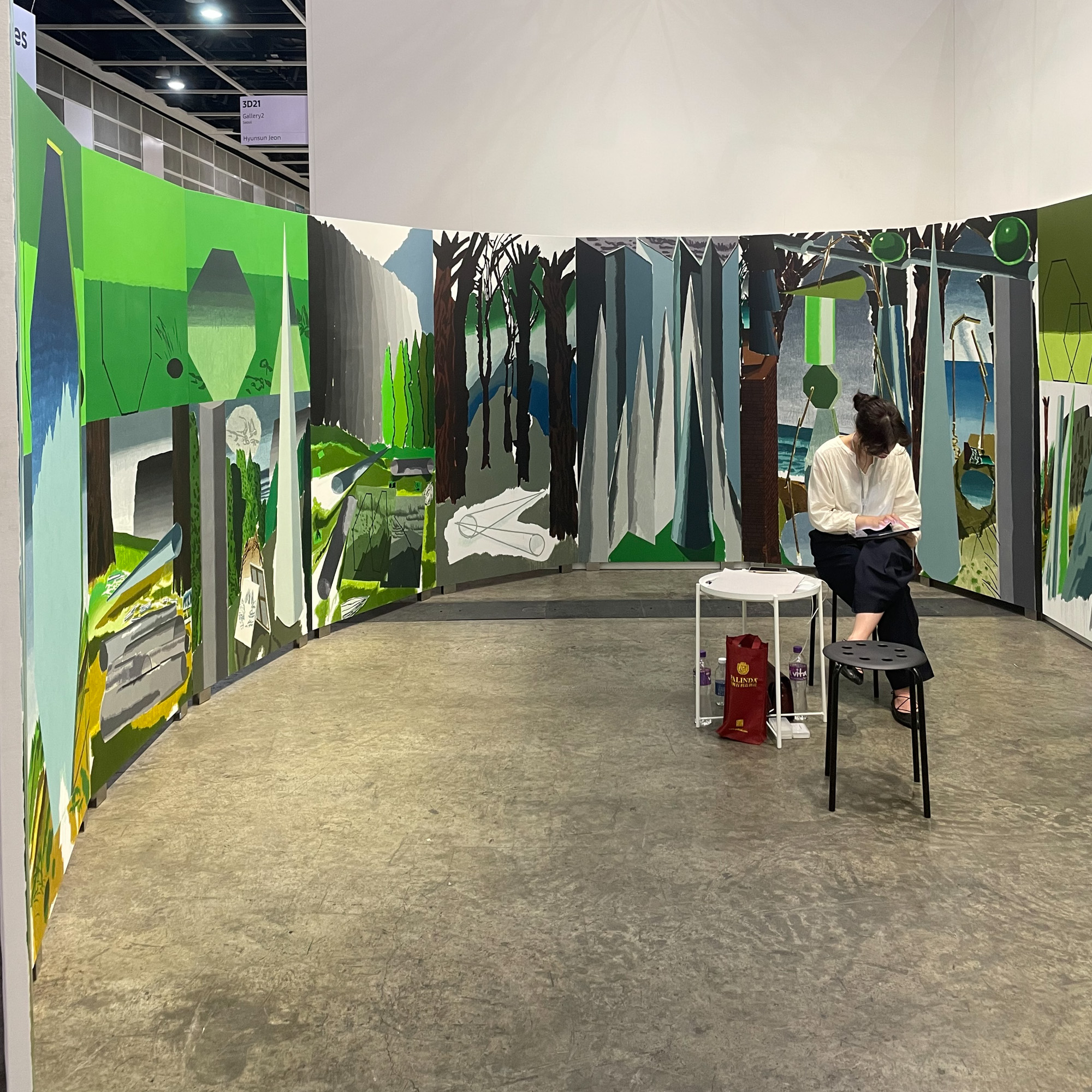 Art Basel this year felt like a fever dream with its expansive two floors brimming with international visitors and returning galleries, and aside from the occasional masks, it felt almost as if that-which-shall-not-be-named never happened. In the Discoveries section, the South Korean Gallery2 presented a dreamy solo of painter Hyunsun Jeon's series Truly Madly Deeply (2022). The paintings—each a uniform 2 meters tall and 1 meter wide and made with patiently layered watercolor on canvas—created an enclosure where one could be fully immersed in the landscapes. The landscapes, however, were punctuated by the presence of conical and geometrical figures intruding on the otherwise figurative paintings. Elsewhere, Japanese gallery Kotaro Nukaga presented hyper-realistic still lifes by Tomona Matsukawa. Depicting mundane scenes such as a used lipstick in I usually get home around 8:00pm, though (2023) or a half eaten slice of cake in I fell asleep again before removing my makeup (2023), the high gloss oil-on-canvases reminded me of flipping through the pages of fashion magazines of yesteryear. The titles were taken from interviews of women, with the works reflecting the conditions of 21st century womanhood. At Kiang Malingue, a small room displayed several works by Hong Kong painter Yeung Hok Tak. One painting depicted an overweight man in a Gundam costume sitting with a beer and smoking a cigarette—an oddly poignant depiction of a candid moment that feels like an intrusion into the costumed figure's life. Tiffany Luk
Subscribe to ArtAsiaPacific's free weekly newsletter with all the latest news, reviews, and perspectives, directly to your inbox each Monday.