Digital Art Fair Xperience
By HG Masters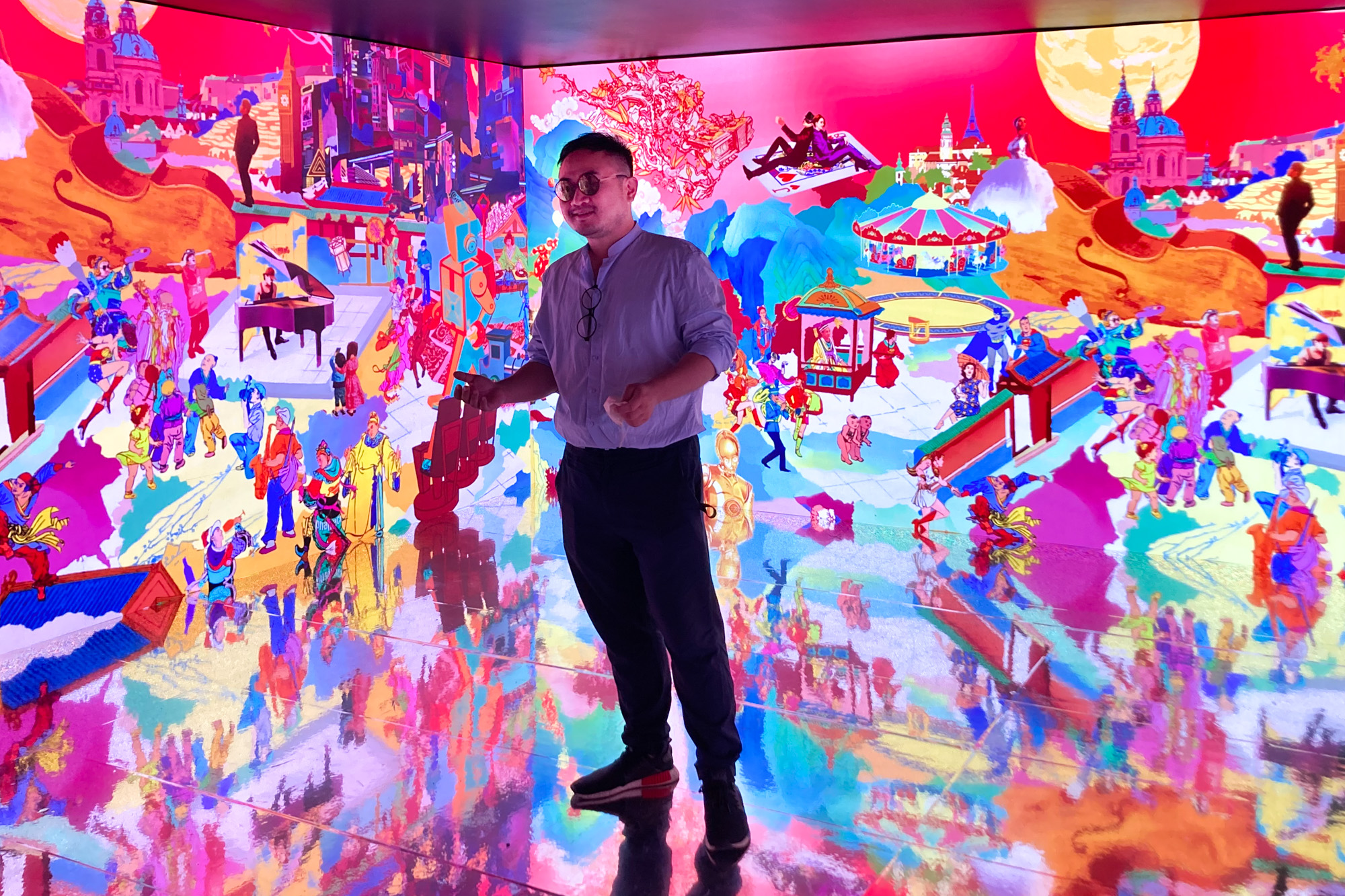 In its 2.0 edition, the modest-sized Digital Art Fair Xperience in Hong Kong has undergone an update, reflecting shifts in the Web 3.0 era, with a host of partners from the worlds of design, finance, electronics, marketing, and the luxury industry. More like an auction preview in feel, as an event it's still a long way from being as entertaining as other "immersive" art experiences on view in Hong Kong these days—there is even competition from the giant 3D screen down the block in Central featuring prowling Cartier panthers and leaping AIA insurance horses. But as a showcase of how digital technology can be used in advertising and marketing, the "Xperience" might be of interest to see what grabs eyeballs and what is too subtle for this diminishing-attention economy.
The tech world has changed dramatically since 2021, and with it, many elements of the Digital Art Fair. Last year in its debut, the Digital Art Fair was all about cryptocurrency and non-fungible tokens (NFTs). Earlier that year, Christie's had sold Beeple's giant jpeg collage for nearly USD 70 million, and NFTs were still riding the pandemic-era collectors' novelty wave. Cryptocurrencies have since tanked—Bitcoin and Ethereum have each lost approximately 70 percent of their value since November 2021—and NFT marketplaces have become penny-stock arcades with trading volume down by 90 percent since last year. Unsurprisingly, the organizers and partners of the Digital Art Fair have pivoted away from the individual "collectibles" market driven by NFT platforms to other areas like marketing, where these technologies are likely to have more potential applications.
The Digital Art Fair's director Gillian Howard was keen to point out the event is still promoting individual creators, particularly this year's anointed "Digital Artist of the Year," Jackie Tsai, a Shanghai-born, London-based pop artist whose style is East-meets-West clichés. His creations include a holographic, spinning animation of Chinese deity Guanyin becoming the Greek god Athena (don't tell Xu Zhen); a psychedelic-colored shan shui landscape that illustrates the creative life of Mandopop star Jay Chou; and his magnum opus, a LED-panel-lined room (they call it "immersive" because there's a soundtrack and reflections on the shiny floors) housing an animation of Chinese landscape which floats with giant red serpent composed of flowers and cityscapes dotted with pop-cultural icons. It's all fun and colorful, and as he says, "I don't want to copycat the West."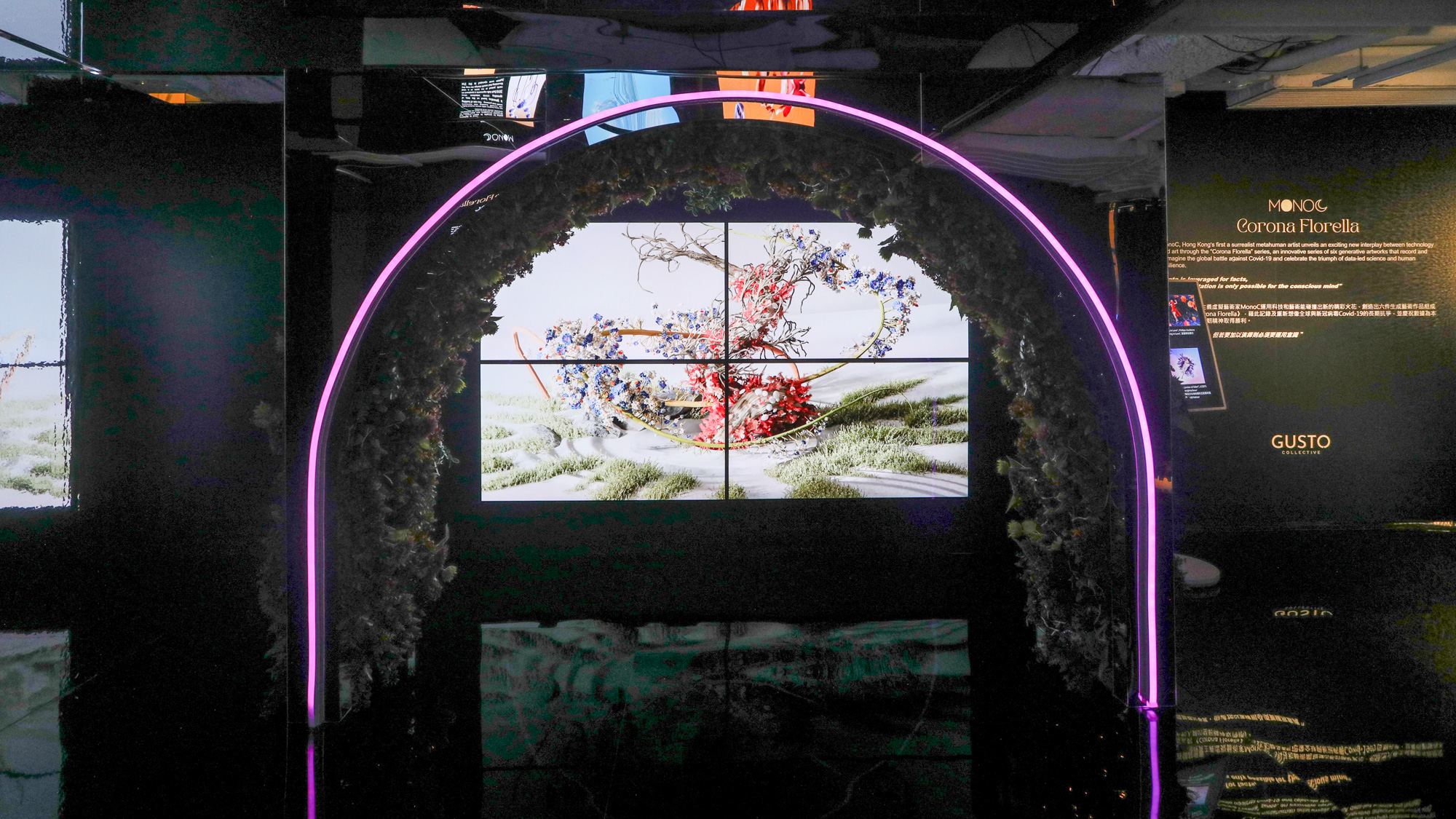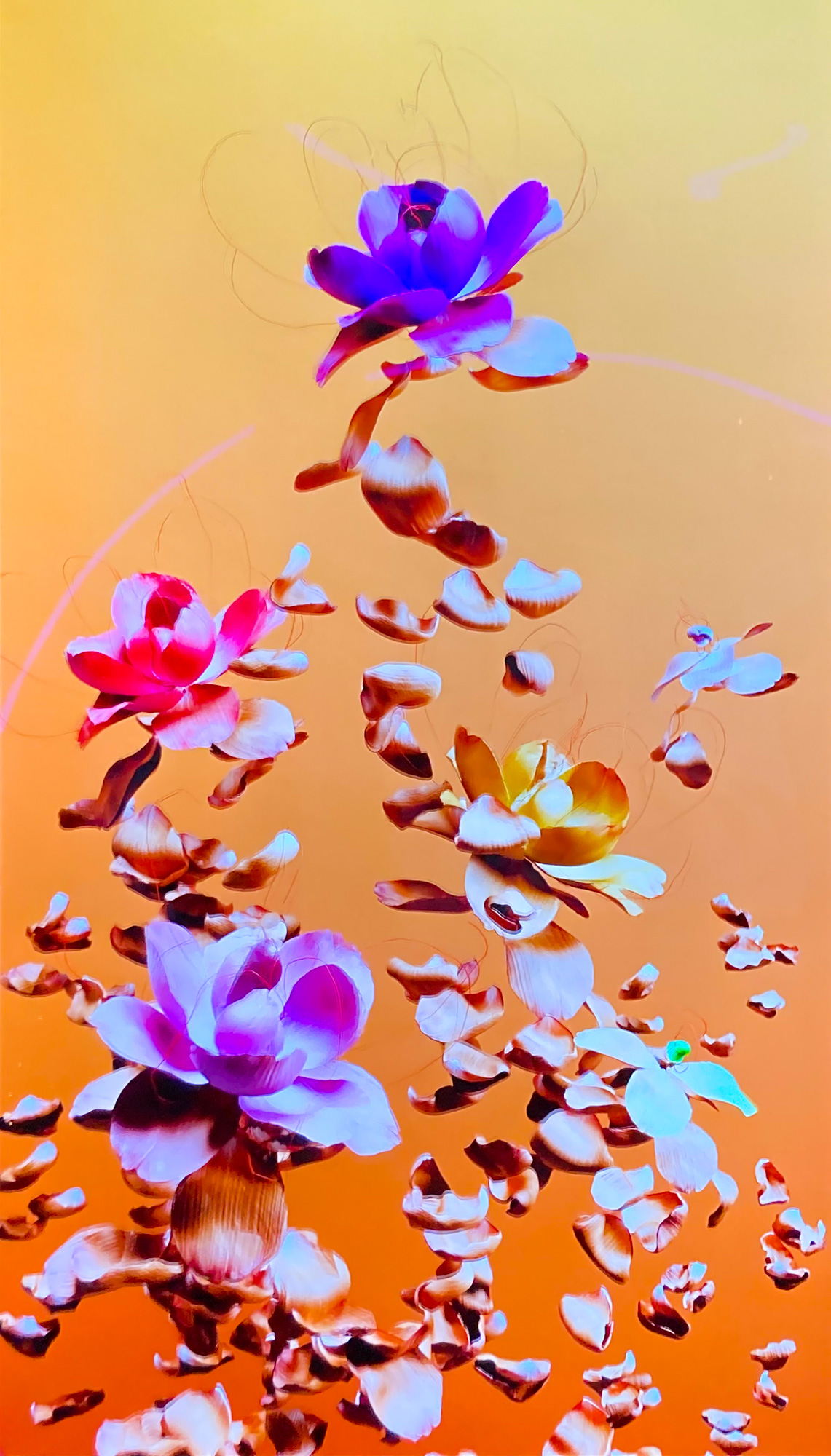 Speaking of flowers: there so are many at the Digital Art Fair. A person who calls herself "a metahuman artist" by the brand name of MonoC debuted a series of short digital animations called Corona Florella that disturbingly combined poppy-bud-like forms with Covid-19 virus particles (trypophobia alert) into a metaphor of the "malevolent blossom" during what was described as the "four-year long [!] record of deaths that swept across the continents in COVIDs [sic] wake." Hong Kong designer Henry Chu similarly deploys floral motifs, using 10,000 tiny ones in an animation of a world map where "everyone is like a flower, and they will drift to a new place" according to their "values and what they have experienced" (subtext alert). He had also just finished a Covid-19-related piece, SURIV (2022) ("virus," backwards) at the University of Hong Kong medical school with monitors shaped like a cross to visualize Hong Kong's obsessively tracked data on the pandemic. It's now a NFT, so that you can "own one day of history [Sept 29, 2022, to be precise] in Hong Kong in this pandemic," he explained.
Extending the floral motif, Chu also collaborated with New Zealand designers Batten and Kamp on F10W3R (2022): a fake rock mounted with a circular monitor, with its screen showing an animation of 20 flowers continuously blooming. Appropriately, the blossom-bedecked champagne Perrier-Jouet is a sponsor, and its VIP room (got to have one at an art fair) features animated NFTs by Refik Anadol (now starting at USD 100,000, according to a label) and Damien Hirst, the real king of flowers, dots, and other forms of visual vacuity. I give credit to Victor Wong, who made several works for the fair, including a Mobius-strip-shaped sculpture with an image of a man swimming along its infinite edge—another pandemic reference. In his work The Roots (2022), he created an algorithm that digitally paints the roots of a flower, because, he explained, it's not just the petals that we should be appreciating.
Ultimately what's missing from much "digital art" is the art. Artists are people who devote their lives to cultivating unique forms of self-expression and thereby avoiding clichés—and flowers are, by most standards, universally generic. This can be hard to explain in a world of marketing, where the obvious and recognizable is what sells. But negotiating these two worlds is what happens in the field of design, which makes you forget that it is also a product or a form of marketing, as the practice of anothermountainman (Stanley Wong) attests. His video installation, I see mountains. they are mountains (1990–2022), is based on photographs taken of mountain-like forms found on city walls and other surfaces around Hong Kong.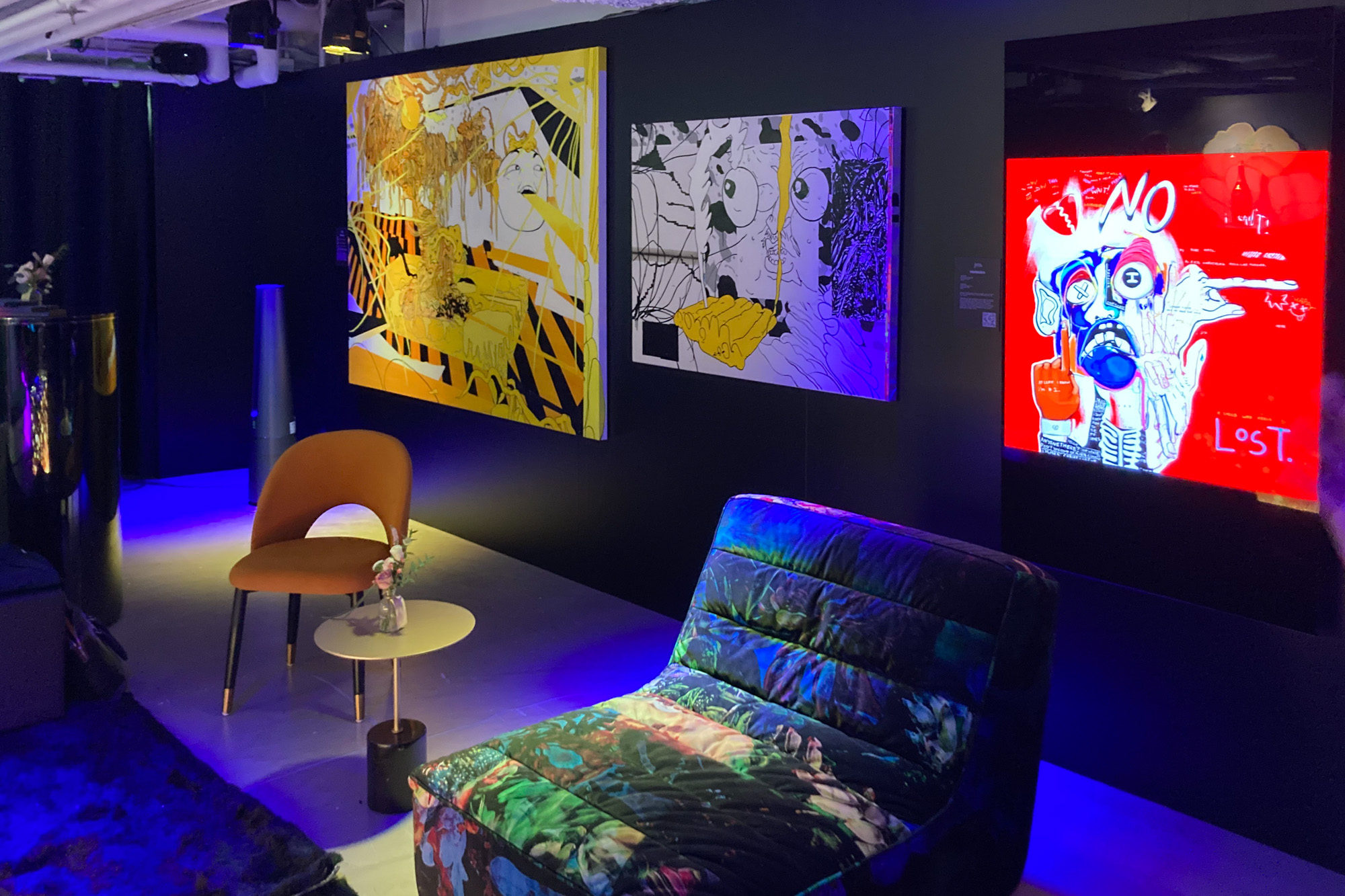 There is art at the Digital Art Fair—even two physical paintings in the VIP lounge by Chinese artist Zhong Wei, whose works de Sarthe gallery is also showing on monitors elsewhere in the fair, as he attempts to make his paintings into saleable NFTs. Among the other fine art dealers participating were Opera Gallery, with its presentation of Anthony James's mirror-illuminated geometric sculpture, 50" Triacontahedron (Solar Black) (2020) and New York art-and-tech hub bitforms, whose presentation included Daniel Rozin's subtle installation that records the space with a webcam and transforms it into a watercolor-like image, Selfish Gene Mirror (2015). There were about a dozen other galleries showing works that would benefit from much better conditions than walls of flatscreen monitors. As artists keep exploring new technologies, ultimately a platform will emerge that is better capable of showcasing these artists well, with less focus on financialization and quick auction scores.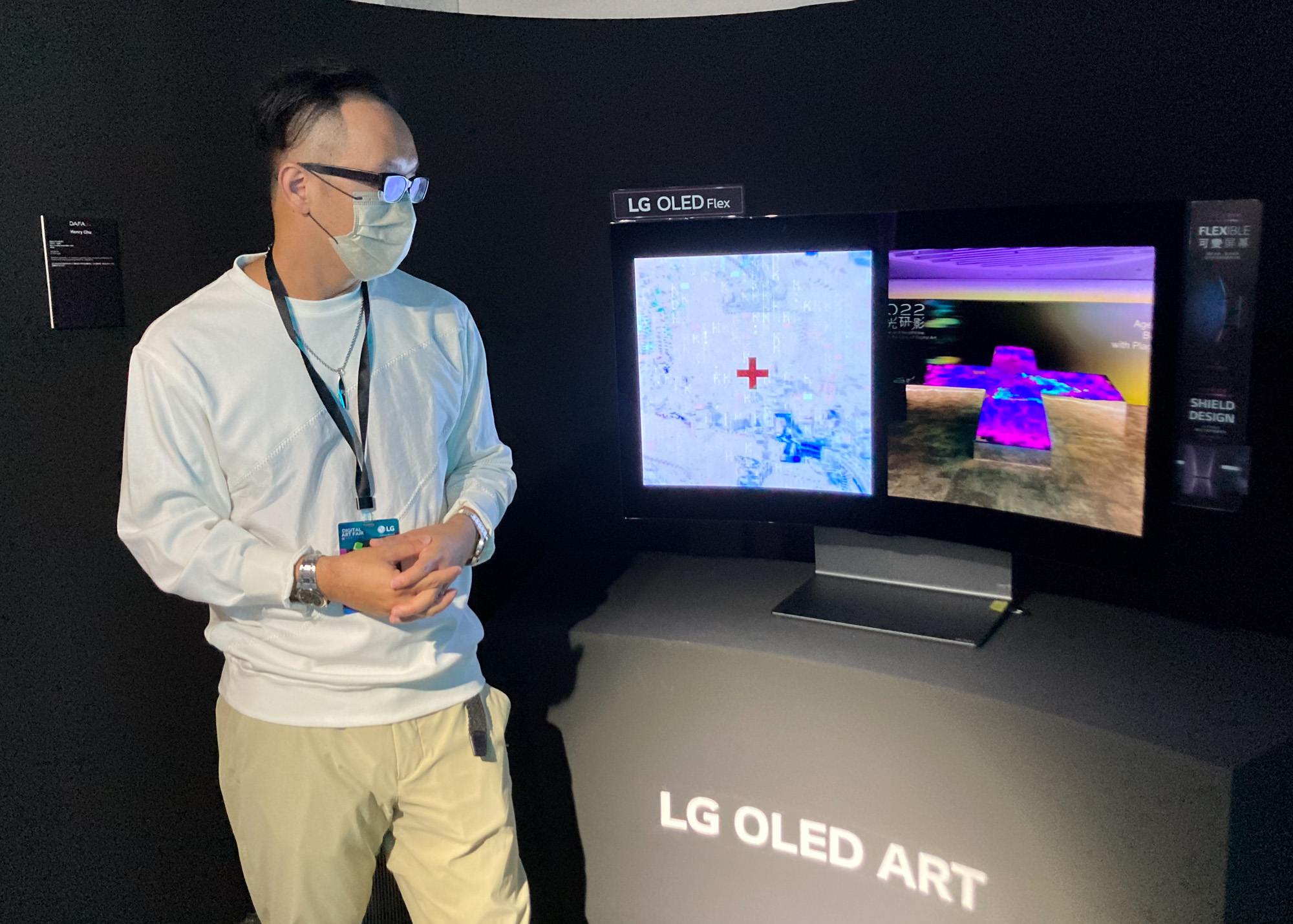 Though overall the Digital Art Fair 2.0 looks slicker than its debut, the black-painted, former Top Shop retail space does still resemble, in places, the flatscreen section of an electronics store, especially with all the signage from LG Electronics. There's also an entire ungainly room devoted to the marketing of Sandbox, a Metaverse game where, in their tagline, you can "monetize your voxel art in the blockchain!" and boasts kitschy, 8-bit-style graphics of Kowloon Walled City. I can't see the appeal of the "character collage" from this game that is being auctioned via Sotheby's for an estimated HKD 850,000–1,000,000 (USD 108,000–127,000) as part of its "Xperience Digital Art Auction," but that's just me. Regardless, that sale by the Digital Art Fair's big-name luxury-industry partner features Henry Chu's Flower World (2022) along with all of Jackie Tsai's animations and flowery animations by MonoC. Also for sale is $OPH (2022), a commissioned NFT based on the form of the Hong Kong $2 coin, from artist Sophia Hotung in collaboration with Sophia, the animatronic AI robot by Hanson Robotics, which contributed "a combination of algorithms, neural networks, and symbolic AI to create the final product." The proceeds benefit the nonprofit The Women's Foundation to boost their efforts on "digital gender equality" by encouraging more diversity and inclusivity in the crypto and tech industries. As the future of tech and digital marketing evolves, it will be interesting to see if art—and human artists—still come along for the algorithmic ride.
The Digital Art Fair Xperience is on view from October 20 to November 6, 2022, at the Asia Standard Tower in Hong Kong.