Art Jakarta 2023: New Venue, More Exhibitors, More Collaborations, More Excitement
By Art Jakarta
After a long wait, Art Jakarta is finally around the corner. This year, the international contemporary art fair is set to take place on November 17–19, 2023, at its new venue, the prestigious JIEXPO Kemayoran, in Central Jakarta.
Occupying the combined area of halls B3 and C3, with approximately 10,000 sqm of space, Art Jakarta 2023 will stage a bigger show with more exhibitors than its previous edition. Sixty-eight galleries (40 from Indonesia and 28 from abroad) will exhibit their artists' latest works. Overseas exhibitors hail from Malaysia, Singapore, Thailand, the Philippines, Vietnam, Taiwan, South Korea, China, Japan, Russia, and Australia.
The larger venue allows Art Jakarta to collaborate with more Partners. The three Main Partners of Art Jakarta 2023 are Julius Baer, a leading institution in the global wealth management sector with a long tradition as an art patron; UOB Indonesia, a regional banking institution and supporter of fine arts with longstanding commitment in Southeast Asia; and Bibit, an award-winning digital investment application that encourages financial literacy across Indonesia. These three Partners will present, among others, prize-winning artworks and commissioned works that will make their debut at Art Jakarta 2023.
"We are pleased to stage the Fair at the new venue, JIEXPO Kemayoran, and we foster a new hope as we move to this larger space which allows us to engage with bigger installation works and more collaborations. We are especially proud to have a host of partners aligned behind us with their tremendous support, all introducing their own projects or presentations in collaboration with artists in designated spaces within one integrated area. We believe this year's edition could exceed visitors' expectations. Also, more foreign collectors are coming since it is the fourth quarter of the year, a more fortuitous season compared to our previous schedule during a summer month."
–Tom Tandio, Fair Director
This year, Art Jakarta's collaborations with its Partners can be categorized into these three groups:
Prizes. During Art Jakarta 2023, Partners will present artworks that have won recent prizes. Julius Baer will exhibit new artworks from the winners of the Julius Baer Next Generation Art Prize in Asia 2023 in a special area, the Julius Baer VIP Lounge. UOB Indonesia will feature the UOB Art Space with artworks of the Indonesian and Southeast Asian winners of the UOB Painting of the Year. Meanwhile, Treasury, a digital, physical gold trading application, will showcase the artwork of the 2023 Treasury Art Prize's winner, Eldwin Pradipta, entitled Is "This Artwork" in the Room with Us Right Now?. Lastly, SUPERLIVE will unveil three artworks that won the SUPERMUSIC-SUPERSTAR competition in a multimedia installation, using the theme "Reconstruction The Deconstruction" to shed light on the artists' creative processes.
Presentations. Special presentations by Art Jakarta 2023 Partners will include these exciting projects: Bibit will present Memory Mirror Palace by Syagini Ratna Wulan (Indonesia), developed from Lost Verses (2019), which was displayed at the 2019 Venice Biennale. iForte has been consistent in bringing out the technological potential in artmaking with NOC/Turne by Jeffi Manzani (Indonesia). TACO, in collaboration with Park Jihyun (South Korea), will display the Special Edition of the Thomson Series, which creates new narratives for used objects using TACO's soon-to-be-released product. Next, Blue Label will showcase IN/ TOUNGE/IBLE by Rebellionik (Indonesia), an extraordinary spatial experience and taste. And, finally, MINI, in collaboration with Syaiful Garibaldi (Indonesia), showcases The Mini Musa, an art car concept that speaks of the harmony of nature, camouflage, and mimicry adaptation, with the use of tillandsia usneoides.
AJX is a collaborative initiative between Art Jakarta and institutions as well as private companies to present their collections at Art Jakarta to a wider audience. This year, AJX presents the ASEAN-Korea Partnership Project for Innovative Culture (PIC), which exhibits artworks by ASEAN-Korean artists through the collection of ASEAN-Korea galleries to deliver the idea of mapping and connecting the development of the ASEAN-Korea art world. Another project, Vice Versa, exhibits a book project of portraits of Indonesian artists by Indra Leonardi (Indonesia) taken over the years and the artists' responses in a collaborative spirit to these portrait works, illuminating their camaraderie and creative relationships.
Beyond the special presentations with the Partners above, Art Jakarta 2023 will showcase its traditional program:
GALLERY. The main section of the Fair welcomes 40 galleries from Indonesia and 28 from abroad, including long-time participants. Art Jakarta leadership are particularly excited to be presenting new exhibitors who have not previously participated in the Fair.
SPOT. A platform for special presentations of art installations that have been tailored specifically for the Fair. This year, Art Jakarta Spot will present nine curated artworks exhibited in public areas of the Fair, such as Order of Things by José John Santos III (the Philippines), which is an act of personal construction and reconstruction, an ordering of diverse objects to resurrect and reframe them as ciphers of former lives, and Neither Body nor Soul by Nipan Oranniwesna (Thailand) which questions the concept of borders and the interplay of its opposing sides. These two artworks will be shown for the first time in Indonesia.
PLAY by UOB Indonesia. A section designed to provide a playground for children to hone their creativity, sensibility, and imagination through diverse activities. Presented by UOB Indonesia, this year's PLAY, called "Plant a Tree, Plant a Life," is commissioned to Farhan Siki, the winner of the UOB Indonesia Painting of the Year 2022, to initiate an interactive and dynamic space where children can engage with art in playful and imaginative ways.
SCENE. A section for artist collectives and non-profits to raise funds for their respective causes. Art Jakarta supports initiatives that may require creative formats of funding, especially those outside of the greater Jakarta region, strengthening a sense of community within the art world.
AJ TALK. A platform for dialogue between experts, observers, artists, collectors, and curators to share their experience and knowledge with our audience. AJ TALK with a line- up of trusted names and exciting figures in the scene is an indispensable part of the Fair. This year Art Jakarta will host the launch of Vice Versa by the photographer Indra Leonardi and Illuminations by the art critic Carla Bianpoen; a discussion about the UOB Painting of the Year's artworks from several countries; and a discussion of creativity with Evan Wijaya (graphic designer) and Samantha K. Jackson (Percolate Galactic).
Tickets: Tickets will be on sale starting from 1 November 2023, exclusively at artjakarta.com.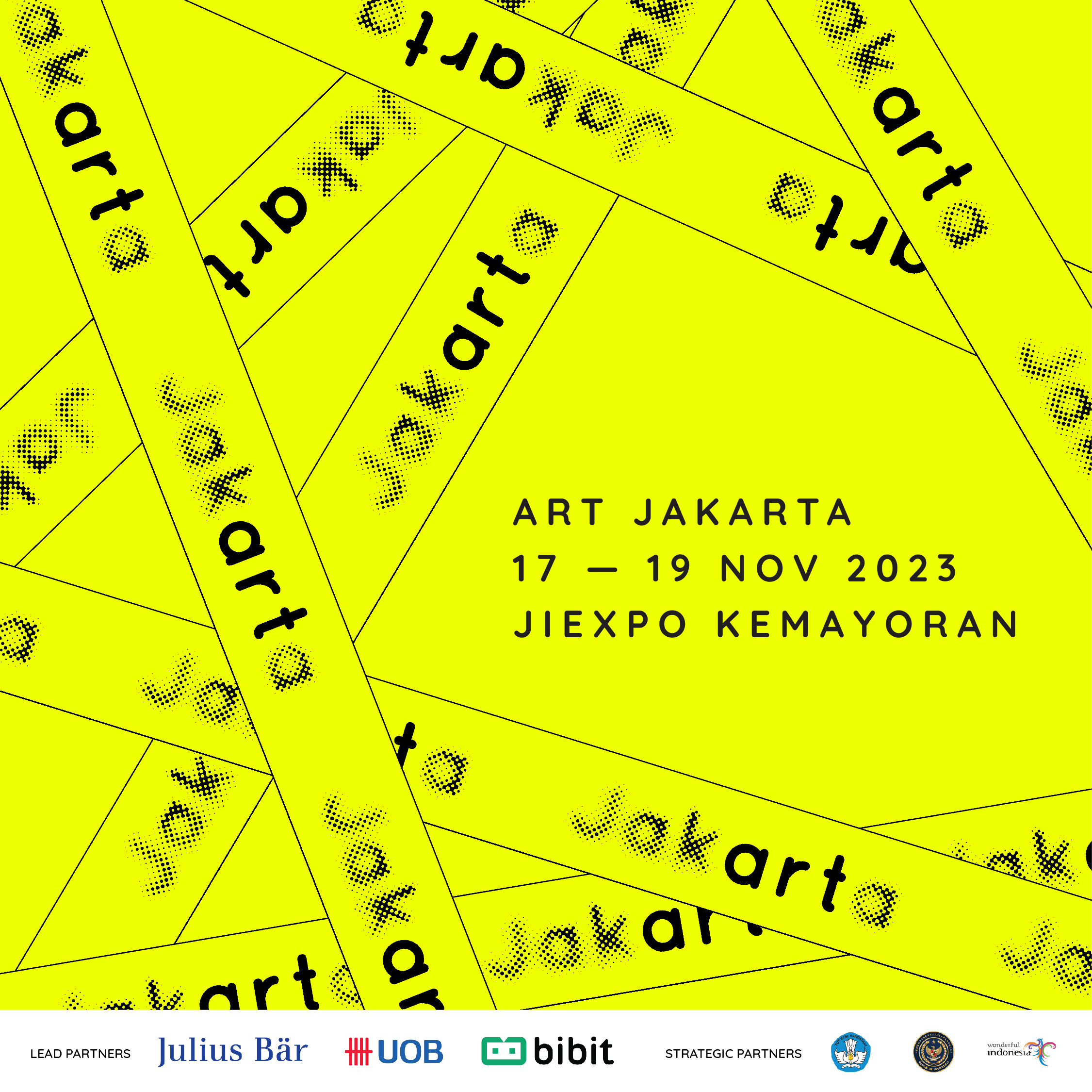 About Julius Baer
Julius Baer, headquartered in Zurich, is the leading Swiss wealth management group with a focus on servicing sophisticated clients, inspired by the purpose of creating value beyond wealth. With our solid financial base, objective advice, and client-centric approach, we have built an entrepreneurial management culture with a long tradition of supporting the arts.
Since 1981, our Julius Baer Art Collection has collected more than 5,000 diverse artworks displayed in our spaces around the world, and today we extend our support of the arts to Indonesia. At Art Jakarta 2023, the Julius Baer Next Generation Art Prize will be showcased at the Julius Baer VIP Lounge.
About UOB Indonesia
UOB Indonesia is a subsidiary of United Overseas Bank Limited, a leading bank in Asia with a global network committed to serving quality products and excellent customer service, offering various banking products and services while assisting companies with their global expansion plans.
UOB Indonesia is proud to be a leading art patron, particularly through the UOB Painting of the Year which marks its 13th edition this year in Indonesia. In its sixth partnership with Art Jakarta, UOB Indonesia presents an art space of over 148.5 sqm, showcasing 25 new artworks from Southeast Asia UOB Painting of the Year winners. It also features Play by UOB Indonesia, designed by Farhan Siki, the 2022 UOB Painting of the Year winner, for children to nurture creativity and imagination.
About Art Jakarta
Art Jakarta is committed to maintaining its vision to be the only Southeast Asian-focused art fair in Asia, and one of the most exciting art fairs in the region. It is hosted in the region's dynamic centre of contemporary art and is always a stimulating international forum for key stakeholders in Asia to serve the region's contemporary art ecosystem.