Aotearoa Art Fair Rebounds as Auckland Races for Post-Covid Recovery
By Hutch Wilco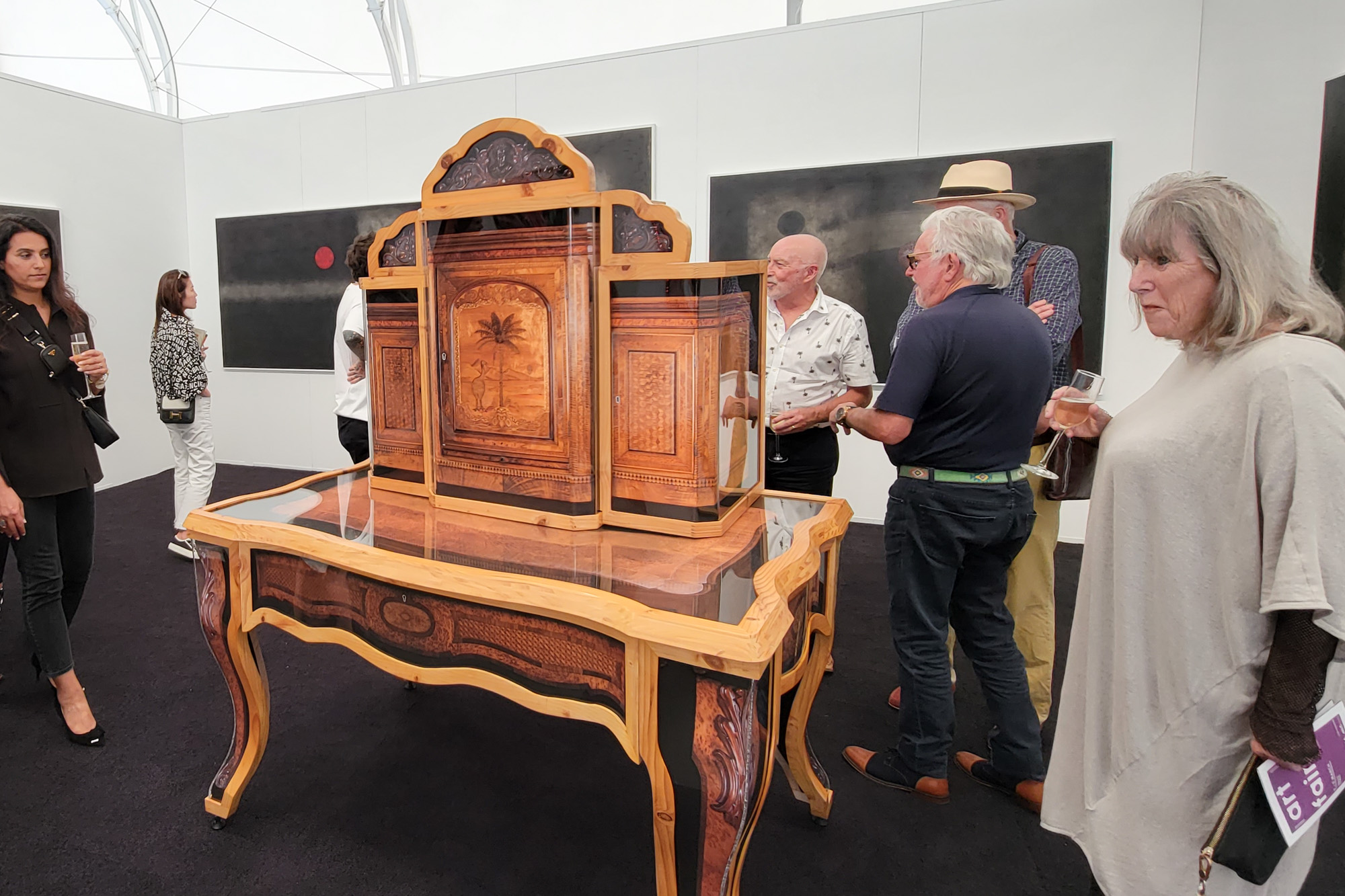 The organizers of Auckland's Aotearoa Art Fair almost gambled by staging their latest edition from March 2 to 5, merely four months after their last outing. In a year, the city has witnessed its CBD hollowed out with business shuttering; almost nine percent of increase in cost of living; and the local council's severe arts funding cuts across the region. Despite the economic woes and sweltering heat, the atmosphere at the VIP premiere on Wednesday afternoon was visibly electric compared to last November's fair. Given the city had just emerged from the various Covid lockdowns and the virus was still running rampant, the more somber mood at that time was perhaps understandable. This time around, however, it seems that art fair director Hayley White's bet had paid off, with a strong turnout of crowds and high turnover of sales evident throughout the four-day event.
This year's edition featured 39 galleries and more than 150 artists from across Aotearoa New Zealand and Australia, with Redbase Art Gallery (Yogyakarta) and One and J. Gallery (Seoul) being the sole representatives from Asia. Despite the fair's concerted efforts to broaden their international reach, financial pressures and the high cost of air travel post-Covid are still impacting galleries from further afield. The overall program of events and activities throughout the fair had also been downsized, with less on offer for VIP members, and the special Projects section of the fair this year omitted—not a bad thing as previous editions had too frequently felt ill-fitting and poorly curated.
Making up for the smaller scale of things was the work that the galleries themselves brought to the occasion, with particularly strong displays on show from the Australian galleries, as well as solo presentations by Australian and Pasifika artists across several booths. While some of the local galleries felt that the fair was an opportunity to empty out the stock room, or a re-presentation of familiar faces, our cousins to the west brought their A game.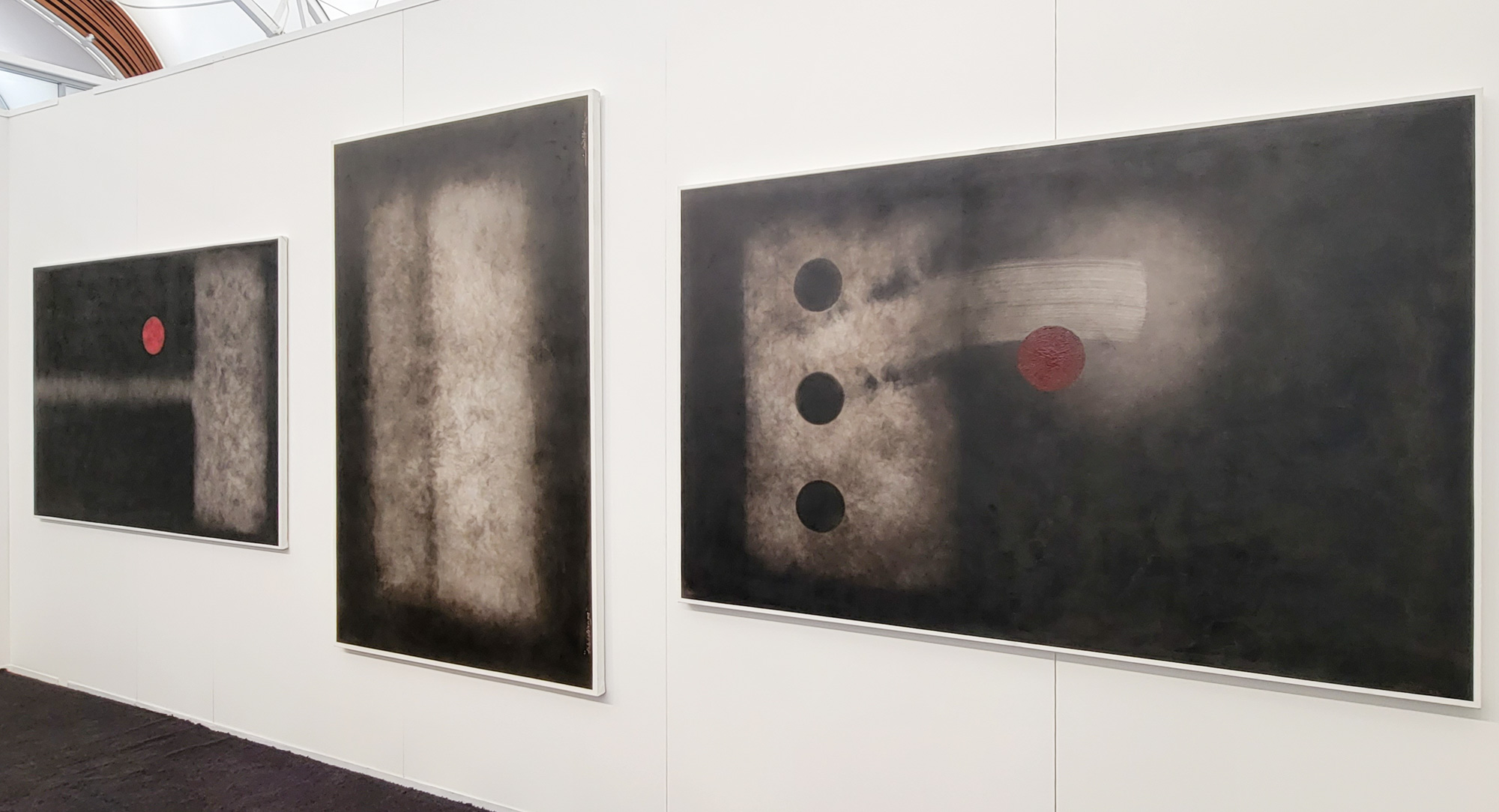 There were some notable exceptions among the Auckland-based galleries, however, with Scott Lawrie staging a stunning installation of wall works by Tongan artist Kulimoe'anga Stone Maka, along with a photographic sculptural arrangement by Andrew Rankin. Maka's moody, gray-hued paintings are constructed by manipulating smoke and spider's webs onto canvas, sold for NZD 17,500 (USD 10,850) each. With visual references to the tradition of Tongan barkcloth, or n'gatu, as well as European modernism, Abstract Expressionism, and local Aotearoa New Zealand artists Colin McCahon and Tony Fomison, the allusions waft around as quickly and tenuously as the smoke used to blacken his canvases, leaving traces for every viewer to ruminate on.
Rankin's The Time Traveling Object (2017–23), consists of a set of photographs that detail the various parts of a colonial-period cabinet, created by Anton Seuffert (1814–1887), a Bohemian cabinet maker and an expert in marquetry who immigrated to Aotearoa at the height of colonial expansion. Seuffert was famous for his intricately crafted writing cabinet comprising more than 30,000 pieces of native New Zealand timber, purchased at more than NZD 43,000 (USD 26,670) in today's dollars by the citizens of Auckland and gifted to Queen Victoria in 1862. The original cabinet now sits in the collection of the Auckland War Memorial Museum. Each photographed element is encased in acrylic blocks, framed by French polished timber, and then meticulously assembled like a jigsaw on a one-to-one scale, teetering precariously much like the reputation of the colonial enterprise that the cabinet has come to represent. Rankin's work was priced comparably to Seuffert's, on sale for NZD 70,000 (USD 43,400).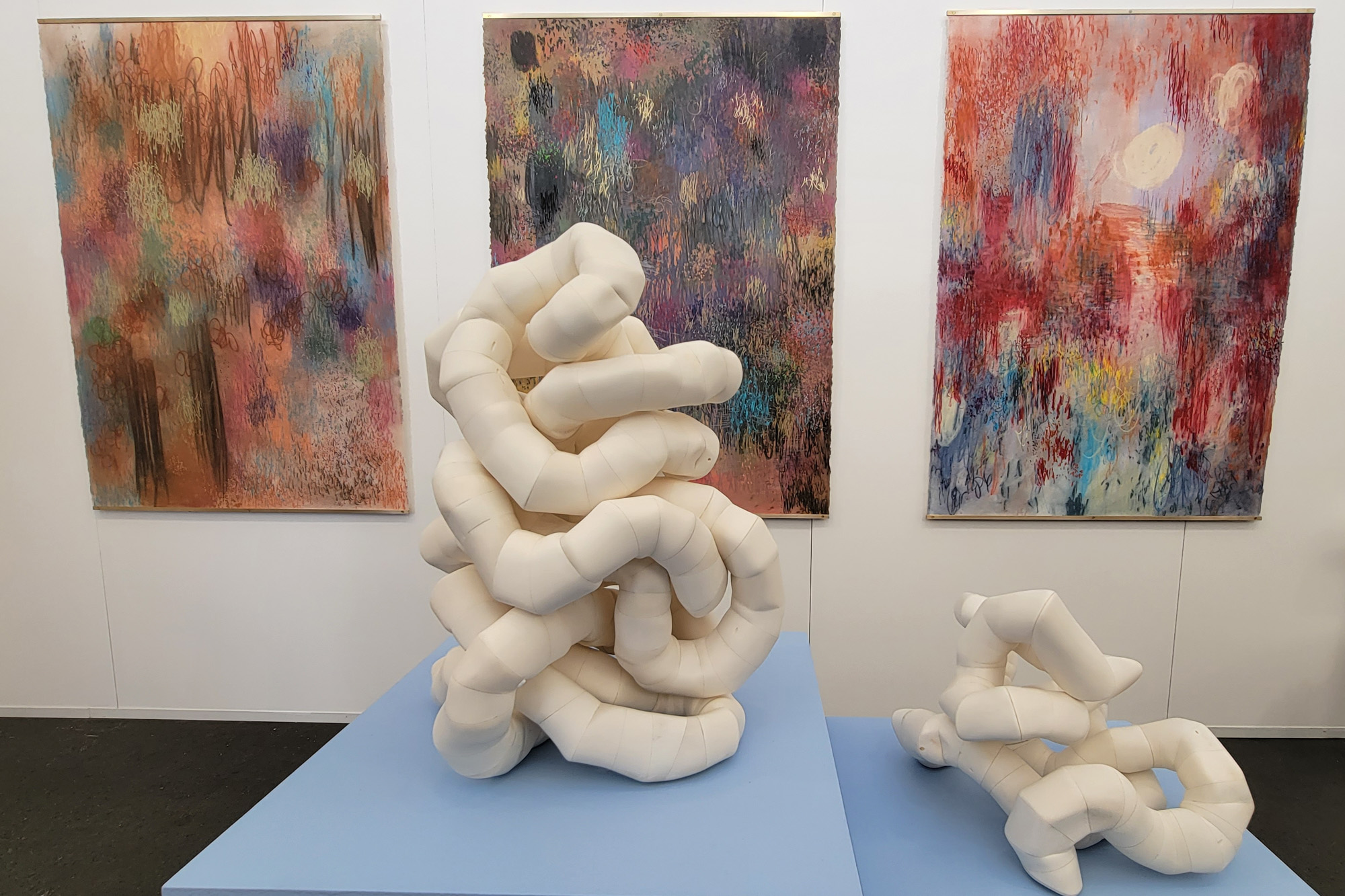 On teetering, Laree Payne (Hamilton) created a delicate juxtaposition of the works by sculptor and jeweler Sam Kelly, as well as painter and erstwhile gardener Sarah Smuts-Kennedy. In formal terms, the two artists both build up their compositions through complex layering of material. Kelly's sculptures, such as Standing Sculpture #6 (2023), attains new levels of complexity. The work involves carefully collecting and shaping cow bone by hand over many months into ropey tangles of soft mounds. Yet the price point, between NZD 4,400 (USD 2,700) and NZD 8,600 (USD 5,300), remains in reach. Meanwhile, continuing her explorations into "energy fields" along mystical lines, Smuts-Kennedy's Soul Breath series (2022–23) of soft, blurry pastels resemble the practice of automatic drawings by various seers, mystics, and Surrealists. The mystical energy that the artist seeks to evoke is captured in subtle autumnal form, in lush, chewy browns, pumpkin oranges, pinkish reds, as well as the blues and greens of Claude Monet's garden, contrasting vibrantly with Kelly's bone-white knots. Smuts-Kennedy's works sold for just under NZD 10,000 (USD 6,200) each.
Wellington's Page Galleries presented four refreshingly adept trompe l'oeil paintings by London-based painter Emily Wolfe. Her painstaking, multi-step creative process involves physically sticking the source material, tissue paper, and adhesive tape to the wall; photographing it; and then painting the result. While her paintings recall the technical cloud studies of John Constable or JC Dahl, the collaging effect evokes the digitally rendered, multi-layered images of a steampunk, alternative reality, with her paintings overlaid with fabric and post-it notes. The smallest of her works sold for NZD 7,000 (USD 4,300) while the largest was on sale for NZD 20,000 (USD 12,400).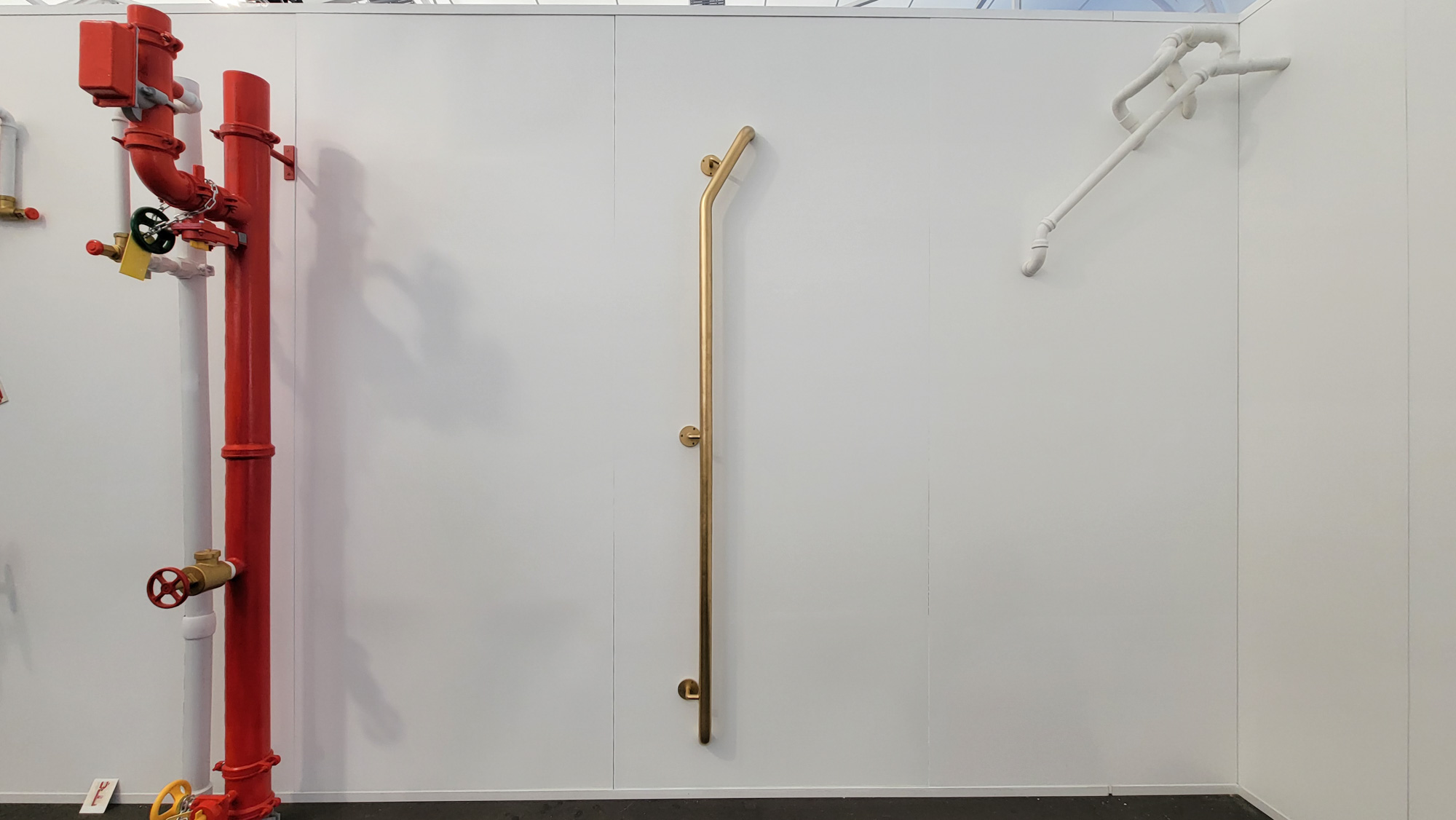 Trompe l'oeil of another kind could be found with Glen Hayward's works presented at Paul Nache (Gisborne). Hayward is known for his fabricated objects, using laminated MDF (medium-density fiberboard) wood and paint to imitate prosaic building elements, such as the fire suppression system pipes from the Whitney Museum, or the emergency exit doors at New York's Museum of Modern Art. The objects are usually embedded into the building in a way that they are almost invisible to the viewer, but here they are explicated as individual objects in an installation, which allows the viewer to admire the technical craft implicit in the effect. With a recent solo institutional exhibition, Hayward's price point is at a new high, with Whitney Fire Suppression System (between Calder and Oiticica) (2022) selling for NZD 55,000 (USD 34,000).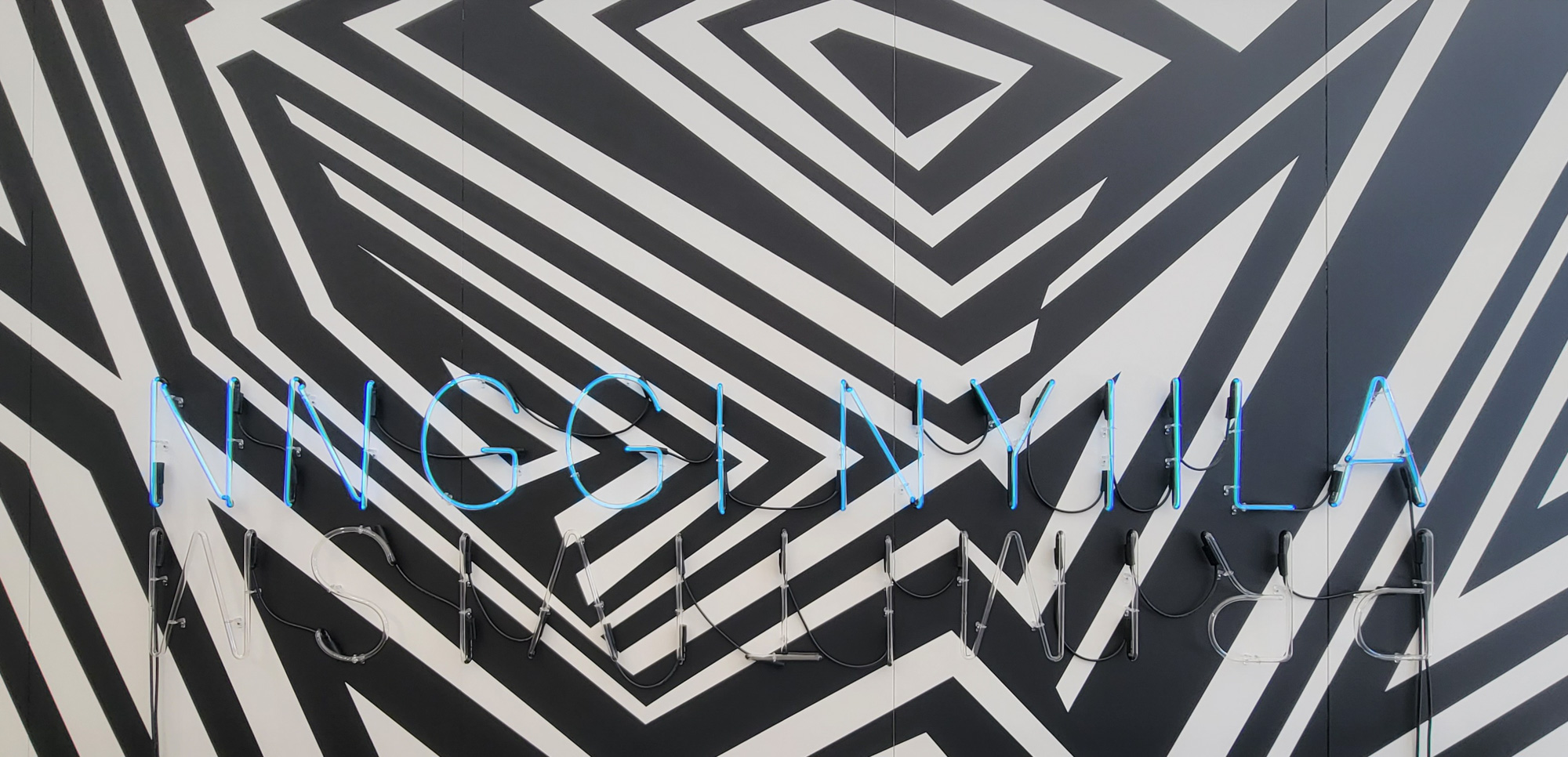 Meanwhile, Sumer (Auckland) gallery staged a solo presentation of Australian Wiradjuri (Indigenous) and Celtic artist Brook Andrew, featuring ninggi nyiila primitivism (2023), a Sol Lewitt-style wall drawing with animated neon text. The title, translating loosely as "look out" or "beware," can be read as a warning against the continuing simplistic misinterpretation of Australian First Nation artistic traditions. Here, however, devoid of their usual museum or institutional interventionist setting, the political power of Andrew's work is muted, and it is impossible to read them as much more than formal references. In particular, one could see the Barbara Kruger influences in his The Right to Offend is Sacred series of collages from 2017, which was reasonably priced at NZD 5,000 each (USD 3,100), while some of the larger works were unsold by the end of the fair.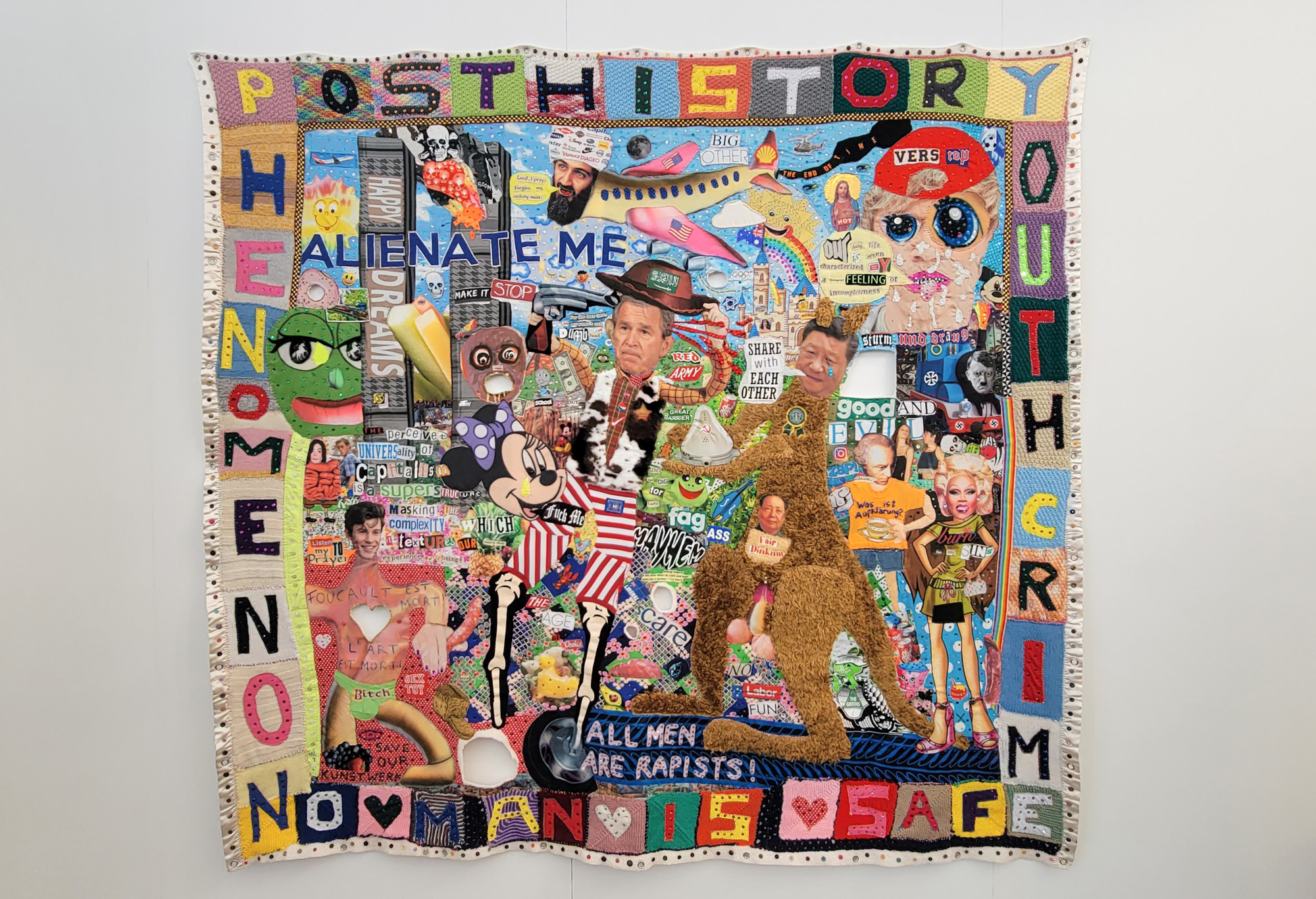 Perhaps the highlight of the fair was the booth by Station from Naarm/Melbourne, which spotlighted colorful and whimsical works by artists Nell and Paul Yore. While Nell's ghostly glass objects shared a comedic visual language with Yore, it was Yore's garish, fluorescent collages that really captured attention, with numerous references to the seemingly ever-present racist and Sinophobic nationalism that has exploded in Australian politics since Covid-19's emergence in late 2019. Like an unfiltered view into a Rupert Murdoch-controlled media landscape, Yore's colorful collages feature phrases familiar to various far right movements and their preferred boogeymen, such as George Bush, Hillary Clinton, Barack Obama, and George Soros. THIS WORLD IS NOT FOR YOU (2021), selling for NZD 44,000 (USD 27,300) and featuring a Toy Story-esque George Bush-as-Woody in a showdown with Chinese president Xi Jinping disguised as a kangaroo, is both hilarious and disturbing. With large texts reading "Youth Crime" and "No Man Is Safe," the work appears like a comparative quilt produced by the extreme rightwing of the Republican Party.
Speaking to many of the galleries on the final day, most reported that sales were high, reflecting the buoyant mood that typified this year's event. With the country's border once again open to tourism, and numerous cruise ships arriving weekly, it seems that the city is amid an economic and cultural rebound, despite the new mayor calling for austerity measures that would effectively cripple culture and tourism over the next several years were they to be implemented by the city council. One can only hope that the mayor and his councilors were in attendance this past weekend.