Up Close: Chu Chun-Teng
By Pamela Wong
Full text also available in Chinese.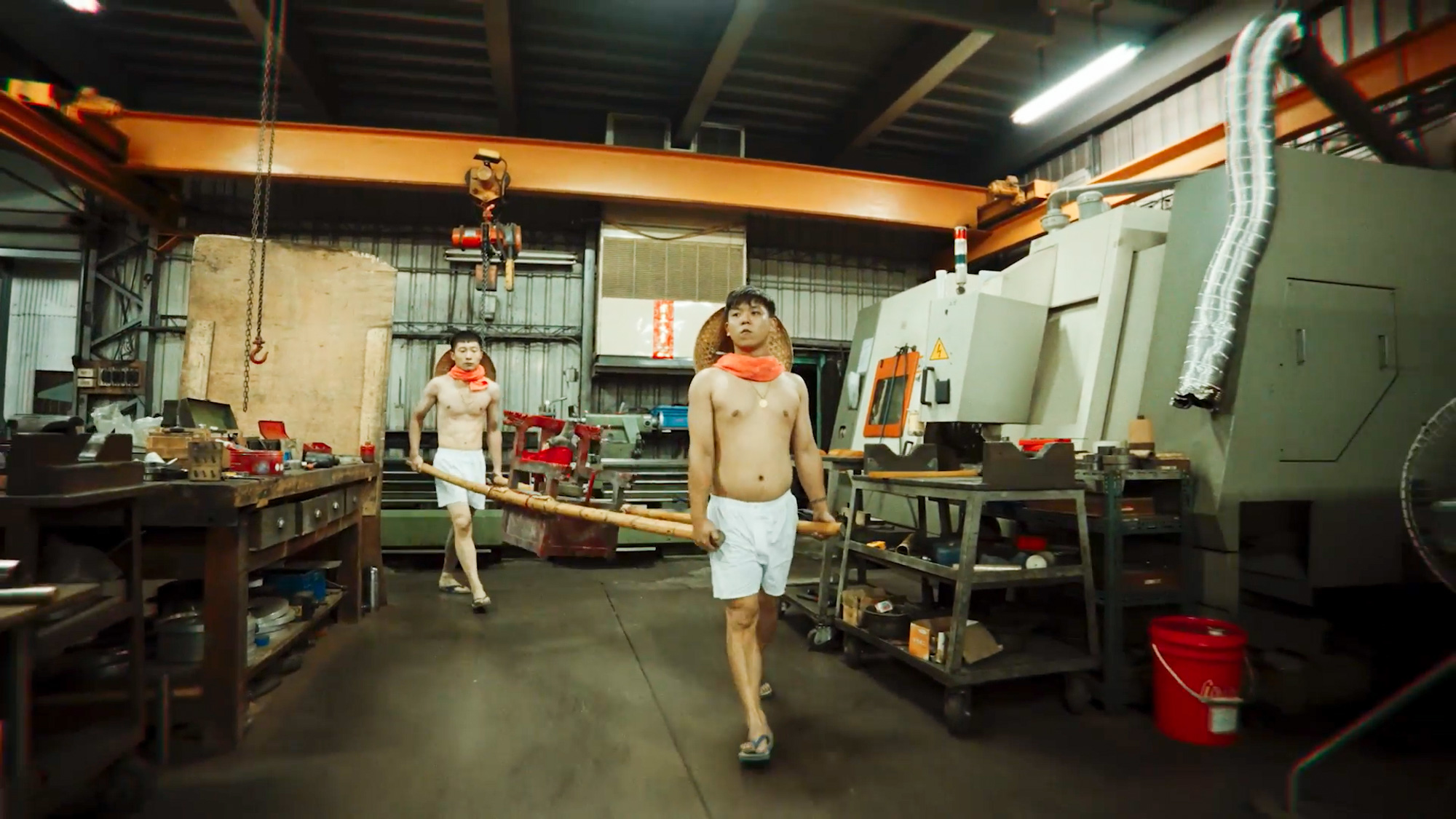 Shezi Island, a sandbank at the crossing of two major rivers in northern Taipei, is a ghostly place. Since a devastating typhoon in 1963, new constructions have been prohibited there, with redevelopment plans constantly being shelved. Lost items, garbage, and nameless corpses frequently wash ashore, stranded, but preserved, recycled, and worshipped by local inhabitants.
Chu Chun-Teng's three-channel video installation Eel (2021), filmed during the Lantern Festival, illustrates the wandering state and routines sustained by residents. One screen is suspended from the ceiling and two are situated on the floor. The top video shows two men carrying a palanquin, which bears the island's tutelary deity, across stores and factories. In a similarly ritualistic manner, seen on another screen, a woman drags a grocery cart with her through the various rural areas and derelict structures, collecting items such as a stool, a rice cooker, and a joss-paper house, until she arrives at an open space and starts burning the items for nameless spirits. The third screen captures moments from the seemingly mundane life of a pigeon house's owner and his son: in one scene, the young man takes selfies with the statues at a temple; next, he drops a crescent-shaped jiaobei—a popular wooden divination tool in Taiwan—on the floor to seek guidance from the gods. Like eels, these individuals, absorbed in their own thoughts, swim swiftly between the urban and the rural, the existent and the non-existent.
Backed by the rhythmic drumming of ritual music, these seemingly unrelated, trivial scenes are interconnected by a sense of conflict: the palanquin carriers walk through firecrackers unscathed; the joss-paper house is quietly engulfed in flames. While authorities have been troubled by the ambiguous state of Shezi Island, these residents live comfortably between two worlds. As the tension subsides, they return to peace, embracing a sense of belonging among the living and the dead.