The Point: Let's Bring Down the Fence and Re-Build Together
By Johanna Palmeyro
Full text also available in Chinese.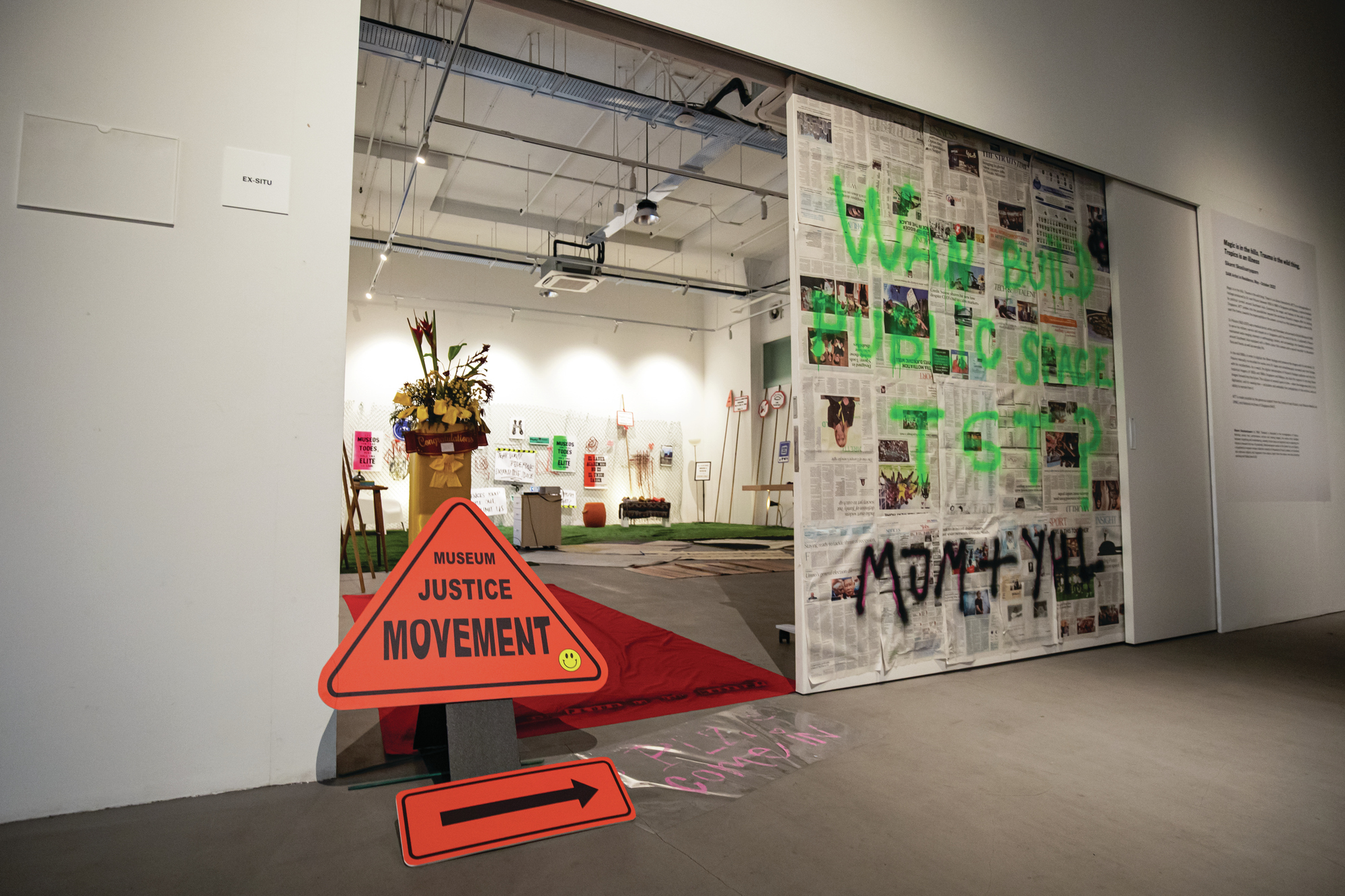 For some of us it can be a perplexing exercise to contemplate the role of museums as public spaces. Regardless of where they are located, many museums make certain individuals and communities feel that they don't belong. Perhaps this is because their history can be traced to entrenched power interests and to the heart of the global capitalist project. Despite the efforts of many middle-position cultural workers who in their everyday actions make museums more inclusive and accessible, these institutions still carry traces of a dominant, elitist, and colonial legacy—a heavy, hegemonic narrative that is very hard to let go of. But we, the invisible and anonymous cultural workers, do have enough power to make a difference if we work together.
So, what keeps museums separate from the people? Or, to take it a step further: Who are museums really for? Who do they serve and who benefits from their presence? Do museums listen to our grievances or are they only pretending? Are museums implementing concrete social justice policies or simply engaging in performative actions, continually mindful of the bottom line?
Influenced by my work with the Museum Justice Movement— a Buenos Aires-based organization whose aim is to disrupt, confront, and question the established practices and intentions of national art museums and cultural institutions—I began to ask some of these questions during my three-month residency at the Singapore Art Museum (SAM) in late 2022.
In collaboration with Your Head Lah!, a local, Brown, queer mental-health collective, we took over one of SAM's project spaces to create a community exhibition as a way of producing our own narratives. We designed the public space of our dreams without limitations as a way of showing that our existence and diversity is political. We gathered more than 40 people to design and create "permission signs" that we looked for but never found in the streets of Singapore. We also built a "loitering zone" to counter Singapore's ubiquitous "no loitering" signs. In this zone we could relax, play music, laugh, and simply do nothing. The public space we established also included free snacks, free plants, and a collaborative map of Singapore that identified various public spaces that made us feel joy and freedom.
The result was a whimsical, magical, DIY space in direct opposition to the perceived cold, white-cube sterility and solemnity that this room had previously radiated. And so, a group of people with no familiarity at all with the museum could access the space and produce content of their own. They could tell their personal stories and bring their friends and family to take over the place. It became a public space that finally felt truly public.
Public spaces in Singapore have different connotations than in Argentina, where marches, assemblies, graffiti, activism, ash mobs, and other forms of public expression and collective healing are commonplace. In Argentina you can nd signs of resistance on most blocks, while in Singapore it's di cult to nd voices of dissent in the streets due to government regulations that require licenses. In some ways, the streets of Singapore reflect the logic inside the institutions: prohibition signs, depoliticized narratives controlled by a select few, CCTV cameras, and a sense of tightly regulated freedom.
Despite these restrictions, it's possible to nd pockets of activism in Singapore. Often it requires avoiding the word "activism" altogether, given its associations with protest or violence. Instead, in the Singaporean context, one can find it in everyday conversations; in the kindness and tenderness of strangers that resist individualism; in amusing memes; in independent publications; in child-centered programs and installations; in slowing things down in an increasingly accelerated society; in independent collectives; and in festivities and traditions.
Former Argentine provincial minister of innovation and culture, Maria de los Angeles "Chiqui" Gonzalez believes that the world is becoming more literal, and that in place of more literal thinking we need more poetics. Over time, I learned a great deal about activism in Singapore. I learned about a side of activism that is not so literal—a side that promotes tender and poetic forms of resistance, filling the gaps of history with intelligent and lateral-thinking actions and avoiding the Big Brother that is often invisible to those who see the world through a detached lens.
And yet, despite all this, tough questions remain: How can we break down the invisible walls and fences that separate museums from the people? How can we create narratives that are relevant for all instead of a few? How can we make contemporary art and contemporary conversations relevant for everyone? If we want our cultural institutions to start being more accessible then we need to help them change the way they communicate and produce content. Telling stories with others resists the idea of a unique and static history. It's a way of finding meaning while doing and filling in the gaps of history together.
Subscribe to ArtAsiaPacific's free weekly newsletter with all the latest news, reviews, and perspectives, directly to your inbox each Monday.