Sin Wai Kin: Self, World, Universe
By Tiffany Leung
Full text also available in Chinese.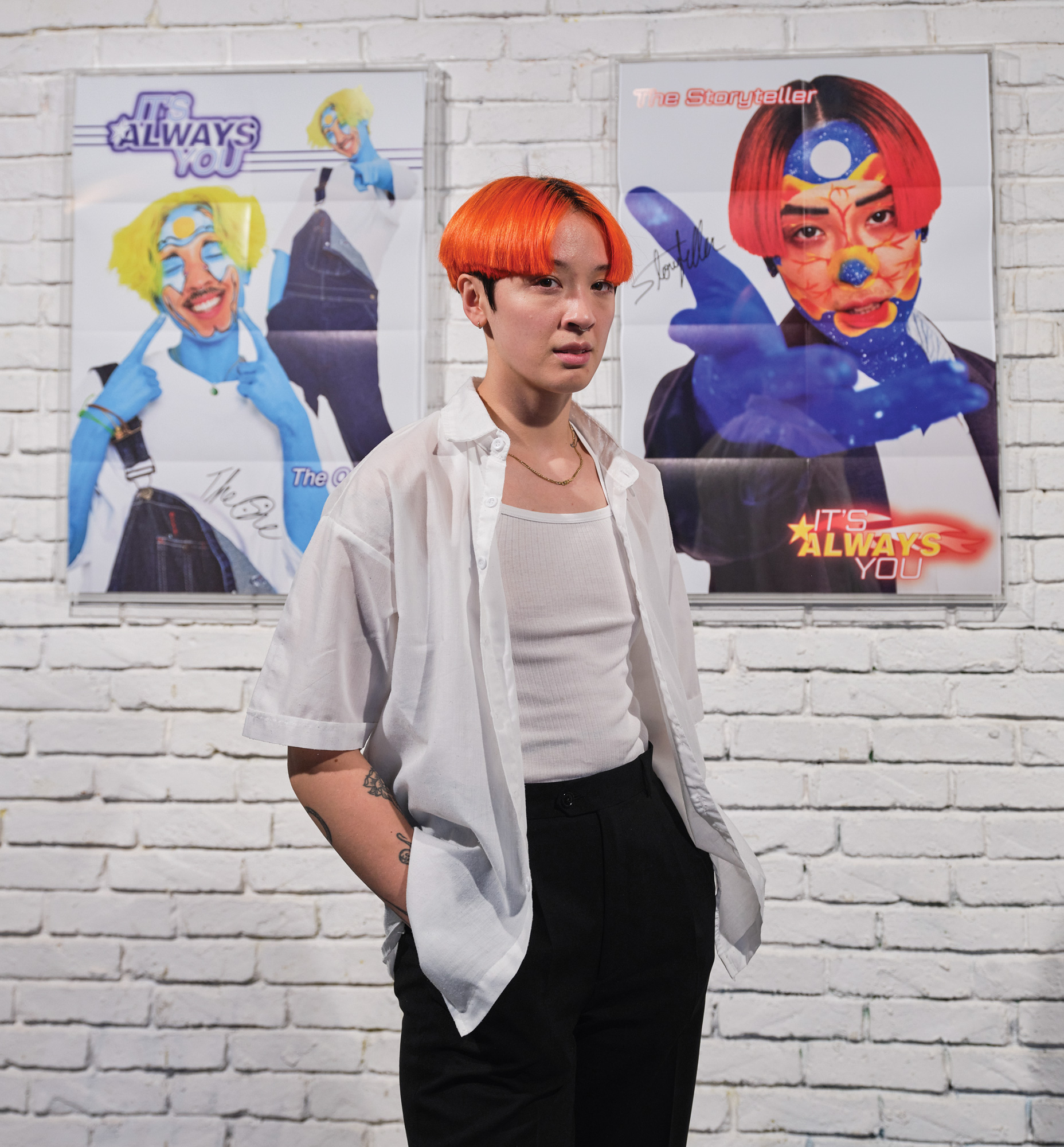 "It felt like home," Sin Wai Kin said effusively when asked about their month-long trip to Hong Kong in November 2021. Born to a Hong Kong Chinese father and a White British mother, Sin grew up in Toronto and is now based in London. They have been to Hong Kong on several occasions, with their father as a child and later on as an artist, but never stopping for more than a week. This time, it was to launch their most ambitious solo exhibition to date, which also happened to be their first solo presentation in Asia, at Blindspot Gallery. Sin's survey spanned works from 2016, when they finished their graduate degree at London's Royal College of Art, to 2021, and showcased their ability to bring fantasy to life through moving image, performance, writing, and other media. Part homecoming, part retrospective, the exhibition also offered an opportunity for renewed reflection for Sin, whose identity embraces fluidity and transience. "It was the largest space I've ever had to work with, and having all my work in one place has enabled me to see how my thinking has developed and changed," they explained.
Over the last few years, Sin has created and embodied a range of feminine and masculine drag characters. Earlier videos like Narrative Reflections on Looking (2016–17) and Tell me everything you saw, and what you think it means (2018) feature Victoria Sin (the name Sin used to go by), an exaggerated, old-Hollywood female archetype who wears a luscious, platinum wig, over-the-top makeup, and balloon-like silicone breasts. The persona was born out of Sin's nascent exposure to London's fluid drag scene, where, unlike the homonormative drag that they had experienced in Toronto, it was "about blowing up gender and identity completely." By reclaiming qualities of hyper-femininity and Whiteness, drag became "an excavation of all the things I've been socialized with," they said. Around four years after their first appearance, however, Victoria is no longer front and center in Sin's practice. They last appeared in the performance Sandwich (2021) at WorldPride Malmö, where Sin made a cheese sandwich, evoking 1950s cooking shows for housewives. "I've gotten what I needed from [Victoria] and I started thinking about what else I can bring into my drag practice," the artist elucidated. The exercise of putting on and taking off a character had prompted them to ask the questions: who do I want to be now? What are other identities I want to embrace?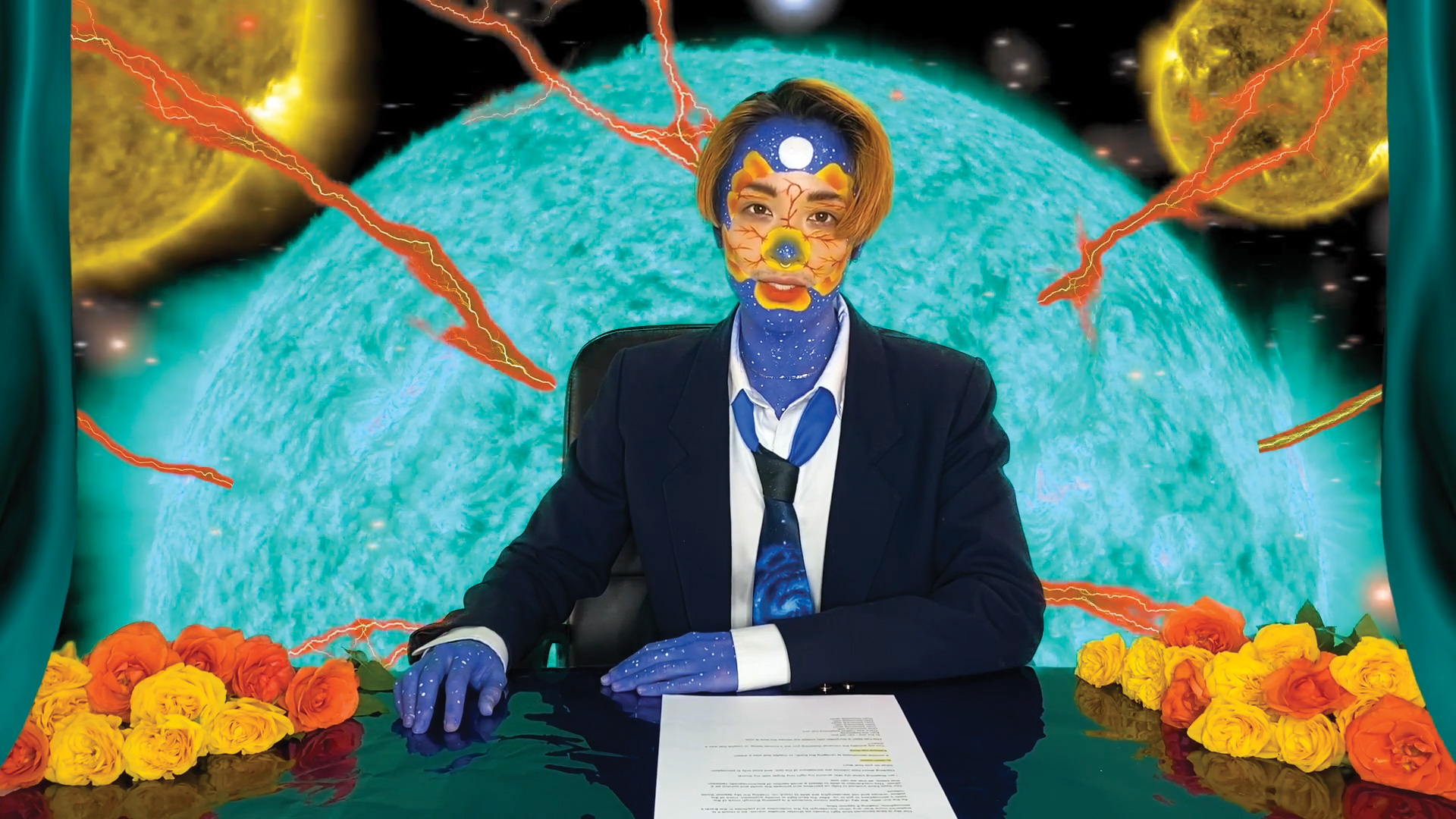 It was during a lockdown in 2020 when new perspectives emerged and manifested. Isolated at home, Sin suddenly found themself in heightened sensitivity in relation to their body: "It made me realize that my relationship with my body has completely transformed from a few years ago," they recalled. "I want to embrace masculinity in a way I haven't done before." Also lamenting a recent breakup, they found themself repeatedly listening to popular 1990s break-up songs like "I Want You Back" by NSYNC and binging music videos by boy bands from the Backstreet Boys to BTS, which gave them the idea to transform into "a teenage heartthrob." "I started collecting images of boy-band haircuts and photoshopping their hair onto my face, to help me decide on my new hairstyle," they shared.
Their growing interest in new conceptions of self led Sin to restore their Cantonese name, 慧乾 (Wai Kin), which means wisdom and intelligence. The latter character is also one of eight trigrams representing the principles of reality in the Taoist cosmology, and denotes heaven, creativity, and masculine (yang) energy. Simultaneously, because, for Sin, the line between life and performance is consistently blurred, their personal discovery bled into their works, and they began developing a set of masculine drag characters.
A sample of Sin's new direction and one of their most ambitious films yet, A Dream of Wholeness in Parts (2019–21)—currently touring as part of the British Art Show 9—brings together two of their new alter egos in "a self-contained universe." Woven together by a speculative narrative and reveries of landscapes, the film takes its inspiration from Dream of the Butterfly (c. 300 BC), a Taoist allegory by Chuang Tzu that delineates a philosopher who wakes up from a vivid dream in which he was a butterfly, only to find that he is no longer sure which state of consciousness is true. The Universe, one of the protagonists, references the Zing's (warrior) role in Peking and Cantonese opera, and a mercurial masculine archetype from Wong Kar Wai's films—fey and graceful, yet also tempestuous and vulnerable—frequently embodied by Hong Kong actors Leslie Cheung and Tony Leung. The Construct, the other star, is influenced by a feminine archetype in Cantonese opera known as the Daan role. Both of them don a series of resplendent outfits, faces painted in vivid colors. The verbose script that they enact in both English and Cantonese is also transposed between subjects and objects: occasionally a tree and a bowl of wonton noodles are animated, as if speaking back or speaking for characters, creating a sense that they are slipping in and out of dreams, unsure about where reality lies. Departing from Victoria Sin, the personae transcend explicit gender and racial binaries, and synthesize other "false dichotomies"—life and death, self and other, dreaming and waking, truth and fiction, tangible and metaphysical.

In another recent body of multimedia work, It's Always You (2021), which debuted at Zürich's Shedhalle in 2021, The Universe reappears as "the pretty boy" of a boy band. The expansive series consists of a karaoke-style music video and memorabilia including signed posters with imitative fold marks, as if pulled from a teen magazine, and life-size cardboard cutouts of each band member. Performing alongside The Universe is The Storyteller (the serious one), The One (the childish sweetheart), and Wai King (the heartthrob), all played by Sin. They dance, with effortless charisma, and lip sync to a mesmerizing voiceover by the artist. "The boyband is the perfect vehicle for thinking about desire; the concept was created exactly for that purpose, constructed to provoke the most intense desire, for mostly teenage girls, but also everybody else, the most dreamy, the most whatever," said Sin. Conjured by fantastical narratives and overlapping stories, Sin's figures are treated as devices of their thoughts and desire. "Each character is an embodiment of something I am trying to work through myself," they explained. These identities are in a constant wheel of reinvention, deconstructed and recast each time they appear in a new work, reveling in their complexity and hybridity.
Every time Sin puts on a face and embodies a role, it changes them in some way, including their relationship with their body and the surrounding world. Meanwhile, for the audience, each persona is an invitation to recognize the perspectives and narratives that limit our lives, and to ponder ways to unravel these ways of seeing and being. The artist's work tests the boundary between self and world, seeking, but never securely defining their meanings. "The only everlasting truth is change," Sin quoted of science-fiction writer Octavia E. Butler. While the inhabitants in Sin's universe continue to change and evolve, so do they.