Previews: Up Next
By The Editors
Full text also available in Chinese.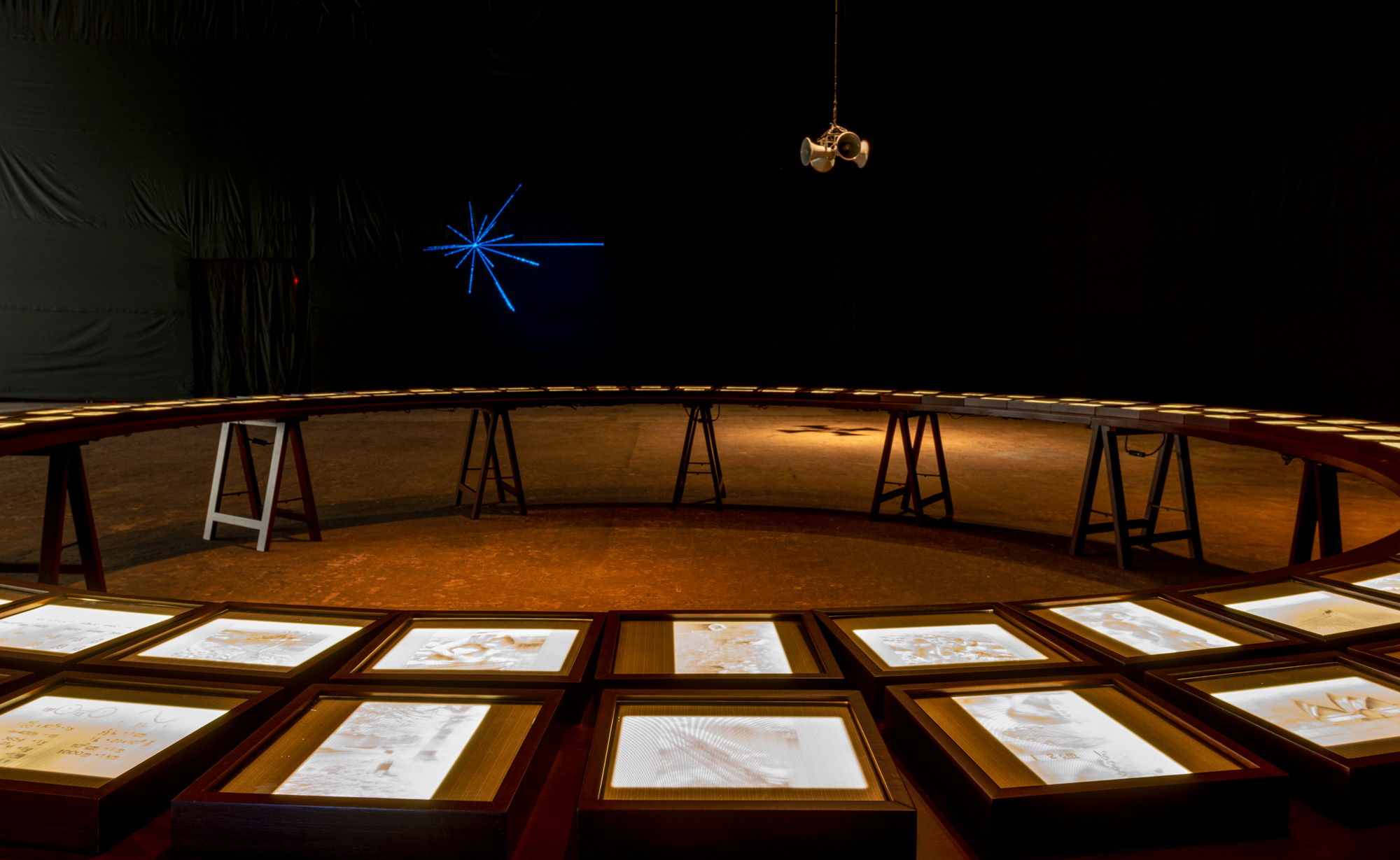 1. Jitish Kallat: "Order of Magnitude"
Ishara Art Foundation, Dubai
JAN 12–JUN 16
Jitish Kallat's practice connects the individual to the universal. His first major show in West Asia will feature the diaristic Integer Studies (Drawings from Life) (2021), mapping cycles of birth and death, and an update of the multimedia Covering Letter (terranum nuncius) (2018–21), based on NASA's Golden Records of human achievements.
2. "REVOLUSI!"
Rijksmuseum, Amsterdam
FEB 11–JUN 6
"REVOLUSI!" will narrate the Indonesian struggle for independence from 1945 to 1949, through more than 200 objects. Artworks by six modernist painters portray their lives and the conflicts they lived through, with a new commission by Timoteus Anggawan Kusno expressing the anti-colonial voice of resistance that preceded the revolution.
3. Chim↑Pom: "Happy Spring"
Mori Art Museum, Tokyo
FEB 18–MAY 29
Whether addressing the 2011 Tohoku earthquake and Fukushima Daiichi nuclear disaster or examining the history of urban hygiene, Tokyo-based collective Chim↑Pom tackle social issues with humor and subversion. Their retrospective will shine a light on their distinctive approach to art and activism with works from throughout their 17-year practice.
4. Rabih Mroué: "Under the Carpet"
KW Institute for Contemporary Art, Berlin
FEB 19–MAY 1
Lebanese actor and artist Rabih Mroué's multidisciplinary works reflect the traumatic experiences of the Lebanese Civil War (1975–90) and delve into the history of the region. The recipient of the 2020 Schering Stiftung Award for Artistic Research, he will present eight new commissions alongside works from the past two decades.
5. Fahd Burki: "Daydreams"
Jameel Arts Centre, Dubai
MAR 5–SEP 24
Drawing inspirations from architecture, video games, fantasy genres, and other popular culture elements, Fahd Burki began painting in figurative forms that have shifted to become more abstract and minimalistic over the years. Featuring more than 50 paintings, drawings, prints, and sculptures created in the last 15 years, "Daydreams" will trace his evolution.
6. Hito Steyerl
National Museum of Modern and Contemporary Art (MMCA), Seoul
APR 29–SEP 18
Seoul's MMCA will host the first Korean solo of the Berlin-based writer, philosopher, and filmmaker Hito Steyerl, who pushes the boundaries of video-making and investigates the roles of digital technology, globalized media, and artificial intelligence. Her video essays critique contemporary surveillance, creeping militarization, and the digital fantasies propagated by late capitalism.
7. Lee Ufan
National Art Center Tokyo (NACT)
AUG 10–NOV 7
Lee Ufan's unique philosophical thinking has liberated art from traditional forms of imagery and subject matter. In celebration of NACT's 15th anniversary, Lee's first large-scale retrospective in Tokyo will examine works before the Mono-ha movement, as well as his Relatum series exploring the relationship between objects, and recent meditative paintings.
8. "The Space Between: The Modern in Korean Art"
Los Angeles County Museum of Art
SEP 11–FEB 19, 2023
Showcasing around 140 works created between 1897 and 1965, "The Space Between" will be the first United States exhibition that closely studies the development of modern art in Korea and its foreign influences. Highlights include artist-feminist Na Hye-sok's revolutionary Self-portrait (c. 1928) and Dansaekhwa pioneer Park Seo-Bo's early abstract painting series Primordialis (1960–65).
9. Nalini Malani: "Gamepieces"
Art Gallery of South Australia (AGSA), Adelaide
NOV 4–JAN 29, 2023
In her drawings, installations, films, and animations, Nalini Malani draws from folklore and mythologies. Her first Australia survey will begin with herearly experiments in film and photography in 1970 and spotlight her video shadowplays, such as the multichannel video installation Gamepieces (2003/09) with rotating cylinders illustrated with mythological figures.
10. Trinh T. Minh-ha: "Going into the Dark"
Rockbund Art Museum, Shanghai
NOV 5–JAN 29, 2023
After two years of development with the Rockbund Art Museum, artist, writer, and filmmaker Trinh T. Minh-ha will present her newly commissioned works and a publication. Exploring the notions of visibility and invisibility, through her video works, Trinh will guide audiences on a spiritual journey and a physical experience to discover worlds that are "non-knowing."