One on One: Gee's Bend Quilters
By Jakkai Siributr
Full text also available in Chinese.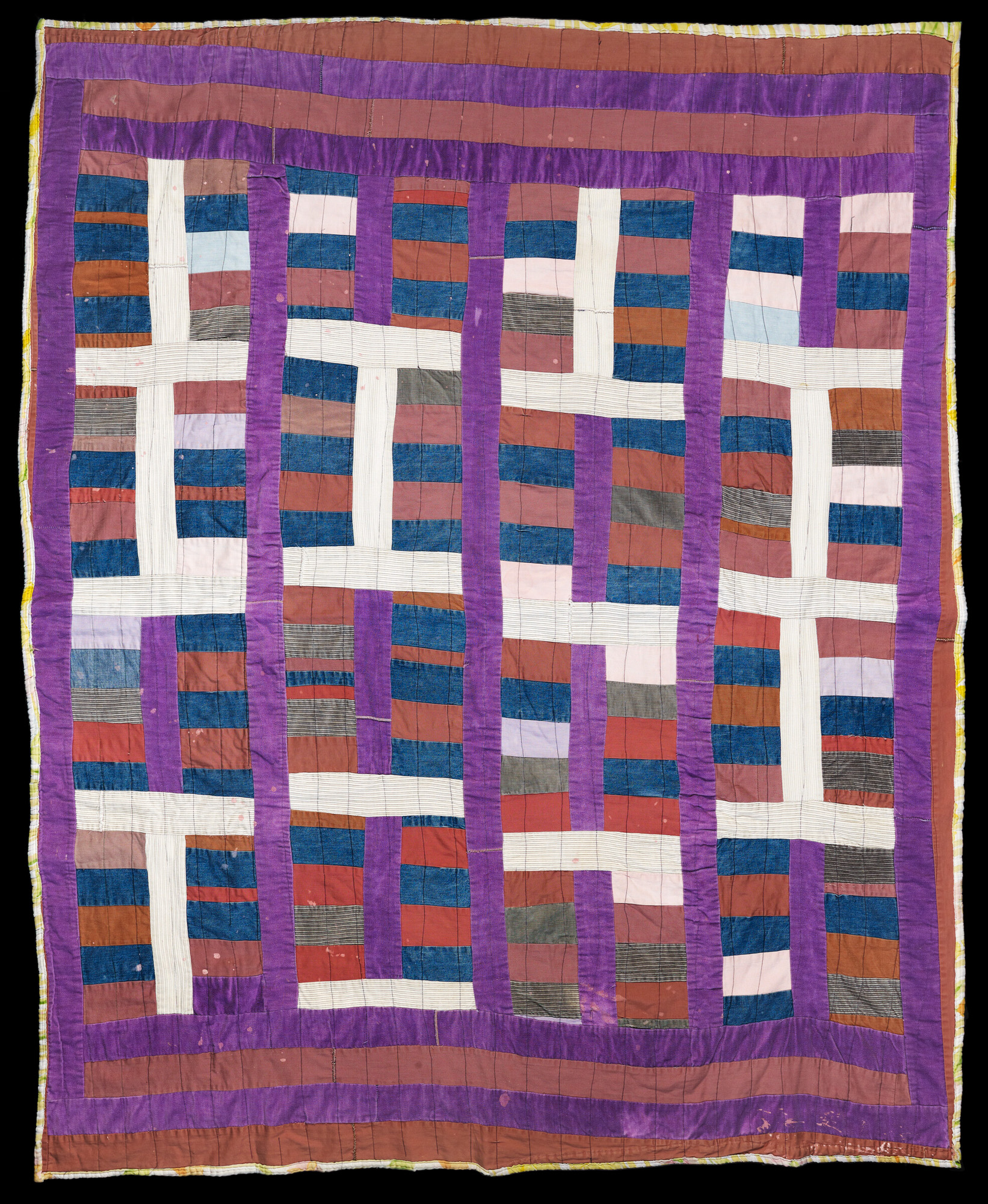 It felt almost like a gift from heaven when a dear friend presented me with a copy of The Quilts of Gee's Bend (2002). Published by Tinwood Books in association with the Museum of Fine Arts, Houston, the book shines a light on a group of women from the Black community of Gee's Bend, Alabama, and their magnificent quilts. I say a gift from heaven because it came at just the right time during an early period of my career when I was trying very hard to forget everything I learned from my fiber-arts professor.
Like many other artists working with threads and textiles in the mid-1990s, I struggled with the term fiber arts and did not want my thread-based work to be categorized as such. Due to the association of the media with domestic labor, fiber arts have long been devalued as "craft" and have been left out of mainstream art-historical discourse. Only recently have thread-based works been getting their due, thanks to a younger generation of artists and scholars who have successfully overridden the categorization of fiber arts, moving it toward a non-specific medium.
Until I encountered The Quilts of Gee's Bend, the only quilt that ever got me excited was the one in Robert Rauschenberg's Bed (1955), with a courthouse-step pattern, pencil scribblings, and paint splashes. But Rauschenberg's quilt was just a component of one of his early "combines"—hybrid painting-and-sculptures that incorporate found materials—and wasn't made to be used. With their odd shapes, geometric patterns, vibrant colors, and rhythmic compositions reminiscent of 20th-century abstract art, these quilts of Gee's Bend are so powerful that they changed the way I feel about quilts and even made me rethink my own practice. I eventually stopped caring about the labels. Craft or art, it no longer mattered.
Lorraine Pettway, Annie Mae Young, Lottie Mooney, and Mary Lee Bendolph are just some of the names of the extraordinary women of the Gee's Bend collective. They are descended from a line of enslaved quilters, who, in the early 20th century, pieced together scrap cloth, usually old clothes, solely for utilitarian purposes. These blankets safeguard the human body when sickness is in the air, on cold nights, or at other vulnerable times in the deeply isolated, racist South. The most striking aspect about a Gee's Bend quilt is that—past the variations in the traditional patterns known as the log cabin, the housetop, the star, and bars and block—each one is a meticulously pieced together self-portrait of its maker, free of all preconceived ideas of how a quilt should be. The work-clothes quilts, also known as britches quilts, are made from used garments such as denim overalls, corduroy trousers, and flannel shirts. The wear and tear, sun-faded colors, stains, and mended patches add extra layers of pattern that tell of the personal history of the clothing's wearer.
While my practice has evolved in different directions over the years, when I needed to create an artwork that was most personal to me, I had to come back to the Gee's Bend quilts. 18/28: The Singhaseni Tapestries is the said artwork, completed in 2018 after my mother's sudden death a few years earlier. The work was later presented at the 9th Asia Pacific Triennial of Contemporary Art in 2018–19, and has never been shown elsewhere. Having lost my mother unexpectedly, I realized that grieving is a personal matter and each one of us deals with it in our own way. Unable to discard any of her belongings out of fear of erasing all memories of her, I turned to quilting as a way to process grief. And since the work aims to pay tribute to my mother, I felt that I needed to honor other members of her maternal family whose lives were upended by one of the most controversial chapters of Thailand's history—one that remains taboo to this day.
18/28: The Singhaseni Tapestries became a series of large-scale quilts that were made out of my mother's dresses and the various clothing items of the seven aunties who came to live with my family after their father, Chit Singhaseni, a king's page, was executed along with two other colleagues for the alleged murder of King Rama VIII. Our family is forever scarred by this incident and the suffering that these aunties endured after being branded daughters of the King's murderer, which they carried to their grave.
Just like the quilts of Gee's Bend, the blankets in the installation are portraits of actual people, with the different types of fabric, motifs, and colors revealing their tastes, styles, and even professions as some of the garments used were their work uniforms. Yet, as much as the irregular patterns and improvised compositions may suggest a somewhat joyful past, the work conceals pain. Embodying both mourning and healing, each quilt in 18/28: The Singhaseni Tapestries provides a warm embrace when wrapped around those who still remain.