New York: Wifredo Lam
By Emily Chun
Full text also available in Chinese.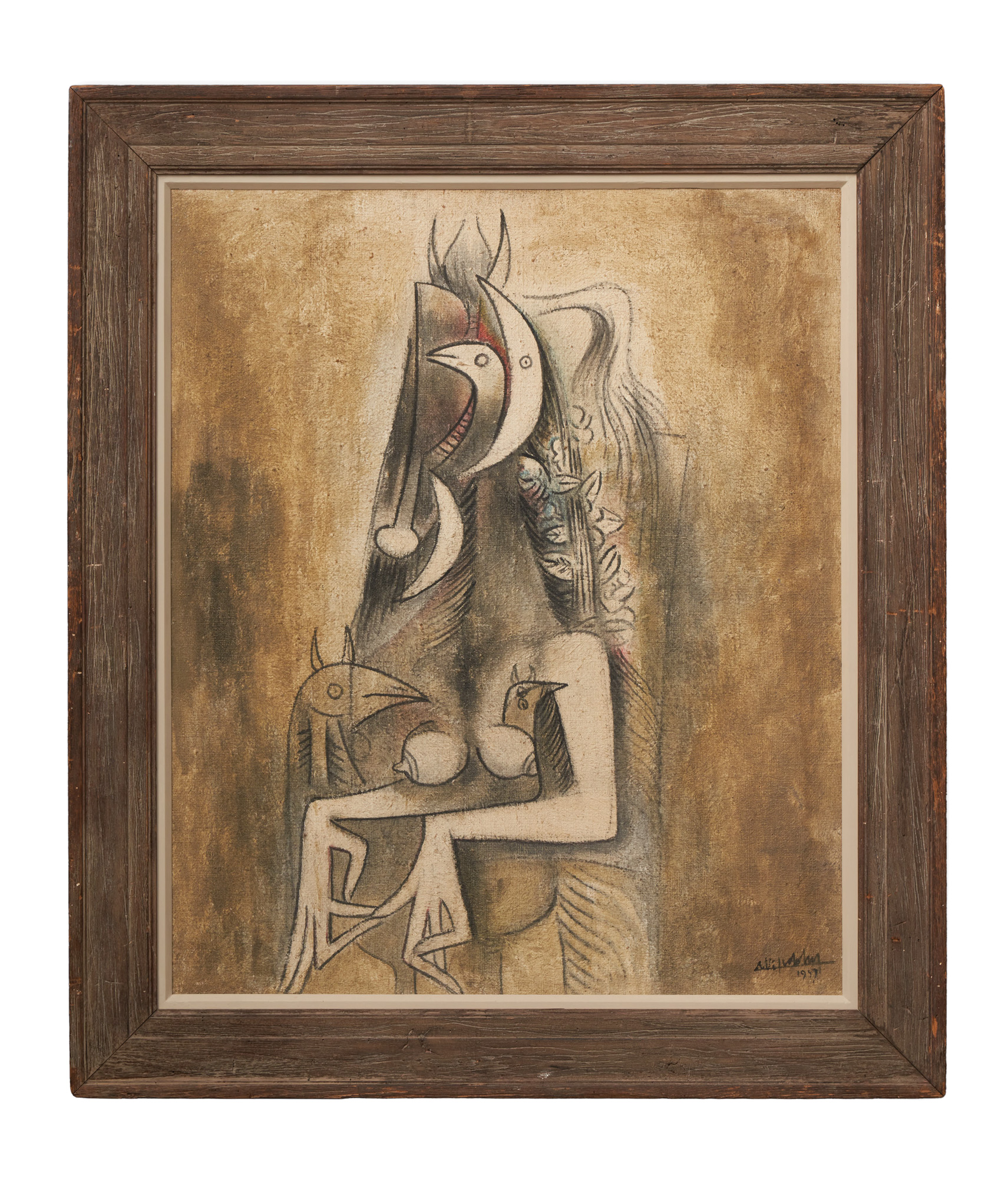 Wifredo Lam: "The Imagination at Work"
Pace Gallery, New York
Born to a Chinese father and Congolese-Spanish mother, Wifredo Lam (1902–1982) created radically unassimilable paintings that synthesized European Surrealist and Cubist strategies with the Afro-Cuban rituals of his upbringing. As most exhibitions and studies of Lam's works focus on his output in the 1940s—the period of his return to Cuba at the outbreak of the World War II—the exhibition at Pace Gallery in New York, in collaboration with the Gary Nader Art Centre, was a welcome chronological survey spanning his oeuvre from the late 1930s to the 1970s.
After moving to Paris in 1938, Lam befriended notable artists such as Fernand Léger, Henri Matisse, and especially Pablo Picasso, who enthusiastically supported Lam and encouraged him to forge his own version of modernism. The European avant-garde artists' influence is evident in the show's two earliest paintings, Le Désastre (1938), featuring three figures in a deconstructed space, and Sans titre (c. 1942), a study of a woman on a chair with a fidelity to Cubist tenets that starkly sets it apart from the rest of the 30-plus works. Lam's subsequent return to Havana in the early 1940s proved catalytic for the evolution of his style. Incorporating the spiritual practices of Santería, an Afro-Cuban religion, into a visual vocabulary he described as "psycho-physiological primitivism," and aggrieved by the widespread touristic degradation ravaging Cuba following centuries of colonial exploitation, Lam began to produce seething, nightmarish paintings. "What I saw on my return," he wrote, "was like some sort of hell. For me, trafficking in the dignity of a people is just that: hell." Every picture from then on served, in his words, as "an exorcism" of this degradation.
The Casting of the Spell (1947) embodies this symbolic exorcism. Rendered in a muddy palette of yellowish greys, the foreboding painting features the femme cheval, a horse-headed woman that appears in many of Lam's works. In Santería ceremonies, a participant is referred to as a "horse" when possessed or "ridden" by a deity. Countering Paul Gauguin's representations of the primitive, tamed woman, the femme cheval channels the radical spiritual transformation that occurs in Santería deity possession. Rather than tethering the female form to a recognizable body, Lam creates an unsettling composite of human arms and breasts, bulbous appendages, crescent forms, and bird-like heads that skewers any pre-existing archetype of femininity.
In Lam's works created from the late 1950s and early 1970s, following his return to Paris, figures become increasingly attenuated and almost branch-like. In Personnage (1970), for example, two anemic figures, emphatically contoured against a dark gray background, skirt the border of figuration and abstraction. The work vibrates somewhere between Louise Bourgeois's totemic sculptures (similarly titled Personages), the will to clarity characteristic of early 20th-century Constructivist forms, and the placelessness of Joan Miró's paintings. The figure on the left stands with a forked torso, and like almost every other painting in the exhibition, it is marked by jagged points that, after a while, feels almost painful to look at.
With their repeated knife-sharp forms, angles, and teeth, Lam's paintings are tortured and unforgiving. Lam conceptualized his own work as "an act of decolonization not in a physical sense, but in a mental one." The psychologizing effect in his works slices through the incommensurability of European modernism and native Cuban traditions to arrive at trenchant, almost subterranean images that look nothing like anything that came before. It's tempting to sanitize Lam's oeuvre as simply "multicultural," given how easily he was able to move between the highest circles of European, North American, and Latin American avant-garde art. But in reality he had an extraordinarily complicated, uneasy relationship with European avant-garde regimes, even with his close friend Picasso, whose conceptions of primitivism alienated Lam in later years. One gets the sense from this exhibition that "hybridity" unfolded in Lam's career more as a long nightmare or a protracted disturbance, a working out of what an aesthetics of emancipatory self-determination might look like, rather than merely a combining of different influences.