Munich: Fujiko Nakaya
By Chinnie Ding
Full text also available in Chinese.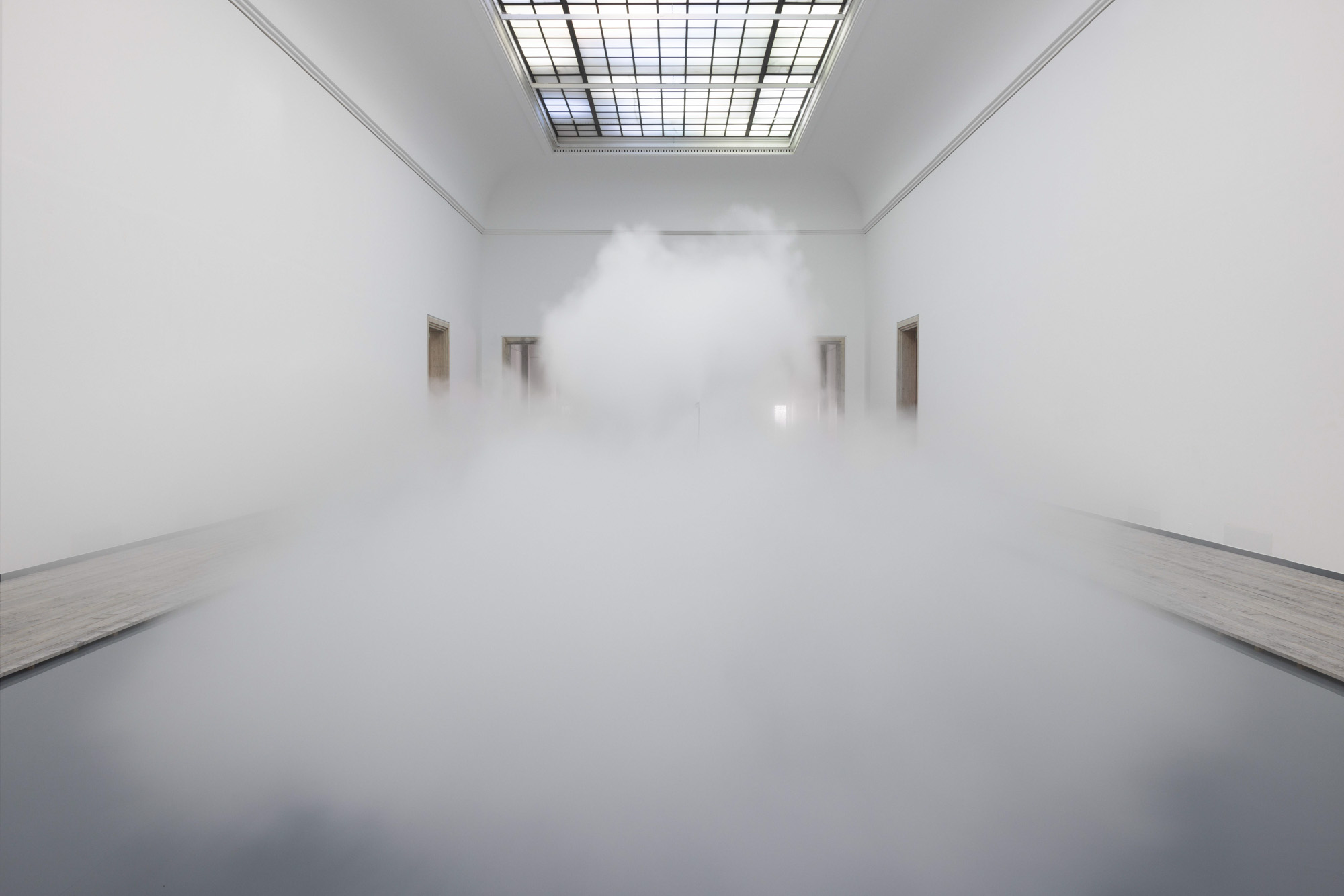 For "Nebel Leben," her first retrospective outside Japan, Fujiko Nakaya transformed Haus der Kunst's colossal east-wing exhibition hall into a misty pond-space with a semi-levitating floor. Every half hour, a fog bloomed. Thick and surprisingly opaque, it hovered, migrated, and wrapped visitors into a puffy togetherness while offering each body a personal cocoon. There was a hushed giddiness as we took in the fugitive experience. When the haze floated off, we seemed to wake from a dream. The skylit surroundings appeared refreshed, even as the fog's dissipation may have left us wondering, ruefully, whether visibility is overrated.
The centerpiece of an exhibition that convened around 50 varied works, Munich Fog (Wave) #10865/I (2022) hissed forth from impressive irrigation. Beneath the wooden platform visitors walked on, a placid canal ran several inches deep. Nozzled pipes glistened with condensation drops; skinny hoses snaked into the water. On the terrace overlooking the English Garden, the brume of a second new work, Munich Fog (Fogfall) #10865/II (2022), fringed from a conduit lining the roof cornice. Its hoarse vapor now blurred, now unveiled the Nazi-era building's disquieting monumentality (a focal dilemma for the museum's ongoing renovation plans). It also left skin and clothes quite damp: the museum attendant worked the outdoor shift in a poncho.
In her works' signature interplay of art, ecology, and engineering, Nakaya has always insisted on keeping the mechanics visible and audible. Rather than otherworldly and sublime, her fog sculptures are immersively earthly, highlighting how natural phenomena underappreciated in our midst may repossess human attention when performed. The Hokkaido-born artist, who just turned 89 this May and has staged over 90 fog sculptures worldwide, installed her first such work at Expo '70 in Osaka as an early participant of Experiments in Art and Technology (E.A.T.)—the now legendary interdisciplinary collective that Robert Rauschenberg and Bell Labs engineer Billy Klüver initiated in 1966. Her physicist father, Ukichiro Nakaya, the inventor of artificial snow, exerted a still earlier influence (and was the subject of one gallery in the exhibition). The artist earned a patent in 1989 for her water-to-fog apparatus, and has continually refined the hardware to produce droplets ever closer to real fog's consistency. At Haus der Kunst, highly pressurized water was forced through stainless-steel nozzles and split into a superfine size of 17 microns.
Nakaya's drawings and paintings, totaling 28 at "Nebel Leben," are potent precursors to her atmospheric idée fixe. Design proposals penciled on tracing paper exquisitely illustrate the artist's finesse in concretizing her visions. While diagramming tanks, filters, pumps, and valves, they also shade and erase fog-forms into lava-like roils or fluffy tufts. Among ten oil paintings made between 1958 and 1964, blotted, reddish abstractions like Sun (1960) evoke primeval landscapes, while intricate structures recalling leaves, cells, and gills populate other canvases. Body Cosmos (1964) and Cloud Series (1964), two distinctly uncanny, virtuosic paintings featuring fleshly, weeping cloud-forms suspended in a murky green abyss, are indelibly haunted by the atomic bomb. The artist herself calls these paintings "decompositions," and has spoken of her fascination with "the process of being born and dying, the whole cycle."
Nakaya's formally elegant video works explore shapeshifting as well, from the raspy whittling of a pencil in Coordination: Left Hand / Right Hand (1979), to the process of standing an intact egg upright in Columbus Story (1973), to formations of Zen monks pacing and chanting in Soji-ji (1979, regrettably the exhibition's lone work emphasizing Nakaya's rich Japanese context). Ride The Wind And Draw a Line (1973), the wall-wide video at the exhibition entrance fixated on a spider's assiduous web-spinning, doubled as a clear curatorial point, establishing Nakaya—an impresario of video art in Japan—as a key figure of globally networked art.
"Fog has a very democratic status," Nakaya reflected in a 2007 interview. "It's constantly moving, and when two droplets collide they each go off a little, making room for each other. It makes the world a little bigger—for everyone to live in." Ever conjuring forth and coalescing with nature, her oeuvre of prolific evanescence has more than expanded the world of art.