Book Review: Unit: A Glimpse into Singapore's 1970s-'80s Private Apartments
By Tong Tung Yeng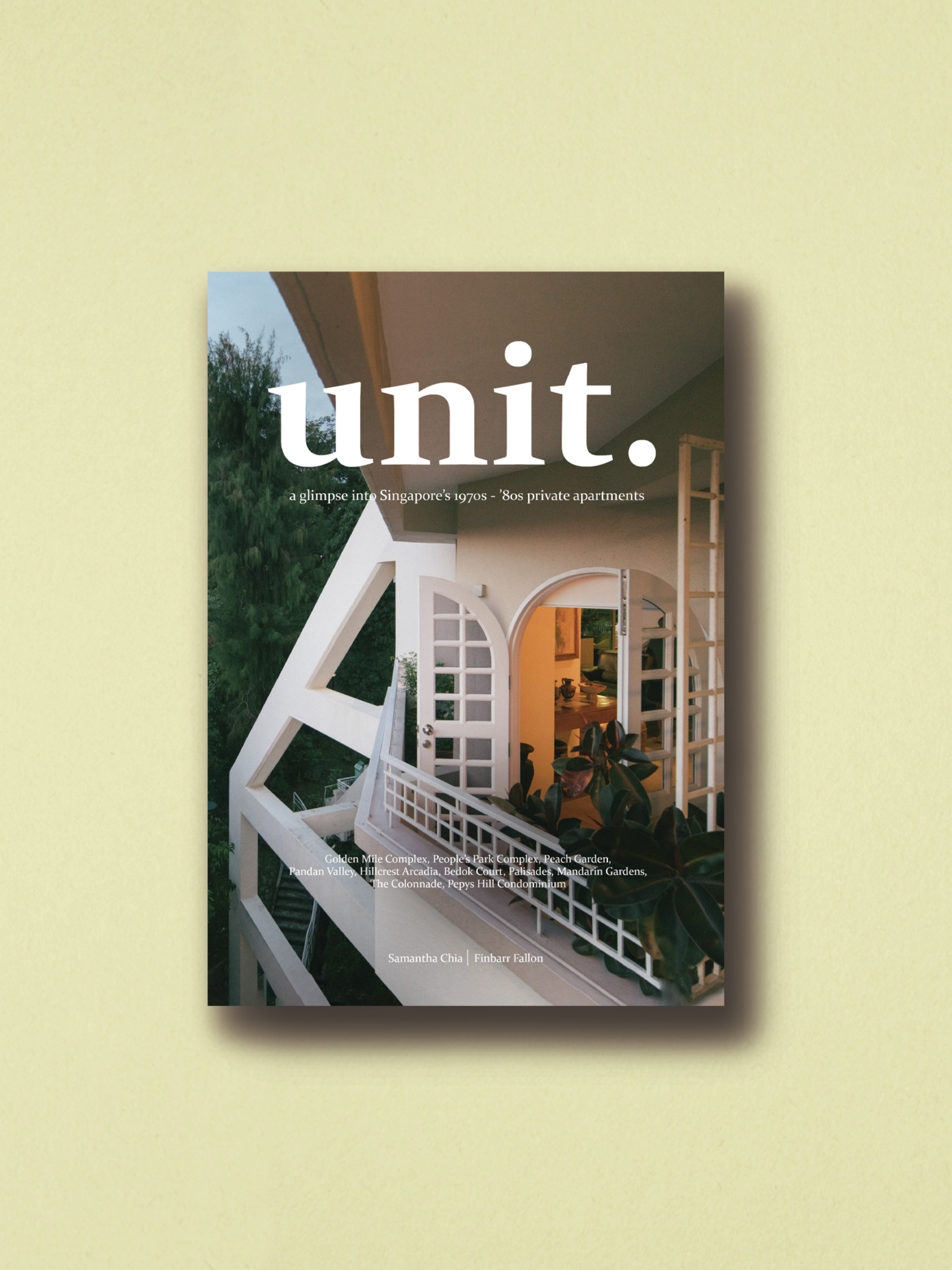 Unit: A Glimpse into Singapore's 1970s-'80s Private Apartments
By Samantha Chia and Finbarr Fallon
Photography and Drawings by Finbarr Fallon
Published by The Unit Project, second edition published in 2022
To most Singaporean millennials and zoomers, Golden Mile Complex evokes memories of cosy get-togethers at food stalls—typically hawking Thai "Mookata" or Chinese "Tze Char"—haphazardly located between old-school tailors and dusty karaoke lounges in a shopping mall basement. But a few floors above the lingering soup-and-barbecue aroma and incessant chatter live the residents of Golden Mile Complex's 68 apartment units who for years have remained a mystery.
Unit, a photobook by architectural photographer Finbarr Fallon and urban planner Samantha Chia, grants readers a look into the apartment interiors of Golden Mile Complex and other iconic private housing estates built in 1970s and'80s Singapore. The ten featured apartment complexes were part of the government's post-independence efforts to accommodate a growing population in the land-scarce nation, by encouraging the upper classes toward high-rise housing. Unit's intimate interviews and compact selection of photographs belies an ambitious undertaking: it seeks to examine urban design trends within the changing socio-historical context, while striving to unpack perennial questions about "home."
Arranged chronologically in order of each development's completion, the book's ten sections—one for each building—are prefaced with details pertaining to the circumstances that shaped its architecture, alongside hand-drawn floor plans. Keeping with Fallon's preference for golden-hour, long-focus shots, the photographer presents delicate compositions of living spaces imbued with traces of its tenants, including a treasured Patti-Smith-autographed envelope and a recently acquired canary.
Typically, the interview format proves restrictive. In the first two profiles, significant architectural aspects of Golden Mile Complex and People's Park Complex were sidelined for cosmetic discussions on the tenants' favorite furniture. Conversely, conversations with long-time residents were markedly illuminating. When describing the 270-degree sea view afforded by Peach Garden's open-layout design and three-window facade, longtime inhabitant Raymond recalled boyhood stunts of climbing in and out of different windows and dashing across expressways to the nearby East Coast beach.
While residents bemoaned the high maintenance costs associated with living in an aging estate, they all agreed on the irreplaceable affinity they nurtured with their homes. Palisades' funicular lift—the only one of its kind in Singapore—breaks down often, but that has not diminished residents Mikaël and Kristy's love for their condominium. Pandan Valley's extensive individual terrace gardens are a labor of love for Sanjiv and Gowri but provide ample space for hosting gatherings and welcoming the occasional birdsong. Evidently, these well-worn concrete corners and private patios encase precious memories of their respective dwellers.
Regardless, Unit's ten diverse sets of homeowners echo notions of home as an oasis amid a concrete jungle. While the book may not have addressed the breadth of "what it means to be at home in private high-rises built in immediate post-independence Singapore," it convincingly argues for the importance of coziness, or, as one resident explains, home as all-encompassing emotion rather than simply place or object.
TONG TUNG YENG