Six Books That Kept Us Going in 2022
By The Editors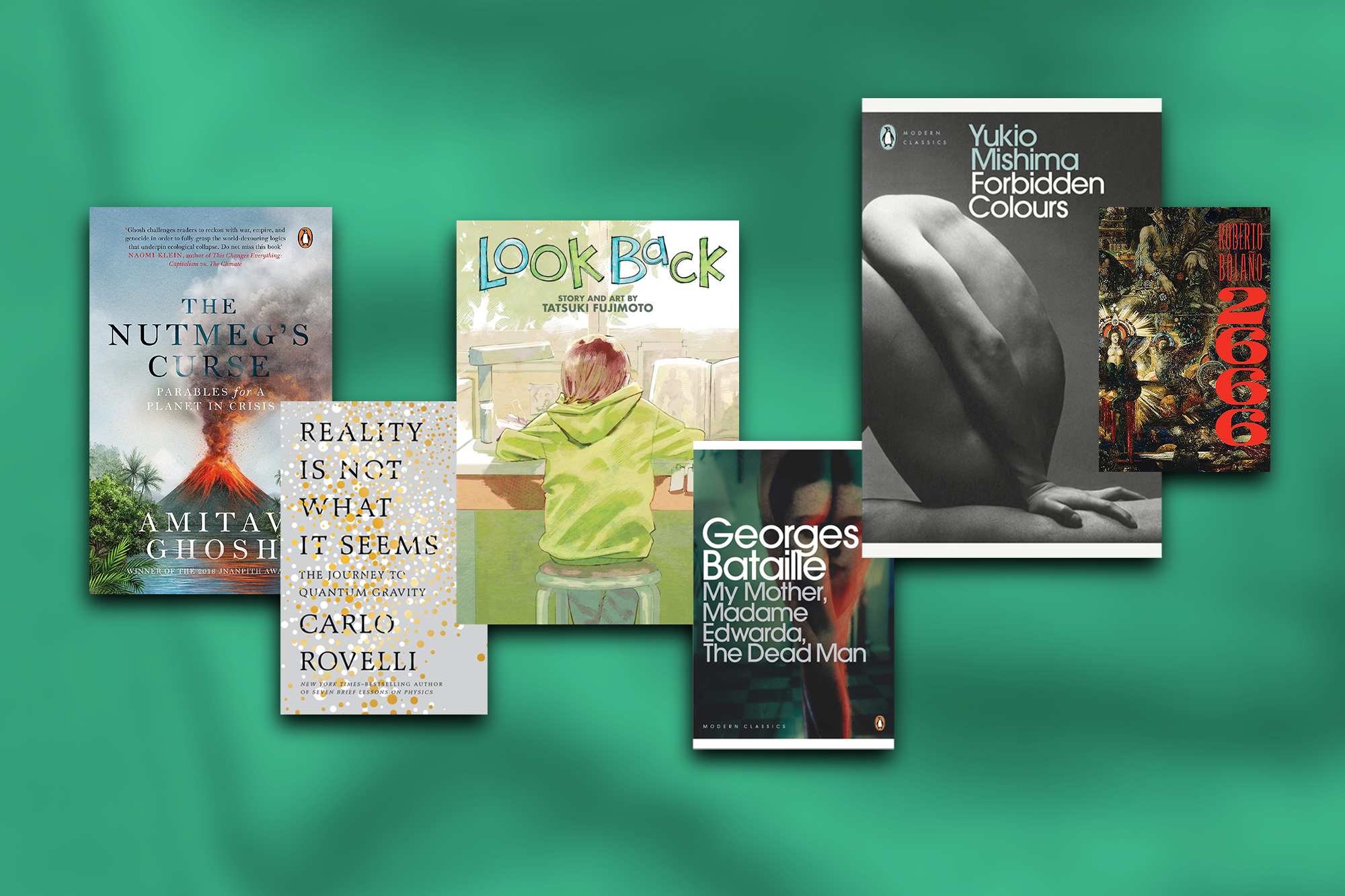 Some of the time most well-spent this year are those snug within the pages of a good book. From fiction to non-fiction and from new releases to old classics, here are our favorite reads this past year.
My Mother (1996) by Georges Bataille
Georges Bataille's unfinished, posthumously-released novella, My Mother, explores the disintegration of the Madonna-whore dichotomy, as postulated by Sigmund Freud. An Oedipal bildungsroman, it follows the sexual awakening of the protagonist Pierre following the death of his father. In the foreword to a collection of works including My Mother by Batailles, the Japanese author Yukio Mishima, known for his provocative works, wrote: "These works reveal an anti-psychological delineation, anti-realism, erotic intellectualism, straightforward symbolism, and a perception of the universe hidden behind all of these[.]"
TIFFANY LUK
The Nutmeg's Curse (2021) by Amitav Ghosh
Amitav Ghosh's The Nutmeg's Curse found me through a dear friend who recognized my interest in the nonhuman agents of our ecosystems. It accompanied me through the Omicron-induced isolation of Hong Kong in the first half of this year, and provided me with the language to better articulate capitalism's roots in colonization. Delving deep into the Dutch colonization of Indonesia, Ghosh argues that our current climate crisis stems from the extractive and exploitative relationship colonizers had with lands, peoples, and nonhumans. A text I had to put down numerous times to reflect and digest, The Nutmeg's Curse was as insightful as it was infuriating, digging deep into histories of biological warfare, genocide, and natural destruction all for the sake of "progress," money, and power. The capitalist (and neo-colonial) tendency to perceive our surroundings and each other as means to an end is a curse we have yet to break.
NICOLE M. NEPOMUCENO
Reality is Not What It Seems: The Journey to Quantum Gravity (2017), by Carlo Rovelli
I'm not going to say "I finally understand quantum theory" after reading this book—along with Seven Brief Lessons on Physics, also by Rovelli—but I appreciated how the Italian physicist writes about these incredibly abstruse concepts. I also enjoyed reading a 2,500-year history of competing ideas about the nature of the universe that date back to the shores of the Aegean. It turns out, whether you believe the universe is just made up of one immutable substance or many individual components that can be pieced together, like Democritus, also betrays a lot about your moral worldview. "We, just like the rest of the natural world, are one of the many products of this infinite dance [of atoms]—the product, that is, of an accidental combination."
HG MASTERS
Look Back (2021) by Tatsuki Fujimoto
A single-volume heartwarming comic illustrated by the creator of the Chainsaw Man (2022), this comic tells a simple story of how two very different girls bonded through their mutual love for manga. This comic is heavy with illustration and has little narration, yet with visuals so powerful, it allows readers to catch the emotion Fujimoto is trying to convey.
JEREMY LEUNG
2666 (2004) by Roberto Bolaño
The swan song by Chilean author Roberto Bolaño is one of those torrential novels that gives you the feeling of being swallowed whole by the dark. A trip of détours, déjà-vus, and deliria, it seems to contain life itself and its infinite set of characters: European critics releasing their contemporary ennui and agony of eros in violence. An exiled professor going mad over mediocrity (when everybody chooses "The Metamorphosis over The Trial"). Noir detectives and greasy politicians embroiled in mass femicides in a Mexican desert sprawl. Epsteinesque, ritualistic sex rings and the nameless woman who live and die in the belly of this visceral machine. An elusive German novelist traversing across history from The Continent to Soviet Russia, lusting for that great mystery that man spill blood over . . . Labyrinthine and darkly humorous, this epic seems to mythologize our increasing psychedelic existence. What a mad ride!
OPAL KIYOKO
Forbidden Colors (1951) by Yukio Mishima
I started my Mishima journey in 2021, when a pianist whom I met at a cafe recommended the writer to me. Since then, I have been obsessed with his writings—his vitality and hypersensitivity, multilayered descriptions of the characters' inner worlds and emotions, criticism of art and beauty, shocking plot twists, and his wild, primitive but often inarticulate, lone heroes. Despite my love for Mishima, it took me a whole year to read Forbidden Colors, a book that was once disputable as it addresses Mishima's own sexuality and struggles with coming out, in a more explicit and sophisticated way than his debut novel (Confessions of a Mask, 1949).
The story began with the old, cynical straight male writer Shunsuke trying to take revenge on the young woman Kyoko who rejected his romantic pursuit. To accomplish his plan, he managed to pay and manipulate Yuichi, an innocent, broke, beautiful, and young gay man who's engaged with Kyoko, to trick the woman into falling in love with him through their marriage—only to divorce her at the end. The story unfolds as Yuichi gradually understands more about his sexuality, and as a result, comes into a full awakening and understanding of himself.
With vivid depictions of the underground gay scenes in postwar Japan, and the power dynamics between Yuichi and his many admirers, the book goes beyond simply portraying the struggles of LGBTQ groups, as it both celebrates and dives deep into critically reflecting on the bonding between self and others. As we follow Yuichi's self-discovery and eventually, his fatal act of murdering the old writer, Forbidden Colors is a book that resonates with both the lover and the beloved.
PAMELA WONG