Echo Chambers: Joyous Jesters
By Opal Kiyoko
"Don't care + having fun + playing + being cute + ratio"—as we enter a time of austerity and a "deteriorating global vibe," social media embraces a whimsical mentality, along with other mischievous identities like "goblin mode," "schizoposting," and quirked-up "girl-bloggers." As a notable departure from doomscrolling, what is this foolishness reacting to?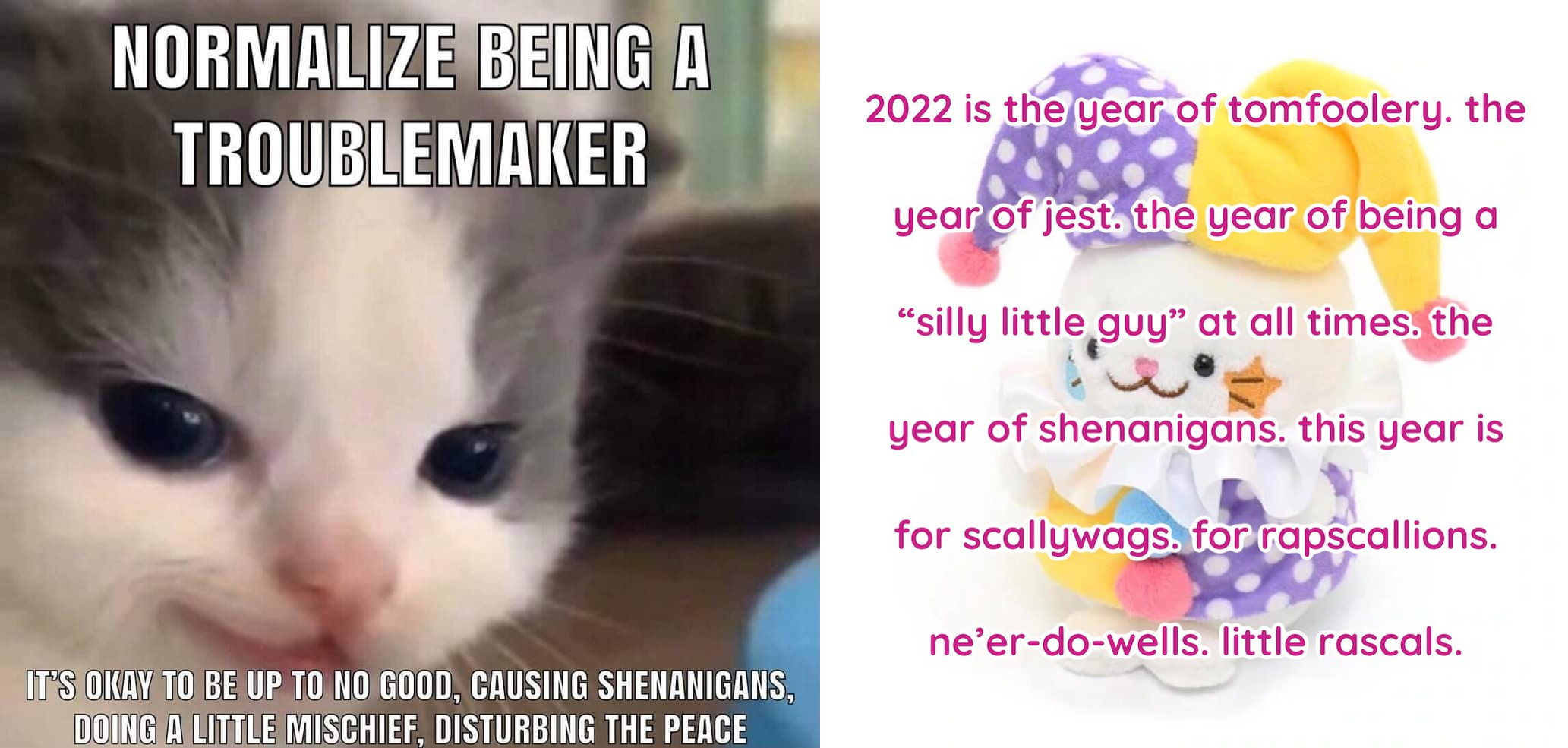 In favor of having fun on the internet, these new ways of jesting reject personal branding and political discourse. Besides dissociating through absurdist edits, another strategy is to treat online discussions as a live-action role-playing game (LARP), adopting different positions to mock without any agenda or signaling, citing jester's privilege. A Hong Kong example is the infamous poster Matt Leung, who poses as a boomer in pro-China facebook groups.
Such a goofy mindset differs from the joker trope of yesteryears. Whereas the latter has often been adopted by self-identified lone wolves, resorting to behaviours of revenge or isolated hustling, new jesters tend to not see themselves as main characters. Paradoxically, the joker's self-seriousness precludes them from actually having fun with other people.
Interestingly, the playfulness here is all but detached from the self-care industrial complex or memetic infantilization. Perhaps the attitude of "indulging in avocado toast while unable to afford a house" is just not entertaining when a food crisis looms, and Sisyphean optimism would be more apt.
Yet, the jesting outlook is not without its flaws—artist Joshua Citarella pointed out in an Artsy article that this form of joyous nihilism is a result of disbelief towards political action. Indeed, online jesting may not be the most life-affirming activity to partake in; in addition to being subjected to community guidelines, jesting in Zuckerberg's fiefdom is a no-pay job, if not an exploitation of our time.
Curated by an ArtAsiaPacific editor, "Echo Chambers" is a biweekly blog that aggregates links and visual contents from the virtual realm.